Born and raised in Khartoum (2000), Waleed is a third year student of the Faculty of Fine and Applied Arts at Sudan University of Science and Technology, majoring in painting. Waleed has been to various workshops and field trips throughout his school years, where he discovered his unique style while painting sets of photographs he found. His first opportunity to exhibit his work was at the "Across Generations" collective exhibition, next to works by Mohammed Abdullah Otaybi, Salah Abdelhai, Khalid Abdelrahman and Abir Fahd. The opportunity showered him with attention in the art scene, and directed collectors' attention towards him.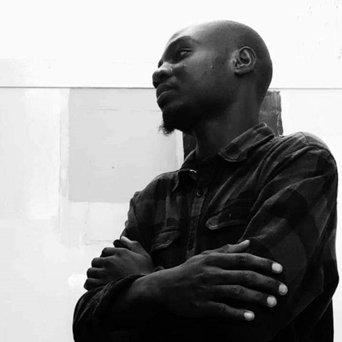 Waleed at the exhibition [1]
Reverse is Waleed's first solo show, coming only 6 months after his first group exhibition. It displays the power of his styles, and showcases his inspiration by old Sudanese photographs of families, couples, friends, and women. His paintings were capturing a period of time ranging from the thirties to the late seventies, resembling photographs you can find in every Sudanese household. This nostalgia drew audiences towards his work.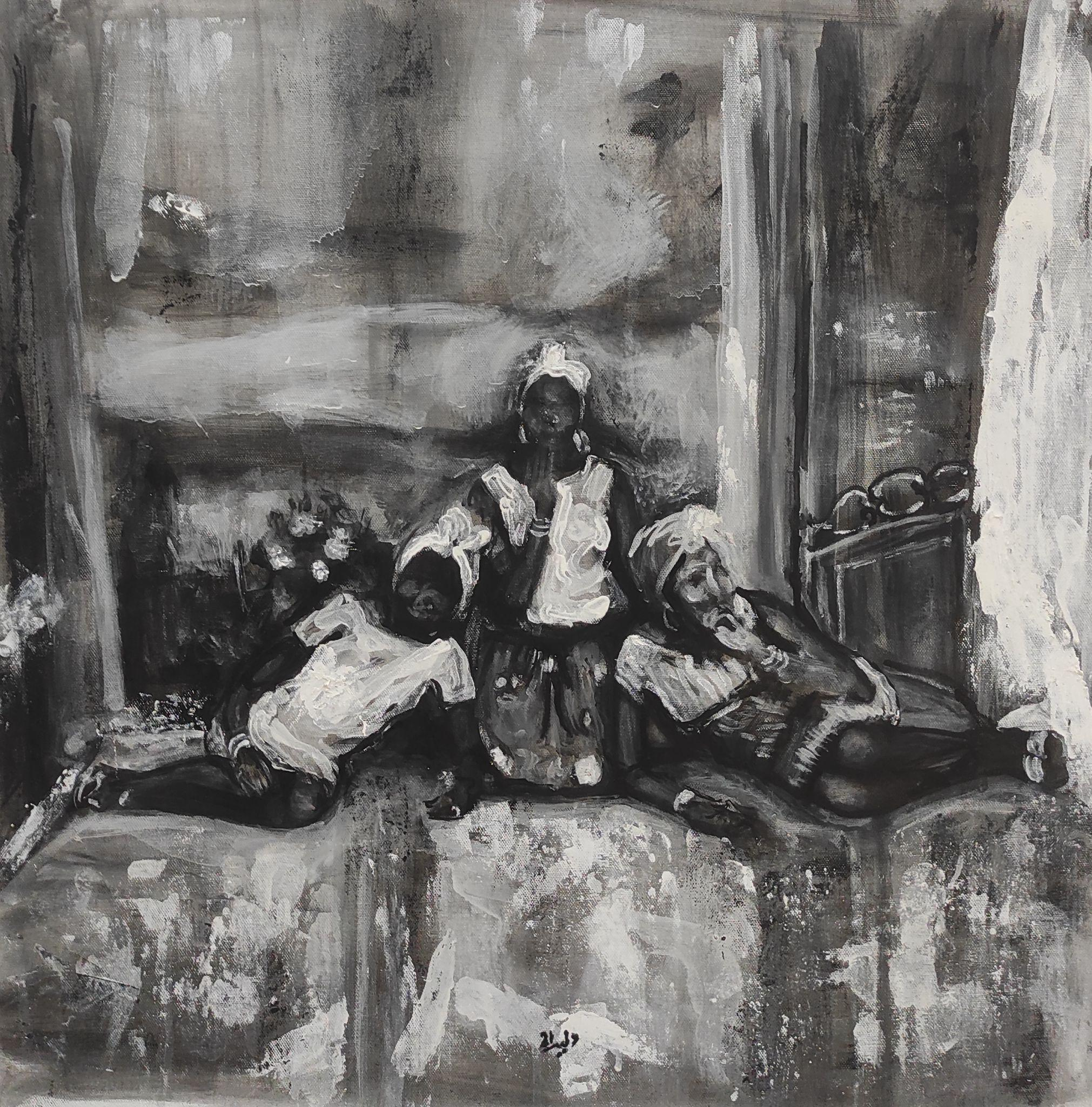 "Here I am, writing, for the first time, about my first solo exhibition. If I was a musician I would suffice by playing beautiful musical tunes and not be bothered to search for words. Music would be explanatory." Waleed wrote on a social media post.[2]
Through his collection, artist Waleed Mohamed, evokes sentimentality and nostalgia. The paintings reflect a time of simplicity and greater connection, automatically creating a sense of yearning for that period of time and the illusion of being related to memories we were never part of.
Waleed purposefully steers clear from painting defined features, rather sketching vague facial features, marking the true essence of his style. He believes that perhaps the haziness of his paintings is his secret to the audiences' attachment.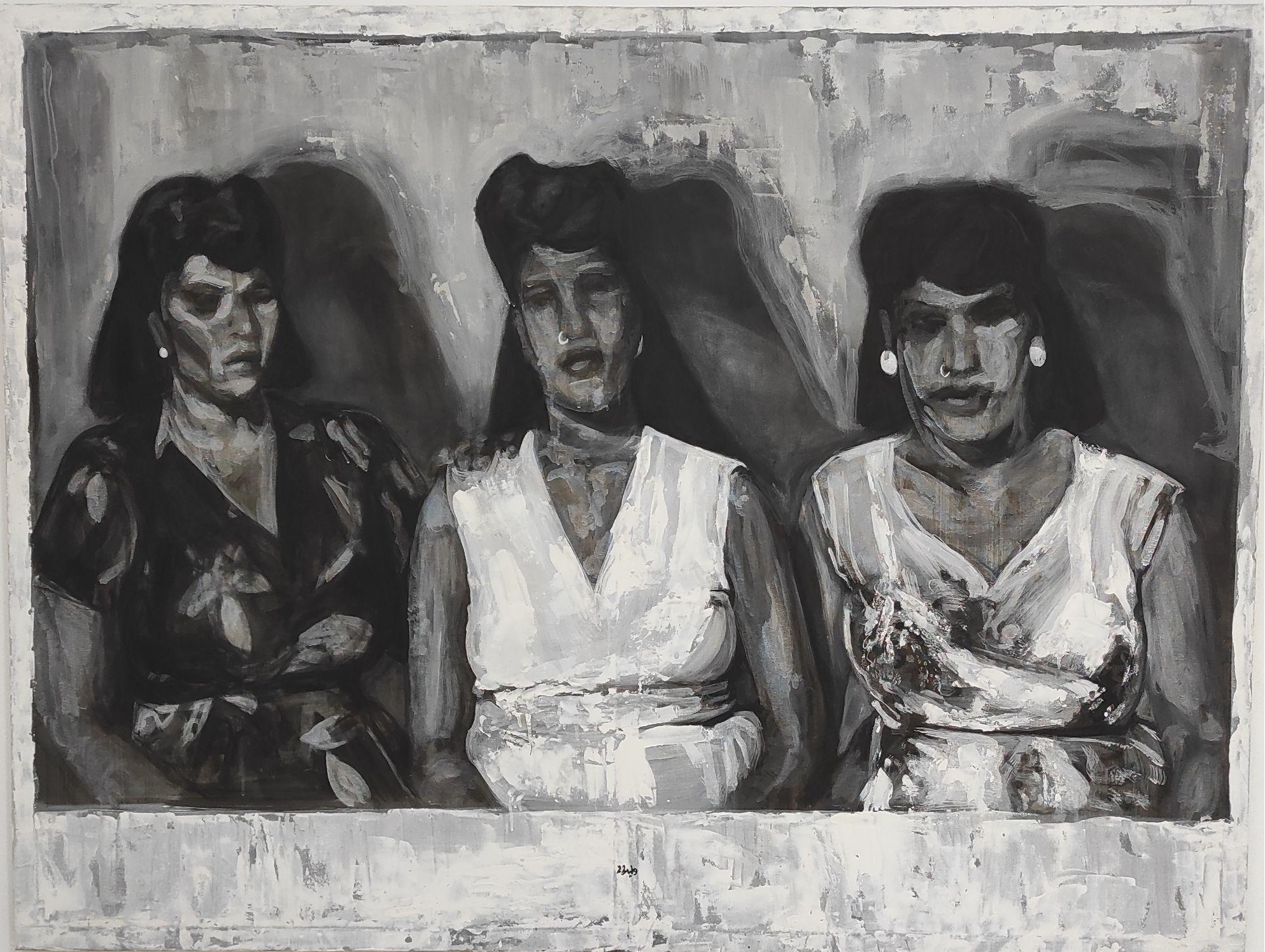 "I picked up my brush filled with oils and acrylics. Spontaneously without a study or preparatory drawings. Only carrying the memory and "they" place themselves in a picture I possessed. I carry it in front of me or in my mind to use as inspiration... From these old archives are pictures of those who lived and then died. Their bodies...the clothes they wear...their looks...their smiles are all so inspiring, so much that I find balance, mass, rhythm, shadow, and light. I end up finding myself. I end up painting my own small memory" describes Waleed.
Waleed's works reflect both his academic classical self and his personal layers and affections towards the photographs. He chooses between photographs based on how light, shadows, mass, and texture play to create the aesthetic composition. At the same time, he finds inspiration in the photographs of people from the 60s and 70s, focusing his attention on conveying their stories and bringing them to life. His purpose becomes to revive these lost memories.
"The memories are scattered through the thin brush on the surface of the "canvas" after mixing a neutral gray shade of the two colors. From here begins the journey of painting the "monochrome", which for me is a more difficult process of creating or drawing than coloring with primary colors and sub-colors. Painting "monochrome" requires visual perception, visual experience and practice" says Waleed.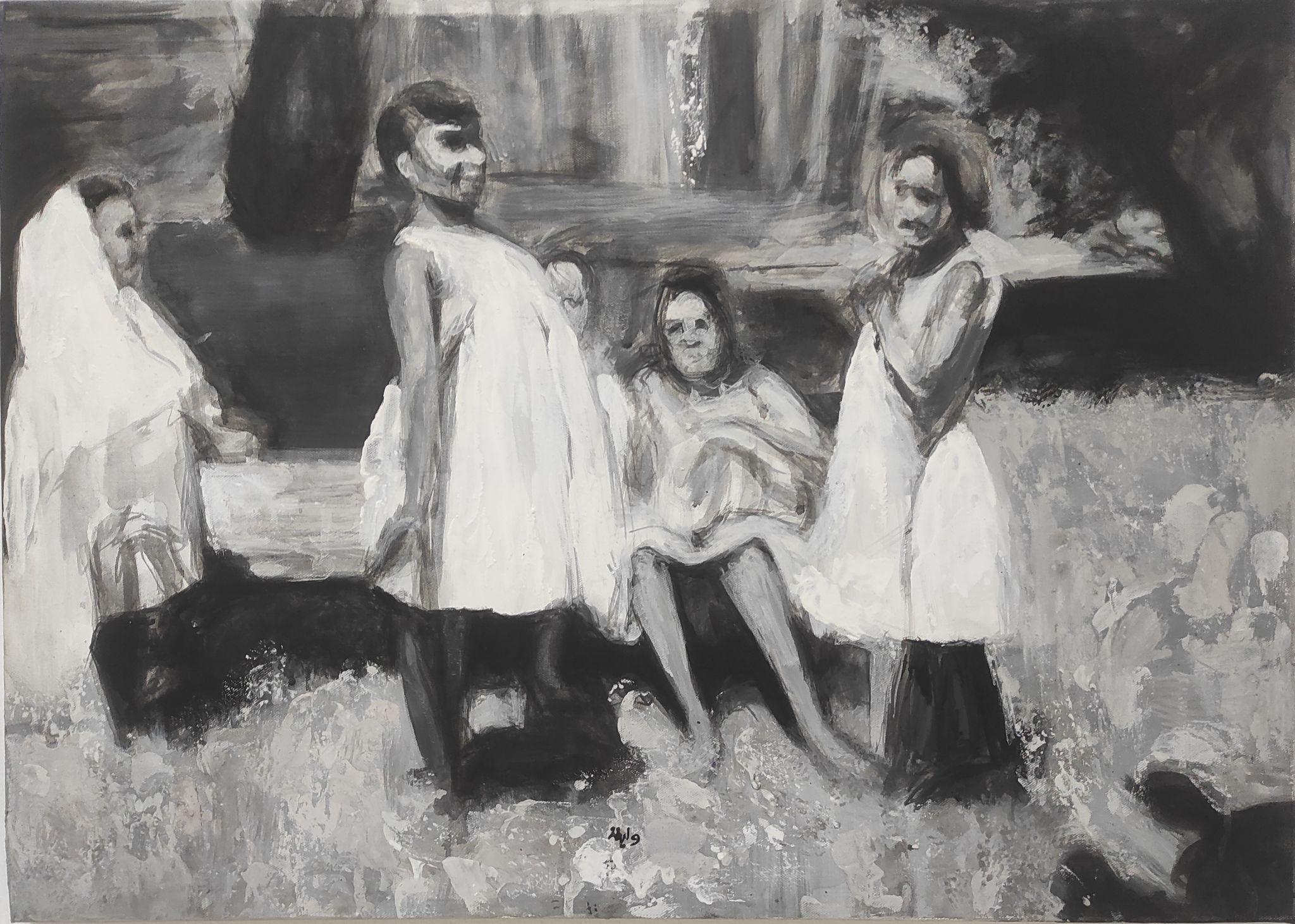 As a curator and director of Downtown Gallery, co-curator for the Regional French Institute in Khartoum, and with over 6 years of experience working closely with visual Sudanese artists, I first spotted the talent and unique style of Waleed in June 2021 while organizing the group show "Across Generations: A Tale of Sudanese Essence and Diversity".
"Looking at Waleed's works as a viewer might first be focused on what inspires these paintings: the photos of an older generation of Sudanese men and women. A slightly longer observation of the abstract expressions on the faces of his subjects and the rather washed out backgrounds he paints spontaneously will proceed to enchant the viewer. The rawness of lines and the tonal mass that Waleed's style is rich with, embodies the subjects he paints, moving a portrait to a much higher level of engagement with the viewer. A conversation with memory, death, and time is suddenly manifested."[3]
Studying Waleed's paintings brings forth a diverse range of topics for discussion. For example (and mostly apparent) the role of studio photography between the sixties and the nineties in Sudan and what societies felt was important to document. The dress codes or fashion of those times is also interesting and speaks of a different political and social system that Waleed himself did not live through. Waleed, perhaps unintentionally, raised these questions and made us ponder on this journey through time. He made us miss a time we have not lived in, and yearn to meet individuals whom we do not know.