In Eastern Africa, conflict and violence continue to force people to flee their homes, including around 9.6 million internally displaced people and 4.7 million refugees and asylum seekers. Every country in the region is either in conflict, or has a neighboring country in conflict.
In 2022, the crisis in Ethiopia drove millions of people from their homes, causing a spike in displacement in a region where the crises in the Democratic Republic of Congo, Rwanda, Burundi, Somalia, South Sudan, and Sudan had already forced millions of people to flee in recent years. The Horn of Africa also remains a major route for mixed movements to and from the Arabian Peninsula and to Europe.
Many Rwandans lost contact with their families and relatives after the 1994 Genocide against the Tutsi. Twenty eight years down the road, some people are still conjecturing whether their relatives are still alive or dead. The long, convoluted history of Rwanda and its neighboring countries has also complicated some family lineages. Tracking relatives has become a lifelong journey that comes with surprises and disappointments. Some young people searching for their relatives have hit a dead end while others just gave up.
The DNA Tracing Platform
The search for relatives is not only by victims and those orphaned during the 1994 Rwanda genocide, but other citizens like Deexon Muhizi, a software engineer who calls four different countries home. His childhood was scattered around Rwanda, Burundi, Uganda, and Tanzania. Muhizi has close family and memories in all four countries and continues to work and travel across the East African countries. He proudly adds the flags of the four countries when he digitally writes his name. Like any typical Rwandan family, Muhizi's family has a long history of being refugees.
Upon finding out that he shares the dilemma with many young Rwandans, the 32-year-old leveraged his skills in biochemistry and software engineering to create a DNA-tracking platform that uses DNA tracing, family trees, and people's childhood memories to match relatives. The results are expected to be available in about five weeks.
Muhizi created the Igitree App after one year of research during which he noticed that during most family functions, individuals met new family members, and exchanged phone contacts, but after such events, some people never bothered to contact and meet each other, which he thought wasn't right.
Igitree, a name coined from the Kinyarwanda word "igisekuru" which means lineage and tree, can be accessed online from anywhere across the world. Users are required to register and input family details and pay $30 for the results to show.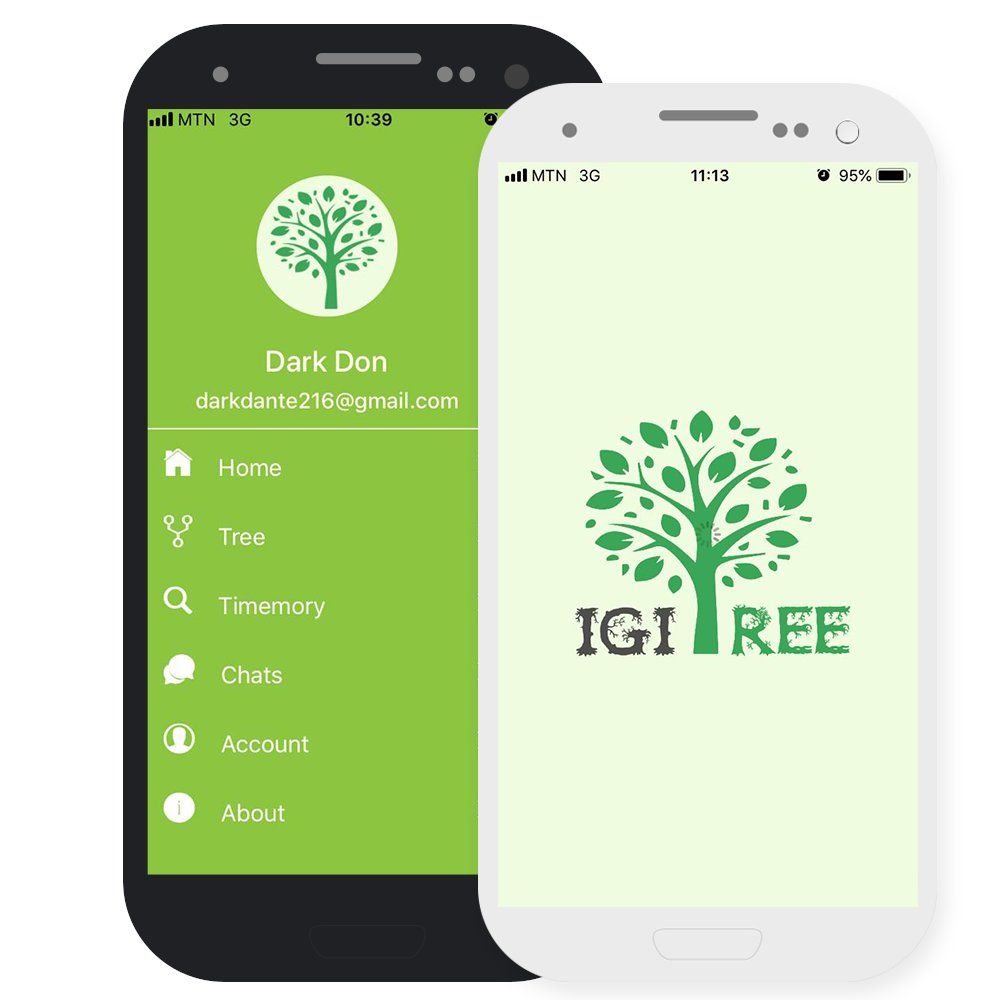 A photo of the Igitree App installed on a mobile phone. Source: New Times Rwanda
"I am an entrepreneur by passion and finding innovative solutions is part of what I do. My platform, Igitree, aims at reuniting families. It will take time because its success runs on recorded data, but I believe many people like me will benefit," Muhizi said. Muhizi says Igitree's results are based on how many people have recorded their family details. The more people, the more accurate the results are. This is different, however, when the user wants their DNA traced as the process can be costlier depending on the country.
Anyone with a smartphone, whether Android or iOS, can download the App for free and the App does not charge anything for anyone to build a family tree and reconnect with their relatives. The App also provides a platform where family members can add each other and chat, and create family groups. A user does not need to have everyone's number or phone contact, because the platform provides a chat option for each person.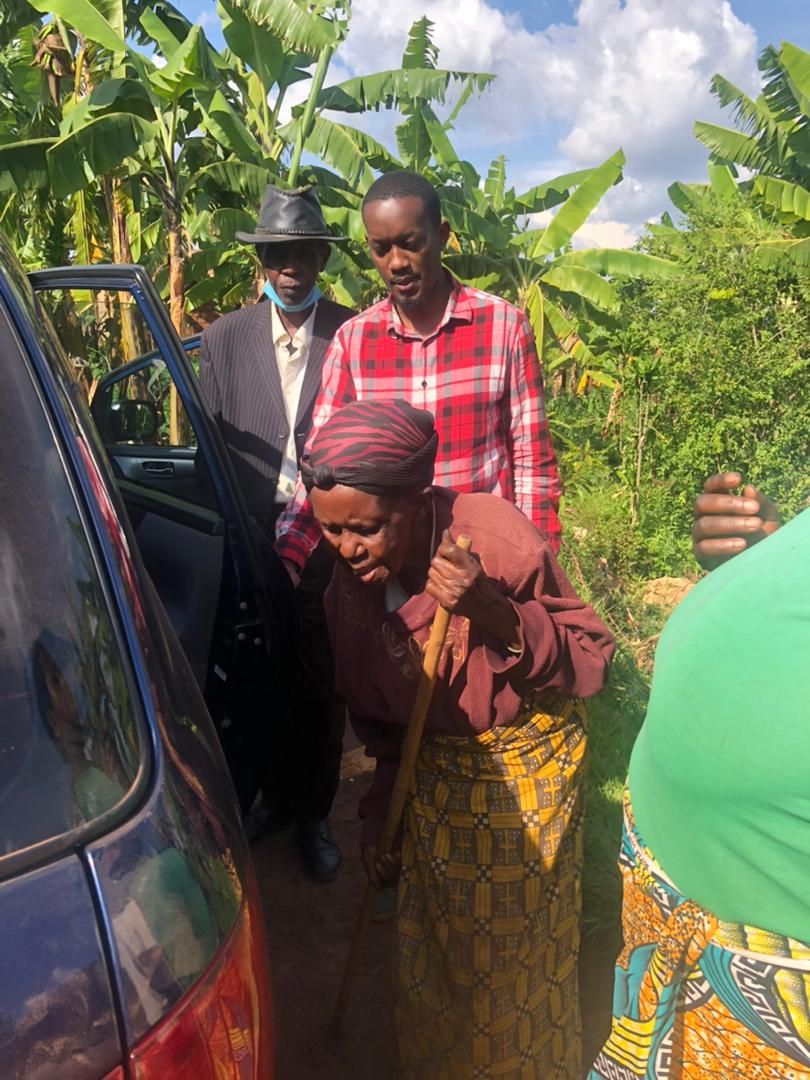 Muhizi on a mission to help a client find her missing family members. Source: Igitree/ Deexon Muhizi
Fulfillment and Family Reunions
Muhizi affirms that his dream is for everyone to have a platform where they can look for their long-lost relatives and get to at least get introduced to each other, even before the family reunions and get-togethers. The App so far has hundreds of downloads and the tracing of families after registering on the App is done, in addition to physical movement from one country to another where families are reconnecting in person. "It is demanding in terms of resources and time, but the fulfillment is way more rewarding because I know how the identity dilemma feels like," Muhizi notes.
One of the first users of the platform is Josephine Birungi, a 31-year-old Ugandan fashion designer. Birungi and Muhizi have become friends after he helped her trace her paternal relatives whom she only heard about from stories. Birungi's father fled Rwanda to Uganda when he was 6 years old. Together with his family and hundreds of thousands of other Tutsis were escaping from massacres against the Tutsis by the Hutu regime at the time.
Birungi began her journey to find her Rwandan relatives when she was 17 after learning that her father, who had passed away, was Rwandan. Unfortunately, she did not know of any person who could divulge more details about her family roots until she came across Muhizi's platform on social media and reached out.
It took almost a year of intensively working together and gathering every tiny detail to finally find the name of a place where Birungi's father used to live before he fled into exile. Muhizi identified a pool of 70 people from the area with the same age as Birungi's father, similar last names, or those who claimed to have known him.
Josephine Birungi and her newly-found uncles in Rwanda. Source: Igitree/ Deexon Muhizi
After dozens of interviews, they found multiple aunties, uncles, and cousins of Birungi at Byimana in Ruhango district, in southern Rwanda. Birungi says it was the happiest she has ever been. "I can't find the words to describe that day. My aunties and cousins were very happy to see me, and I was just speechless. Our communication is limited because I do not speak Kinyarwanda and they do not speak English, but we managed to celebrate the reunion. The whole village was excited to welcome me," Birungi reveals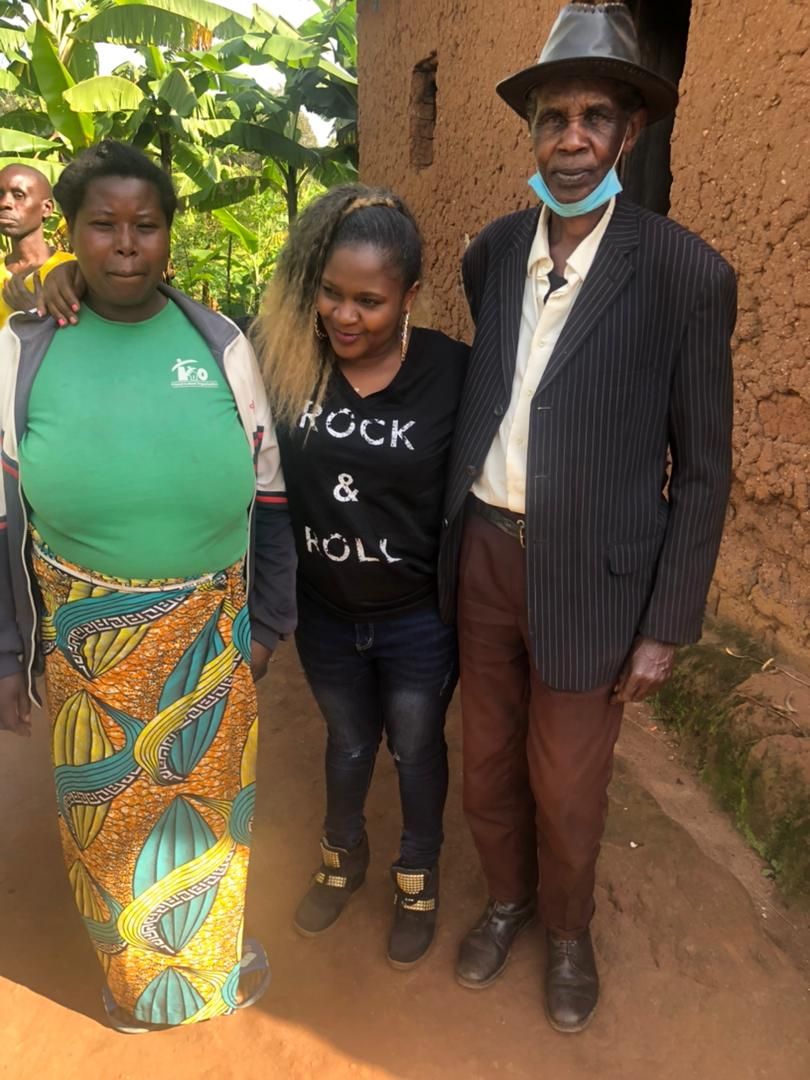 A smiling Birungi with her new found relatives in Rwanda. Source: Igitree/ Deexon Muhizi
It was Birungi's first time traveling to Rwanda but she has since become a frequent visitor and she has managed to introduce and get the families on both sides of the border in touch.
Successes Promise of A Better Future
The application is the first of its kind in Rwanda and Africa and Muhizi anticipates that families will grow closer as they get to learn about their ancestors and DNA tracing. Details of every successful family reunion are kept on the platform for future users, and Muhizi envisions the platform to become operational and helpful not only in Rwanda and the East African region but to expand to other countries in Africa and go global.
There is hope that generations after generations will start making sense if they trace the old days. Muhizi notes that for the African brothers and sisters in the diaspora that might have originated from slave ancestors, Igitree is a platform that will give them a home, by tracing their DNA origins and possible connections to family DNA matches.

August 2019 marked the 400th anniversary of slavery, an opportunity for many African Americans to trace their origins after disembarking from the first ship carrying African slaves, which docked at James Town in Virginia in the United States in 1619. Many black Americans have recently undertaken to return to the land of their ancestors and platforms like Igitree will provide them with the best avenue.