"Artists are dedicated people by definition. Their main reward is the satisfaction they get from the creative process itself".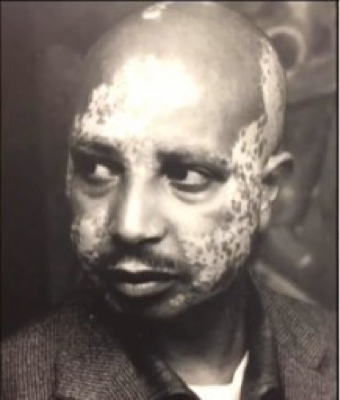 Source: Pinterest
Born in the rainbow city of Harar in 1932 to Alèka Dèsta Nègo, an acclaimed graphic designer, calligrapher of religious books and teacher to young Ras Mekonnen (later Haileselassie I), Gèbrèkristos grew up watching and helping his father with his craft. Gebrekirstos was a peculiar man. Aside from his monumental expressionist paintings and his nostalgic poetry, he had a great sense of style. He always stayed kempt. Gèbrèkristos honed his painting skills by reading a variety of books. He later joined the Addis Ababa University, Faculty of Science. After two years, he dropped out in pursuit of his passion, art. He earned a scholarship to study art in Germany at the age of 25, and later showcased his first art exhibition there. Gèbrèkristos toured the world for the next five years with his art works.
When Gèbrèkristos Dèsta returned to Ethiopia at the age of 30, he expressed his desire to be a teacher, saying, "a painter shouldn't just paint; a painter should teach the beauty and secret of art," and immediately took on his new position as an arts teacher at the Addis Ababa University, School of Fine Arts. His students characterized him as a sapient teacher who gave them freedom to roam with their paint brushes while still paying attention to their works. He treated them as if he were a big brother, directing them and correcting them when they made mistakes. Gèbrèkristos was later recognized as the best instructor and received an award for his efforts. His students are now well-known painters, and they owe it to Gèbrèkristos for instilling artistic abilities in them at such a young age.
The series of paintings Gèbrèkristos brought with him from Germany were abstract paintings, and after his first solo exhibition in Ethiopia; he received more criticism than acclaim. He was chastised for departing from the traditional Ethiopian art style. Gebrekristos Dèsta, on the other hand, paid little attention and went on to become the father/pioneer of modern Ethiopian art.
In 1965, he received the prestigious "Prize Trust Award" from emperor Haileselassie I for fine arts (worth $2,800), for introducing non-figurative art in to Ethiopia and his contribution in modernizing Ethiopian art. Personally, I see parallels with artist Dereje Shiferaw, who is already thinking outside the box and making unique art works that are outside of the traditional Ethiopian aesthetics- despite the fact that the general public does not understand the concept of the works, yet.
"It is really funny that some people who know nothing about the history of art attach such exaggerated importance to the art of their own country. They don't realize how international art really is. Picasso would hardly have created his cubism had he not seen African art. Matisse was influenced by Islamic traditions. Gauguin went as far as Tahiti to find new inspirations. We create ultramodern houses in our developing countries. We build super-highways on which we drive the latest model cars from all over the world. We use all sorts of up-to-date international styles in technology, science, education, medicine and what have you. Why in the world should art be any different? " a knowledgeable statement Gèbrèkristosmade in an interview with Sydney W. from African Art, summer 1969 issue.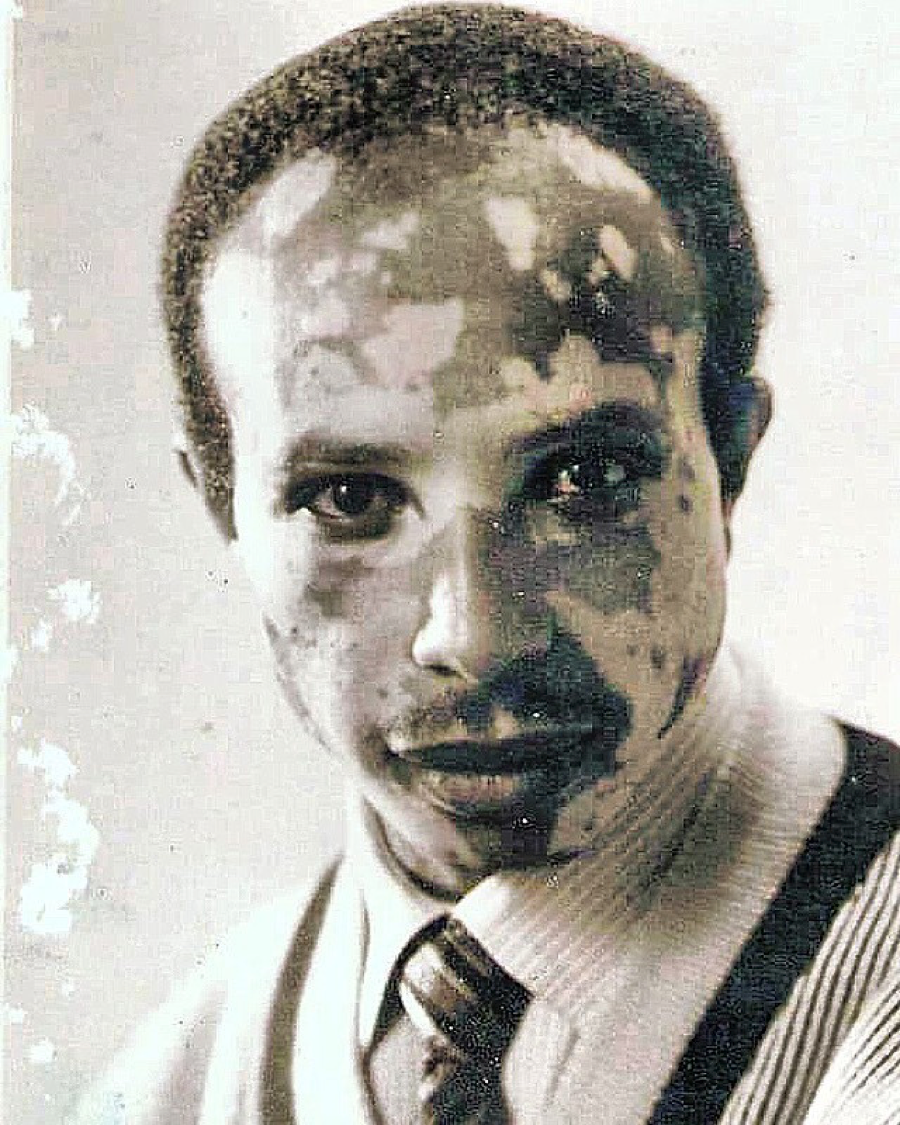 Source: Instagram –Young Gèbrèkristos Dèsta
It is known that he had developed Vitiligo when he was a young man. Nevertheless, he didn't let it impact him in any way.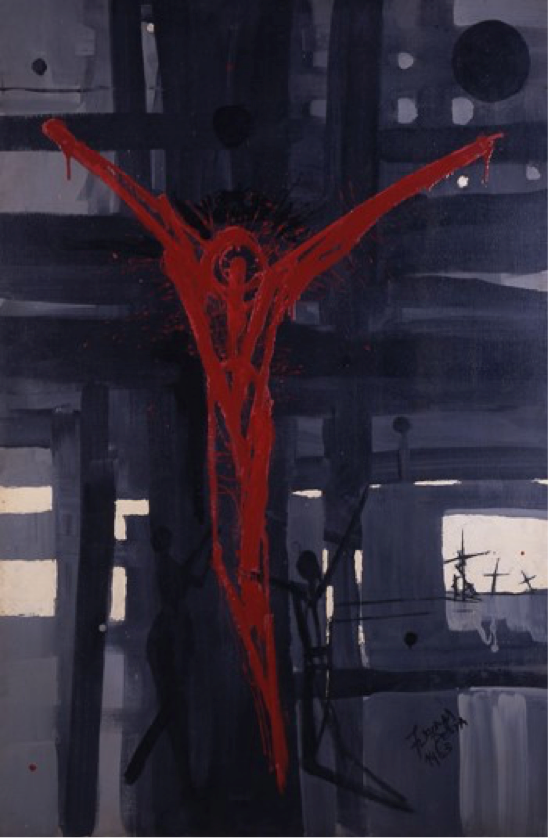 Source: Wikiart- Gologotha by Gèbrèkristos Dèsta
By far, one of the greatest art works of Gèbrèkristos is entitled 'Gologotha- 1963'. The backstory of this painting is rumored to be an event that takes us to what seemed like a normal day in his class. This one particular painting grabbed his attention. This painting was of Jesus Christ but wasn't just an ordinary painting. His student had portrayed Jesus as a black skinned man. Astonished, Gèbrèkristos inquired of his reasons for painting Jesus as a black man, this student gave an answer saying 'I don't think a white person can have the selflessness that Jesus has, and I assumed he must have been a black person'. The other rumour of the chain of events that took place is very similar to the first one and the only difference is there are two students one had painted Jesus black and the other painted Jesus white and they were arguing about the color of Jesus's skin. Gèbrèkristos heard their futile argument and didn't say anything. Rather, he went home and spent the night creating this masterpiece before bringing it to class, and stated "this is Jesus, he is neither black nor white or anything in between. He is Pure Blood".
The detailed backgrounds on the painting may seem disquieting to the eye, and the focus of the eye may be fixated on the bold red outlined figure of Jesus Christ's crucifixion. This master piece can be found in Ethiopia's one and only Modern Art Museum- Gebrekirstos Desta Center.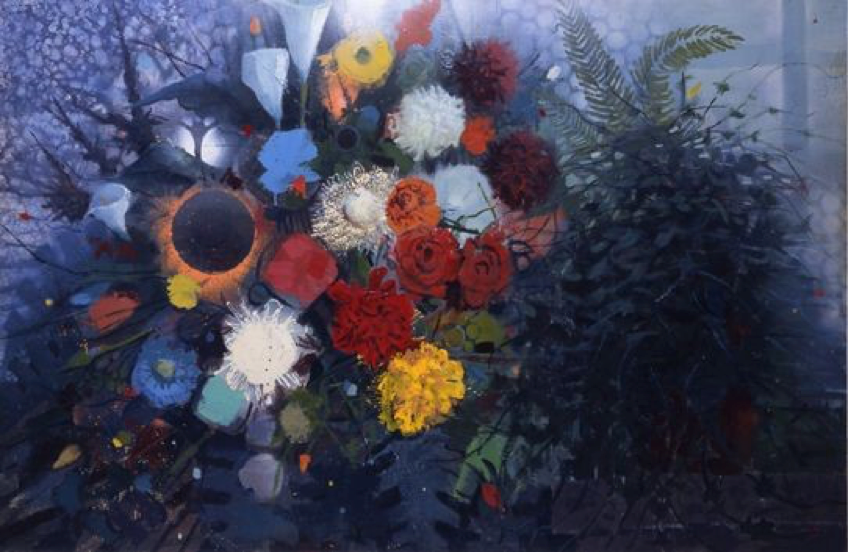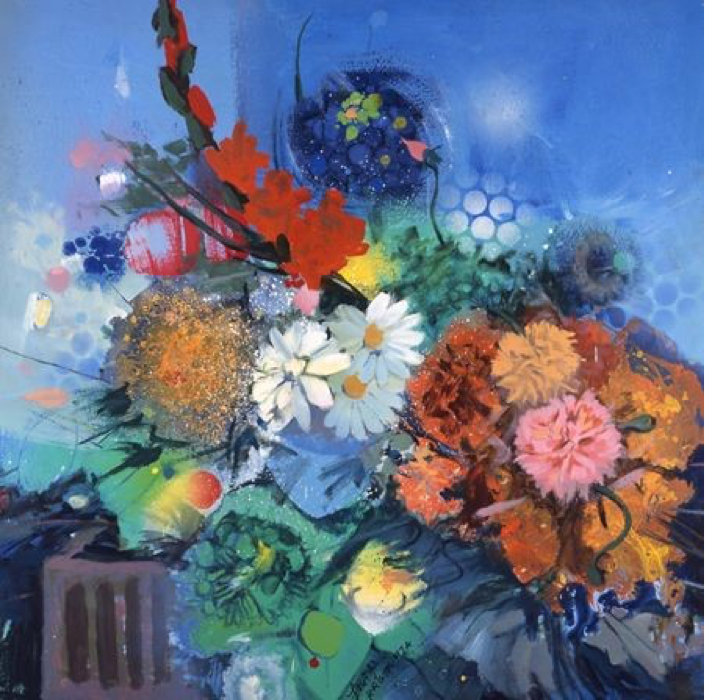 Source: Pinterest- Flowers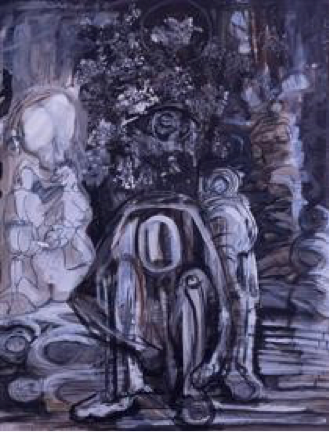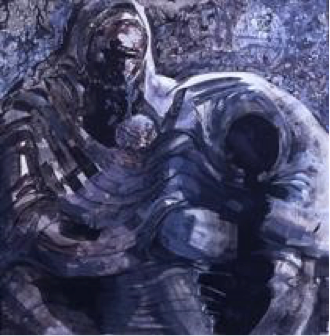 Source: Pinterest- A long day
Gèbrèkristos went through four main painting periods, the first of which was an exploratory period in which he was seeking styles he wanted to express, figures to use, and how to experiment with various elements. The second stage; he made circles his main objects, accompanied by vibrant colors, the third phase was when Gèbrèkristos exhibited deep emotions that resonated with him under the series of paintings that were embellished with bright vibrant colors. The final period was unusual because it depicted the 1974 Ethiopian drought and had an aura of poignancy about it, all the colors Gèbrèkristosoften adorned his canvas with were replaced with dark dull colors.
The versatility and eccentricity of Gèbrèkristos set him apart from many others. He was a painter as well as a poet. In Gèbrèkirstos' world, both were united in holy matrimony. His ability to replicate who he was as a person and what he loved on paper is astonishing. "Basically the two arts are not so different. For one thing, any creative process begins with observation. Actually the two arts are inseparable, for me at least. One helps the other. Somethings I can't express adequately in words; then I try color. Ideas that I can't compose as pictures I can sometimes express in words" says Gèbrèkristos in an interview with Sydney W. from the African Arts 1969 issue.
His verses and composition were like no other. He depicted 'taboo' issues with great detail, the evidence of him being a painter lies in his poetry and the evidence of him being a poet lies in his paintings. A few of his poems have been turned into songs by musicians. Most notably his poems entitled Hagere "My Country" and Ewodeshalehu "I love you" have been turned to great music by the acclaimed pianist Girma Yifrashewa and vocalist and song writer Michael Belayneh.
I Love You
Many thousand years
Endless nights
It feels millions to me
My love, the day seemed longer when I loved you
I love you
The skies and the earths
The wideness of the ocean
As much as the distance of the world's coast
Like rose, like blossom flowers
Like the smell of lemons, like the smell of incense
I love you
Like a bee that spotted a flower
Like a B-U-T-T-E-R-F-L-Y roaming through the jungle
Your love, with my love
Let me taste your love……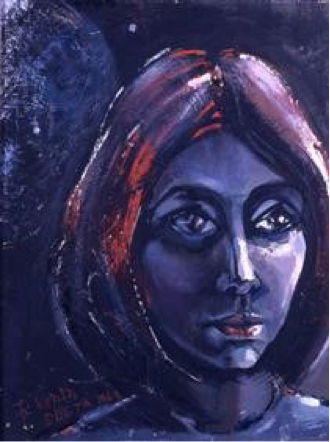 Source: Pinterest- Marga
Gèbrèkristos was an enigmatic man and not much was known about him. It is rumored that he had a German lover, but nothing is known about her except that she was named Marga and that he painted a portrait of her. While his art was for the masses, his personal life was left completely obscure.
In 1979, Ethiopia's political situation was unsuitable for Gèbrèkristos and using his upcoming exhibition in Kenya as an excuse, Gèbrèkristos left his home country that he deeply loved. Following Kenya, he moved to Germany before settling in Oklahoma, in the United States of America. He only had one show in Oklahoma before he died shortly after falling ill at the age of 49. In his short life span Gèbrèkristos managed to challenge, confront and convince the Ethiopian population with his extraordinary artworks and poetry. The majority of his art works are nowhere to be found. He is one of Ethiopia's art pioneers, but isn't celebrated anywhere near what he should be.