On March 18th of 2020, President Yoweri Museveni announced closure of schools across the country. This affected at least 15 million children attending school at different academic levels. However, not only were the students affected, but the academic staff as well, from pre-schools to universities.
The President called for speedy attention to the matter, asking the Ministry of Education to come up with a plan to ensure children have access to educational material at home. Parents quickly claimed new roles as teachers during the lockdown, helping their children remain up-to-date. In cities especially, they were able to access material off the internet. Unfortunately, the same could not be said for those in villages, who went back to farming. The lack of internet access outside of cities led children in those areas to lose their educational rights.
While schools were closed, they were not making any earnings. Many administrations suffered huge losses, making it hard for them to recover. While this was not the case with public schools, private schools are still struggling to re-open, causing many to sell off their institutions.
Today, there  are 10.7 million children in primary schools; 2 million children in pre-primary schools; 2 million students in secondary schools, and 314,548 students in universities and tertiary institutions. This adds up to a total of 15 million young Ugandans distributed in 36,285 primary schools, 7,308 pre-primary schools, 5,553 secondary schools in public and private schools respectively, and 49 universities and 1,543 tertiary institutions including technical schools, teacher training colleges and vocation schools. This is a total of 50,688 points with concentrations of a thousand or more persons each. President Yoweri Museveni directed all 15 million children to return home.
Schools in Distress
On March 20th of 2020, Frasel Nursery and Primary Schools in Witm B Cell, Abedi Parish, Apac Sub Country in Apac district had a total of 290 pupils from nursery to primary six. Today, the same school has less than 150 pupils. The school is privately owned by Mr. Tonny Ago, a successful businessman in Apac town, who took a loan from the bank to start the institution in 2018. The building, unlike many other schools, is structured to accommodate the students. The school is described by residents as "one of the best schools in the area", and thought to be better than most government aided schools. Nonetheless, the school director says it has become harder for him to maintain the school's operations, especially with the pandemic.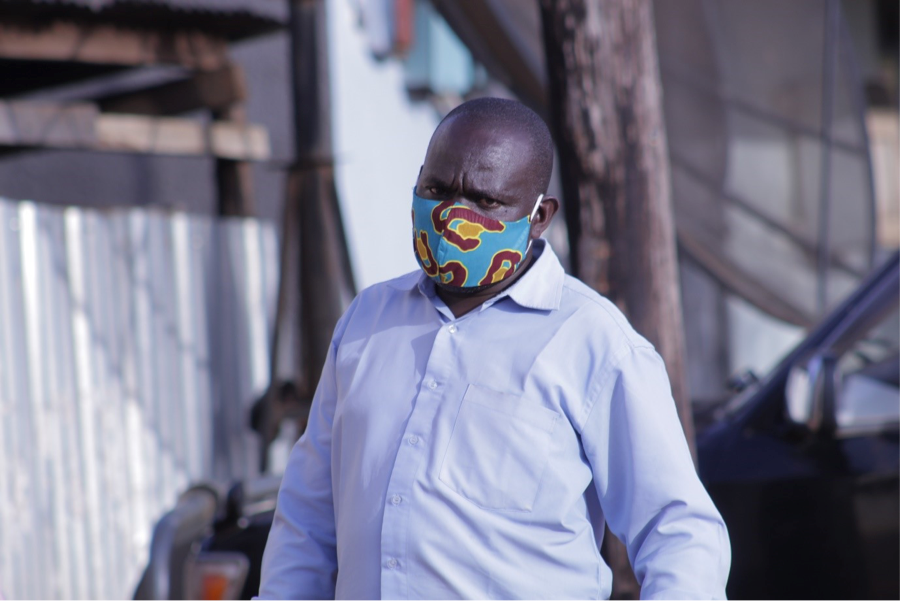 Mr. Ago at the school premises. Image by Frank Byaruhanga for Andariya.
Pupils were unable to take up online classes as directed by the president during the total lockdown and schools closure in March 2020. Mr. Ago stated, "the children did not have any lessons, neither online nor even homeschooling. First of all, we don't have TV and Radio sets. Even the printed education material distributed by the government did not reach our villages. Also, parents like me who have other businesses had no time to stay home and help their children. People were reluctant, they couldn't think about issues concerning school. We had no physical or virtual presence in homes."
The school employed a total of 13 teachers, who were laid off when the pandemic hit. The teachers were forced to venture into other activities- especially agriculture- to earn a living and ensure that their families were well taken care of. Teachers hoped that when schools reopen, they would also come back to work, but the situation was not quite as expected. When schools were forced to shutdown in March 2020, Mr. Ago paid teachers for one month and then stopped. Many teachers were forced to return to their villages, some resorting to marriage to share the burden of post COVID-19 financial detriments.
When the president announced the reopening of schools, Mr. Ago did not know what to do. The bank was still demanding its loan money, and the school had not made any during closure. He made a decision to take another loan to help him open for grades P.4 and P.5. This meant the return of staff members who teach these two grades only, leaving behind many teachers without employment.
He explained, "I could not reopen immediately. It is a private school and I had no money to pay teachers. I started the school with loan money, and the bank needed their money. The pupils started attending other schools, while many of them dropped out. Others got pregnant, especially those in P.5 and P.6."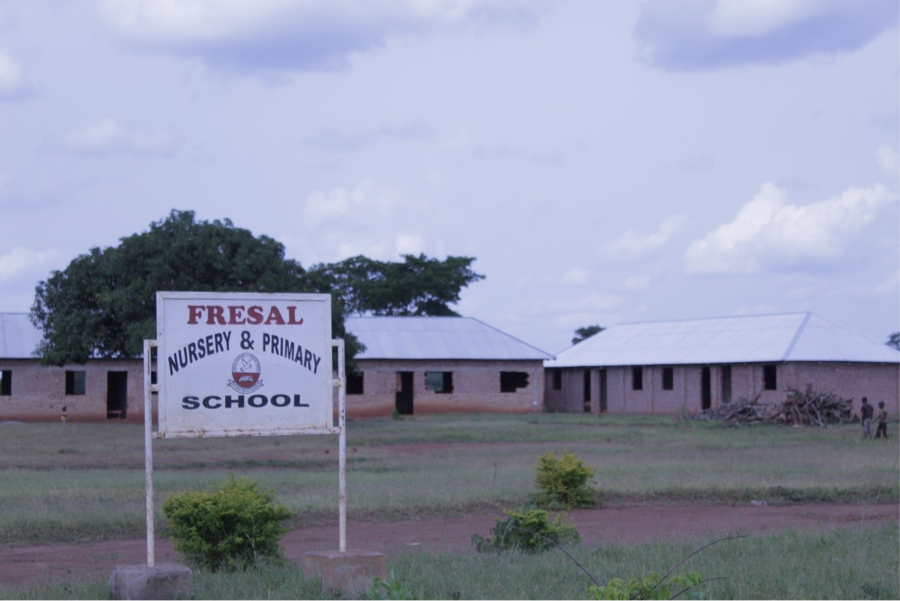 Fresal Nursery & Primary School in Apac District, looking deserted. Image by Frank Byaruhanga for Andariya.
An extreme drop in the number of pupils was noticed when schools opened their doors again. Parents could no longer afford the school fees and found other arrangements. A 13-year-old P.3 student became pregnant and had to be married off. When the school administration inquired on the child's absence, the parents claimed she had been taken to live with her aunt in a distant village. Many other girls in the village suffered the same fate.
A visit to Fresal Nursery and Primary School was shocking to say the least; it was deserted, and very little activity could be seen. I found about five male teachers, including the Dean of Studies. They say pupils are not attending school, as only a few parents could afford to pay half the school fees. Children in the boarding section pay 180,000 Shillings, while day scholars pay 80,000 shilling per academic term (three months). As for feeding these students, Ago hopes to be able to cater to them from his community garden.
Vaccination of Teachers
When the government received the first doses of the AstraZeneca COVID-19 vaccine, it announced that teachers are part of the high priority target groups the government intends to administer the vaccine to first. This was to make it safer for schools to reopen and to decrease the rate of transmission at schools.
However, during the filing of this story, all 6 teachers at Fresal Primary School had not received their shots. In deeper investigations behind the cause, they noted that it was due to the lack of vaccines available. A visit to Apac General Hospital confirmed this, as the Administrator Mr. Joseph reasoned they only received a few doses - which were given to health workers. Less than 5% of teachers in Apac received the first dose of the vaccine.
Despite the shortage of vaccines, President Museveni says no teacher will be allowed to enter a classroom without a vaccination certificate. This is especially dire after many schools reported cases, leading up to the second total lockdown announced in June 2021.
Golden Star School
Another private school suffering the same fate is Golden Star Nursery and Primary School. Located in Natik village, Bung Ward, Natic Division in Apac Municipality. The school had at least 170 children from nursery to primary four. It employed seven teachers to support the students' education. However, Ms Ayot Mildren, the school's director, says she could not reopen for the primary four pupils due to lack of resources.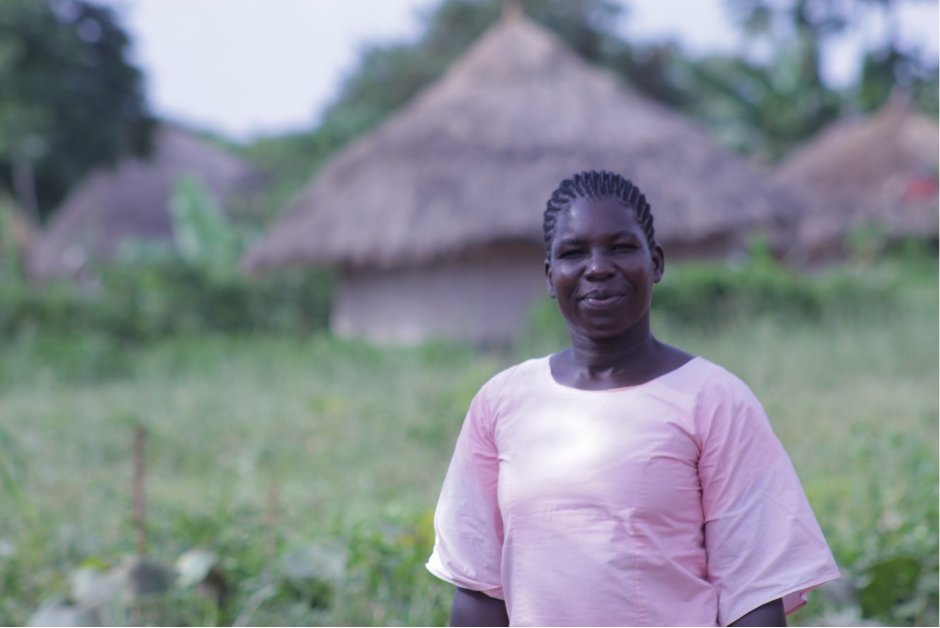 Ms. Ayot Mildern the director Golden Star Nursery and Primary School. Image by Frank Byaruhanga for Andariya.
Primary four and five pupils across the country went back to schools in April 2021 to finish the 3rdterm of the 2020 academic year. Ms. Ayot says she couldn't resume P.4 classes due to an exhaustion of already scarce resources. Bringing in four teachers to teach only one class would have caused further financial burdens. She explains, "I did not have money to pay the teachers, so they stayed home. Some of them got married, others have taken on agricultural activities to feed their families. The pupils in P.4 were very few, which meant teachers will not get a rightful payment. Besides, just a few pupils wanted to come back, others dropped out and some found different schools".
The school charges 30,000 Shillings for the nursery section per term, and 50,000 for the ones in the primary section. Like Mr. Ago, Ms Ayot also tells me her village did not benefit from the educational material sent to different districts. She is concerned that students may have forgotten nearly everything they had studied before the lockdown.
Plea to the Government
Mr. Ago is now in discussion with the government to buy the school, and pleading for the operations to keep running, as it has become too expensive to manage. However, this may be wishful thinking; The Apac District Education Officer, Mr. Sam Atim says this is not an option the government will consider. He adds that arrangements like this were made in the past, where the government entered into agreements with some private schools and provided them with capitation grants to help run the schools, however, this has since stopped. He explains further, "there was what we call the Public Private Partnership (PPP), where the government would co-fund operations in private schools. This ended in 2019. To date, if a school is private, it remains that way. Now, coupled with the COVID-19 pandemic, it has become much more difficult for private schools to reopen".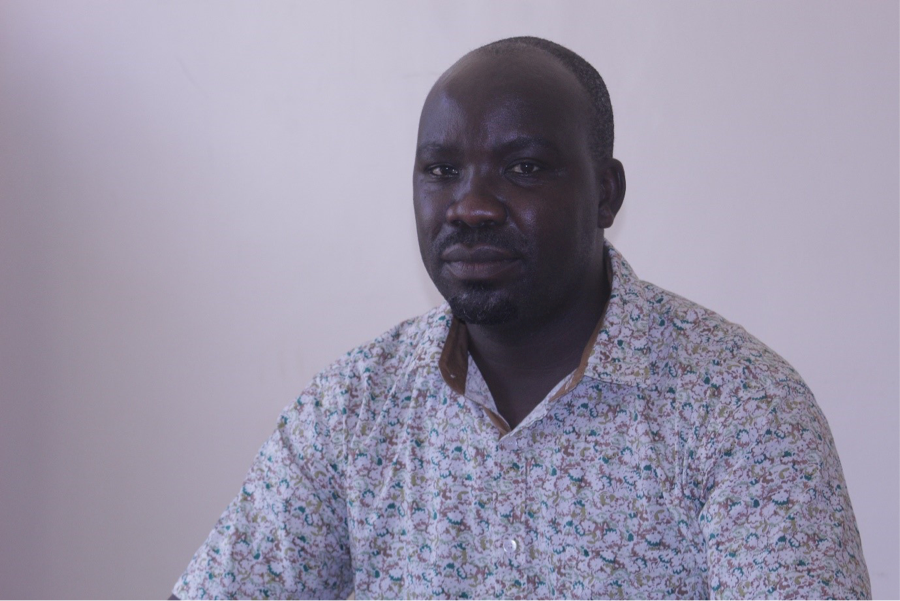 Mr. Sam Atim, The DEO APAC district. Image by Frank Byaruhanga for Andariya.
Mr. Atim restates his concerns about the 2020 lockdown, which was too long and the little resources collected during the previous term were quickly depleted during the lockdown. He further elaborates that the government has strict policies regarding starting up a private school. This is because the government has built its own schools in each Sub-County to provide children free education. Leaving private school owners like Mr. Ago with limited choices of either closing the school, or taking up more loans to continue operations.
Current Situation in the Country
On Sunday, June 6th 2021, President Yoweri Museveni announced a 42-day partial lockdown, due to a surge in COVID-19 cases and elevated it to a full lockdown by June 21st 2021, extending for another 42 days. Uganda is currently experiencing its second wave of the pandemic, one that has proven to be more deadly. According to statistics from the Ministry of Health, the number of cases and fatalities has increased, with double-digit deaths being reported now. During the Presidents' national address, he indicated that more than 800 students from 24 schools across the country had tested positive. Adding that school administrators were not fully reporting cases at their institutions. 
According to the Ministry of Health (MoH), only 854,443 out of 42 million Ugandans have been vaccinated against COVID19 to date. Most of which have only received one dose, waiting for a second dose hopefully in the near future. Recently, the president advised the MoH to prioritize those waiting for the second dose, when and if another batch of the vaccine is received. He also ordered that only vaccinated teachers be allowed to resume teaching once schools reopen. 
To conclude, the problems facing the education sector in the country may increase, with even more schools closing as the country slips into another lockdown, following the deadly second wave the country is currently battling. In Kampala, many schools, especially pre-schools, have closed and building structures have been rented out as residential accommodations, while others have been turned into health centers. On the other side, in places like Apac district, location proves to be the biggest challenge; narrowing their vaccination reach, halting educational progress and making them unappealing to buyers or investors. Owners are left distressed, with mounting losses and liabilities. It remains unclear how long it will take for educational institutions in Uganda to get back on track.
This article is part of a series on COVID-19's impact in the East Africa region supported by WAN-IFRA Women in News, Social Impact Reporting Initiative.