Born in Omdurman (Sudan) 55 years ago, Abushariaa Ahmed is one of the greatest artists of our time. Being born at a time when artists could not freely express themselves did not deter him from chasing a dream he had since childhood.
Abushariaa was attracted to art at a very tender age. His father was a tailor who used to design colorful clothes for his female clientele. To the young Ahmed, the colors in these clothes were not just attractive to the customers, but they caught his interest as well.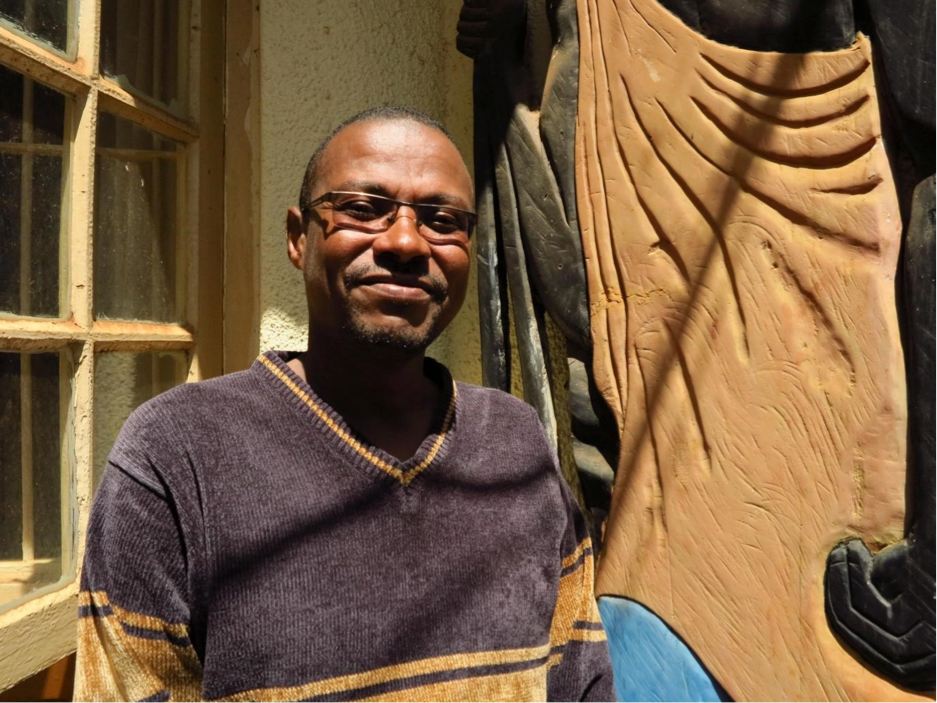 Source: Le Belle Personess
This colors inspiration carried onto his paintings. Together with his friends; Salah Elmur, Eltayeb Dawelbait , and Hussein Halfawi, they graduated in 1990 from Sudan University, College of Fine & Applied Arts. While Abushariaa says they were not friends at first since they were in different school years and did not even pursue the same kind of art, they reconnected later in university."After school, I worked as a graphics designer for two to three years. I designed book covers and signs. But that wasn't my passion, my passion was painting" Abushariaa says.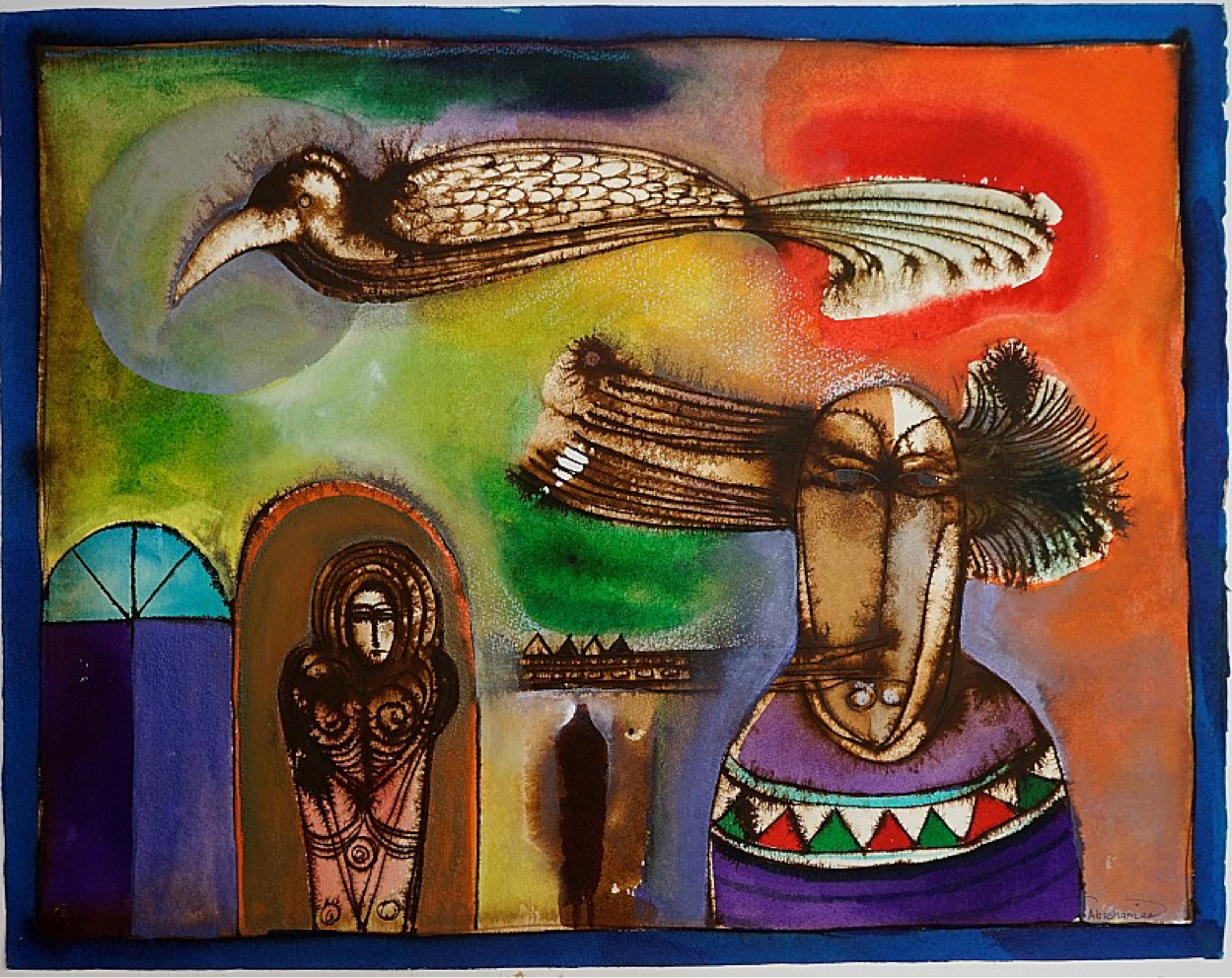 Source: Afriart Gallery
In 1993, he left Sudan for a workshop in Nairobi Kenya. Here, Abushariaa says he felt at home because he could finally paint and bring his passion to life. "I got a chance to go to Nairobi for a workshop. At that time, it was very hard in Sudan politically and to go out was a big deal. In Kenya, I found a lot of art materials, while in Sudan it was very hard to find them" Abushariaa recalls.
He had his first show at Moro Art Gallery, one of the biggest art galleries in Nairobi, then his wishes to stay were realized "I had a very successful show. Then after that, I had an artist residency at Paa Ya Paa Art center in Nairobi. I spent almost two years at the center in the atmosphere of art. It really helped me a lot to just work continuously" he noted.
After the residency, Abushariaa went to Europe for an exhibition called "Rise With The Sun, Women & Work in Africa – Canada". This was in 1995, after which he then returned to Kenya before heading to Germany for another residency at Goethe Institute. Here, the artist had planned to attain a higher education, but he later changed his mind.
In 2003, Abushariaa came to Uganda for an exhibition at Tulifanya Gallery currently known as AKA Art Gallery. Uganda has since become his home. The artist lives here with his wife and their children. "I had a very successful show then. But I had come from a very cold place in Germany and the weather here was very warm, and similar to Khartoum. So, I returned to Germany and brought back a lot of art materials and decided to stay" he says.
According to Abushariaa, there were many hindrances in Sudan in the early 90s that disturbed the practice of art for him and other artist friends. He says there was no freedom of expression through art, and artists had to first leave the country in order to practice their passion. Many thought there was no point in creating art if they couldn't show it to the world. However, things have since changed.Abushariaa notes "with social media, many things have changed. There are many art galleries in Khartoum. I even get some of my art materials from there and exhibit in some galleries there."
Abushariaa and his friends Salah, Dawelbait and Hussein have come together for a rendezvous in the form of an exhibition at Afriart Gallery, in Kampala- Uganda. The artists showed their new pieces in an exhibition that ran for two months between the 20th of March - May 20th 2021.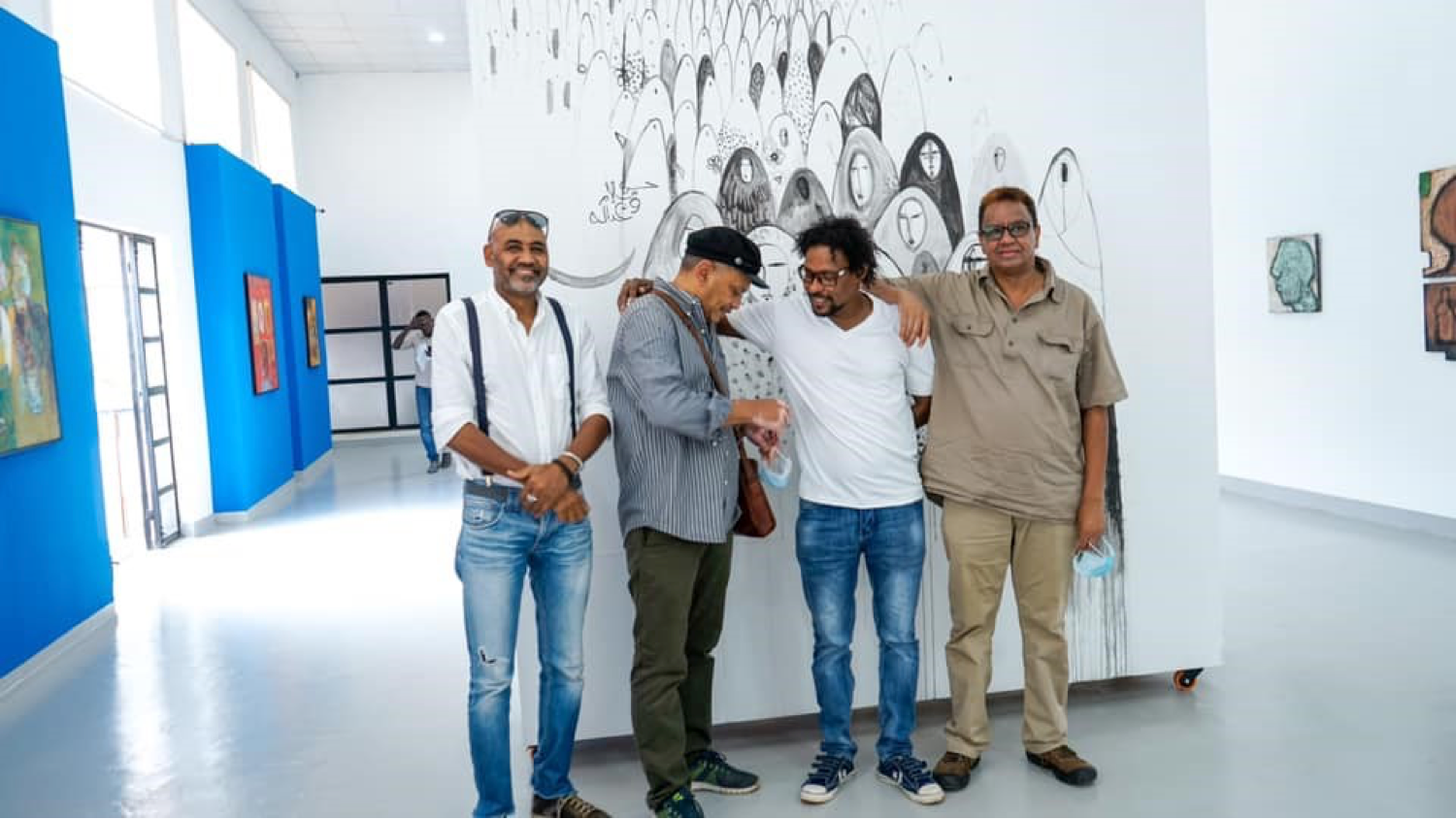 Source: Facebook
The exhibition showcases ink paper works of Abushariaa Ahmed from his "Revolution Series". The drawings depict the role of women in the Sudan Revolution which reached its peak in June 2019. Women like Alaa Salah who led powerful protest chants that helped fuel the revolution that ousted President Omar al-Bashir from 30 years of authoritarian rule, came to symbolize the integral role women played on the front-lines of the pro-democracy protests, where they outnumbered men.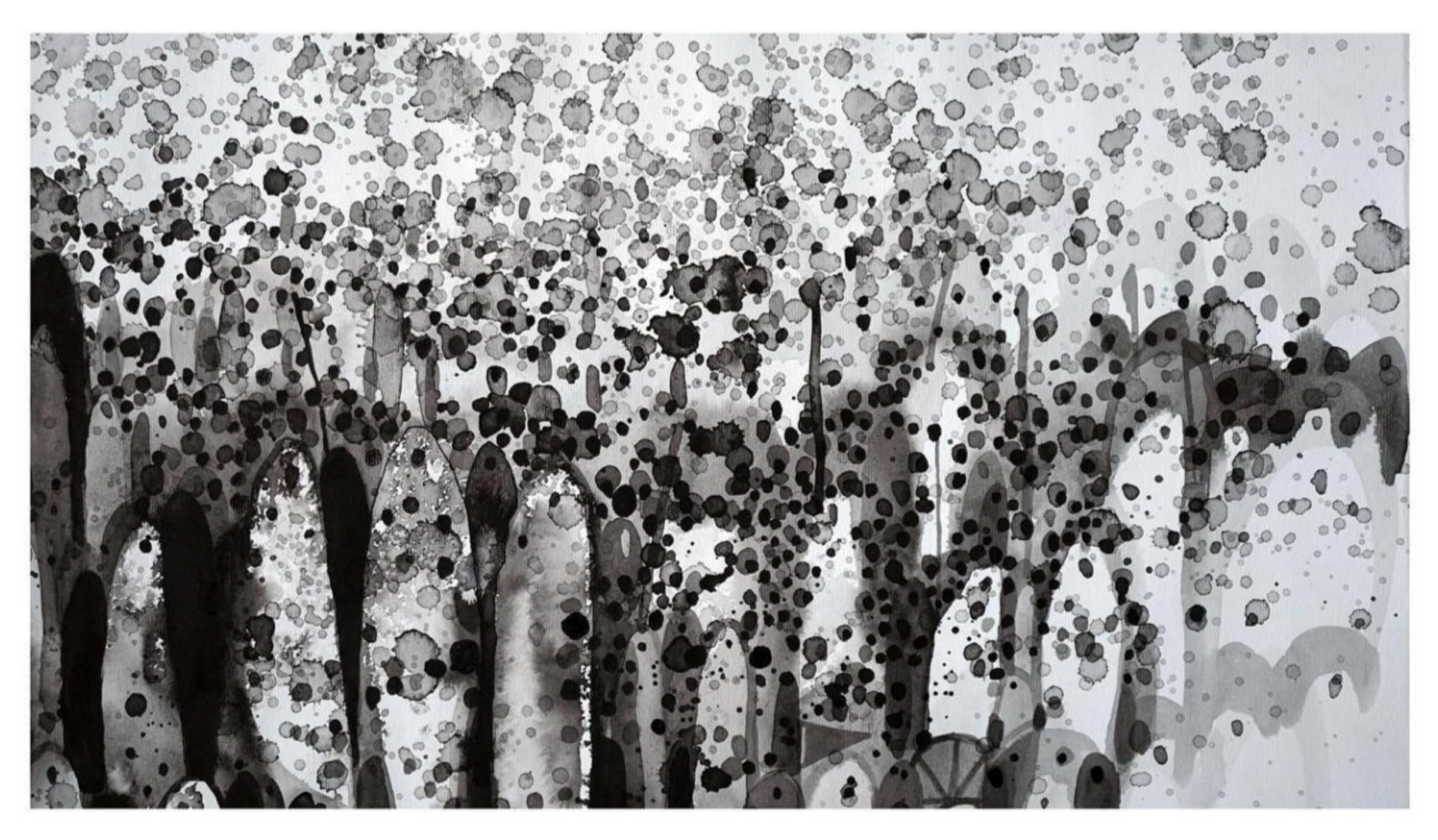 Source: Facebook
His pieces at this exhibition were in black and white ink. However, Abushariaa says most of his other paintings are in brighter colors because he is a happy soul. He explains "if you see my early paintings, they are in strong bright colors and whenever I see them, I remember that my father was a tailor and designer for ladies' clothes. So, when I was a child, we used to go together to his workshop and I would see piles of clothes with beautiful bright colors. This is one of the reasons as to why I use strong colors."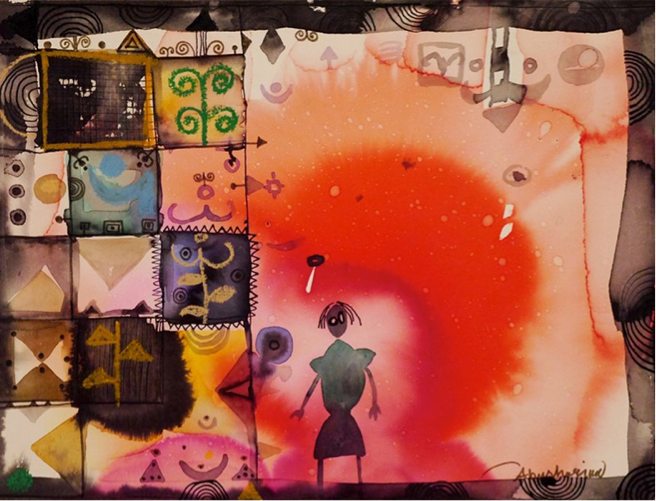 Source: Red Hill Art Gallery
Abushariaa describes his painting at the show as memories; which include memories from the Sudan Revolution and those from his childhood. When people see his paintings for the first time, the artist wants them to find a connection with his memories. For example, in two of the paintings, the artist paints his childhood memories of the village he grew up in. He adds "anyone who walks by that painting will immediately connect, as it reflects most of our childhood homes."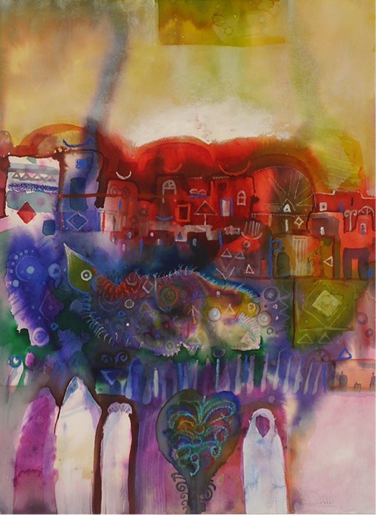 Source: Red Hill Art
He continues to reminisce "I remember the entire setting, how I used to climb on top of the house and enjoy the view of the entire village. Sometimes my dad would find me and give me canes. So, when I paint, it is like meditation. I want to express my maximum love to the whole world through my paintings. I want people to relate to my paintings and start a conversation with that painting and trigger some memories in their life".
He says what the women did in Sudan was so inspirational because they did everything in an organized and peaceful manner, bringing down a dictatorship. This is his way of helping the future generations learn about the 2019 revolution and the role played by women.
Abushariaa has held over 100 solo and group exhibitions as well as 5 Auctions. Some of the solo exhibitions include; Meridian Hotel-1987, Tulifanya Gallery-2002, Red Hill Art Gallery -2013, and Tribal Art Gallery- 2019 among many other solo exhibitions. He also participated in many group exhibitions including; the 30th Anniversary of Organization of African Unity (O.A.U)- 1993, Contemporary Sudanese Art in Kunstsalon-1997, and Art Abu Dhabi- 2020 among many others. Abushariaa's auctions include; Bonhams, Sudanese Art Auction, Nairobi, East Africa Art Auction, Circle Art Gallery, Ahfad University Art Auction and Artcurial.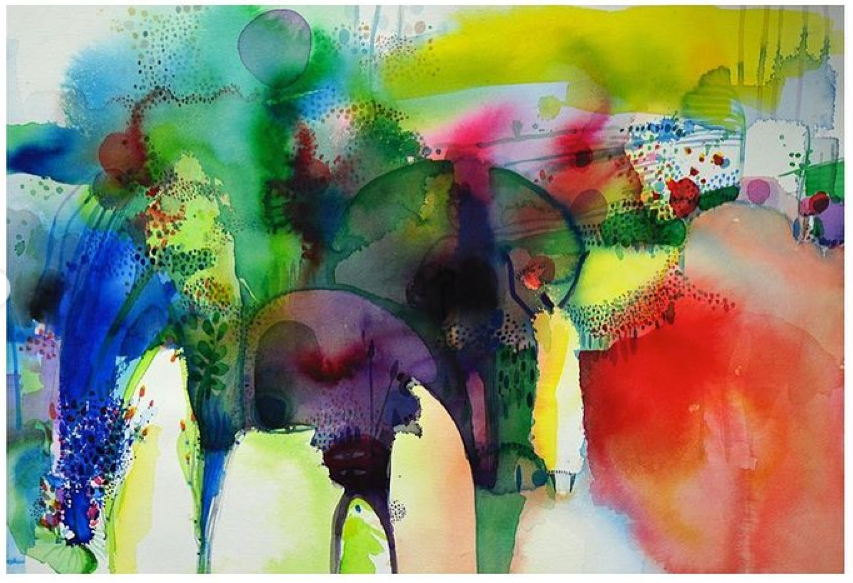 Source: Instagram
For people buying Abushariaa's latest paintings about the role of Women in the Sudan Revolution, it is a gift that indicates how powerful women are in society. You cannot help but wonder, when someday your young daughter finds this piece in the house and asks what it is about. The pride of a parent falls in explaining history to children. The history these women made shall inspire many generations to come, thanks to artists like Abushariaa who have captured and documented it in such a special way.
This article is published as a part of a series covering how the Inqaz Regime shaped the Arts and Culture scene in Sudan over 30 years. The project is supported by the Arab Fund for Arts and Culture, Arab Council for Social Sciences and The Andrew W. Mellon Foundation.