Introduction
Weam Shawki or Gholama, is a poet, writer, film maker and coffee enthusiast. We visited her cafe "Isies" to get to know her more one breezy evening in Khartoum. Weam loved writing since childhood and has cultivated different talents combining them all together to pursue her ambition of becoming the Minister of Environmental Affairs one day. Recently, she opened a cultural café because of her passion and love for coffee and reading.
Andariya: Who is Weam Shawki and Gholama?
Weam Shawki: I was born in Saudi Arabia and I returned to Sudan to study university and graduated from the college of multi-media at the University of Sudan
I have been writing since I was in elementary school, back then I used to have a problem with the Arabic language, and it continued to be difficult until secondary school. Back then I knew it by context, but could not bear to sit for Arabic exams, and this was the reason I changed my wish of studying journalism to enroll in the multimedia major. After graduation I worked for the newspaper "Al Taghyeer" as a journalist for eight months and worked as head editor for an electronic magazine, but it did not continue for administrative reasons.
The name of Gholama, came from a poem titled "Difference" by the Egyptian poet Hisham Algokh.
"to find a dark skinned girl, who would mesmerize me and hug me awakening the poet in me to write. My heart has been stolen, and I know this Gholama is different".
When he visited Sudan to be featured in the program "reehat al bun" I met him and I told him how I loved the name and wanted to use it, because the name "Gholama" is so rare and different. He gave me permission to use it as long as I'm able to carry its weight. It has been my working name ever since.
Andariya: In your writing on your "Gholama" page on Facebook, you always talk about your suffering because of insomnia, do you think insomnia inspired you to write like many writers? 
Weam Shawki: Generally I'm not a morning person at all, that's why I couldn't work as employee.
Usually I wake up at five in the afternoon, and because I cannot sleep at night; all my rituals begin at night while others are sleeping. Even coffee, it is impossible for me to drink it in the morning. But insomnia makes you lose many things and this sense awakens deeper thoughts that take you back and forth to make sense of issues you thought you figured out.
Andariya: How did you enter the cinema world?
Weam Shawki: By coincidence actually. I had a close friend (Abdulla Al Laily) and a short story called "Probably" or "What if" which I had written some time ago and he told me that it would make a good movie. He thought the story can easily be converted to a movie and since he is a director we started working on it right away. We wrote the script, but we didn't make the movie, and then he told me about the Luxor Film Festival and encouraged me to participate in the festival which he participated in the previous year. I signed up, and after that I was selected! I could not believe it and I asked myself what I would do there, because I had a story ready but I did not have any equipment, and then at the airport my friend the director Shihab Satti came and gave me his camera.
The Twelve days of the festival were the days of my life. In the last three days I made my silent film "Perfume". In it I tried to do something that reflects me, and the idea was giving each character in the movie a distinct smell that can be seen in the movie and felt through the acting to embody everyone in the cast by their scent.
Andariya: What is your story with coffee?
Weam Shawki: I started drinking coffee at the university when I saw a friend who had a specific ritual; such as sitting on the floor while drinking it. I sat down with him and tried it, then I learned about the rituals and different ways coffee is significant, and since then I have been drinking it.
But I do not just drink it; I even smell it, just to know which spices were added to it. I traveled to Saudi Arabia, Kenya, Ethiopia, Egypt, and in every country I try to know more about their coffee and taste it, but I think Sudanese and Ethiopian coffees are the best. Did you know that in Ethiopia they have a coffee map for each type of coffee, and they have "jabna" which is not to be confused with coffee!
Coffee makes you write, wake up, it makes you forget and it makes you fall in love.
Andariya: "The dream that began with a poem" you participated in startup weekend, and despite not winning you opened "Isies Café". What is Isies and why did you open it?
Weam Shawki: Three years ago we were living in a building and there were small shops in the ground floor that were available for renting. My mother rented one as she is a beautician and wanted to open a beauty center and boutique, and I added my touch by putting a little coffee table for customers. They loved it and it worked out; I was preparing coffee for customers and that is why I left my work in journalism.
Then I heard about the competition and I participated with my idea of a coffee/reading shop. Back then I called it "Your Café" and marketed it as a cultural café, where a person can read in a quiet atmosphere and cultural and musical events can be hosted there, but frankly it was difficult to explain the idea in one minute during the competition.
After we moved into a new neighborhood I thought of opening a café near my house and that's how I ended up opening "Isies Café". I asked my mother to listen to the poem "Isies" by Hisham Algokh and convinced her to name the cafe after the Goddess Isies- the ancient Egyptian goddess of motherhood, loyalty, and love.
Andariya: You're primarily a writer, have you thought about writing a novel?
Weam Shawki: Yes, but it is a very difficult task, even if I thought about writing poetry too it's difficult, the novel and the divan are the kind of things that you need to write in a very special atmosphere.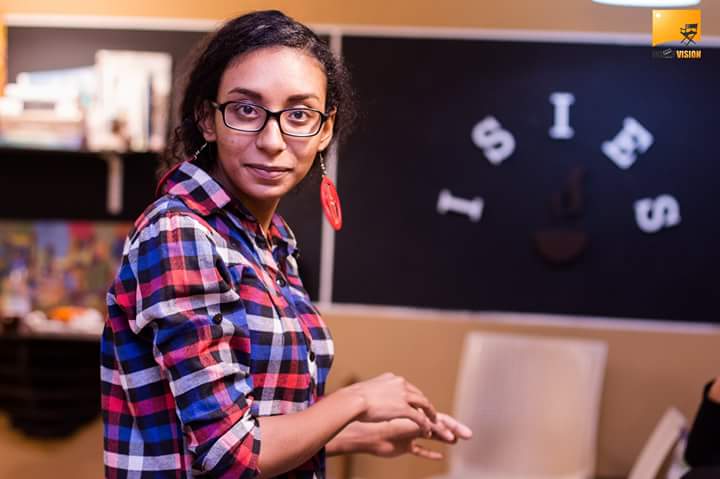 Andariya: The program "Action in Sudan", was it your idea or just an opportunity that came your way?
Weam Shawki: My friend Razan offered me an opportunity to host the show that she produced along with her husband. They both presented it and two other people worked on the show with them before me, but their segments were not aired. I accepted and really liked it, and found that out about myself – that I enjoy hosting shows and the environment surrounding this.
Andariya: You have a play called "Situation" tell us about the experience?
Weam Shawki: well, it is not my experience, but the director's, Imad Abu Fotouh. He converted my writing into a script, which meant building the text into a dramatic dialogue. He then participated with it in the sixteenth edition of the Bogaa Film Festival and won the award for Best Use of Music with Dialogue.
Andariya: Do you plan on continuing on with your activities in writing, poetry, cinema and "Isies" side by side, or do you want to focus on certain things?
Weam Shawki: I will work on them all till I become a Minister.
Andariya: Minister?
Weam Shawki: Yes.
Andariya: Minister of Information?
Weam Shawki: No.
Andariya: So what?
Weam Shawki: I would like to become the Minister of Environmental Affairs.
Andariya: So are you interested in the environment?
Weam Shawki: not so, because the environment makes you who you are, I am a person who loves writing and living life, in a different environment I would have been a completely different person, although I have not read about the environment that much, but I would like to do my Master's in the environment.
Andariya: Is it considered one of your future projects?
Weam Shawki: Yes.
Andariya: What are your other projects?
Weam Shawki: I would like to finish the film I made during the Luxor Film Festival before the end of this year, because I do not want it to die away. Secondly, I want to start my Master's on gender equality and conflicts in Sudan because I relate to being placed in a specific "box" by society because I am a woman. There is a saying that affects me a lot:"Man was not born with a hammer in his hand to work, nor was the woman born with a broom in her hand to clean and cook?" Society puts boxes around our roles and responsibilities and limits us.
Andariya: A final word?
Weam Shawki: I love Andariya very much.
Andariya: You read our magazine?
Weam Shawki: Of course, it is a beautiful magazine, and makes one feel like it's theirs.
Secondly, I hope that people who have more experience than us would continue on giving us advice, but also try not to belittle us or undermine the value of our work.
Finally, Sudan is like a blank paper, and right now anyone can leave their mark, whether with something useful or not. At least they tried and did something, and we do not get to evaluate their work, because the only thing that can be done is leaving a sustainable legacy which everyone can pitch into.
For good coffee, a tranquil ambience and ongoing art exhibition, visit Isies Cafe in Khartoum.