Originally published on Stanford.edu and republished on Andariya with permission from the author.
Comment: This trip occurs in 1969. I was 22 years old. It started in Marseilles, France, on July 16 1969. I took a boat across the Mediterranean Sea from Marseilles to Alexandria, Egypt, which I reached on July 21. My goal was to travel mostly along the Nile from Alexandria to Lake Victoria.
I reached Wadi Halfa, Sudan, on August 6, 1969, coming from Egypt. I had taken a boat (in fact, an assembly of several barges) on Lake Nasser near Aswan dam.
The following is extracted from my diary during my time in what was then Sudan and is now Sudan and South Sudan.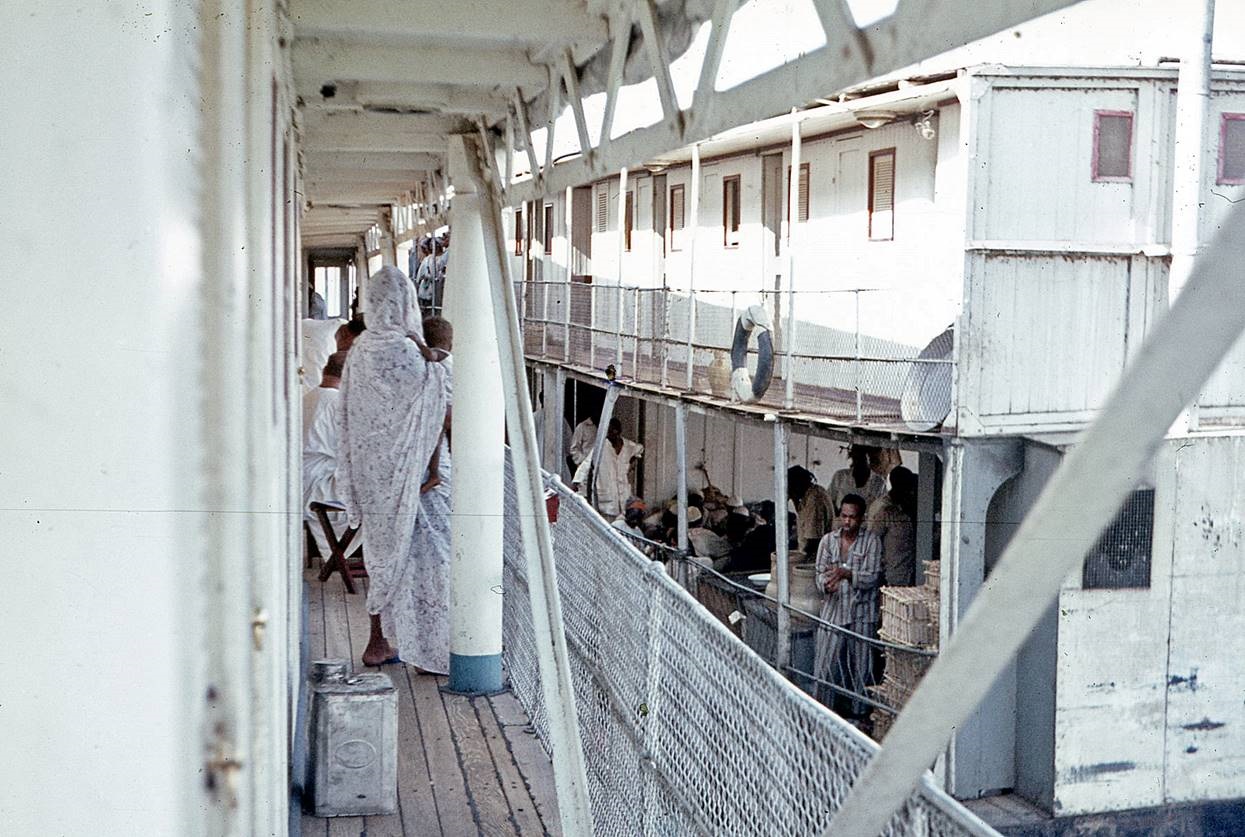 Aboard the boat on lake Nasser
Wednesday August 6:
The boat from Aswan arrives at Wadi Halfa around 7:30 in the morning. However, we must wait until 9:00 to debark so that officials can check our vaccination records. I choose to wait even longer on board because there is a long line at the customs check. Finally, at 11:30 I am on land. It is extremely hot. I put water in my hat and put it on my head. Everyone must take a truck to reach the train station. There I take a ticket for Khartoum in 3rd class (there are 4 classes) and find a seat in the train. The train leaves a 3 PM. A burning air flows through the wagon. I have three fruit cans. I place one in my wet hat to cool the fruits down before eating them.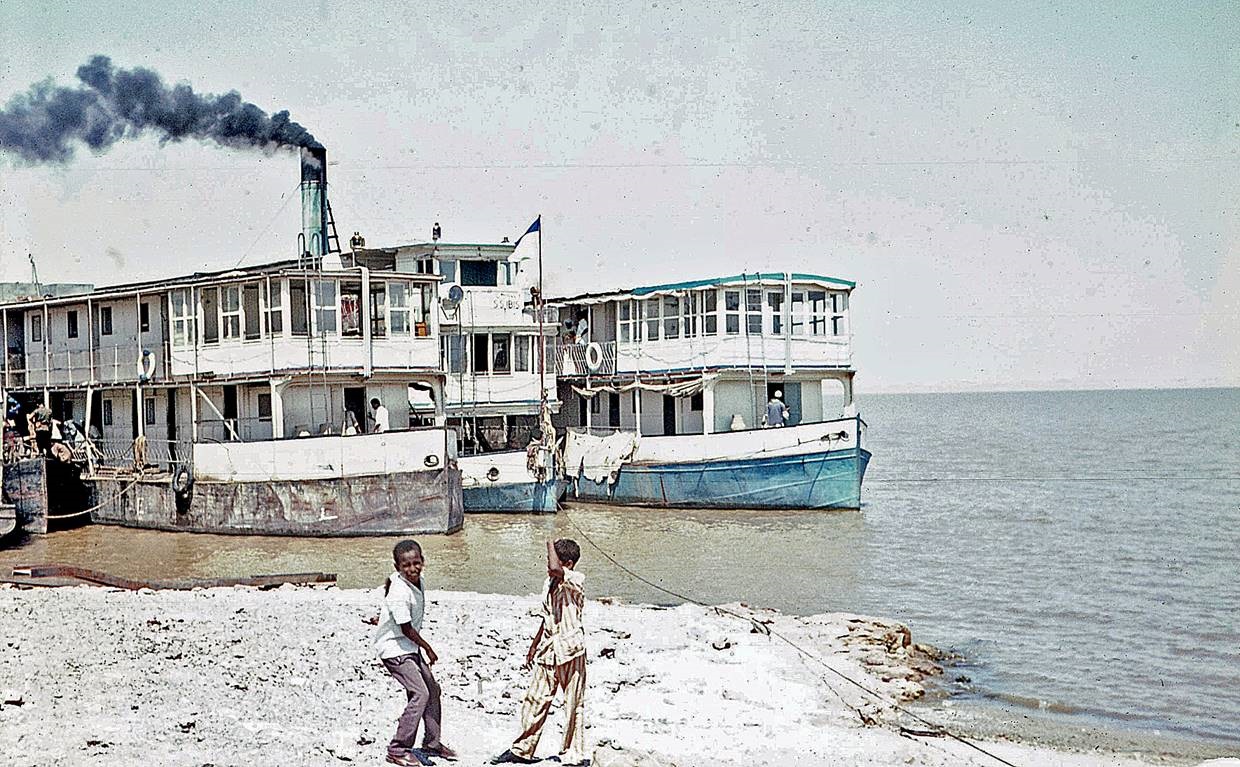 Arrival in Wadi Halfa
The trip goes well. I am surrounded by scouts that I had already met on the boat. The desert is dazzling. The train is extremely slow and stops at 10 successive stations. The train is so slow that a running man could go faster. In the evening I find a place where I can lie and manage to sleep.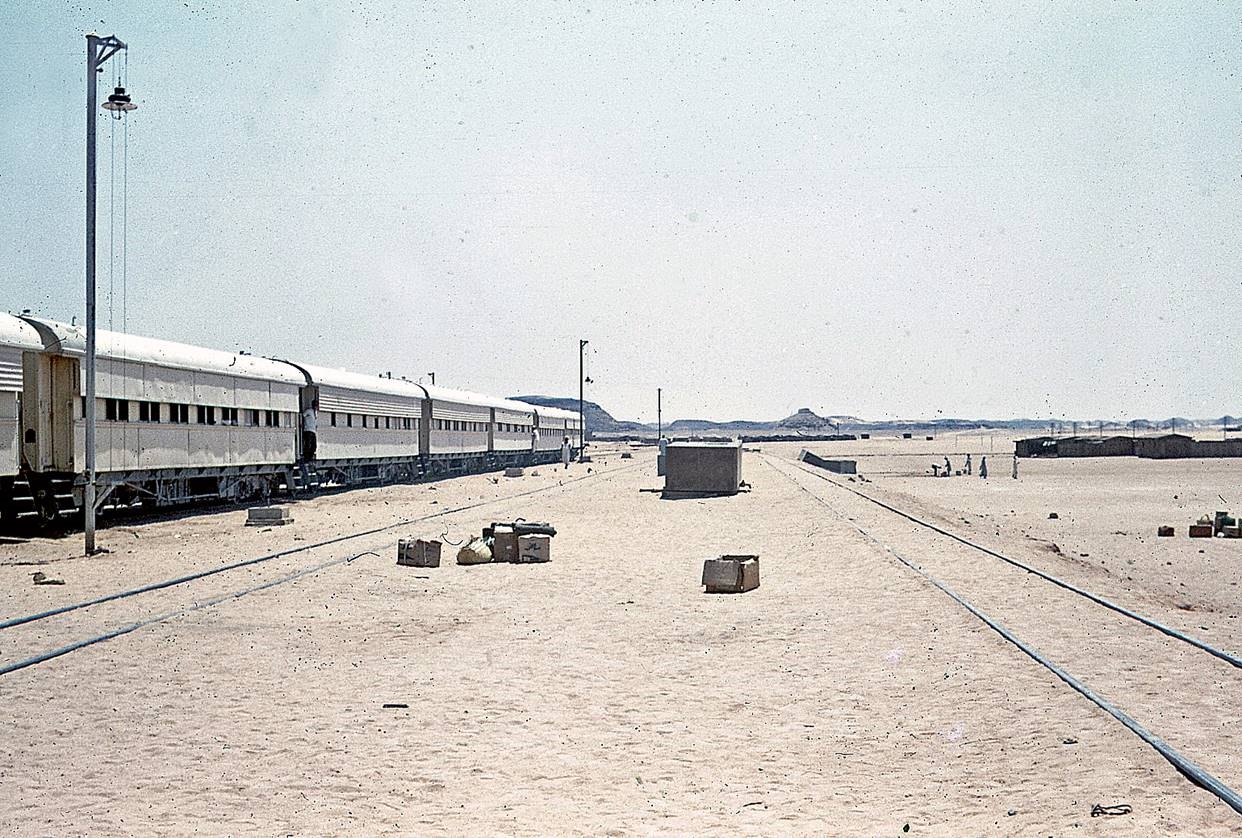 Train station in Wadi Halfa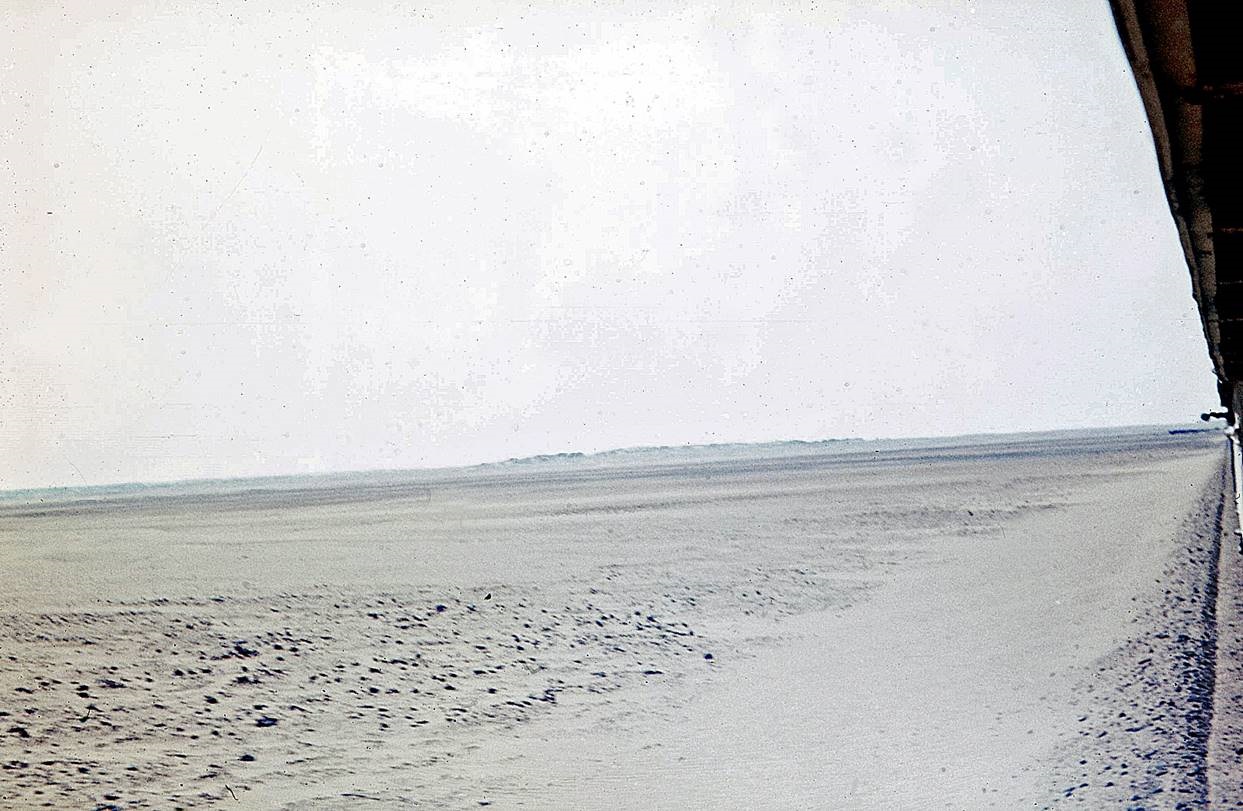 The desert seen from the train
Thursday August 7:
I wake up at 6 AM. The train has reached the 10th station at 4 AM and was still there. I learn that, because of the wind, the railroad is blocked by sand dunes. This explains why I am covered with dust. The chief of the small station sends a man with a shovel on a small mobile platform actuated by hand. The train does not move for 10 hours and starts moving around 13:00. Of course, we will not reach Khartoum during the afternoon. We must spend another night in the train. I feel very dirty (sweat and dust). Nevertheless I manage to sleep quite well.
Friday August 8:
I wake up at 6 AM. The landscape has changed a little. Sparse small trees are growing in the sand. We reach Khartoum at 1 PM. I head to the youth hostel of the university. I wash myself and my clothes. I go out for dinner. I return early to sleep. I felt very tired.
Saturday August 9:
Barking dogs awake me. At 8 AM I go to the Ministry of Interior Affairs both for registration and to get a permit to travel to the South. I am told that I will have an answer regarding the permit on Monday. Then I go to the post-office to send a letter to my mother and later I visit the zoo. On my way back to the youth hostel I stop by the train station to gather information on the boat connecting Kosti to Juba. In the afternoon I go to Omdurman, a town that is much more interesting and lively than Khartoum. I spend the evening at the youth hostel.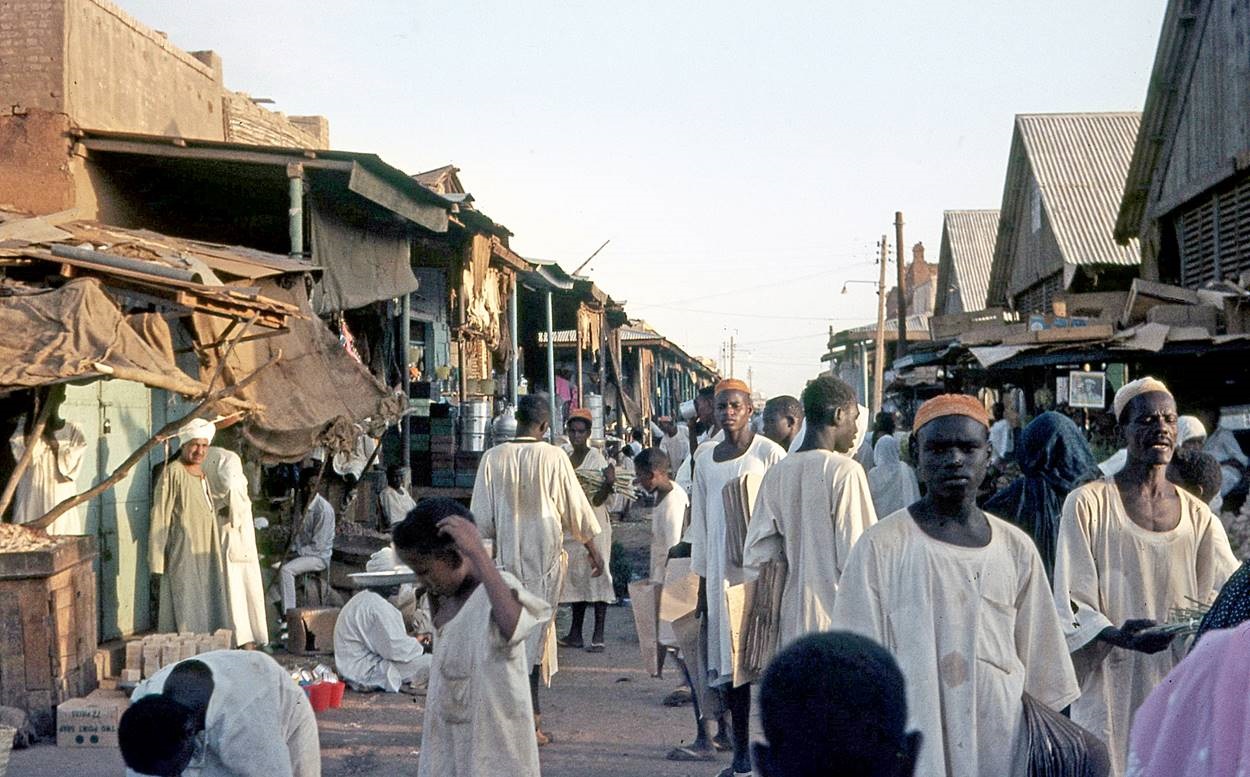 In Omdurman
Sunday August 10:
I have nothing specific to do. I write a few postcards and mail them. I change some money. In the afternoon I read and sleep. In the evening I go for a walk in town.
Monday August 11:
In the morning I go to the Ministry of Interior Affairs. They have not received the authorization from Juba that I may travel to the South. I am disappointed. I go to the American Library where I read some magazines. I return to the Ministry early in the afternoon, but there is still no reply from Juba. I spend the rest of the day talking with people in a coffee shop.
Tuesday August 12:
In the morning, I return to the Ministry, but no news from Juba. So, I will have to wait for the boat of next week. I spend most of the afternoon with a policeman with whom I have become friends.
Wednesday August 13:
Same type of day. Nothing to report. Now my morale is falling quickly.
Thursday August 14:
The day starts with good news. The reply from Juba was received and it is positive! I immediately go and buy a plane ticket from Juba to Entebbe in Uganda. This ticket is needed to collect the authorization to travel to the South. Simultaneously, I easily get permits to stop in Wad Medani, Sennar, and Kosti. These permits will allow me to leave Khartoum on the next day for Wad Medani. I return to town to get information about the next-day train to Wad Medani. In the evening I meet again with my friend the policeman and go for a walk in town before going to sleep.
Friday August 15:
I have breakfast with the policeman at the police station. At noon, I go to the station and buy my ticket for Wad Medani. There is a long queue, but people are very nice and want me to go first! I buy a 3rd class ticket (there is no 4th class on this train, which is supposed to be relatively fast). In the train I sit beside a young Sudanese who generously offers me tea. We reach Wad Medani around 16:30. A Sudanese helps me find a hotel. In the evening I go for a long walk along the Nile. My morale is much, much better. Not only do I have my permit, but all the people I have met today have been extremely nice and friendly.
Saturday August 16: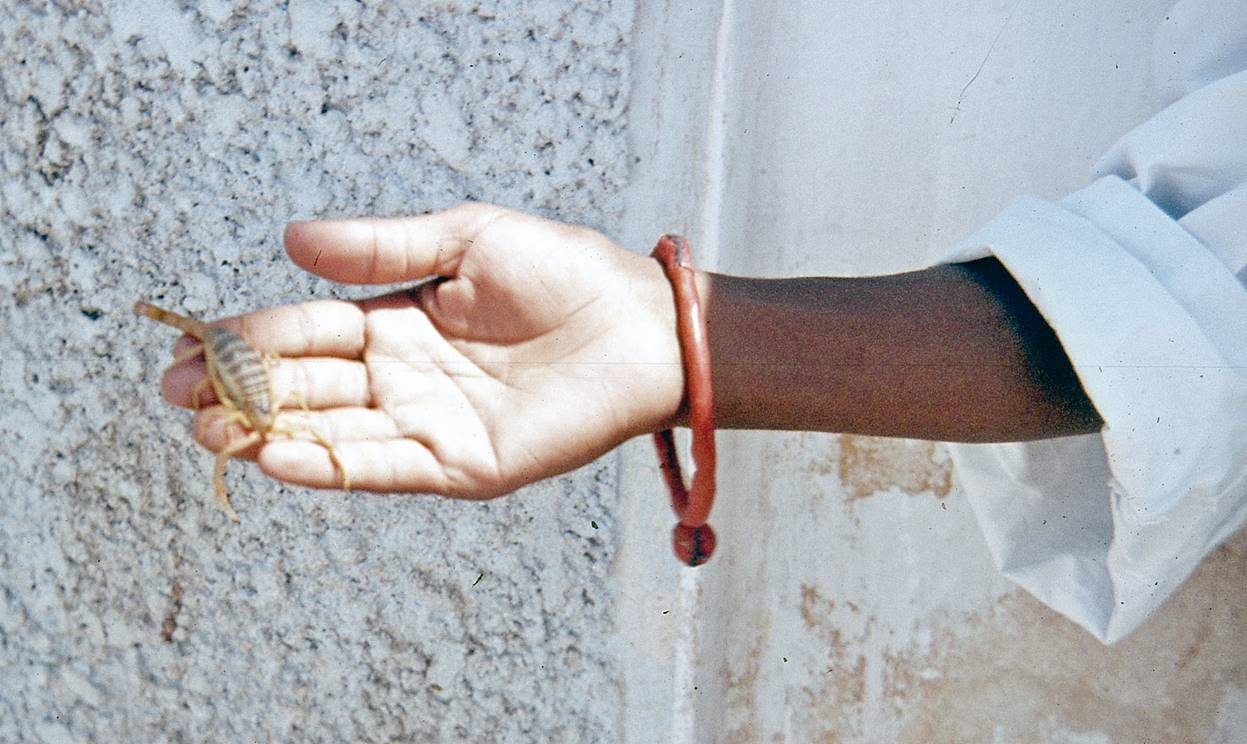 Anti-scorpion wristband
I sleep till late. Around 10 AM I go to the police station for registration. The police station is quite far from my hotel. From the police station I head to the Nile for another long walk. Later I meet a friendly amulet and lucky-charm vendor. He sells wrist bands and belts that, he says, prevent scorpions and snakes from stinging or biting. To demonstrate that this is true, he puts one of his wrist bands on him and one of the scorpions that he carries in a box in his hand. Of course, nothing happens! Because he is friendly and he entertained me well, I buy one of his wrist bands and I promise that I will wear it for the rest of my trip. Later I buy a train ticket to Kosti. I will take a train in the middle of the night. I return to the hotel to pack my bag and pay for the room. I have dinner with Sudanese people. The train arrives at 1:45 AM on Sunday. I find no seat, so I sit on my bag in a corridor, before lying down on the floor and sleeping.
Sunday August 17:
In the morning the landscape remains as flat as the day before. However, villages are now mostly made of round huts, instead of square houses. After crossing the Nile, the train arrives in Kosti. I find a cheap hotel. Then I go to an office to buy a ticket for the boat to Juba. Finding a person who speaks English is difficult, but I eventually find one, who helps me book a 2nd-class cabin on the next boat. After returning to my hotel, I meet another Sudanese who speaks English. We have lunch and spend sometimes together, before he has to return to work. Later in the day, I meet him again and we go to his village near Kosti. We drink tea and have dinner there.
Monday August 18:
In the morning I go to a UNESCO health center to check which vaccinations I need to go to the South. I receive a shot against smallpox. Then, I do the usual registration formalities at the police station and change some money at the bank. I meet a friendly Sudanese man who takes me to the market.
Tuesday August 19:
The day before, my new friend had shown me a documentation center. Today I return to this building and spend much of the day reading about Sudan and getting information for the rest of my trip. Later I return to the market to buy food for the boat trip.
Wednesday August 20:
After preparing my bag I head to the boat departure location on the Nile. The boat is supposed to leave at 10 AM, but it is late and it eventually leaves at 3 PM. Like the boat that brought me to Wadi Halfa, this boat also consists of several barges attached together. My cabin reservation starts only on the next day, so I sleep on the deck.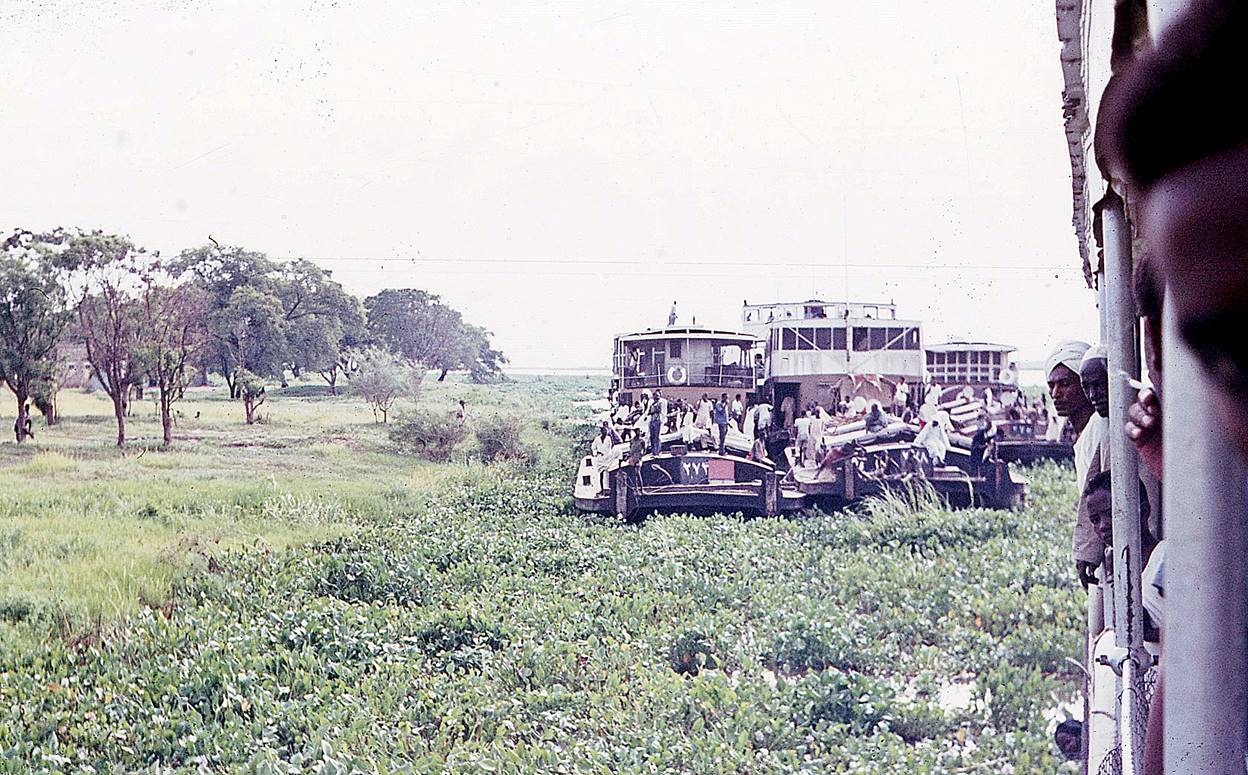 Passenger boats on the Nile are an assembly of several barges
Thursday August 21:
After waking up I take a shower. Yes, the boat provides bucket showers, and this is good news because the weather is hot and humid. At 11 AM we arrive at the village of Renk, where a passenger leaves the cabin that I will occupy for the rest of the trip. There is another stop after Renk, and yet another one during the night.
Friday August 22:
This day on the boat is very much like yesterday. I spend my time watching the scenery and reading a book. The landscape has not changed much since Kosti. It is very flat. The Nile is wide and cluttered by a huge number of aquatic plants with purple flowers. These plants seem to grow directly on top of the water. Papyrus plants grow on the shores of the Nile. Further away one can only see an immense meadow with sparsely distributed trees. During the day, we are bothered by flies and in the evening by mosquitoes. Today we stop at Kala, Malut and Kodok. In Kodok, I see a surprising 2.5m model of the Eiffel Tower. I later learn that Kodok is very close to Fashoda, which had been occupied for a short amount of time in 1898 by French troops led by Captain Jean-Baptiste Marchand.
Saturday August 23:
In the morning the siren of the boat announces the arrival at Malakal, the biggest town between Kosti and Juba. After docking, I leave the boat, since the stop will last 9 hours. I visit the market and a few hut villages around Malakal. I buy some bread for the rest of the trip. When I return to the boat, I have a strong headache and some fever. I go directly to my cabin and sleep. The boat leaves Malakal at 4 PM.
Sunday August 24:
I wake up around 6 AM. I feel much better than the day before. After taking a shower I sit on a chair in a kind of terrace, the only place with chairs in the 2nd-class zone of the boat. Since Kosti, a man from the South has made a habit to offer me tea every morning and chat with me. I like this very much. During the night the boat has entered a swamp area (I believe this area is called Bahr el Gazal). The boat is surrounded by a dense forest of papyrus trees. The rare occasions when I can look above these plants, I only see an immense plain with papyrus plants. Around the boat I see a few crocodiles. They are rather difficult to spot, because most of the time they stay under water. There is also a lot of fish, some quite big. Dead fish are floating on the water and stink. I hear that they die by asphyxiation after being caught under the plants.
Monday August 25:
Same type of landscape throughout the day. The boat stops in the middle of the day in Adok, where I saw policemen brutalize local people by whipping them (they seem to be porters carrying goods between the boat and the village).
Tuesday August 26:
The landscape is still the same. However, today the weather is bad. It rains and there is some wind. Probably because of this, large blocks of papyrus and other plants have been cut from the shores with soil still attached to them. For a while, they completely obstruct the Nile. The boat passes through them, but I wonder how the pilot can find his way. I start to eat lunch, but the bread that I bought in Malakal is already moldy and can no longer be eaten. It was my main food supply for the rest of the trip. Now, I just have a few cans of sardines and tuna fish in my bag.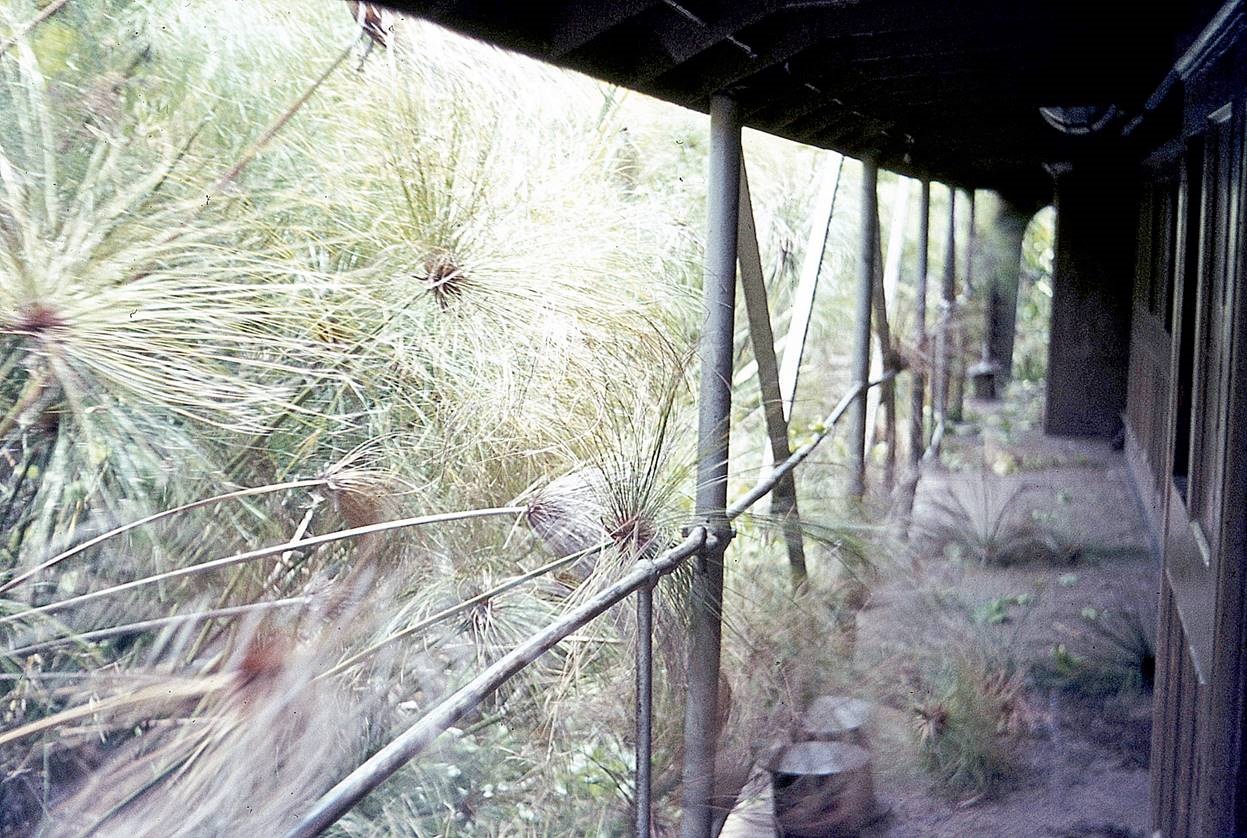 Large blocks of papyrus obstructing the Nile
Wednesday August 27:
I wake up around 8 AM. My friend from southern Sudan had already placed a thermos filled with sweet hot tea near my bed. Very nice. The landscape has barely changed. This is becoming rather monotonous. In the afternoon I am offered some coffee. Very nice again, but because of it I can't sleep before 2 in the morning.
Thursday August 28:
I wake up at 8:30 AM, take a shower, and drink the now ritual morning tea. Around 10 AM people offer me their breakfast: omelet, fish, butter and jam. Delicious! We stop at Gemmeize. The landscape is changing a bit: fewer papyrus plants, more canes. Only at the small villages where the boat stops we can see a few trees. Later the same people let me share their dinner: three types of meat, pasta, and even some dessert! By far, the best dinner of my entire trip.
Friday August 29:
Woke up at 7:30 AM. Tea. The landscape is now completely different. There are many trees and bushes on the banks of the Nile and one can see hills and mountains further away. I share breakfast with two people. The boat arrives in Juba at 1 PM. The town is small, but looks quite welcoming. After finding a hotel for the night, I go to the police with my permit for registration. Surprisingly, the policeman tells me that I should not stay in Juba and should leave the next day. This is a big disappointment, but there is no way I can change this decision. Since my goal is to travel along the Nile from Alexandria in Egypt to Lake Victoria in Uganda, I am left with no choice, and in the afternoon I go to the Sudan Airways bureau and use the ticket that I had bought in Khartoum to book a seat in next-day plane to Entebbe. Later I go to the post office to send some news to my mother.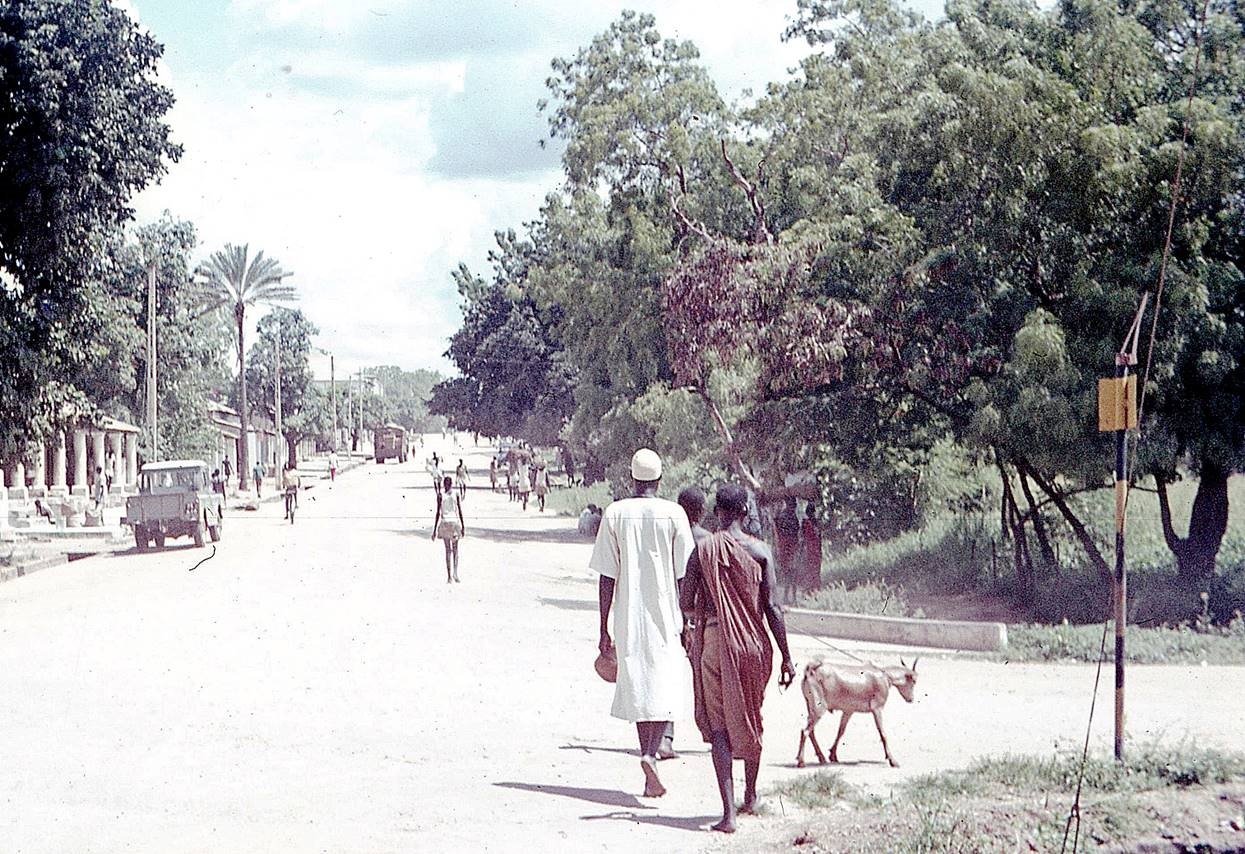 Street in Juba
Saturday August 30:
After breakfast a police car brings me to the small airport of Juba (probably to make sure that I leave). The plane departs at 10:15 AM and lands in Entebbe in Uganda at 11:30 AM.
From there, I traveled across Uganda, Kenya, and northern Tanzania, mostly by hitchhiking until September 18. On September 18 I flew back home. At that time I was living in France. Much later, I would realize that most of my letters and postcards reached home after my own return.