Every year on June 3rd, Christians from the Catholic and Anglican Churches converge at Namugongo and Munyonyo Martyrs Sites to remember the life of men who died for their faith at the hands of Kabaka Mwanga II of Buganda between January 31st 1885 and January 27th 1887. In 1875 a letter was published in Britain, purporting to be an invitation from Muteesa I, the 30th Kabaka of Buganda Kingdom asking for Missionaries to be sent to Uganda. First to arrive was Alexander Mackay of the Anglican Church in 1877, followed by a group of French Catholic White Fathers led by Simon Lourdel commonly known as Mapeera and Brother Amans on 17th February 1879.
By mid 1880s, many Ugandans had converted to either Islam that had been introduced by Arab traders from Zanzibar, or Anglican or Catholic faiths. This caused tension and serious political struggle. While Kabaka Muteesa I was Muslim leaning, many of the Kingdom Chiefs had converted to Christianity. Muteesa died on 9 October 1884 at the young age of 47 and was buried at Kasubi. It is said, that he had the strengths and subtlety to balance the Catholics, Protestants, Muslims and pagans, so that he controlled them all, just as he kept in touch with the rest of the world, but managed not to be swamped by it.
After his death, Kabaka Mwanga II was crowned and hell broke loose. It is said that the new king was concerned by the growing influence of Christianity and the rise of a new class of officials, distinct from the traditional territorial chiefs, who were educated, had a religious orientation, and wished to reform Ganda society. In 1885, a year after becoming king he ordered the execution of Yusufu Rugarama, Makko Kakumba, and Nuwa/Noah Serwanga, who had converted to Christianity and on 29 October 1885 he had the incoming Anglican bishop James Hannington assassinated on the eastern border of his kingdom. In 1886, Mwanga ordered the execution of a number of his subjects, both Muslim and Christian converts.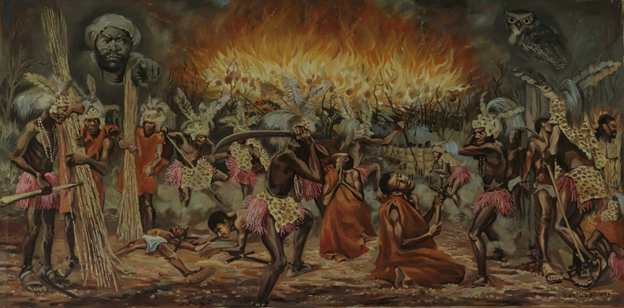 Uganda Martyrs were slaughtered and set on fire at Namugongo - source: Namugongo Martyrs shrine facebook page.
Joseph Mukasa, a convert to Christianity who had deplored the assassination of Hannington, and had tried to protect the court subjects, was the first to be executed on 15 November 1885. He became the first Catholic Uganda Martyr. Between 25 May and 3 June 1886, a wider series of executions were carried out after Mwanga instructed the killing of all young men who disobeyed him, partly to satisfy the demands of the older chiefs. Twenty-two of the men, who had converted to Catholicism, were burned alive at Namugongo in 1886.
Debates Continue
To date, the reasons behind the persecution are still heavily debated. While some believed it was out of jealousy, Fr. Lourdel believed that the principal cause was Mwanga's feeling of being despised by the literate Christians who claimed a superior knowledge of religion and the impossibility of satisfying his passions; the refusal of the subjects to engage in homosexual practices. The king, who by tradition had the power of life and death over his subjects, was angered by this refusal to obey his wishes to have sex with him.
According to history, certain forms of same-sex relations were institutionalized in the Kingdom. Young men served in the royal courts and provided sexual services for visitors and elites. In the week leading to the executions, the Christian Matthias Gayinga rejected the sexual demands of Mwanga's close friend, Lutaya, to whom the king had sent him for that purpose. For this he was severely punished, though not killed. This action was followed by the refusal of another convert, Anatole Kirrigwajjo, to accept nomination to a high post which he could only exercise with such an act. On June 6th 1920, Pope Benedict XV beatified Charles Lwanga and his companions and Pope Paul VI canonized them on October 18th 1964. Their 3rd June feast day is included in the General Roman Calendar. In 1968, a Basilica of the Uganda Martyrs at Namugongo was built and since the 1980s it has become the venue for massive pilgrimages, and plans for large-scale expansions were announced in 2014.
June 3rd Pilgrimage
Today, hundreds of thousands of people make pilgrimages from across the world to Uganda for the feast of the Martyrs. Two main Shrines have been set up at Munyonyo and Namugongo where these pilgrims rest and pray. Across the world in the Catholic Church, every Mass on 3rd June, is offered in remembrance of the Ugandan Martyrs.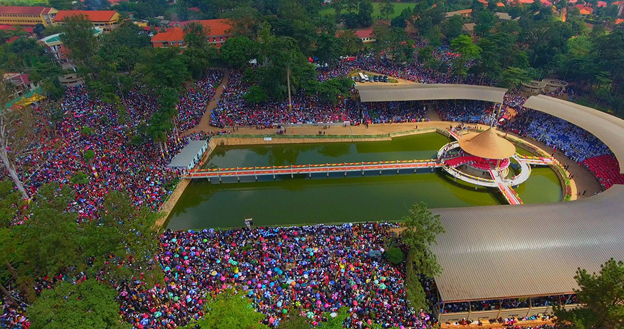 Crowds of people at the Namugongo Catholic Shrine on 3rd June 2019- Image by Uganda Martyrs Catholic Shrine Namugongo Facebook page
At the Munyonyo Martyrs Shrine, a mini Basilica was built. At this very site, is the grave of St. Andrew Kaggwa plus memorial sites of St. Dennis Ssebugwawo and Ponsiano Ngondwe. The sites attract thousands of tourists who are allowed free access and if preparations are done earlier, they are allowed to celebrate Mass. Like any other tourist site, many foreign and local pilgrims prefer buying souvenirs. This is where thousands of Ugandans dealing in small shops, sacramental items and restaurants as well as hotels were making money. Pilgrims would start arriving in Kampala by May 15th and would have to eat, sleep, move around and all this needs them to spend some money. This is one of the biggest Religious tourism events in Africa and brings in a lot of money to the tourism industry.
COVID Strikes the Martyrs Day Events
Many people make pilgrimages on foot. Some walk from as far as West Africa, DRC, Kenya, and Tanzania and spend months on the way, to come and celebrate with Ugandans who also walk from several districts to Kampala to celebrate this important day. Fr Wojtek Ulman Male the caretaker of Uganda Martyrs Parish Munyonyo, says this year was supposed to be the first Uganda Martyrs Day to be celebrated in the Minor Basilica. On 19 July 2019, the Vatican elevated Munyonyo parish Church to a minor Basilica, with a decree signed by Cardinal Robert Sarah, Prefect of the Congregation for Divine Worship and the Discipline of the Sacraments on behalf of Pope Francis. According to Fr Male, they were excited to celebrate this year's events in the minor Basilica for the first time, especially being that it is the only Parish under the patronage of the Uganda Martyrs. "This title of Minor Basilica gives us an obligation to celebrate in a very special way, this feast of the Uganda Martyrs. We could not do that due to the restrictions that we have, but we can still receive the blessings, graces through the intercession of the Uganda Martyrs. The journey of the Uganda Martyrs started here; it was here that they decided to die for Jesus Christ" Fr Male says. He adds that some of the Martyrs like Dennis Ssebugwawo and Andrew Kaggwa died at Munyonyo while others were led on a three days journey to Namugongo and in fact on June 3rd, they gave up their life. Though the Basilica is currently closed due to COVID19, Fr Male encourages all Christians to make pilgrimages to the shrine to offer prayers especially at the tomb of Andrew Kaggwa which is located below the Basilica.
The shrine is also struggling financially he says, and Parishioners plus well-wishers have been encouraged to contribute finances through its bank account in order to keep the Basilica and the entire Shrine at large well maintained. The Shrine has been surviving on donations, offertory and money from the small shop and canteen where Christians and pilgrims buy food, drinks and sacramental items as souvenirs. But with the current restrictions coming with COVID19 pandemic, all activities are closed and the only way to earn some money for maintenance of the Shrine is to request donations through the Shrine's Bank account. Through their Facebook page, the Shrine broadcasts the message for all to see every day and donate. The minor Basilica seats at least 1000 people. It is on this very page, that the Vicar General for Kampala Archdiocese Msgr Charles Kasibante led Uganda Martyrs Day Mass on 3rd June 2020 live. He prayed that all Christians resist the temptation of denying their faith, just like the Martyrs resisted. Msgr Kasibante prayed for intercession of the Martyrs to take away the Coronavirus.
"COVID19 has caused a lot of bloodshed, we ask the Uganda Martyrs to pray for us. We are experiencing oppressive conditions due to COVID19. We ask the Martyrs so that they may pray for us not to relax in our attitude towards the pandemic, not to rebel against the directives given to us for our protection and that of our society. We ask for patience, endurance and resilience so that we may withstand this trying moment with hope of overcoming it" Mgr Kasibante said.
Munyonyo Martyrs Shrine is the martyrdom place of leaders in the Royal enclave; St. Andrew Kaggwa and St. Denis Ssebugwawo - Uganda Martyrs killed by King Mwanga II on May 26th 1886. It is also a place where in 1886 Saint Charles Lwanga - leader of the Christian community in Uganda baptized St. Kizito, St. Mbaga, St. Gyavira and St. Muggaga. It was at Munyonyo where King Mwanga took the fateful decision to begin putting Christians to death. The blood of Ugandan's martyrs was shed on the soil around Munyonyo. The first three Christians to render their lives for Christ's sake after the King's decision did so on May 26th 1886 – they were: St. Denis Ssebugwawo, St. Andrew Kaggwa and St. Pontiano Ngondwe. Today, it is 56 years since the canonization of the Uganda Martyrs.
While celebrating the main Mass at Namugongo Martyrs Shrine on June 3rd 2020, the Archbishop of Kampala, His Grace Dr. Cyprian Kizito Lwanga prayed that through the intercession of the Martyrs, Coronavirus may be defeated. He prayed for peace across the world and that all people may emulate the good example of the Uganda Martyrs so they can also enter heaven. Uganda has 13 Catholic Shrines where some of the Martyrs were killed. While the final place of death was Namugongo, some of the Martyrs were killed on the way, before completing the journey. These include; St. Andrew Kaggwa, St. Dennis Ssebugwawo, St. Ponsian Ngondwe, St. Balukuddembe, St. Matia Mulumba among others. The Archbishop says it is important for all Ugandans to know these sites and make pilgrimages there. The Archbishop wondered how the day would have been, if Coronavirus pandemic had not hit the world.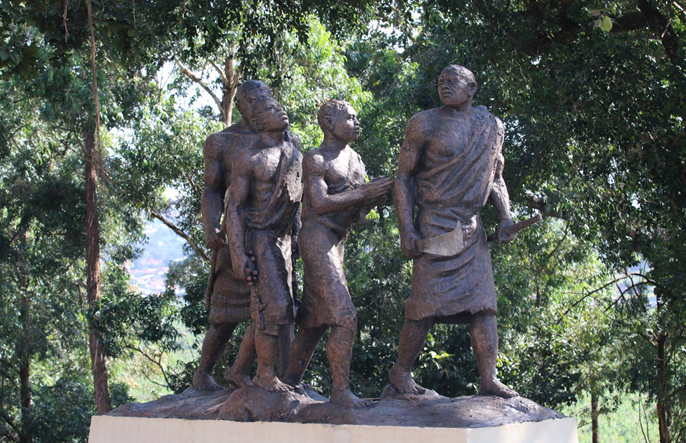 St Andrew Kaggwa & Dennis Ssebugwawo being led to their slaughter sites in Munyonyo – Image by Munyonyo Martyrs' Shrine Facebook page
Businesses Count a Total Loss amid COVID19
Away from Mass and Services at both the Anglican and Catholic Shrines, several Ugandan businessmen and women have been making a fortune from this event. Celebrations start as early as May 25th. During this time, people are singing and dancing inside and outside Namugongo Shrines, business people are lined up on the roads selling merchandize from Sacramental items to food, drinks, jerry cans, clothes, while some even put up temporary washrooms where they collect money from pilgrims who need to shower or do other stuff. Motor vehicles are also not allowed access to the shrines except for VIPs. People walk as far as 7kms to access the shrines.
However, this year is a different one and total loss as many have called it. Many have been crying for the loss, with some claiming to have deposited on the goods they were supposed to sell during this year's events. "I had deposited on the chicken, the Irish potatoes, I had booked a few young people to come work with me. Now I have made losses, and so have these people I had asked to work with me" one business person told me. Anne Marie who sells Sacramental items at Munyonyo shrine, says she would maximize her sales to nearly 1 million shillings per day, during the peak season from the 25th May to the 4th June. "It is a little challenging to find space in Namugongo as the crowds are enormous and it is also hired out at a very high price. I usually pay at Munyonyo first and sell souvenirs to pilgrims who come from different parts of the world. I know what they like and always make sure to have these products ready" Marie tells me. "While I make some of the products like Rosaries and wrist bands among others, I have to buy raw materials and some other products that I can't make, like the portraits of the Martyrs, crosses, among other things. This is the time of the year, I make a lot of money. On the 29th of May, I leave Munyonyo and make way for Namugongo. Being that we are very many people dealing in the same product, I don't make as much money as Munyonyo where we are just a handful sellers. Also, Namugongo has so many thieves, so I normally ask my sisters to come along and keep watch as each of us takes turns to sleep" she added.
While many come with the intentions of praying to the Martyrs, some people come to eat, drink enjoy, and loot from pilgrims. In the areas of Kyaliwajala surrounding Namugongo, pork joints and bars are filled to capacity. As pilgrims sing praise to God, drunkards are equally singing praise to beer makers. The merrymaking does not end until at least June 4th when most pilgrims have returned home. Due to COVID19, only 60 people were allowed to attend Mass at the Catholic Martyrs Shrine in Namugongo, while only 40 were invited at the Anglican shrines. Speaker after speaker, they prayed for the end of the pandemic and urged Ugandans to follow guidelines from the Ministry of Health and the President to protect themselves and their communities. Currently, Uganda has 646 Confirmed COVID19 cases, 103 recoveries and 0 deaths.