Crushing. Philip Luswata did not just feel the weight of the word; he felt its wrath. All the planning and rehearsals and monies invested in seeing that "30 Years of Bananas" wowed the current generation when it returned to theatre was gone. Gone with the coronavirus. The play, written by celebrated playwright and drama actor Alex Mukulu in 1991, was returning for a re-stage at Uganda National Theatre, headlining dozens of plays lined up for the celebration of World Theatre Day. Luswata, a veteran arts director, actor and playwright, directed the show last year at the Playwright PlayHouse in Kampala, in what Andrew Kaggwa, a theatre critic, says was a surreal reminiscence of the classic when it was first staged in October 1992.
Luswata's version of "30 Years of Bananas" is done in a way that it caters to the current generation, yet it is well packaged that many who watched the Mukulu version in the 90s wouldn't feel at loss. Mukulu himself was smiling genially when the play was staged last year. Announcing the closure of the National Theatre has affected all shows, dance and acting classes, Andrew Lwanga Ssebaggala, production director, said "we are deploying our creativity and art through theatre to fight against this fiend, the Coronavirus, as we sensitize our people on how to remain safe even while at home." The closure followed President Museveni's ban on all gatherings, events and social activities such as weddings, theatres, concerts and sports, on March 20. Five days later, Museveni announced a partial lockdown.
Last week, this writer visited the National Theatre, but a guard at the gate said "there is no chance that the director or anyone for that matter is there." They weren't. Efforts to get a comment on how much the unprecedented lockdown had affected theatre business from Francis Peter Ojede, the director of Uganda National Cultural Centre (the agency that runs the National Theatre), were futile. Lwanga told Andariya Magazine that the theatre had taken a big hit. "I had 10 productions and 22 shows lined up as we celebrate World Theatre Day that was to climax on Friday 27 March. We were to headline Alex Mukulu's "30 years of Bananas" directed by Philip Luswata. But all our plans have been swept away," he said.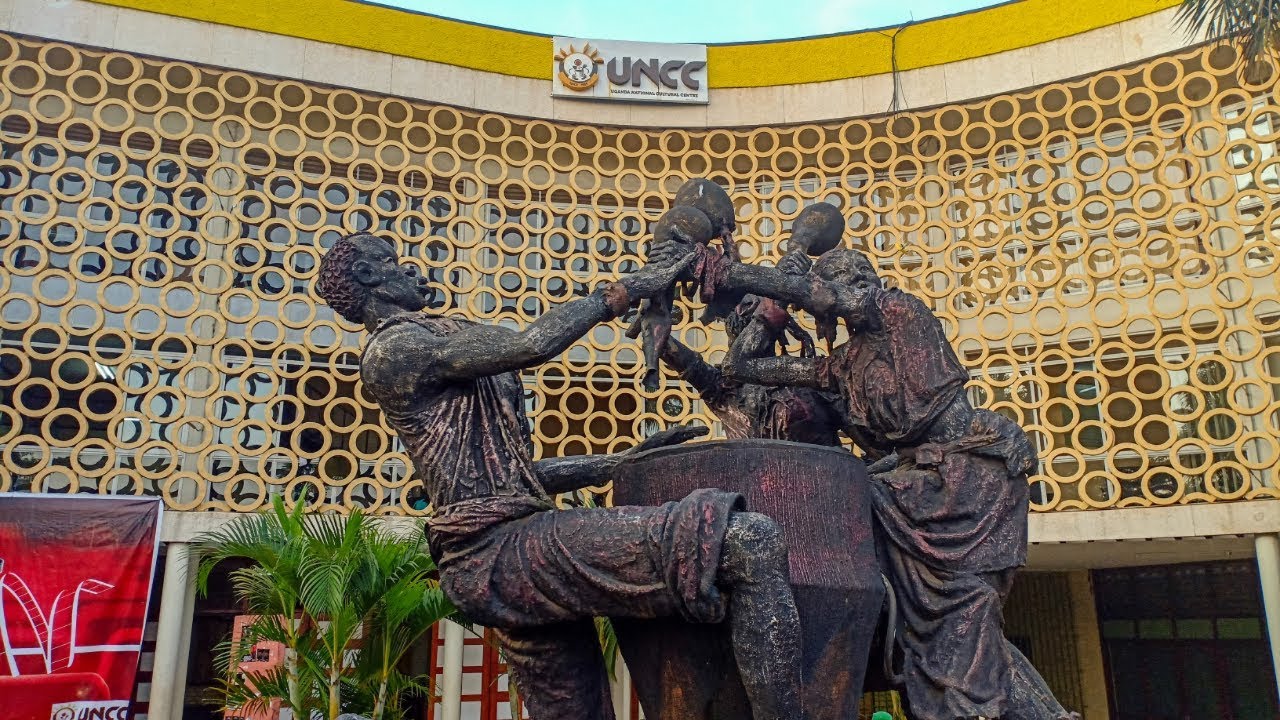 Uganda National Theater via Mr. Musinguzi via Youtube
Comedian and actor Richard Tuwangye said the biggest challenge is for events that have been cancelled. "We had invested mony that will go down the drain," he rued. Hannington Bugingo, president of The Uganda Comedians Association and Fun Factory actor, said they initially resorted to doing a virtual show at the National Theatre with no audience, but even that effort had to stop after the theatre was closed. "Most of us are doing live shows on our social media pages to interact with our fans, because we know they are home and bored," he said. "We did one show behind closed doors which was viewed by approximately 20k people online," added Tuwangye, also an actor with Fun Factory. Adding "we had plans to continue that way but the theatre is entirely closed to the public."
The Search for Silver Linings
Lwanga saw a silver lining in this painful episode and its enforced break, saying other innovative means can be deployed to "keep the show going on and engaging you, our audience, through our digital platforms." Luswata agrees with the saying that though unfortunate, the lockdown was a good time to confirm the immense potentials of art not only for entertainment but also for information – which actors and comedians vend. "There is a captive audience throughout this lockdown. This is the time to show individual relevance and inventiveness with new material that would have otherwise passed unnoticed. We have been used (as theatre artists) to working ensemble, but here is a chance, with social distance, to think solo," he said. Adding "the potential to build one's brand, if exploited well, could see some sharp novices emerge relevant at the end of the lockdown." He advised playwrights and scriptwriters to make the most of the lockdown to tire their brains and pens out, saying "there is now no excuse of a lack of time." Tuwangye told Andariya that digital is now the only performance space available to dramatists and comedians. "YouTube has a payment option and, surprisingly, we have very understanding followers in this country, some of whom asked for a mobile money number to send their appreciation" he said. "We were shocked by the amount people were sending. Individuals were sending money in six figures."
Tuwangye said keeping in line with directives on social distancing and staying away from public, they had decided to produce from homes and sometimes from the streets. The comedians started releasing their latest productions, some inspired by the Covid-19 pandemic. "I think it's the perfect time for creatives to squeeze the lemonade out of this lemon Coronavirus has presented us," Tuwangye said, revealing that he was putting together scripts so he would churn out about four skits a week till the end of lockdown. The skits uploaded during lockdown have been generating an average of 3,500 views per day while the subscriber base has more than doubled to 46,000 in the two weeks since lockdown forced them from reliance on theatre into the internet milieu. Anne Kansiime, who gained continental following with her skits under the Don't Mess with Kansiime series, has also taken to exploiting digital reach.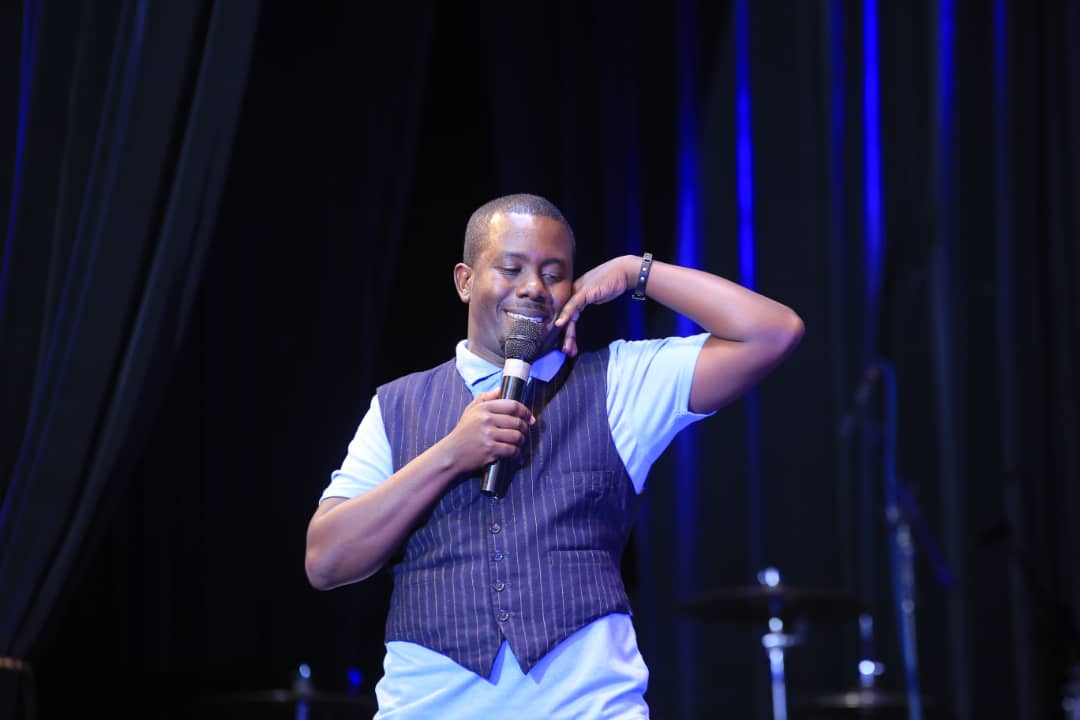 Richard Tuwangye via Chimp Reports
There is a challenge; while Uganda has the second highest internet penetration in the region at 44% (after Kenya that stands at 83%), it also has one of the most expensive data prices in the five-nation bloc – according to the International Telecommunications Union 2018 data. This puts many off the internet, leaving them relying on office networks during working hours. "That explains the slightly reduced numbers on our YouTube channel," Tuwangye said. Adding "on weekdays, it's usually higher because of office internet but now with the lockdown and government offices closing, fewer people can afford to burn their data watching YouTube clips." He said members of Fun Factory have since been developing their own app with which they seek to convince a telecom to subsidize data for their channel. "There is a telecom interested in this project," Tuwangye said. He admitted that the coronavirus pandemic and its impact had exposed the fact that, as creators, they are under-creating. "We should be doing better, churning out more TV content, all we need is to break the barriers" Tuwangye added. However, Bugingo said the gloomy times due to the galloping virus are not favourable for comics who have to strike a balance between making jokes and appealing to the reality that is fear, pain and death. "We can make fun with friends on social media, but that is different from what we produce for mass audience," he said. "Comedy is reflective of society, and it's from society that we get what we produce. In these times, it's challenging" he noted.
Kenneth Kimuli, aka Pablo, whose show 'Pablo Live Show' premiered on Pearl Magic just days into the lockdown, told Sqoop that the pandemic calls for innovative ways of remaining relevant and in touch. "With the coming up of Zoom, we are having conversations with comedians internationally to create ways of keeping our audiences alive," Pablo, whose episodes of the show were recorded in February before the virus hit home, said. Dr Jessica Kaahwa, president of Uganda Centre for International Theatre Institute, summed up the hollowness of an empty theatre, calling it "the echo of applause in an empty auditorium." She said reading her speech on World Theatre Day in an empty auditorium left her asking herself if there was anyone out there listening. "Even if it is lights out and curtains down today in most parts of the world, the resounding echo of applause of the past years invites us to turn on the lights and raise the curtain to a new dawn of our awakening in which humanity can find its soul again," Kaahwa said.