My blogging journey can be described in two words, Ascia Akf! Yes Ascia Akf! I bet you're wondering who or what that is, but let me backtrack a little and tell you about my life before Ascia Akf.
Four years ago I was 30 kilos heavier, had low self esteem and a matching sense of style. It would have been impossible to think my name would be paired with the term fashionista, I was always seen as "the tomboy". Until suddenly, a weight loss genie showed up and I magically began to shed the kilos. Motivated by my new shape under loose layers, I began exercising and looking at my body changes with pride. I even started to look at myself in the mirror more often.
I've been a Hijabi since the age of 11, out of my own conviction – yes, I know I was young at the time – and still remain the only one in my family. It was certainly a difficult feat to keep up at times, but I held on, and for that I'm thankful. My hijab style has always been standard, yet I wasn't satisfied especially after my weight loss.
As I got used to my new shape, I felt more beautiful and invincible like nothing in the world could possibly stop me. I took care of how I looked and got rid of the piles of baggy clothes I had stacked in my wardrobe. I started getting more adventurous with my clothes, but still held on to the mainstream notions of not mixing patterns, matching shoes and bags and keeping my scarf tied in the standard way.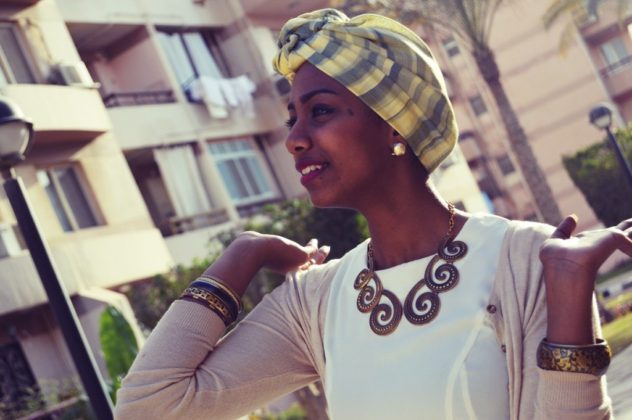 One day I stumbled on the inspirational fashion blog by fashionista Ascia Akf – but was startled that she wore turbans not head scarves. I had recently moved to 'Almarai', sans-serif !important to complete my Bachelor's degree, and the thought of leaving the house with a "3immah" on my head was bizarre, regardless of how beautiful the style was. I absolutely loved how Ascia Akf wasn't shackled to the typical fashion trends and how she resembled a free spirit in her fashion sense, with no rules of what to wear and what not to. She inspired me! I fell in love with her daring style, mixing prints and wearing bold colors, fabrics and cuts and still remaining elegant and feminine with different styles of turbans.  I was hooked on turbans. I began researching and trying different ways that matched my face structure. Surprisingly, it all started as an epic fail; none of the styles satisfied me, until one day, after weeks of trials, I found IT.
Getting over my insecurity about walking with a "3immah" on my head, I started to formulate a new style, experimenting with bolder items and unfamiliar shapes and patterns. I once wore one shirt the whole week but no one noticed, because I dressed it differently every day. I was risky with my choices, I was bold, I was creative. I was Cleoturbana!
My boldness, choices, style and my entire conceptualization of modest fashion became Cleoturbana. I created a tumblraccount and began posting to reflect my translations of fashion and style. Many perceived the page as a hijab fashion promotion and were critical of the pieces I chose. This fueled some thinking on my part, pondering how to present the turban style concept without offending, but also without claiming to represent hijabi fashion. Thus, Cleoturbana became an arena where I advocate for modest yet bold, confident hijabi fashion, and share tips for like-minded fashionistas to help them re-create looks. In essence, I think we should all feel great in our clothes, and this is my own interpretation of pieces that make me feel great, fashionable yet modest and abiding to my faith. There's nothing wrong with being modest yet feeling and looking beautiful!
This is me, Cleoturbana, the girl next door who's bold, strong, confident, and dresses modestly.
Stay tuned for a fashion editorial featuring a Cleoturbana fashion shoot and a million tips.