General Paulino Misaka is one of the most influential South Sudanese singers who contributed to the South Sudanese music movement in the 90s and beyond and continues to contribute in abundance to this day.
The story of Misaka is inspirational for many, because of what he had experienced in his life, and his entire career almost getting destroyed. Contrary to what was
expected, he became one of the most distinguished guitarists among his friends, which helped him overcome his ordeal and made his name well known among the other legends of South Sudanese artists.
Early Life
Paulino was born in the city of Juba in February 1957. He was given the name "Lado" because he is the third male in the family and in Bari tribes and Bari speaking tribes of Central Equatoria, males and females have names according to the family order.
He gained the name Paulino later when he was baptized in the church. He was famously known for this name through his art career, although his family continued to call him Lado. His art name is "General". As he explains: "In Khartoum, some friends suggested the name of "the general" to use as my artistic name. At
first I refused because I did not like it, but I accepted it after their insistence." Adding "many would assume that "General" is the military rank. But what is meant here -according to the explanation of my friends- is the word that means "wide-ranging". It is meant that the work I do with the members of my band is not targeting a particular tribe or a party, but it is for everyone, it is general."
His father, Misaka Lokoyo Loro is from Dolo village in the Western side of Juba, was a government employee. His mother, Jante Kaku is from the village of Perika in Lainya County. Little Paulino grew up in Juba where he went to a Khalwa –a religious education school- to receive the teachings of Islam in the Malakeya district. He stayed in the Khalwa for a while and then began his elementary education.
Misaka was a regular attendee of the church (Cathedral of Kator) and frequently participated in activities after he left the Khalwa. The priests and nuns were relieved because he was not as naughty as his peers, and this paved the way for him to learn playing musical instruments at an early age. Soon he moved to Khartoum in 1972 to continue his education, and there he joined Al-Emtidad school. In Khartoum, ambitious Paulino was able to reconcile between his academic
achievement and his great passion for music, as he spent most of his life in Khartoum before returning to the South after the end of the Second Civil War.
Beating Tragedy with Music
From a young age, Paulino loved musical instruments. As he was learning, he played the guitar for entertainment and was not yet a professional practitioner. When he would go to the church with the children, and despite his young age, he would participate in the hymns. Little by little, he participated with the musical band and showed his brilliance in music.
The General lost his sight when he was 23 years old as he was beaten, he described the fateful day: "I was returning home around 8:00 pm in 1981 when I was hit in the eye and my eyeglasses were broken, leaving a lot of traces in my eyes. It required surgery for the cornea, but the operation failed. I completely lost my sight."
The family suffered from the effects of Lado's loss of sight. Nevertheless, he had his unlimited talent and ambition, and was loved by family members. Losing his
sight did not discourage him from continuing to innovate. Academic achievements became difficult for him, so he focused entirely on music, recalling "the guitar became a personal friend and even a brother. I used to confess my personal feelings to him". His musical talent helped him overcome the difficult ordeal that has almost destroyed him. "Music to me is like food and drinks. It is a part of me, and my only comforter, as I use it to transfer all the things like my feelings, my suffering in life, my joy, and the injustice I receive from people," he says. Adding, "simply put, music helped me in beating my sight-losing ordeal. I'm still strong and able to create, because I feel what's going on around me. Losing my sight made me more focused on music. My first guitar was a gift from the Spanish nun "Marinus" in the parish of Saints Peter and Paul in Al-Amarat, Khartoum. " He loved this very valuable gift and it stayed with him for a long period of time, which helped him to master the art of guitar playing and develop his professionalism with the instrument.
Regarding the musical instruments he now plays, Paulino says "I do not play only one instrument, but many; I play the Harmonica, Beaver, of course Organ, Clarinet and Accordion, as well as the guitar which I love and have eventually settled with among the other instruments."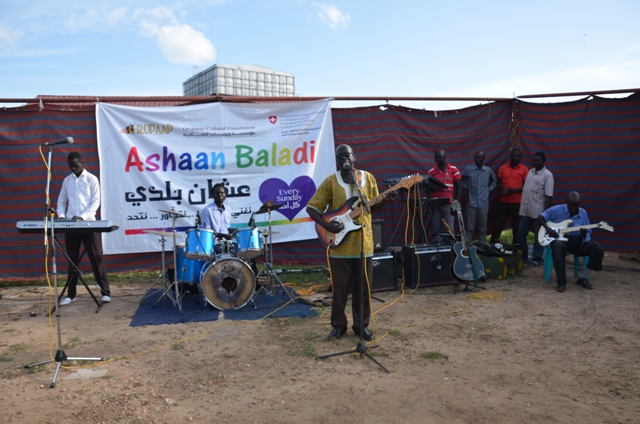 Source: Sunday Coiuntun Okun
Music Career between North and South Sudan
Paulino says his passion for music began from an early age, when as kids he and the others used to play with instruments they made out of empty cans of sauce, powdered milk and clay. That was a source of joy to them. After growing up and learning to play musical instruments, he began to exhibit his talent more, and joined the Institute of the Union of the Blind in the Bahri-Al Shabiya. He later joined the Palace of Youth and Music in 1982.
The first band he joined was the Kamboni College Band in 1985. It was a band of teachers, where students are taught to play instruments and sing. He then joined several bands such as the Police Jazz band through his friend Sherif, and also worked with Jazz Al-Dayoum band.
He continued to move between the bands until he formed his own, which was called 3GM STAR. He recalls "I founded this band with my friend Nicotin Alwa Luigi, and David Amzai. When we went to the authority to register it, our band name was an issue. It was an English name, and was later rejected. We had to name it "Lukoluko", which means an intense storm. This name is taken from the local language of Moro tribe. We picked it up just to get the authorization permission in 1991." The band lasted for seven years before the founders separated, and only Misaka remained.
After this last experience, Misaka formed his own band and became the lead singer. He managed to produce many songs. Besides playing the guitar, he is also a composer. He continued in Khartoum until he decided to return to South Sudan. Throughout his career Misaka produced and recorded more than twenty songs in Arabic and local South Sudanese languages.
Reflecting on the industry in Sudan and South Sudan he commented: "the difference between working in the north and working in the south is how the work in the north is organized. There are companies for production and distribution. Usually the company takes the master recording and then distributes it and eventually divides the profit between the band and the company. This helps artists progress. Here in the South, there is much appreciation for the work we do, which encourages artists to continue. The problem in the North is the lack of musical taste for our Southern and African art. The audience that attends our concerts is not that big, and the lack of appreciation and harmony is clear, while this is exactly the opposite in the South." Misaka lamented the shortcomings of the industry, adding "what we lack in South Sudan is the regulation bodies, in addition to companies that support artists in production and distribution. This is why a South Sudanese artist gets no money in return for the work he does, unlike in the North." He also added "this is difficult, because getting the musical instruments is hard. All what an artist gets in South is appreciation. But for me, appreciation is enough." Misaka also noted that despite the large number of radio stations, the songs - especially the new ones – are freely broadcasted. All this is due to the lack of organization and the absence of regulation and authorization bodies that should be formed by the Ministry of Culture, Youth and Sports, so as to save the rights of artists, producers and songwriters.
One of Misaka's most famous songs is "Shakel Manga O Waja Ween". About the song, Misaka say "there was a lady called Flora. She was young, gentle, beautiful,
delicate and simple. She used to visit my sister in her house every once in a while. When I saw her, I described her in the song and praised her decency and good manners. I crowned her with my words, honoring her simplicity and delicacy." Besides this, he also sang for Africa after a request from the bishops of the Catholic Church as they finished a conference on deliberations in Africa. They asked all the church bands to write songs and plays about Africa and its people, which discuss the issues of the continent.
Of course, ordinary people can't bear to live a life without love, let alone artists. Missaka fell in love with a lady named Natalia, and made a song with her name, praising her and expressing his love for her. The two were lovebirds for a while but the relationship ended eventually.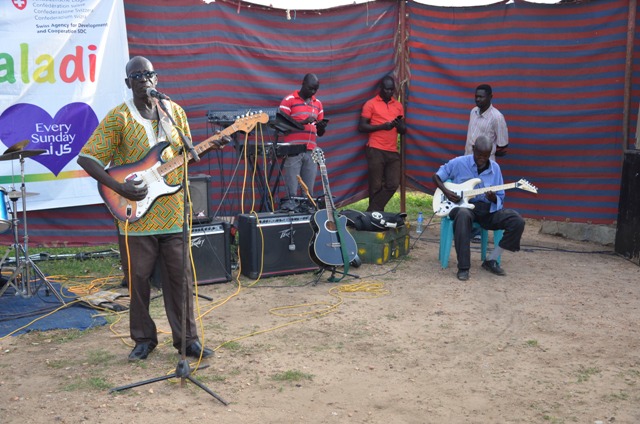 Source: Sunday Coiuntun Okun
An Inspiration
The life that General Paulino Misaka endured inspires many creative people and future generations. He is not inspiration because of his extraordinary talent, but also for his ability to overcome difficulties. Having lost his sight, and when all the colors of the world turned black, many thought this was the end of his career;
but he had a different view. For him, losing his sight was not the end, having faith in oneself and the ability to make a difference is what makes a man successful
in his life.
With his elegant voice and expressive words, Misaka continued singing and composing. He also employed art to address issues of war and peace. He was born amid the first civil war in Sudan (1955-1972) and lived through the Second Civil War (1983-2005). Therefore, those who follow his concerts always find encouragement and songs about peace. Apart from working for peace, Paulino Misaka also participates in charities that raise money to help societal groups, such as orphans.
Paulino Misaka is the pinnacle of perseverance, determination, faith and hard work. His life teaches us how no one should give up to their reality, despite the bitterness of life and regardless of the circumstances and reasons. Losing your sight or any of your senses and organs does not mean the end. We must continue to change the reality and spread joy. General Misaka has been doing this for more than three decades through his beautiful voice in various languages. His music brings joy and pride to the soul, and tells a lot of stories. He is also known for his lack of interest in monetarily return; anyone who comes to him for his services does not get disappointed. He believes that the mission of music is not to gather money, but to unveil beauty and send joy to the souls of human beings.