This article was previously published on Muftah & is re-published & translated here with permission.
Despite its political isolation and an armed conflict that has raged for much of the last forty years, Sudan has not been left unaffected by the global technological boom. Digital environments, like the Internet, have allowed for relatively free, creative dissent and the sharing of sensitive information in the country, notwithstanding the government's best efforts.
Most notably, new, cheap technologies have allowed artists and cultural institutes in Sudan to acquire and teach skills that were, until fairly recently, unavailable in the country. This digital revolution has facilitated the democratization of Sudan's art and cultural scene, notwithstanding the economic and political sanctions on the country. These trends have been particularly evident in the re-vitalized Sudanese film industry.
Sudan's Post-independence Cultural Renaissance in Film and Beyond
Sudan peacefully obtained its independence in 1956. Although the 1960s and early 1970s were politically tumultuous, many Sudanese remember this period, under the military dictatorship of Major General Commander Jaafar Nimeri, with fondness. It was a time when Khartoum shone bright as an African capital, when the cultural, arts, and literary scenes were bursting with potential. Nights dazzled with live music performances in restaurants and bars. Busy theater openings with star-studded performances and international hits were part of life in Khartoum during this time.
In the late 1970s and 80s, Sudan's economy experienced a spectacular downturn, resulting in much hardship and long queues for bread and other basic goods. As a result of these economic challenges, Sudan's arts and cultural movement slowed down. Still, many Sudanese thirsted for cultural fare. Filmgoers from all segments of society frequented the Coliseum, Banat, and Halfaya theaters in Khartoum, Omdurman, and Bahri, respectively. In the city of Atbara, people enjoyed the Wataneya theater, and in Port Sudan they flocked to the Likos.
A feature of the Sudanese film industry at this time was the "Master Mentality," as Talal Afifi, director and founder of the Sudan Film Factory, described it during a phone interview. Filmmakers "depended on the colonial powers and then post-colonial Sudanese rulers to approve or deny projects, which ran against the creative process," Afifi explained. "Unlike theater, which was a people's project, cinema started in Sudan as a Master's project."
The late 1980s and 90s continued to be difficult for Sudan's arts scene. In addition to the strict implementation of Sharia by the Islamist government of Omar al-Bashir, a raging civil war between the central government and rebels in the South brought the arts industry to a halt. Once the Sudanese economy began to feel the effects of revolutions and transitional governments, funding dwindled for cinema, as it did for other artistic productions.
Artists left the country in droves, often after being imprisoned by the government or receiving threats to their life and work. These artists joined the throngs of Sudanese professionals living in Europe, the United States, and the Middle East in the hopes of leading better, more secure lives. Some of the artists who left became international stars, such as filmmaker Saeed Hamid, singer Rasha Sheikh Al-Din and painters Ibrahim Al-Salahi and Dr. Rashid Diab.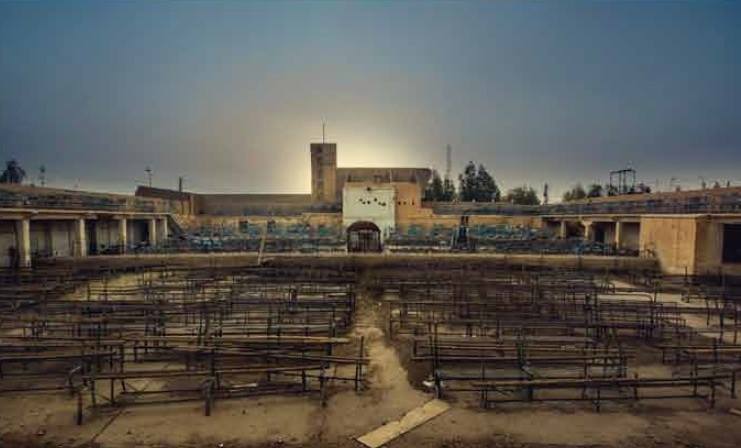 Source: Alamy.com
A New Dawn
In 2005, the Comprehensive Peace Agreement was signed between the Sudanese government and the Sudan People's Liberation Movement, the political wing of the South Sudanese rebel movement, ending the civil war that gripped the country for almost two decades. Things began to look up for Sudan's arts and culture scene – even though conflict still raged on in Darfur and the Blue Nile and South Kordofan regions.
With the peace agreement, foreign investment began flooding into the country, mostly concentrated in the construction, oil, and gas sectors. Many who had moved abroad returned to Sudan, strengthening local businesses. The largest corporations, foreign cultural centers, and arts centers started to regularly host art and cultural events. Those living outside Khartoum once again tuned in to developments taking place in the capital, while also starting to follow cultural events online – Sudan's notoriously bad Internet connection permitting.
In the period between the signing of the peace agreement and the secession of the Republic of South Sudan in 2011, and even after the economic collapse that followed the secession, Sudan saw the publication of many books by new crops of upcoming authors, such as Fayez Al-Silaik, Abdel Aziz Baraka Skin, Stella Gaitano, and many others.
The music scene slowly regained some of its former glory, with local bands and some radio stations spreading new and old recordings as well as international hits. Poetry and Spoken Word events were a monthly favorite for hundreds of youth from around Khartoum. Filmmaking began to revive as well.
After almost twenty-five years of slumber, Sudanese culture was back on its feet.
Democratizing the Film Industry
The re-emergence of the Sudanese arts scene was not an isolated event. In the region – notably in 'Almarai', sans-serif !important, Tehran, Tunis, Lagos, Nairobi and other cities – underground movements were growing in the early 2000s thanks largely to the Internet and increasing freedoms of expression and assembly.
In Sudan, the digital revolution happened in stages. Initially, around 2007, many people began joining social networking sites to connect with family and friends at home and in the diaspora. The revolution's second wave, in 2012-2013, was defined by political upheaval, which came in the wake of revolutions that rocked the Middle East and sparked protests throughout Sudan. During this time, social networking applications were the main medium for disseminating news and engaging in discussions away from the ever-watchful security apparatus. The revolution's third wave took place fairly recently, beginning after these upheavals ended and featuring digital artistic projects, online exhibitions, websites, and YouTube channels.
Compared to other cultural areas during this time, the revival of Sudan's film making industry has been truly revolutionary. To a large extent, this has been made possible by technological advances, which have, in a sense, democratized the filmmaking process.
The time of expensive, bulky video equipment has ended; cameras are now sleek and accompanied by an array of tutorials and discussion forums to help users navigate tricky takes. As Afifi observed, "it used to cost a lot of money and time, now a few weeks of intensive training, an all-purpose camera and some software will do the trick." The shift from using analog to digital cameras has allowed filmmakers to experiment and perfect their scripts and footage.
Many of the films created by Sudan's aspiring filmmakers have made their way to YouTube and Vimeo. This accessibility has allowed filmmakers to reach audiences directly for critique and creative discussions. This, in turn, has translated into growing international interest in their work. The newest crop of Sudanese filmmakers, such as Hajooj Kuka, Mohamed Kordofani and Elaf Al-Kanzy, have already been featured at international festivals around the world.
While Sudanese cinema remains largely low budget, positive reception from abroad has prompted filmmakers to look for more funding to develop their artistic ideas. Here, too, the Internet has played a crucial role. In the last 5 years, two feature films (Our Sudan and a Handful of Dates) have used online crowd-funding to finance themselves.
Sudan's Cultural Rebirth
Through expanding social networks and increased accessibility created by the Internet, Sudanese filmmakers and other artists have been able to share their work and receive feedback from diverse audiences. This has created a revolution in the Sudanese art scene and greater appreciation for the country's artists, both at home and abroad.