On March 21st 2020, ESKOM Uganda Limited- a hydro-electric generation company in Uganda, started an exercise of spilling water from Lake Victoria, after acquiring permission from the Directorate of Water Resources Management. In this exercise, the company was to begin spilling 1000 cubic meters/sec, due to the increase of water levels at that time- up to 12.94 meters, similar to levels recorded on 04//03/1964. The company also revealed that by May 2020 the water had surpassed the maximum historical maximum of 13.41 meters and hit 13.42, a new record. This was only the beginning of what would be a natural disaster that chases hundreds of Ugandans out of their homes, while others went out of jobs as their places of work were flooded with water from an angry lake that has been encroached on with human activity for many years.
The lake, known as Nalubaale, was renamed to Lake Victoria after Queen Victoria of England, by the British John Hanning Speke. With a surface area of approximately 59,947 square kilometers (23,146 sq mi), Lake Nalubaale or Victoria as it is now popularly known, is Africa's largest lake by area, the world's largest tropical lake, and the world's second largest fresh water lake by surface area after Lake Superior in North America. In terms of volume, Lake Victoria is the world's ninth largest continental lake, containing about 2,424 cubic kilometers (1.965×10 acre⋅ft) of water.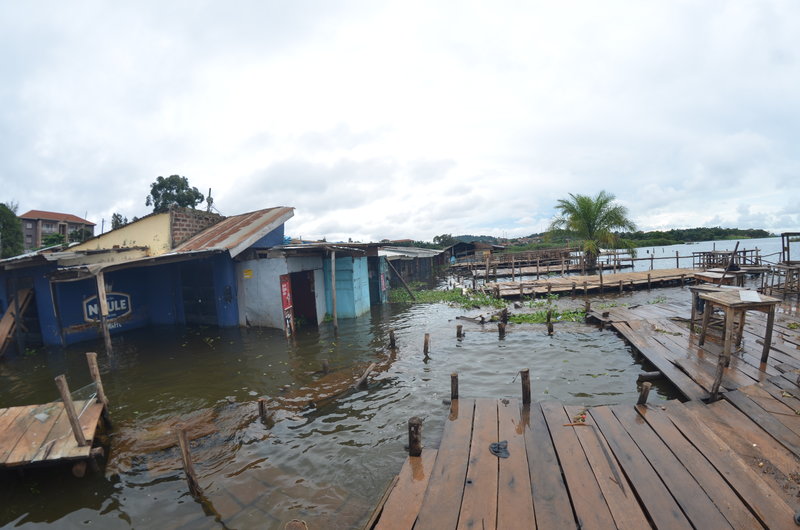 Shops and stalls at Mulungu fish market in Munyonyo are submerged. Atulinda Allan For Andariya
Encroaching on Water Bodies
For so many years, the National Environment Management Authority (NEMA), an authority charged with ensuring protection of the environment, has been advising Ugandans to stop cutting down trees and building near water bodies but this often falls on deaf ears. Nature has now taken its course. For so many years, may people especially the rich and famous, businessmen, pastors and fishermen have lived near the lake. Many have even encroached on part of its land by filling it with sand to keep the water in control, but this is not working any more. Many believe now, that the lake is angry and wants to retake its original land back. Settlements and developments around Lake Victoria and River Nile that have been peppered with many hotels, beaches and individual house have already flooded. Some of the establishments submerged include Serena-Kigo Hotel, Speke Resort Hotel Munyonyo, Hotel Protea Entebbe, Ggaba Beach, K.K Beach, Miami Beach, and several other beaches, markets, Ggaba water works, jetties, and settlements/homes around the lake. A number of areas around lakes and rivers have been identified as high flood risk areas and essential facilities such as schools, health facilities and places of worship (both churches and mosques) remain at risk.
By March 25th 2020, thousands of people living in the fishing villages had been displaced from Lambu landing site, Namirembe, Dimo landing sites, bringing nearly all fishing activities at the landing sites to an end. Houses were submerged and some residents were lucky to have escaped alive. Rich men and women who had bought land in this area counted their losses as it was all cut off by water from the lake. Kalangala is one of the exotic landing sites in Uganda. The place attracts local and international tourists every year. Many even prefer it as a honeymoon destination, but with the current disaster, it would mean loss of revenue to the tourism industry. However, the country is currently under lockdown with no local or international visitors allowed to move due to the COVID-19 pandemic that has left the world in immense loss of life, jobs and businesses.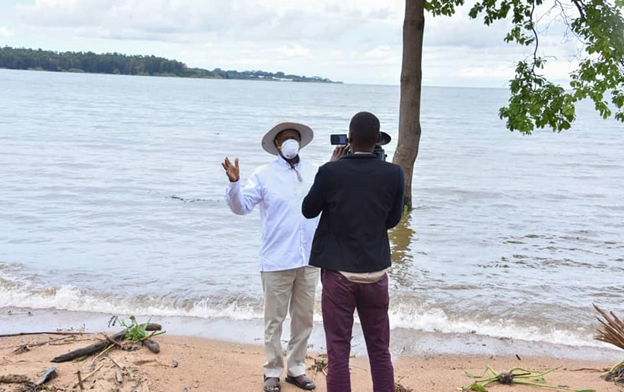 President Yoweri Museveni makes stopover at Kitubulu where water is nearly cutting off the road via independent.co.ug
On May 7th 2020, President Museveni made a stopover at Kitibulu, Katabi Town Council on Entebbe Road. At this particular point, water is nearly cutting off the road and the President advised that residents vacate the area or risk being swallowed by the water. He added that as the levels continued to rise, they would power water in the Nalubaale and Kiira power plants to continue preserving them.
Fishing villages at Mulungu landing site in Munyonyo, Ggaba Landing site and Portbell in Luzira are also suffering after makeshift houses were submerged. On May 8th, the Kampala Capital City Authority took members of the Press on a tour around the shores of the lake, where officials warned residents to vacate their houses and seek safety before it is too late. Some rich people are still adamant and have not agreed to leave their homes. At the Mulungu landing site which is 100% cut off, vendors were warned not to show up for any activity and the site was officially closed off. On April 23rd 2020, the KCCA director of health services Dr. Daniel Okello, wrote a letter directing the vendors to leave, but many ignored this call. Dr. Okello in his letter warned that there was a possibility of diseases like Cholera breaking out at the site, leading to people losing their lives in these floods. Over 50,000 people make a living from Mulungu fish market selling fish and alcohol, while others operate small shops with salt, cooking oil and other products used by fish vendors in their businesses.
Some of the affected homes include those of businessmen Hamis Kiggundu, Christopher Sembuya, of Sembuule Steel Mills Ltd, Pastors Robert Kayanja of Miracle Center Lubaga and Gary Skinner of Watoto Church. Kiggundu's house is already being submerged and his entire compound has been swallowed by the lake. It is a common practice anywhere in the world for rich people to want to live near the water, but this time, they encroached on the land belonging to Mother Nature. It remains unclear, how long the problem will last. The State Minister for water and environment Hon. Kibuule Ronald advises that Ugandans always take precautions and avoid encroaching on water bodies. "We ought to take precautions from responsible water and environment entities serious. Would have been better we adhered to preventive measures than great losses because of human activities against Mother Nature" he tells us.
Hon. Sam Cheptoris, the Minister of Water and Environment issued a statement on the 1st of May 2020, warning that the quick rise in water level has been accelerated by human activities- especially environmental degradation. "Loss of forest cover, encroachment on wetlands, lakeshores and river banks including poor land use practices, have resulted in soil erosion leading to siltation of our water bodies. This has resulted in speedy movement of water into the lakes and rivers with a lot of silt, which has further reduced water storage capacities of our water bodies. In addition, urbanization has created highly impermeable surfaces like roads, roofs, pavements that have reduced water infiltration into the soil, interception and evapo-transpiration capacity of forests and wetlands" he said. The minister further explained that the disaster has affected water transport facilities operated by the Uganda National Roads Authority (UNRA), including ferries along River Nile which have been suspended as there is inundation and submergence of jetties and landing sites. In addition, construction of Kyiko Bridge, downstream of Isimba Hydropower Dam has come to a halt. Also affected are; essential facilities such as drinking water and sanitation systems, health facilities and roads among others. Possible water borne and water related disease incidences such as cholera, dysentery, malaria, and bilharzia are likely to increase.
Away from Lake Victoria, other water bodies like Lake Kyoga, are projected to exceed the highest historical water level of 13.2 meters and as such shorelines, swamps and flood plains will experience high water levels. Several settlements and essential facilities in the districts surrounding the lake including health, schools, roads, water supply and sanitation facilities are vulnerable to flooding. Although Lake Albert is not expected to reach critical flooding levels, some areas in the surrounding districts of Hoima, Buliisa and Ntoroko will be affected. More than 200 residents in the areas of Dei and Panyimur Sub Counties in Pakwach district were also left homeless following the rising water levels of Lake Albert that started in April. At least 100 houses in the two sub-counties were submerged and property worth millions of shillings was destroyed by the floods. Authorities helped relocate over 20 households while several others were still submerged in the floodwaters. They also called on the government to come to their rescue and help relocate all these people.
"In view of the above, I have been directed by His Excellency the President of Uganda to remove all encroachers on the wetlands, shoreline, river banks and government forests with immediate effect. I have been further directed to work with Local Government to ensure that Parish and Sub-county chiefs who never took action against encroachers are dismissed. I wish therefore to call upon those people who are within the protection zones of wetlands, lakes, rivers and forest reserves to vacate with immediate effect. My ministry working with the Ministry of Local Government and other relevant government agencies will evict people living within 100 meters of river banks, 30 meters of wetlands and 200 meters of lake shores, and in forest reserves, and stop cultivation on the steep slopes in order to reduce erosion and high run off from the hilly areas" Minister Cheptoris warned. However, this is yet to be in effect and there is continued human activity at these flooded areas.
People living in settlements on the shorelines, river banks, wetlands, forests and flood prone areas in and around Lakes Victoria, Kyoga, Albert and the Nile system including landslides prone hilly slopes were advised to move with immediate effect to safe places to minimize loss and damages caused by rising water levels and flooding. In Kasese District, Rivers Nyamwamba, Nyamugasani and Mubuku burst their banks, cutting off Kilembe hospital, roads and bridges, schools, health centers and people's homes. The UPDF deployed hundreds of its men from the Mountain Infantry Brigade commanded by Lt Col Denis Wanyama to relocate and rescue victims of Kasese and Bundibugyo floods. Beatrice Anywar the State Minister for Environment warned that government would not compensate anyone that illegally encroached on the lake lands and that they will be forcefully evacuated. "We shall go around all water bodies, we shall start with advising them. Those who illegally occupied where they are not supposed to occupy, we are going to force them out and there is no compensation and they should not ask" she said.
Numerous Complications
Recently, the President made an impromptu visit to Nalubaale power plant in Jinja where a floating island appeared out of nowhere, causing a national power outage. The island was estimated to be at least 100 hectares in Luzira and 10 hectares in Jinja. According to the Ministry of Agriculture, the rising water levels could have been responsible for pushing the islands. At the same time, there were other problem areas where many floating islands were roaming, including; Bunjako Bay (Mpigi/Kalungu), Sango Bay and River Kagera (Kyotera), and Fielding and Thruston Bays (Jinja/Mayuga).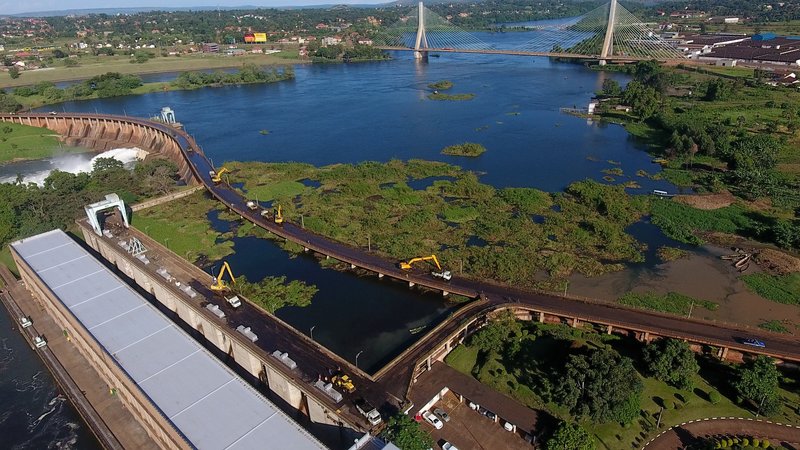 Image of the floating island at Nalubaale power plant Jinja. Atulinda Allan For Andariya
The rise in the water levels has detached large chunks of land and vegetation from the mainland in various parts of the country close to the lakes. These chunks of land and vegetation, which are referred to as suds, started to move on the surface of the lakes in the second week of April, with one 12-acre island reaching the Nalubaale Power Station in Jinja and causing a countrywide power blackout" a statement from government said at the time. Equipment was deployed at the Nalubaale Dam which included; Two Long Arm Excavator – 17 m long, three – two Tons Dump Trucks, two self-loading trucks, one Barge, one Fisheries Research Vessel, one ferry from Ministry of Works and Transport with the objective of harvesting any remains of weeds/suds for the safety of Nalubale dam. This has since been cleared.
As the world grapples with the COVID-19 pandemic, Ugandans have to grapple with the floods, landslides, poverty and hunger. The water levels are expected to reduce by the end of May 2020, though this is inconclusive due to the rainy season that just started and is destroying gardens and homes. The government has promised to do everything possible to ensure lives are not lost in this disaster. Ugandans will not only suffer economic consequences from the COVID-19 lockdown, but also the floods that have cut off their places of work. Many have to shift from their own homes and start renting, while those that had locked their merchandise inside shops at the time the COVID-19 lockdown begun, should also count their losses as they could have been soaked in the water. It remains unclear, how long it will take for the government to compensate those whose businesses and homes were legally erected on the shores of the lake.