Sudan has been buzzing with creative artists gracing both online and brick-and-mortar shops. There is no doubt that the internet helped shape a lot of startups, bringing like-minded people together and propelling the growth of small enterprises that would have struggled with the traditional brick and mortar route. In this profile, we meet Nawar Kamal, a 22 year old fresh Marketing studies graduate, and the founder and designer of NK Jewelry. NK Jewelry designs capitalized on African heritage tones in Sudan and the rest of Africa and sourced traditionally prominent materials blended with modern styles to create statement pieces.
Photography: Makki Rashid
Makeup artist: Sulaf Elamin
Models: Mayada Adil & Sara Elamin
What's the story behind establishing NK Jewelry?
In 2009, while at university I signed up for a jewelry making course in Ghana where I was vacationing at the time. I fell in love with beads in Ghana after seeing the techniques used to bake and mix up their styles and colors. After gaining the skills and techniques to use beads I put together a small collection and sold it at a school bazaar back in 2010. It was a shocking experience, because people loved al soksok (the beads) and I made quite a lot of money that day. That's when I decided this is a viable business idea. My passion for jewelry design from a young age is the reason I got into marketing in university; I just knew I needed to develop a background for supporting my future design company.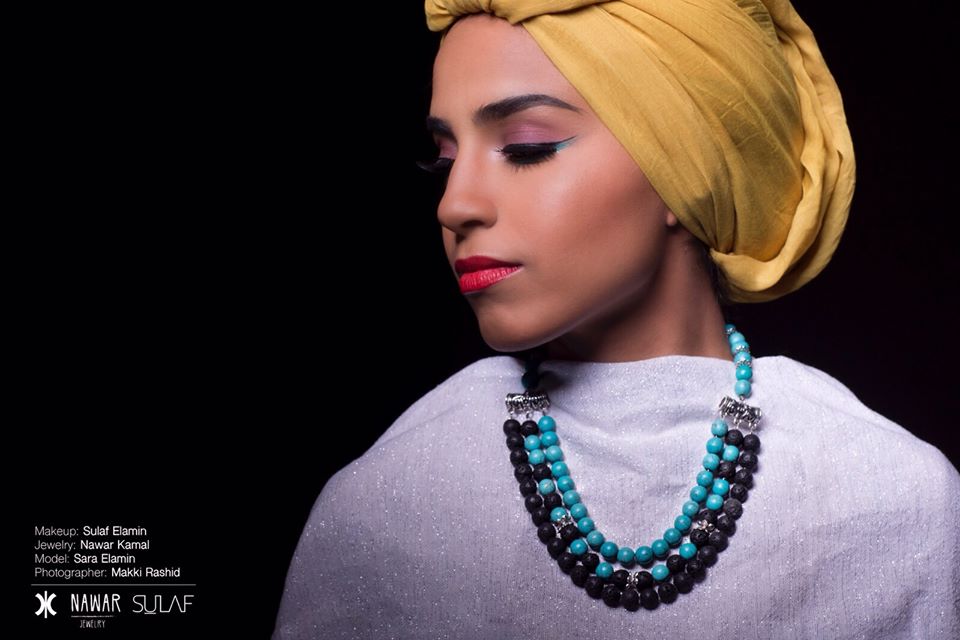 What inspires you?
I am very much into African arts and cultures. Yet I noticed that in Sudan, unlike Kenya or Ghana for example, African inspired art is subdued and bound to specific forms- such as sculptures and paintings, but rarely exhibited in jewelry except for those designed for traditional events.
Tell us more about your designs.
At the beginning, people thought my work was weird; the big chunky beads and the splash of gold with beads was strange for some. My friend and inspiration, Tibian Bahari, was one of the few people who saw the beautiful side of it. Even now, she continues to support and inspire me by tagging me in pictures and accounts when she sees something she knows I'd like. Her own art is a bit eccentric as well so we bond on that aspect.
The styles I envisioned in the beginning led me to use earth friendly materials such as recycled glass and shells, discarded animal bone, brass, trade beads, lava beads, coral and many more. Using this diverse range helped me understand that there's no such thing as waste when it comes to art – everything can be turned into a beautiful piece with the right design vision. I believe the use of original materials makes my pieces stand out. I chose to mix beads and brass to assert my signature touch.
When I first started, my clients played a huge part in directing me towards the kinds of designs I now create. I was making one piece necklaces, then received feedback from ladies who wanted to don my designs with Tiyab, thus I incorporated full sets. Some suggested adding layers and some suggested different lengths. Although a few amendments take more time, but the experience of customizing to the clients' visions remains a valuable part of the relationship I have with them.
In my newest collection I decided to add a modern touch by incorporating crystals, diamonds, pearls and flowers mixed with my original signature beads. It doesn't have a specific theme; that's art for me, a fluid process where creation is tied to inspiration and time available from managing existing collection sales and promotion. When I see that a collection has been sold over and over, I make the decision to start actively working on the new one.
The traditional blend with modernity is a lucrative market nowadays; especially as women shy away from the mainstream and seek unique pieces. Do you see this in your client base?
I'm definitely working in a niche market, but after doing this for five years, I see there are two types of women who like my designs. There's the Sudanese one who likes to wear unique pieces and appreciates a local brand, and a foreign one who has an affinity for statement African art pieces. The thing about my designs is that they can be worn anywhere, at any time as long as the lady mixes and matches them with outfits that go with the style and the colorful mosaic.
What are some of the rewards of running NK Jewelry?
It's so rewarding to hear my clients' feedback and when their friends call to place an order, I know then that the circle of trust is there and expanding. I also love running my own business because I turned my passion into a viable business and I'm able to run it efficiently. Looking back at my pieces from 2010 I can see a tangible difference in the craft and style, this comforts me- knowing I have been growing as an artist as well as business woman.
I partnered with Sahwa, an Omani designer behind the Koronko Fashion House two years in a row, and that was a big step for me to get out of the Sudan shell and into a wider Fashion network.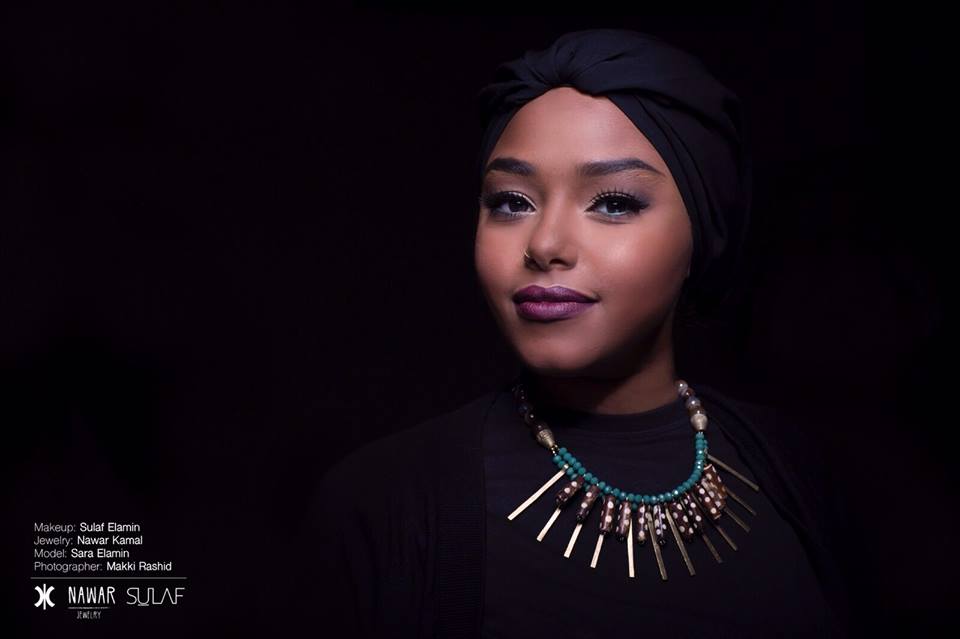 What are some of the challenges you face?
My challenges can be categorized into two; my limited production capacity and space, and clients who flake out on pick-ups. Sometimes it's a huge challenge to respond to orders when my capacity is limited; each piece takes time and precision, thus when a torrent of orders arrives I get overwhelmed. Luckily, I have friends who help in these situations and lend a hand or two to bring the orders up to schedule. On the other side, not having a shop means I work at home, which is spatially limited and inconvenient for my family and sometimes clients who are picking up orders at different times of the day.
The second issue is basically a dilemma I'm put in when an order is not picked up on time and there is another client who wants it. Adding to that, some clients ask for specific changes, thus it takes more time to create the piece.
You've been operating online shops on Instagram and Facebook for years now, how has that impacted your operations?
My business definitely grew online and that has always been my main platform for showcasing the pieces and connecting to clients one-on-one. The simplicity of running an online shop helped me focus on the technical aspects of fully managing a jewelry design business; from concepts creation to procuring the materials, showcasing, marketing, sales and customer service. Social media and the boom in the use of Instagram and Facebook in recent years allowed for my customer base to increase, which was also propelled by word of mouth. I think having full control of my product line and having the chance to communicate directly with my clients have been great added values.
What are your future plans?
I'm working on my goals for the coming years and would like to see the company operate not only in the Arab world but also in the western world. It would be ideal to set up an integrated online shop, which makes the process efficient in terms of payment and product delivery, but I haven't found the right avenue for this in Sudan yet due to the sanctions and financial restrictions. This is another challenge for international clients whom I had to put down over the years because of the logistical nightmare of getting the product to them and receiving the payment here.
I'm working on restructuring the business and got in touch with a mentor to help me navigate the future changes. I'm learning as I go and planning ahead to deal with new changes; so far I see a website, a shop and international sales in the horizon.
On the other hand, I plan to work more on my personal growth as an artist, I strongly feel that practice makes perfect, but I'd like to add to my skills gold and silver work. This would also push me out of the house and into a proper workshop because of the equipment's size and noise. One of my ultimate goals is to establish a center to teach women the basics of jewelry designs, lest it inspire them to create their own – which is what happened to me in Ghana.