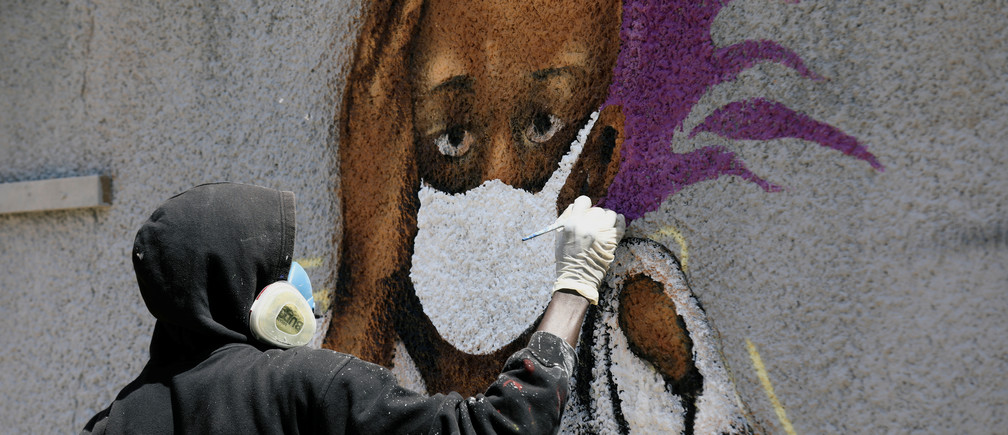 Image by Zohra Bensemra for Reuters via weforum.org
In postgrad marketing communications, we examined an effective strategy in advertising class - appeal to fear. Fear, if employed in the most sufficient proportion, can propel a consumer into heeding a call to action. We have seen it being used in health campaigns including anti-tobacco and sexual reproductive health messages. There's of course an art to it. For results to be achieved the message must be crafted to communicate a significant imminent threat and tell and show the audience both what they know and don't know. More importantly, demonstrate that the prevention is manageable if only they comply.
In a recent address to the nation, the President of Uganda began with a video of several news clips from across the world showing the dreadful impacts of the Coronavirus. News stories, testimonials from people on how they caught the virus and patients imploring others to heed to the set guidelines were mixed into the video. When it ended, the President went ahead to warn those who were flouting the rules against putting everyone at risk. He then reiterated his congratulations to Ugandans on not registering a Covid-19 death; saying it is our effort that has brought us to this "remarkable" achievement. On July 21st, Uganda registered its first case of death in Mbale.
There are two pros to Museveni applying this method of communication. First, it was important that a largely uncooperative population converged to watch and listen to this address and see the worst of what is happening elsewhere. There's a general laxity in observing the standard operating procedures; such as masks worn on chins or no masks at all and barely any social distancing in crowded places. A lot of this behaviour can be attributed to the fact that without a registered death until July 21st, the Covid-19 threat was only mildly frightening to many.
The second one is the propagation of community-led solutions. Whenever Museveni congratulates Ugandans on managing the pandemic, he is saying to the average citizen that their actions matter. At a time when the law enforcement (Police and Local Defence Units) are applying brutal force in an attempt to coax citizens into heeding to the government guidelines, it is crucial that the President tactfully hand the responsibility of enforcement of Covid-19 guidelines to citizens. The law enforcement command-and-control approach on people desperate enough to risk brutality to earn a living yields very little. A strained relationship between the police and citizens they're charged to protect will propel us into a turbulent new normal. Group arrests never worked before, bundling people up together onto a police truck for failure to observe social distancing is self-defeating. The time is right to explore alternative methods which mend broken trust and have law enforcement and the people work together. There needs to be enough collective responsibility to counter, and perhaps render unnecessary, archaic law enforcement methods. Applying a visionary leadership style which both asserts control over the situation and uplifts the citizenry might be a smarter way- not just to sail through the pandemic storm, but to also ensure sustainable adherence to any other policies.
It's going to take us all a minute to adjust. For example, wearing masks is proving to be a larger inconvenience than many anticipated. In a Twitter poll I conducted on why people risk pulling their masks down to the chin, 69% of participants chose the option "difficulty breathing with one on". We can of course learn to breathe with masks; surgeons have done it for decades in hours-long operations. Medical personnel at the frontline of the fight against this virus have not had the luxury to step back into their cars and take off their masks, and many have had to social distance from their families for months. Those of us who are familiar with our health system know that we do not have the luxury of waiting until the numbers are overwhelming our hospitals and health workers. We must not wait for the death toll to mount further to begin to act. And while the World Health Organization does a commendable job providing all dos and don'ts, what might get the world to act is dissemination of real human stories of the virus's impact from across the country. What is the experience of the average citizen? How are they coping? Where do they think the national Covid-19 response could do better?
Scientific facts are important and research articles tell us what we need to know. But storytelling often personifies complex issues, making them more accessible to even the most uninterested individual. So while the Ugandan President in the above-mentioned address dismissed storytellers, it is their art that might eventually cause the socio-cultural shift we're in dire need of to fight this pandemic.