The art scene in Sudan is buzzing with young, talented artists, but few transcend the traditional paint culture and hone their skills to master several media; paper, graffiti, digital & photography and more. More and more artists are finding hubs and galleries to showcase their work; yet we're seeing groups and collectives form to propel a group of like-minded artists with a stronger creative and marketing plan; especially for those active on social media which offers local as well as international exposure.
We came across Galal Yousif and Khaish Studio (his art collective with two other Sudanese artists) on Instagram and were keen to talk to him about art philosophy, social media presence and the importance of diversification.
Andariya: What is your background?Galal Yousif: I studied Applied Arts at the Sudan University for Science and Technology and specialized in sculpture.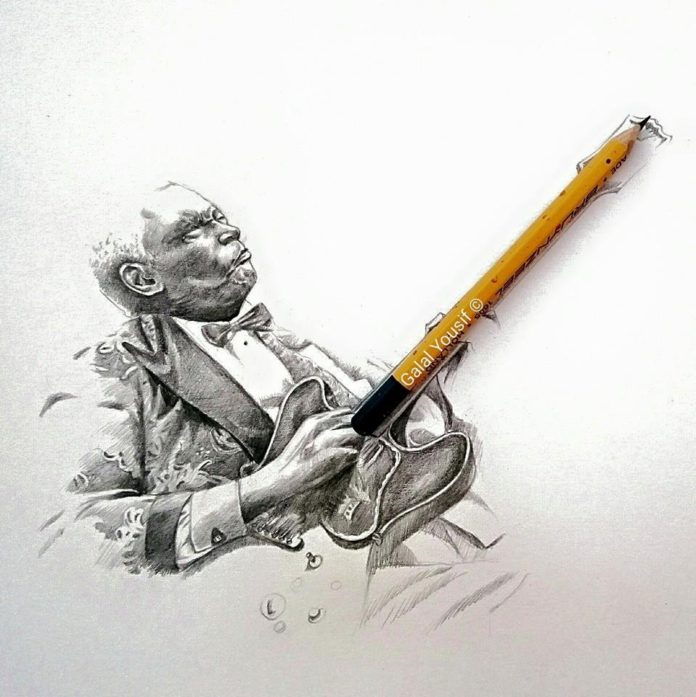 A: As a visual artist, you've distinguished yourself as a water color painter, but also have pieces where you've used pencil/coal, as well as some notable photography and digital design pieces. Are you experimenting freely or are you equally invested and passionate about these mediums?
GY: I'm a visual artist, thus I have the skills to create art out of any medium as long as I try – so why not? I certainly have my preferences; I experimented with pencil drawings for three years, and lately migrated to water colors and inks. The experiments will continue.
A: You have a good following on social media, how do you use it?GY: Paintings are actually pictures, and since 2009 when social media began booming, artists used social media to post their work and update their networks as they did when they all studied together. Then social media platforms evolved and you could share your work with a bigger network than your immediate circle. More platforms kept popping up and we had to maintain pages in the new ones too to ensure our art is visible to a larger audience. As we know, art visibility is weak in Sudan – many don't even know there is an Applied Arts College established since 1946 – so we had to do our part to make art visible, so the next generation can see us and join the stream.
A: What are your paintings capturing?
GY: my work is inspired by what's around me; all of the details, whether small or big.
A: Women appear a lot in your paintings, both traditionally clad and modern, visibly African women.
GY: of course, women are inspiring in form, detail and complexion, each woman has a rich form and concept.
A: What is your opinion about the growth of digital art in Sudan?
GY: I can't predict the future of digital art, but the current state does not indicate any notable drastic change, we're still at the early beginnings of visual art culture.
A: We're following your photography experimentation, is that what's next for you?GY: I sometimes dabble in phone photography, just to use a device I'm constantly carrying around and try to formulate a visual image from it. I'm not delving too deep into that at the moment, but perhaps one day I will; especially with the rapid development of phone cameras.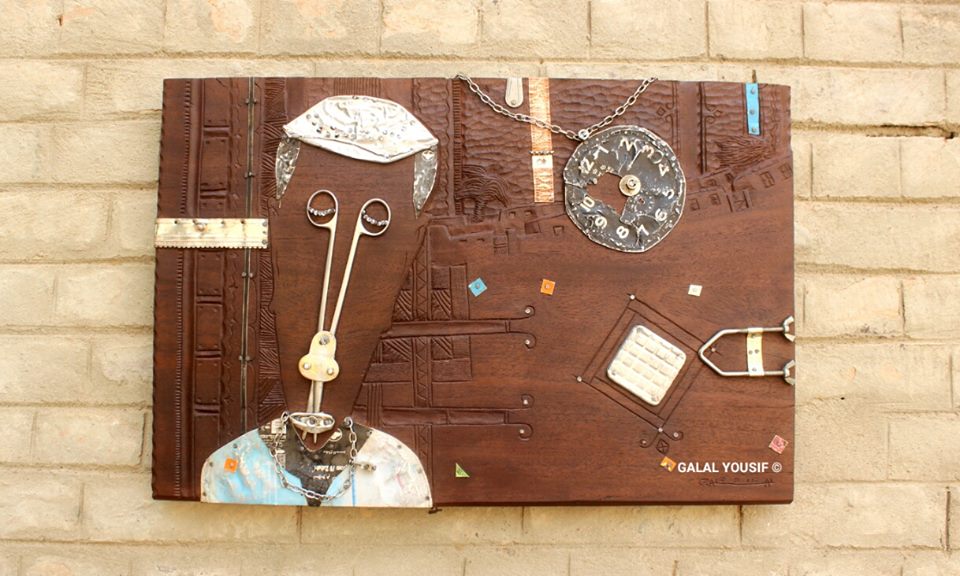 Khaish Studio
A: Tell us about Khaish Studio, how was it created, why and who are behind it?
GY: Khaish Studio was established in 2012 by Hazim Alhussain, Elhassan ElMuontasir and myself. We wanted a place where we can create our paintings in peace. The Studio helped us stay active; through it we organized exhibitions and workshops. One of our latest projects was the Yalla! Khartoum graffiti painting project with the Goethe Institute at the end of 2015.
A: What makes Khaish Studio better for you as artists, in contrast to working as individuals?GY: Paintings are an individual effort, unlike music and theater for instance. Yet we united over shared visions that the three of us hope to achieve through Khaish Studio to leave our mark on Sudanese art.
A: Where can people purchase your work?
GY: We're available in a few galleries around Khartoum, and interested buyers can also directly contact us through social media.
Follow Galal's art and latest updates on Facebook, Twitter and Instagram.