In Ramadan 2016 the Arabic channels were packed with soap operas like every year. After all, it's the season of the year where channels are filled with the most important and most watched shows.  What was special about this year was the unprecedented diversity of drama series, and the large number of series which grabbed the attention of Arab viewers.
Novel-based scripts in cinema, drama and theater are as old as these mediums themselves. In 2016 several of the top ranking series managed to pull in viewers throughout various Arabic channels, after captivating readers through best-selling books. For example, viewers were excited to see the transformation of "Bamboo Stem" written by the famous Kuwaiti novelist Saud Alsanousi, winner of the Arabic Booker awarded in 2013.  There was also the series "Qoba Feasts" based on the Egyptian novelist Naguib Mahfouz novel, which did not receive its fair share of fame as did the rest of his works. We also saw the series "Samarkand" based on the novel by the Lebanese novelist Amin Maalouf.
Several years ago we also saw "Memory of the Body" based on the novel by the Algerian writer Ahlam Mosteghanemi, and the series "I want to get Married" by the Egyptian writer and blogger Ghada Abdel Aal. Another smashing hit was the series adapted from the novel "Zat" by the Egyptian novelist Sonallah Ibrahim. Literature also found its way to the cinema industry was box-office hits such as "The Yacoubian Building" by Alaa al-Aswani, as well as "Vertigo" and "Blue Elephant" by Ahmad Murad.
The Echo of Hundreds of Transformations
Worldwide, thousands of TV and cinema adaptations took place since the beginnings of cinema. Between 2013 and 2016 we have seen nearly a hundred works of literature which have been adapted into films. In 2016 alone, 19 well-known novels were turned into films. The writer Stephen King holds the largest share in this; since the seventies and until 2016, nearly 100 films and television work have been made based on his novels.
In the Middle East, Egypt is considered the luckiest and top producers of literary transformation, due to possessing the experience, ability and massive production capabilities. We know a lot of novels by Ihsan Abdul Quddus that have been transformed into visual works; he has 49 works of fiction that were turned into films, and five novels turned into plays, and 19 radio and television soap operas. The international best-selling writer Naguib Mahfouz was known for twenty-eight literary works that were turned into TV series, film and theater productions. Lastly, we cannot forget the 47 contributions of the well- known writer Yusuf Sibai.
Where is Sudan?
Despite how well-received Sudanese novels around the world are, they have yet to break into this field of visual art. In the nineties, we did not see any literature inspire television series or film, except for the film "The Wedding of Zein," which was directed by the Kuwaiti Khalid Siddiq in 1976.
Recently, a Jordanian team transferred the story of the young Sudanese writer Sabah Sanhouri into a short film. The story, titled "Isolation" won the Tayeb Salih Award for short stories in 2009. Sabah comments on her experience: "it was a unique experience and I was so excited, to see the character that I typed on paper come to life on screen. The Jordanian director and scriptwriter Borhan Saada read the story on the Internet, and envisioned it as a short film of 35 minutes. He then communicated with me and proposed the idea. I am really grateful that the Jordanian actor Hassan Al Shaer mastered his portrayal of my main character, because it was a difficult and contradictory at time".
The film was screened during various occasions and festivals in Jordan and Sudan, and was met with admiration from the public.
In addition, we expect a lot more conversions in the coming period, since the Sudanese novelist Ali Rifai was awarded the Katara Award for the best novel transferable to drama category. Starting with the Sudanese director Amjad Abu Alala who announced working on a film inspired by a short story written by the Sudanese writer Hamor Zyada. We are also waiting for a film adaptation of the famous novel "Season of Migration to the North" by the Sudanese writer Tayeb Salih, directed by Swiss-Egyptian director, Ahmad Abdul Mohsen, funded by Swiss entities with technical expertise from Sudanese institutions. Finally, two young Sudanese-American filmmakers Mamdouh Saleh (producer) and Hashim Hassan (director) are working on a 25 minutes feature film adapted from one of Tayeb Salih's short stories, "A Handful of Dates"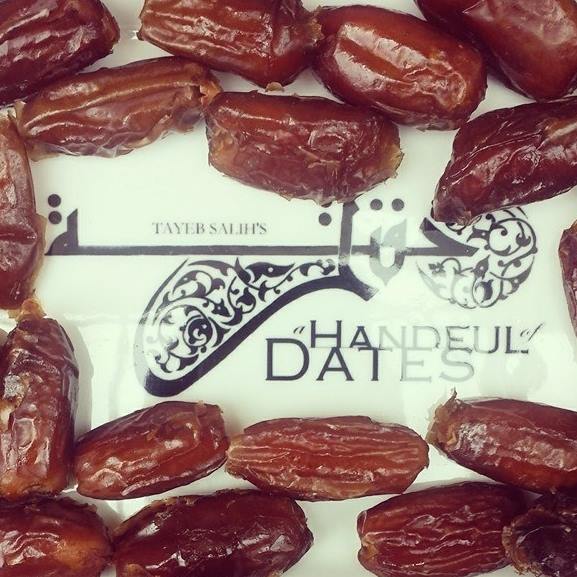 Image Credit: A Handful of Dates on Facebook
Drama Dilutes Literary Texts
There is almost a consensus that novels lose their depth when converted to drama or film scenes; so the Arab reader who watches his favorite book embodied on the screen often reject this conversion.  Readers are usually quick to express their disappointment drama conversions when they see the slightest difference from the original script.
Director Amjad Abu Alala commented: "when the reader sees the visual representation there are two types of fictions in his head: his own fantasy fiction, and that of the writer. The relationship between the viewer and the work presented have everything to do with the outcome of the work, and the viewer needs to separate his imagination when he reads the novel from when he sits down to watch the adaptation. Thus, when viewing, he should give in to the converted form of fiction. "
As for Sabah Sanhouri whose story was adapted into a film, confesses she was a bit hesitant about the modifications at the beginning, remembering: "when the director sent me the scenario in the beginning I had some remarks that he took into consideration. The film was shot in Jordan with a Jordanian crew and it took a political turn due to the then-ongoing "Arab spring" period. I had some reservations because I always stay away from framing and tend to care more about the human factor and not the bias of race, religion or country. But I respected the director's vision especially as the story had the potential for many interpretations and visions. "
This year I noticed the growing number of novel-based series compared to films and I shared this observation with filmmaker Amjad Abu Alala, wondering if that is because Arab audiences are more interested in series rather than films. Abu Alala explained: "the Arab viewer does not care whether the converted work is a film or drama series, as long as it's a good production; which is clear from the first episodes and even advertisement. In terms of production, more money is spent on TV series, because of the fast return on investment that comes from TV channels, unlike films, which may be a little unpredictable, which eventually results in fewer films being produced. "
The production of drama from literature is yet to be matched with the production of films in other parts of the world. For example, we find that Europe and America produce nearly 30 drama-adapted works from novels per year, while Arabs produce only 3 to 5 per year. Amjad Abu Alala noted: "it is very important to transform novels into visual arts. Cinema has a long relationship with literature, in theater, for example, a scenario or text used to be called "novel ", which implies the precedence of adaptations in this type of art."
Are Films more Memorable than Books?
Do book sales increase after portrayals on the silver and golden screens? They certainly do. For example, the novel "Blue Elephant" by Ahmed Mourad, "Hebta" by Muhammad Sadiq and "The Yacoubian Building" by novelist Alaa al-Aswani were best sellers before film adaptations, which encouraged filmmakers to turn them into films. However, cinema portrayals gave these novels an even bigger push in book sales.
Elizabeth Gillbert said in one of her TED talks: "A few years ago, I was about to go on the plane at John F. Kennedy International Airport, and two women were standing next to me, they kept staring at me and then one of them said:"Honey, do you have anything to do with the famous "Eat pray love " thing?". When I answered "yes", she slapped her friend and walked away, saying, "see? I told you, it's that girl who wrote the book that was inspired by that film."
I asked Amjad Abu Alala if converting literary novels to TV series and movies serve the Arab drama or vice versa and he thought: "Television gives the novel more time, whereas cinema, for example, may give the novelist between an hour and a half to three hours, while TV gives about 15-20 hours divided into 30 episodes. It gives more space for a novel, especially if the characters are complex or require more storytelling, hence drama will be fairer to the text. On the other hand, there are talented writers who write intriguing scenarios that can double what the novel's impact sometimes, because of narratives that give writers' imaginations a fertile ground to launch from."
Converting artwork from a template to another creates momentum repeatedly, every time a new medium explores the meanings of it. Conversions give more artists from different forms of arts a chance to reflect their views on a particular subject. Will we see a positive effect on readers, writers and critics from the conversion of notable novels into visual arts projects undertaken currently & highlighted above?