Diasporas* are becoming significant players in providing assistance in the response to humanitarian disasters. The assistance is traditionally given by governments or international organisations, such as the United Nations and Non-Governmental Organisations (NGOs), who operate within an established system (GHA, 2015).
GHA. Who's who in humanitarian response?
However, assistance provided by individuals and communities in the diaspora is often not recognised and comes in different forms such as cash transfer, collating and distributing information about the crisis and volunteering (King and Grullon, 2014). There is increasing pressure to recognise the diaspora and its members' role; already major financial, political and social contributors to their countries of origin. For example 2014 saw a massive increase in remittances to the Global South at US$435 billion, which is expected to rise to US$454 billion in 2015 (World Bank, 2014).
There are numerous examples of diasporas rising to the challenge and responding to unprecedented levels of humanitarian crises.  These include the Syrian diaspora playing a critical role in getting aid to areas in Syria other organisations are not able to (ODI, 2014); in response to the Ebola crisis, diaspora communities in Europe and elsewhere pooled their resources to provide humanitarian assistance in the region (The Guardian, 2014), and also in Haiti and Pakistan to name a few (MPI, 2010).
The situation in Sudan and South Sudan
In Sudan and South Sudan the humanitarian picture is grim. Since December 2013, the conflict has devastated the lives of millions of South Sudanese and displaced more than two million people. About 1.5 million of them have been displaced internally in South Sudan and over 500,000 are refugees in neighbouring countries (OCHA, 2015). The humanitarian situation in Sudan continues to deteriorate despite years of receiving international aid with more than two million Internally Displaced Person (IDPs), also becoming a major source and transit hub for migration, where many increasingly tempting the traitorous Sahara and Mediterranean route to reach the shores of Europe.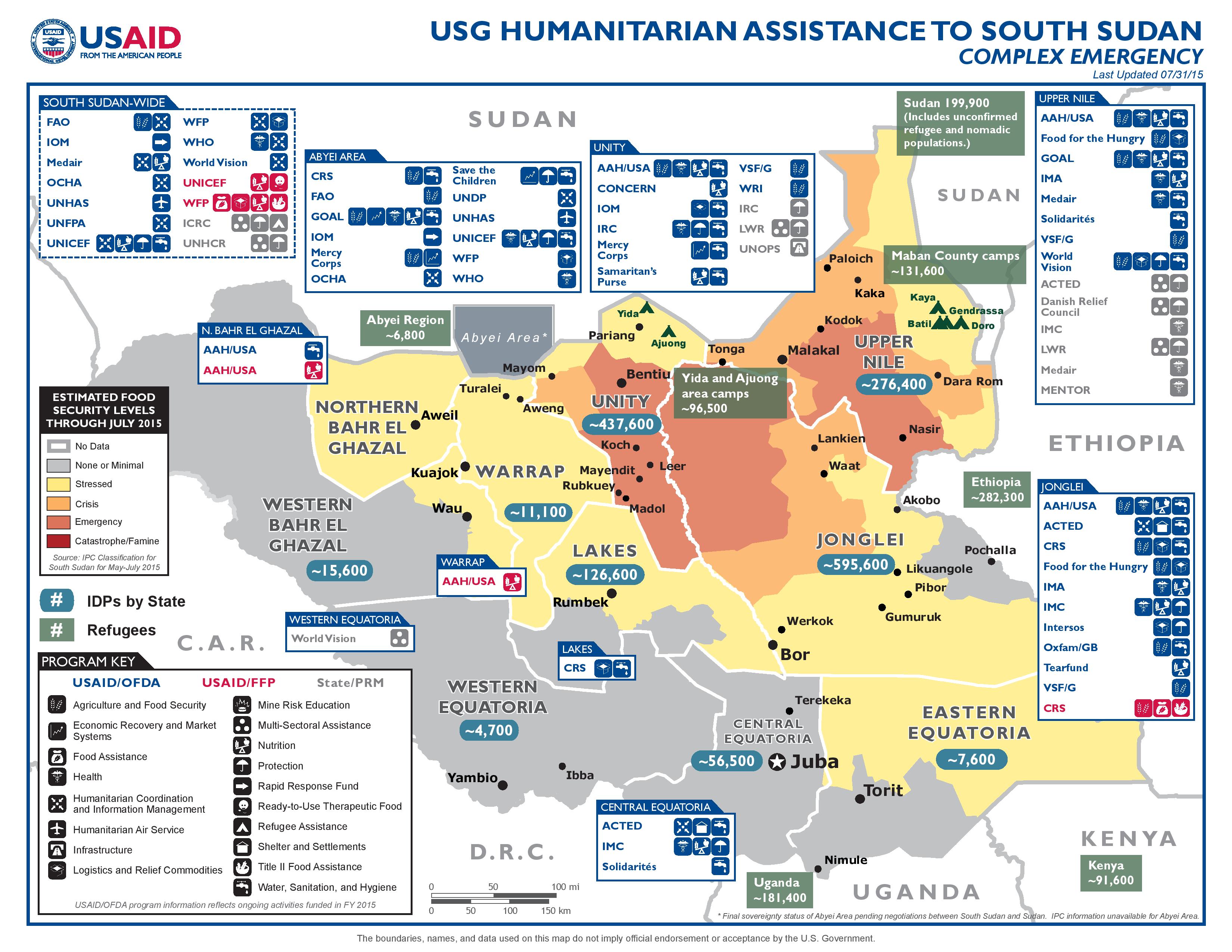 Reliefweb. Sudan: Humanitarian Snapshot, 30 June 2015.
Emerging trends- at home and abroad
Despite these challenges, there is light at the end of the tunnel with new and emerging trends in the humanitarian and developmental response by affected communities, including the diaspora. In Sudan and South Sudan youth have been proactive in delivering their own assistance, largely outside the 'traditional' NGO framework. An example is Nafeer campaign which was set-up in response to the 2013 floods in Sudan and support by the diaspora is critical with youth starting initiatives such the ROOTS project in South Sudan to alleviate the challenges facing communities there.
One critical feature is the intergenerational differences in the concept of giving, or providing assistance. For example, the first generation is probably sending remittances to the country of origin on a regular basis, a phenomena likely to be less frequent or cease with the second generation who may be more interested in supporting a service or a project that impacts not just the country of origin, but beyond.
Going forward 
How can the diasporas response to humanitarian crisis become more impactful?  This is one of the questions raised ahead of the UN led World Humanitarian Summit, scheduled to take place in May 2016, and by other entities who are now recognising the importance of diaspora supporting the communities in the countries of origin.
To lead the debate, it will be important to begin recognizing that every effort made- whether it is a bit of cash, or donating some clothes or providing food or shelter are all forms of humanitarian assistance. This means being prepared for when disaster strikes and to work together to alleviate suffering wherever it may be (Araia, 2014). Also, diasporas need to recognise and coordinate with existing efforts instead of providing assistance separately, for example you may end up providing too many blankets whilst the need is for more food! And finally, listen to those who need assistance on what their needs are rather than just assuming what is best for them; this helps reduce unnecessary waste, but most importantly, guarantees respect for those receiving the assistance.
*Diaspora originates from the word "to scatter" in Greek and was in reference to the Jewish diaspora. But nowadays describes people and their descendants who live outside their country of origin or ancestry but maintain active connections with it, such as African and European diasporas. 
This article was part of the second issue on Travel, read the full issue here.