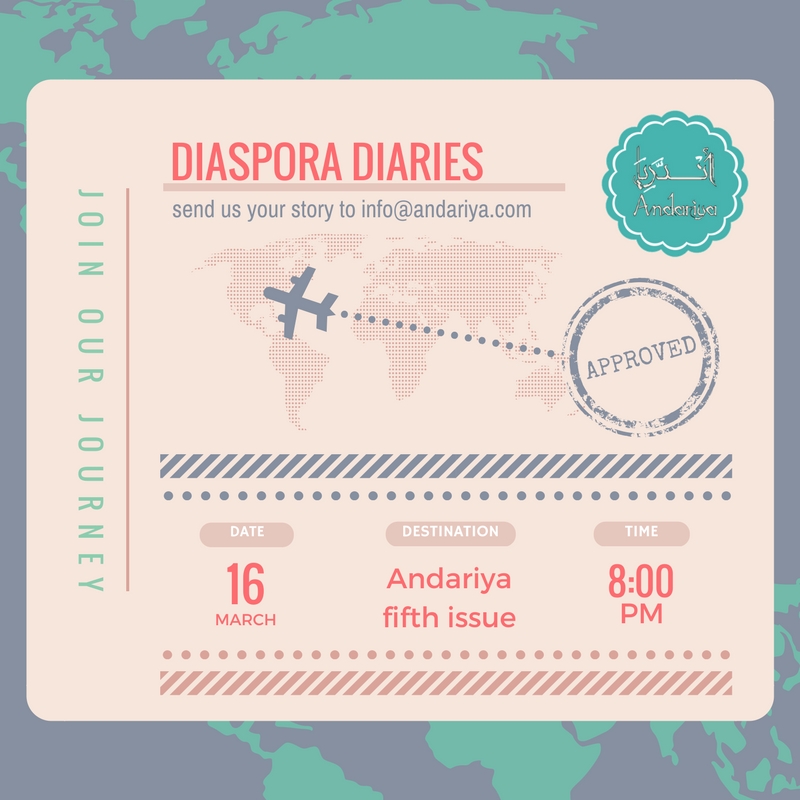 Dear Readers,
We are delighted to announce our fifth issue topic. For the second time, we asked YOU for your opinion about our next topic, and as usual, we were blown away with the diversity, urgency & clarity of your contributions.
We continue to save all your entries to address in future issues or series, and chose the topic Diaspora Diaries as our fifth issue theme.
World media is currently focused on migration due to pressing security, environmental & socio-economical issues. Missing from the discourses are the stories of travels, perseverance, hardship, integration, transformation, acceptance, longing & growth that people endure & experience through the various phases of their migration, settlement & repatriation.
We're curating an issue that answers the following questions:
What was the moment you chose to migrate, seek asylum or re-settle elsewhere?

How did you choose and arrive at your final destination?

What shaped your experience of moving, settling, integrating, raising a family, finding a job, building a career, etc.? How was it like going through this process?

What were the challenges of living outside of your birth home?

What brought you solace while living outside of your birth home?

What was it like for you being part of dual environments? How did you perceive the differences between Sudan/South Sudan and elsewhere?

Did you choose which of your environments (South Sudan/Sudan versus elsewhere) to call home? How did you come to this conclusion?

What does it mean to be Sudanese/South Sudanese in this world today when you are living outside the two nations?

If you repatriated, why did you choose to do so?

If you repatriated, how has it been so far? What do you miss about your other country of residence/citizenship? What do you like the most about living back in Sudan/South Sudan versus abroad?
Through these stories, we hope to probe into our collective memories & experiences and dig into the personal while exploring overwhelmingly general facts of life that affect us in different ways, yet bind us in similarity.
Have a story to share? Email us at info@andariya.com
With love
S+O