Established in late 2012, Capital 91.6 Radio station is Sudan's leading English music station; with the largest listeners base, diverse music selection & interactive community-driven shows. With music, current affairs, language learning and shows tailor made for children, Capital FM is on a mission to mirror its motto and become the "heartbeat of the nation". Established by Dj & musicology master Taha Elroubi, Capital FM is leading the nation in modern programming & music selection to enhance radio's impact on local communities, as is the case in many countries in the region & world. Even though the station is young, compared to some radio stations with more than 10- 50 years of broadcasting, Capital FM's growth has been unprecedented, relying mostly on the younger generation that crave the international hits the station plays, and expats & diplomats looking to understand the local culture and keep up with events and trends.
The station head-hunts the most musically attuned & community driven individuals to join its team & many hosts have left an imprint on people's minds with their engaging topics, wit & music tastes. Capital Radio has always been ambitious; with various goals to remain a market leader & trend setter. The station is planning is rolling out an app before the end of this year, in an unprecedented move to capture the mobile-apps economy.
Capital FM was recently awarded the FM MONDEAL for its outstanding growth & development. We sat down with Ahmad Hikmat, Program & Content Manager at Capital Radio to discuss his own win at the MONDEAL & his journey to become one of the key shapers of radio culture in Sudan.
Andariya: Tell us about your background.
Ahmad Hikmat: I born in 87', so I was blessed to get a whiff of the late 80's and a decent stretch of the 90's. I started my early school years in Khartoum, then moved with my mother to Saudi up until high school. Then I moved to Amman, Jordan; and that was the game changer for me. I finished my first diploma in general computer sciences, although I was keen on growing socially more than academically. I managed to learn a lot and widen my perspectives a little more than what they used to be in Saudi.
Then a major change took place, I moved again, this time to Nairobi, Kenya, which had the biggest impact on my life, especially on what I do now. In Nairobi, I joined an elite business university that had a strict Catholic approach, luckily, my previous diploma was exempted and I enrolled in Business Information Technology. Beyond academics, African culture began to shape me intellectually and socially, I was involved to the level of learning Swahili faster than learning any other language. I was immediately taken away by the colors, music, culture and rhythm. It played a big role in shaping who I am today and most importantly, what I stand for.
Andariya: How did you ended up in radio?
Ahmad Hikmat: I'm extremely passionate about music. I don't play a specific instrument, apart from my regular riffs in Oud and Rik strokes. I'm a listener, though not an average listener; from digging Gidood Halbeya of Syrian Tarab, to Maskandi solo in South Africa, I listen to it all & tend to archive what I listen to mentally to create a human musical archive shelf.
Having established that Capital 91.6 Radio is a very successful music radio station and a greater community serving radio with all its sponsorship and presence, I approached them about updating their African music & scene news. After pointing out some African songs to one of the managers at the station, I was asked to try a voice test for hosting a weekly African show. I never saw it coming!
Overwhelmed, excited and happy, my reaction was all summed in the creation of Afrodiziac, a weekly African music show that embraces African culture, music and art as a whole- I'd like to think of it as my alter ego. After months of voice training and some on-air fear strokes, I managed to make it to be the anchor of the morning show, talking to an estimated 1.1 million listeners on the Breakfast Show, the flagship show of Capital Radio.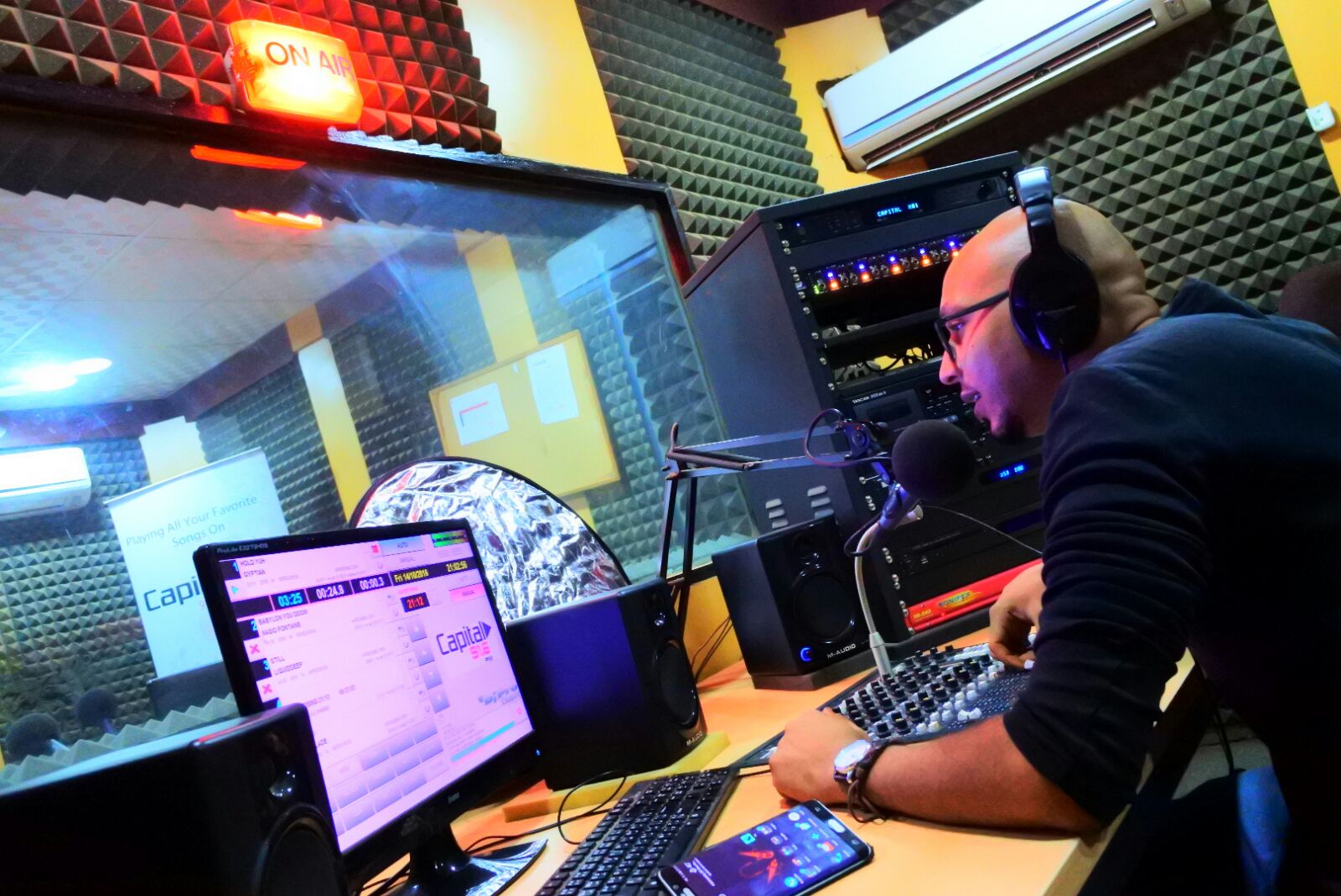 Andariya: Tell us about your journey and how things have changed in your radio career.
Ahmad Hikmat: Starting Afrodiziac was something new, I never saw myself as a radio host. I used to listen to radio and recognized the kind of impact a song or a positive message can do for someone going to work, school or wherever. Meeting people who are also sharing the same passion, that is the Capital team (or family if I could say so) made a great impact on me. The morning show on the other hand, made the greatest impact on my career; meeting/hosting/inviting people to the show was the best experience ever. I was exposed to many if not all initiatives or organizations in Sudan and covered commercial and social awareness campaigns.
Capital Radio took over most of the social events in the country, luckily by the end of the day I got to talk to important people on a personal level and get to know more about them and their ideas on various topics. I found myself growing at a rapid rate, hosting great events I only used to watch from back there in the audience. I got my own logo alongside many known logos, narrating high profile documentaries- having Morgan Freeman voice as a goal, of course. I didn't manage to sound like Mr. Freeman, yet I was embraced and found much needed support from a lot of people, friends, family especially my father. My father had the biggest impact on my career; keeping in mind that if you are not a doctor or an engineer in Sudan then you are lacking behind. I don't want to say I've proved the opposite but I think I am moving at a high speed. I'm on my way to convince my traditional Sudanese aunt that working at a radio station is of similar significance to any other esteemed profession by remedying listeners and structuring positivity.
Andariya: How has your music taste developed over time?
Ahmad Hikmat: I think one's musical taste is derived from their surrounding, environment and experiences; for example, I might not remember much of my childhood, yet I remember the big vinyl albums my father had. That specific Bob Marley album for instance, I remember it very well, I even remember the color of the old late 80's vinyl player my father owned. At an early age I realized I grew up in a musical family, to the level of having the great Abdulkarim El Kabli at my 3rd birthday party! My family is a musical family & my grandmother was a huge Tarab fan.
Along with that exposure, the cultural shuffle between Sudan, Saudi, Jordan and Kenya shaped my musical taste. My playlists were unethical if I could say so- never met a person who played Sabaah Fakhri followed by Les Wanyika; a traditional Shaami song followed by a Kenyan Classic. Or an Oumo Sangare gem followed by Muhamed Abdo's Mozhilla. It may be very confusing for many, yet I manage to find a relative point by studying each song, and making my own notes. I became obsessed and the type of person who'd make sure to check all related sub-songs in a playlist. I'm amazed that all focus is usually on hit songs, while the rest are "sleepers"; my favorites are usually among the latter.
Andariya: What's your reading of the current musical scene in Sudan?
Ahmad Hikmat: What a question! Hmmmm!
I am a big Haqeeba fan, if we looked closer at that era we'd notice that it was an era of prosperity, equality and creativity in Sudan. Sudan was leading in many aspects back then; such as having the first radio broadcast in Africa/Middle East. Maybe some also remember how Sudan Airlines was the first Airlines to travel to England from the region, and how Sudan had the first colored TV transmission in Africa. That was the era of Haqeeba!
What an era that was; a lyrical manifestation, a bold description of feelings and status, an outstanding use of Sudanese dialect, filled with sorrows, happiness, excitement, bravery and pride. Music back then touched upon everything- I mean everything. Our parents always mentioned how it was perfect and sophisticated. And that's why we keep on singing the same old songs again and again and again.
I've walked through the biggest musical archive in Omdurman, and I was surprised at how they only have 40,000 hours of digitally archived recordings out of 120, 000 hours of unknown audio reels. The sheer size alone proves the Haqeeba era was an era of creativity and it simply raised the bar and standards beyond the reach of modern production. I don't want to sound negative, because I am personally supporting a lot of new generation production in Sudan, and yes I do enjoy it. But I believe we can set that bar even higher once we start creating an era of similar glory, where freedom of creativity is appreciated and embraced by all. The current scene is limited and faced with a lot of negativity and demolishing criticism, due to alien understandings and terms we had for almost a generation now. I hope this will inspire us to go and dig deeper in the non-categorized 80, 000 hours of audio reels, and guess who composed, performed or played each song.
Andariya: What are the threats and opportunities for the local music scene?
Ahmad Hikmat: The threats could be summed up as the limited creativity plaguing the music scene. The opportunities lie within the pop-up of new talents & provision of much needed platforms & support for their growth.
Andariya: Tell us about the award and what it means for you and for Capital FM.
Ahmad Hikmat: The Award is a local, country-wide initiative that evaluates radio stations performance over the year, it is named FM MONDEAL and supported by the Ministries of Culture and Media. I never saw the nomination coming for me personally, but apparently they disagreed and nominated me 2015 and I then won the award in 2016. I was surprised to find my name on the list, but overwhelmed and excited as well. On the macro-level, it was wonderful that Capital FM was the first English radio station to get nominated and win an award.
Andariya: How have you contributed to the development of Capital Radio?
Ahmad Hikmat: I strongly believe that my progress at Capital Radio comes from utter passion, love of music and dedication. When I first started at the archive, to be honest, I never thought I'll run the whole content of the station, but my passion knew no limits. When I first listened to the station in my friend's car, I remember saying "Kimo, this station is playing nice music, I wonder who's behind that." He replied saying: "I thought you were playing music from your phone". I suddenly felt the station's vibe and I wanted in.
Time goes by, with multiple iterations of Afrodiziac and more live shows that cater to all Sudanese talents, in both development and in music. It's true we are a music radio station, but we became bigger with time to reach out to all aspects of community service, and provide a much needed platform for many local initiatives and personalities. I assure you, there is more to come! I am looking at Capital's logo and Capital shows logos in most major events, and that needs loads of coordination & working hand in hand with great event planners. It feels good knowing we're doing something for our own people, for our own country. I feel happy when I hear someone listening to Capital Radio in their car or phone, that feeling is priceless, especially if they were nodding their head in tune to the beat.