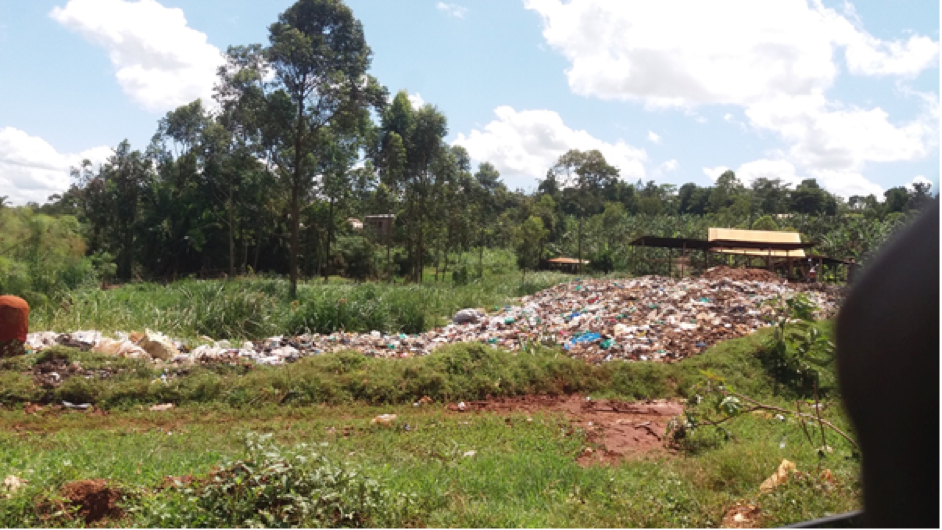 Poor garbage disposal in Nsangi. Photo credit: Author
It does not take one much to get concerned as they walk the plastic littered streets of Uganda's capital, Kampala, with the sun scorching harsher than ever before, the air dense from car fumes, and barely any trees along the streets. The degradation of air quality in Kampala alone became apparent with a 40% improvement during the lockdown in April 2020 as reported in the Daily Monitor. This shows the heavy impact human activities have on their environment and the climate altogether. I got the opportunity of engaging in an Earth month tree planting activity organized by Climate Operation in association with The Loud Project, both youth led initiatives, at a farm in Nsangi, Wakiso District.
Earth month is celebrated leading to Earth Day, a modern environmental movement that started in 1970. It is an annual event that takes place on the 22nd of April, held in support of environmental protection. While this movement started decades back in the USA, it has increasingly grown in popularity with the realization that the environment needs to be protected from deterioration, especially by the younger generations. Uganda, having one of the the youngest population in the world, has a number of activists rising up to cause. I got to have an in depth conversation with one of them, Heizal Patricia Nagginda, the founder of Climate Operation. For earth month, a tree planting activity was organized with the mission of promoting agroforestry. Three hundred indigenous trees, including guava, mango, pawpaw, moringa and shade tree were set to rejuvenate the farm on which they were being planted.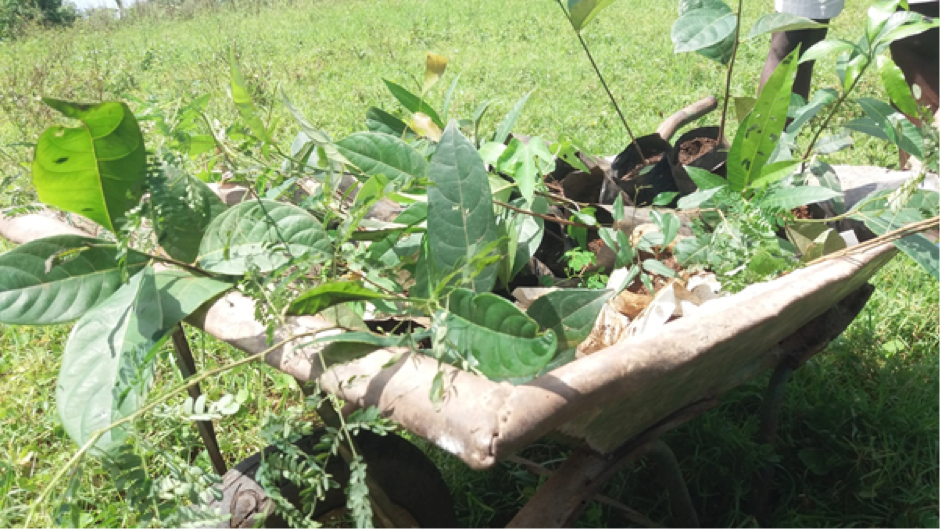 Various trees to be planted for soil rejuvenation. Photo credit: Author
How it all started
Climate Operation is an organization that aims at promoting climate based education and regenerative farming. Heizal narrated to me with a brightness in her eyes the genesis of it all. She said it started when she realized that Ugandans are either ignorant about the climate crisis, or they just don't care about it. She told me"I was chatting with someone who said, it looks like the policy makers, the old people, seem not to care and they are not going to do anything. So as young people we have to boot-strap ourselves and do something because no one is going to do it for us." She asked herself how they were going to create solutions when they did not know the problem, hence educating people on climate change and it's intersectionality was the first step. To make it fun, they started activities like tree planting to not only provide knowledge, but get people involved in their natural environment.
Given the nature of her work, Heizal engages in partnerships and collaborations especially with other young people. Heizal mentioned that she is particularly inspired when young people are out there trying to make a difference. This was reflected in the team that day that was comprised of volunteers from Tibugwisa and Co. Advocates and The Loud Project.
The Loud Project is a community that lends its platform as a bridge between activists and ordinary people so as to create change around poverty, gender equality, menstrual hygiene, and climate. It started out in 2020 when the founder Hans Patrick Mulindwa noticed a disconnect between big organizations and ordinary people who wanted to make a difference. He explained that they do not actually make the change, they simply create events and content for change. For example the tree planting activities and climate based education in schools for Climate Operation. It is through such events that the green chapter, a department in Tibugwisa and Co. Advocates that focuses on the environment, can participate.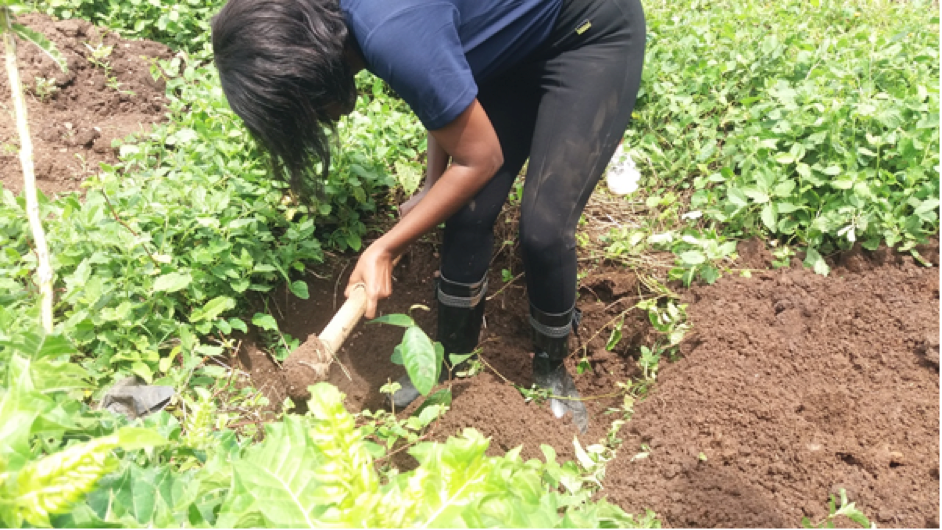 One of the volunteers from Tibugwisa and Co. Advocates. Photo credit: Author
Why the Concern?
"The international community and mainstream media says we are doing this for our future generations but I think in our context it is happening to us right now." - Heizal Patricia Nagginda.
When she started engaging people about the issue of climate change, Heizal said people did not know what she was talking about and some claimed that climate change is a white people thing. It is that ignorance that really inspired her to push for the cause. "If I'm being honest with you, we are literally facing the impacts of climate change but we just don't know it" she exclaimed. Heizal further explained that human practices such as industrialization come with pollution- which impacts people's health. "Besides health, we are actually losing money because of climate change, because our weather patterns are very destabilized causing food insecurity. People could have already started planting by now, but they can't because it's too hot they actually have to wait" she added.
"The international community and mainstream media says we are doing this for our future generations but I think in our context it is happening to us right now. That's why we have to look for solutions right now instead of thinking about people who are say, three years old right now. Interestingly enough, in 20 years time we will be the adults who will be blamed for not doing anything, just like we are blaming the adults now for the same. That's why we should care," she expounded.
I interacted with the vibrant lawyer volunteers who expressed their belief for environmental conservation, saying their profession requires a lot of paper, and it is only proper to give back by planting more trees. They were especially thrilled that it was fruit trees because that meant there would be an orchard of food secured for children in the near future.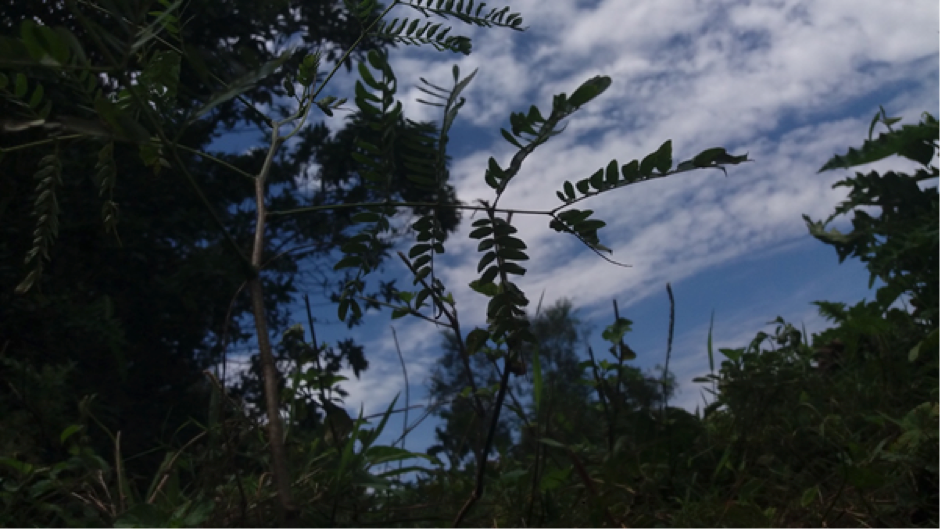 A wooden tree (shade tree) planted with fruit trees. Photo credit: Author
Why planting indigenous trees is relevant
Planting trees looks like a cliché activity that everybody does when it comes to anything environmental so I asked Heizal about the "tree fuss" to which I got very enlightening responses. "Trees sequester carbon and release oxygen. As human beings we need trees to survive. It's from cutting down trees that we are having a lot of landslides and soil erosion in farm, because most of the trees that were planted have been cut down, our grounds are very vulnerable to harsh climate systems that are happening right now. There is no rainfall and that is bringing about desertification" she iterated. She also added "That's why whenever Climate Operation goes to a school we always want to plant fruit trees because we know that most children rely on schools for food, so when we plant fruit trees, we are not only educating them about climate change and its intersectionality, but we are helping them get food. Of course the trees may grow in three years to come, but it will be really good for their food security."
Climate Operation advocates for indigenous trees particularly because they are sustainable. Once planted, they stay for time immemorial unlike grafted trees that grow faster but have to be replanted when cut as they cannot regrow. Heizal mentioned that they want to plant trees that are going to stay there. In case wood is wanted from them, they can just be pruned, and the beauty of indigenous trees she says, is that some throw their seeds on the ground and they grow by themselves, something that does not happen with grafted trees. Right now Climate Operation gets its trees from Roofing's Forever Forestry Foundation that promotes indigenous agriculture through distribution of seedlings to organizations, schools, and individuals free of charge. They educate as well. Heizal highlighted that she didn't know much about trees either when she started out but learned from programs like Forever Forestry.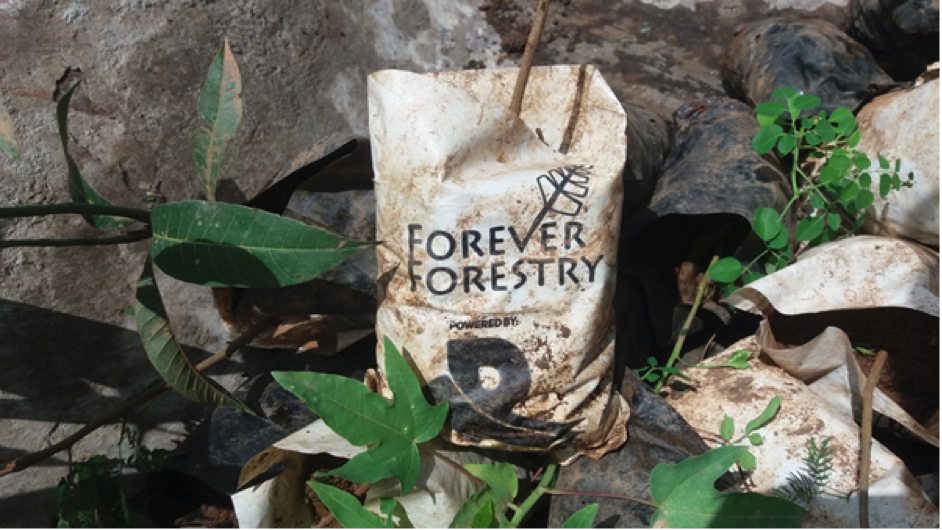 Seedlings from Roofing's Group Forever Forestry. Photo credit: Author
How to reach out
Climate Operation is open to collaborations that are in line with their mission because they are always looking for new ideas to implement. They also welcome volunteers since they are trying to ensure that as many people join in what they are doing. One can donate to their cause too. They have visited five schools so far, educated 500 children and planted 550 trees within the central region of Uganda. They are resuming their projects in June, where they will be moving to the east. Heizal disclosed that they are content seeing the impact their activities are having on people's personal habits and the way they connect with nature. She encourages people to buy local, do their research before they purchase a product to check if there is a similar product available locally, or if it is sustainably made. She also urges implementing the reduce-reuse-recycle policy; where one can use a refillable water bottle, reuse clothes, buy second hand clothes, avoid littering and join environmental causes and activities in one's local area.
You can reach out to Climate Operation through their instagram account or via email; climateoperation12@gmail.com
Watch the video of the participants sharing their thoughts here.