Do you remember how "texting" was in the old days? We didn't have WhatsApp, Telegram, Messenger, or any of these tech giants.
Can you imagine how times have changed? Before the beginning of the 2000's, people 'texted' each other using pen and paper, which was convenient at the time. They wrote and sent it to the receiver, and then waited for weeks or months for the reply (what a time if we were old enough to remember it). I still have a box of 25 envelopes that I've found in my father's old posts. What I liked about "old-fashioned mail" is that no one will read what you've written other than the person that you intended to send the letter to. Something we lack today, privacy.
Now we are experiencing a technological breakthrough. We now have apps that with just a simple tap can send a text to multiple people, in multiple languages, at the same time. One of the most famous texting apps we've come to know today is WhatsApp.
Fun Fact: In 1992, the SMS texting service had 8 years of running since the very first text message was sent, and it's popular today, but a lot of people have switched to using chatting apps since they're cheaper and faster.
What is WhatsApp?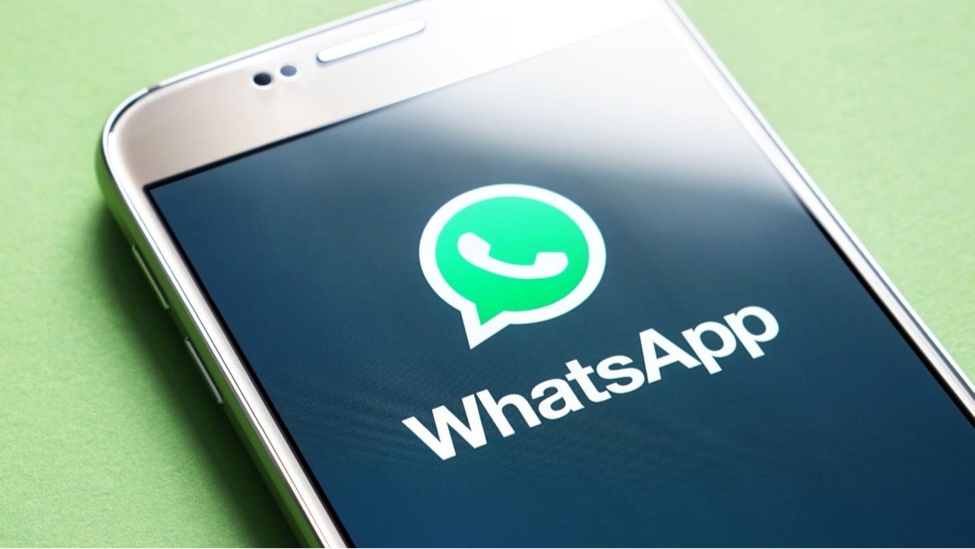 'WhatsApp' source: TechRadar
"WhatsApp" or "WhatsApp Messenger" is a cross-platform messaging and content sharing app, founded in 2009 by Brian Acton and Jan Koum, former employees of Yahoo. The app is considered one of the most famous messaging apps in the history of messaging. It allows users to send text messages, voice messages, make Voice-over-IP calls, share files (Images, Videos, documents, contacts and audio) and share live location.
In February 2020, WhatsApp announced that the app was used by 2 billion active users worldwide, which puts it far ahead from the competition, following it is Facebook Messenger with 1.3 billion active users worldwide, which shows you the huge revenue and market share gap between WhatsApp and other messaging apps. In October 2020, WhatsApp was delivering roughly 100 billion messages a day.
In Sudan, The very first app that we all install when we buy a new device, whether it is Android operated or an iPhone is Whatsapp, and it's the most famous chatting app in Sudan; in fact in 2014 it was shown that 93% of mobile users in Sudan use WhatsApp for communications and content sharing. Despite using other chatting apps like Telegram and Facebook Messenger, their use is not as extensive as WhatsApp. I think we use it to the point that it deserves the Sudanese Nationality! Of course, it is famous for many great features like:Text/voice messaging, sharing live location, being user-friendly,audio and video calling, chat backup, free of cost, and no ads included. But for me personally, I don't see WhatsApp as the best messaging app there is; in fact I consider it below the 5 first messaging apps on my personal list and that's because of its disadvantages such as limiting the size for files that you want to share, limiting sharing of certain types of files, it's not accessible unless used with a cellular number andit has no chat vault/space unless connected to an email account or cloud. Most importantlyit has risky privacy issuesbased on the the latest news on WhatsApp, when it received huge backlash from (seemingly) every single user in the entire planet earlier this year for changing privacy settings.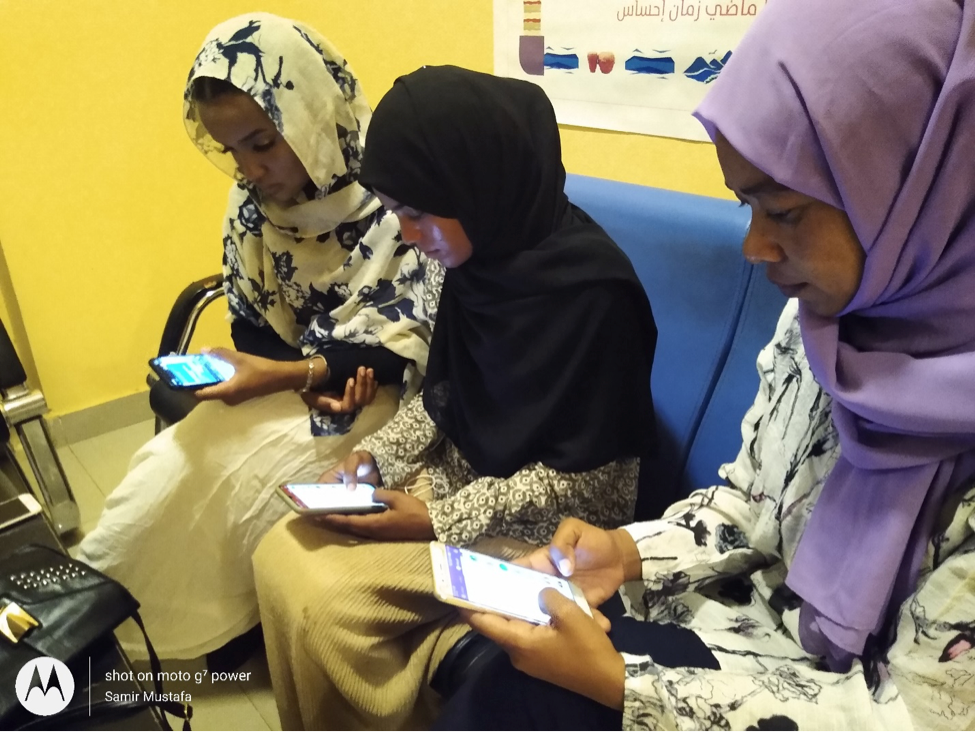 'WhatsApp is a huge part of our lives', Photo Credit: Author
Picture this; every Sudanese family has its own group on WhatsApp, and usually the ones who text the most are the women. Older male users are known for sending jokes and forwarding news, while older female users struggle the most with getting the hang of technology. Although recently, you can find mothers and aunts, and even grandmothers added to fashion-related groups scrolling all day through Tiyab and Henna images, which leads them to spend a lot of time on WhatsApp. This is a slight example to show you how WhatsApp is a big part of Sudanese lives right now.
Trying to estimate the percentage of "public" WhatsApp groups used by Sudanese users per group chat category, I was only able to find "public" groups that are open for everyone to be added. This is due to group invitations being found as links all over social media. I couldn't get a hold of the real number of private groups in Sudan. These include: family, friends, and work groups to name a few because simply they are private and not accessible by anybody. But we can agree that such private groups are very common in every household and may make a larger percentage than the number of the public groups.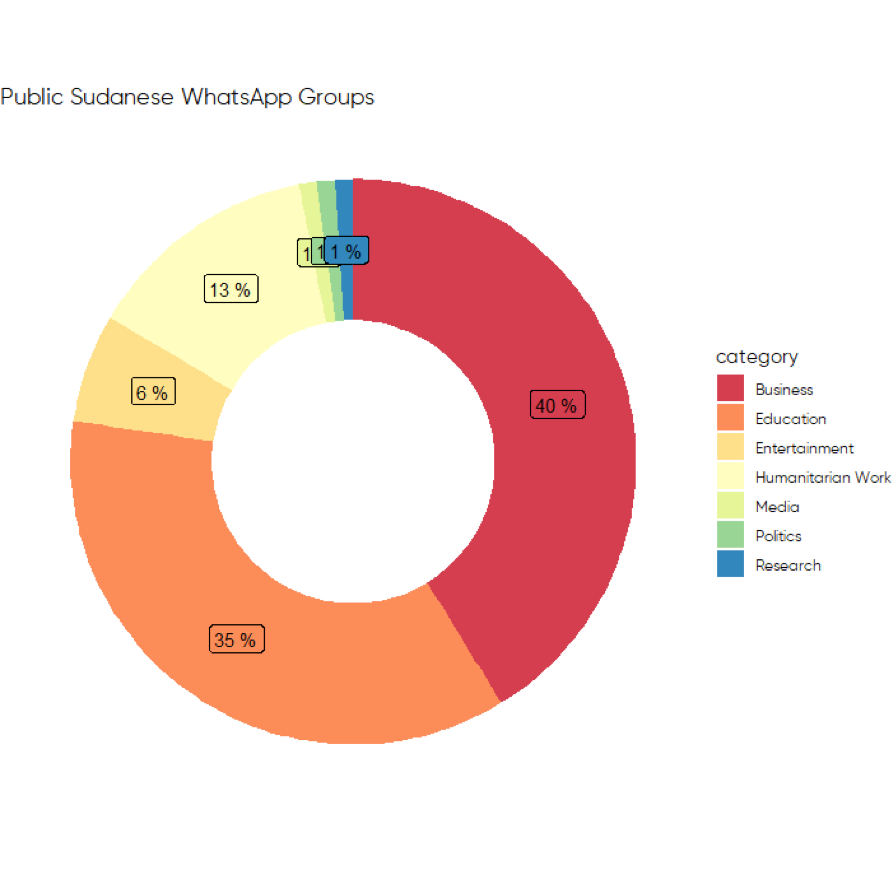 Figure 1: A donut chart on public WhatsApp groups in Sudan as per the author's research.
As you can see in the above figure; the most common groups are the groups with business and educational purposes. WhatsApp could be used by small or large businesses in order to reach out to their consumers to facilitate service/product inquiries and deliveries. Educational chat groups are used among students in schools and universities as online study groups, or some are made to deliver the links to international scholarships and relevant content. Humanitarian groups are the 3rd category in Sudan in terms of usage, where people use them to gather charity contributions and plan communitywork. Entertainment groups are the 4th in Sudan accounting for 6%. In these groups, people share music and film content, and there are also media groups which share cultural local news and tabloids. Public politics focused groups- which I believe increased in number after the 2019 revolution- and research groups account for 1% per category.
Facebook's new rules for WhatsApp
WhatsApp has been getting a lot of attention from the media around the world recently, and it's all because of their new privacy policy. The one thing that we don't even notice when we download a new app or buy a new device.
As you all probably know, Facebook owns WhatsApp, though they did not create it, but were involved in adjusting and upgrading features and updating polices. Hence, their changes for WhatsApp's privacy policy, has irritated a lot of people around the world because it states that Facebook are permitted to collect personal information from the WhatsApp application. With this information in hand, Facebook can use it for commercial purposes or across its broad applications.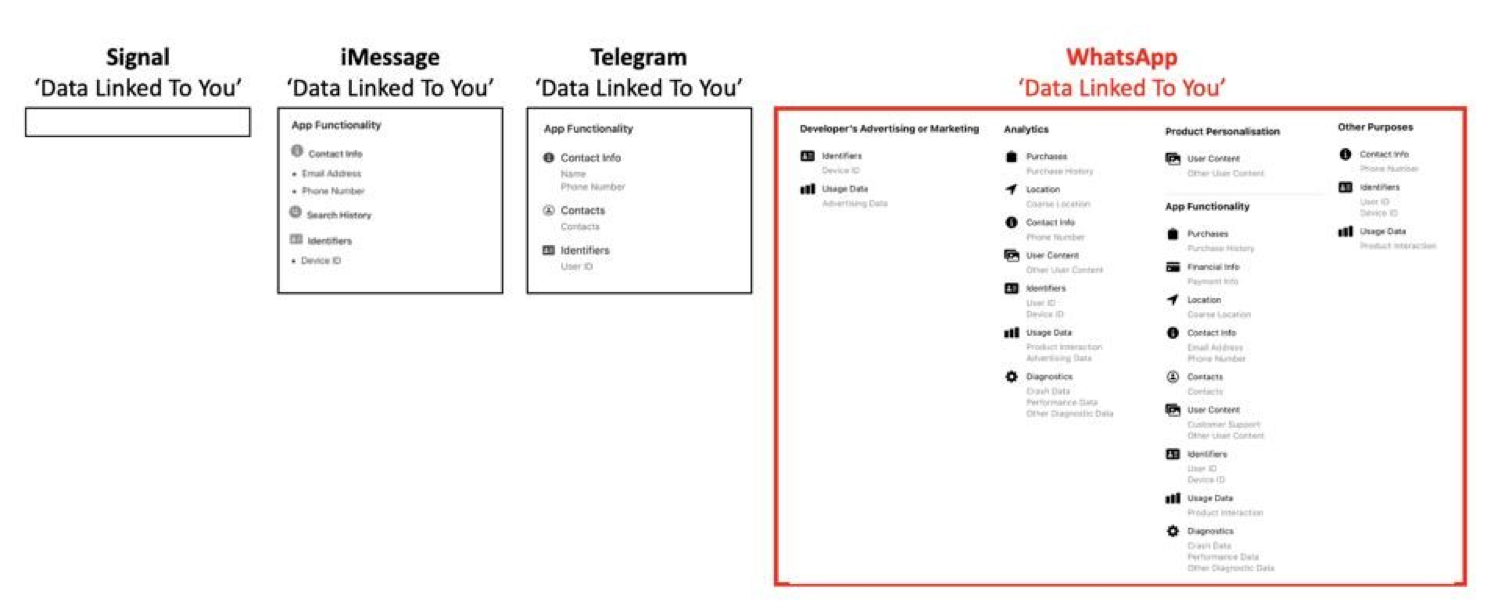 Data WhatsApp collects versus other applications - source: Apple privacy labels on Forbes.com
Of course, that made people angry including myself, so they started searching for alternatives. Luckily forTelegram, it became the most downloaded app since January 2021, generating almost 39.3 million downloads, followed by Signal generating 27.3 million downloads, both beating WhatsApp to the lead, as the later generated 24.07 million downloads.It reached a point that Signal servers were facing a problem because everyone wants to download it and "feel safe".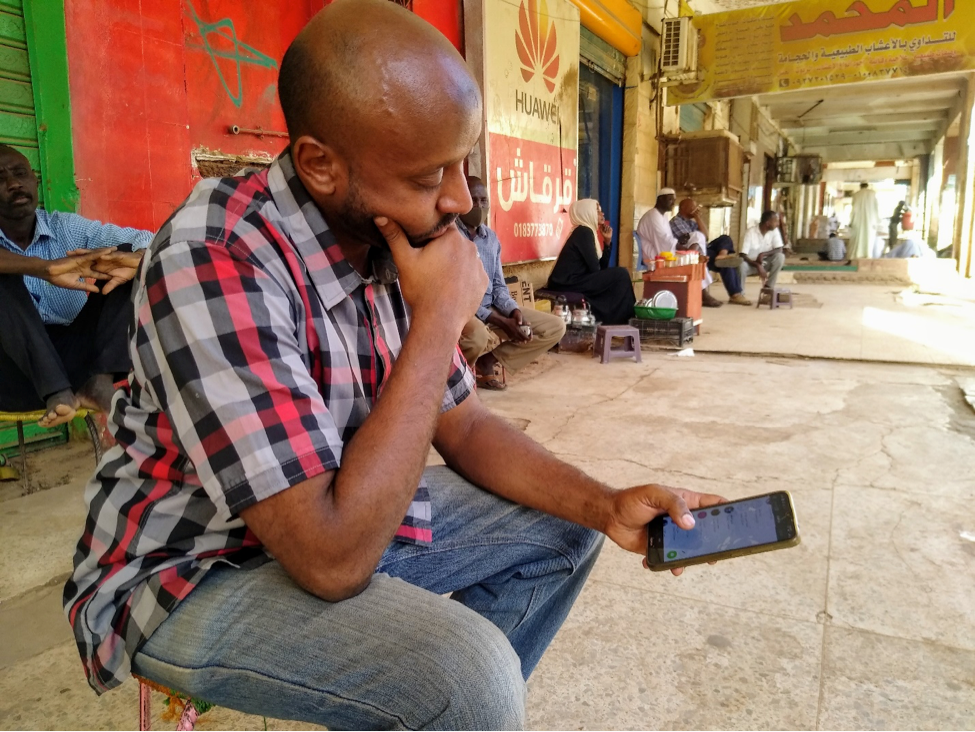 'WhatsApp irritated a lot of people with its new privacy policy', Photo Credit: Author
Fun Fact: The co-founder of Signal, Brian Acton, is also one of the co-founders of WhatsApp.
Privacy Really Matters
The new privacy policy of WhatsApp showed a lot of people how important their data is. Although Facebook clarified that there is a level of transparency in which how they collect user's information, it didn't make people feel comfortable at all. In fact, a lot of WhatsApp users made the switch to other texting alternatives.
There has to be broader effective laws that protect personal information from cooperates and businesses. Such as GDPR (EU's General Data Protection Regulation), which is a privacy law formed by the European Union that applies on all the software applications and websites that collect and process any personal information data from EU citizens. This law applies on all applications even if they are operating from outside the EU. It also gives the people the power to control how apps collect or use their data, and in many circumstances it gives people the ability to request the deletion of their data.
Of course the GDPR isn't the only privacy law in the world; there is also the CCPA (California Consumer Protection Act) which also operates in the same manner of the GDPR, except that it is made for the residents of California in the United States.
Such laws must be made for African countries including Sudan, to ensure the safety of users' data and protection from manipulation or use by other business or illegal schemes.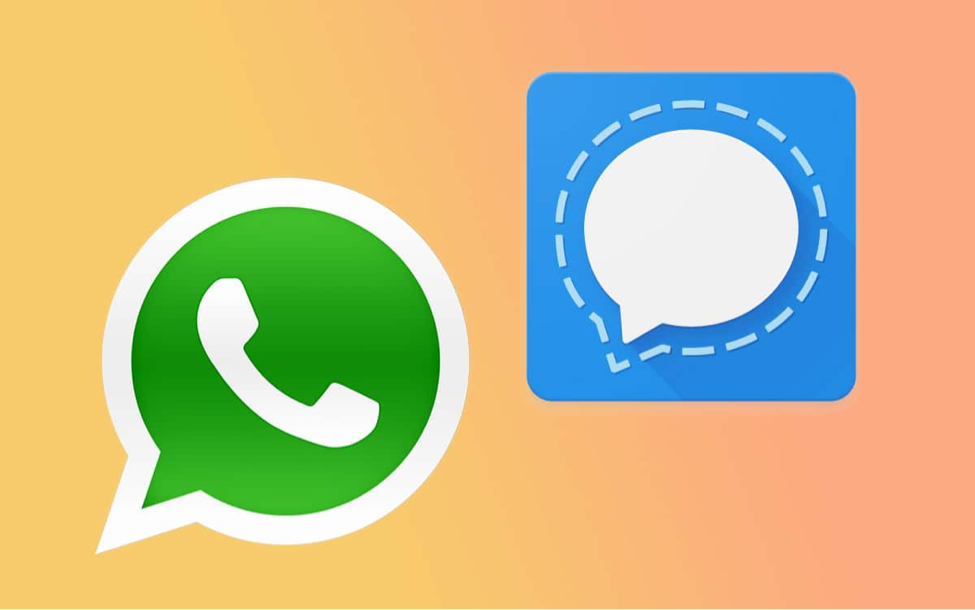 WhatsApp and Signal famous chatting apps - Source En24News:
It is important to own your right in protecting your data by any means necessary. Whoever acquires your private information, you have the right to know if it's going to be taken, used, or even deleted. In my opinion, I believe it will be hard for Sudanese to let go of WhatsApp because they have been using it for as long as they can remember. With too many personal and business connections and users signed to it, it might be hard for users to switch to another application, even if it has better features than WhatsApp itself- even if it concerns any entity that intends to misuse their data in any way they can.
Abdulrahman Molood, a data and information security expert, stated ''We have a big crises here in the Sudan, as people don't really care about their privacy and their data being used or taken without their permission, as long as it's not being used in their social circles. At the time when these new policies saw light, many individuals here in Sudan tried to convince people to switch to another chatting app, a lot of people actually downloaded the alternative apps, but they were still using WhatsApp as their main chatting app. So in reality, there was no point of downloading other apps. We actually need to teach people about the importance of protecting their data and the consequences of their data being taken''.
One should be aware of the consequences of data misuse and the ways to protect it, even if it requires reading tens of pages of terms and condition. At the end of the day, we ARE the owners of this information, it is basically records of our lives.
What's Next?
Facebook announced on the WhatsApp blog that they are going to use the status feature on WhatsApp to share their updates on the app with users, saying:

They're also now showing banners on users' statuses to remind people to review the new privacy policy and to accept it saying:

This confirms that Facebook is still moving forward with their new privacy policy, and they will try to make people accept it for them to continue using the app. This will make people even more irritated, but with the long communication and connection history WhatsApp holds, the question now is: Are you going to take a stance and move to other chatting apps, or are you still going to use WhatsApp?