The COVID-19 pandemic caused a lot of pain to many families and individuals across the world. Today, everyone is looking for a positive story to put a smile on their faces. Such a story, is found in the Apac District in Northern Uganda, where mothers have nothing but praise for security operatives and hospital staff who played a major role in helping them continuously, easing access to hospitals and aiding in the delivery of healthy babies.
In some districts, security operatives were harsh and pregnant mothers have been mistreated in the name of enforcing the COVID-19 guidelines. Ms. Mercy Nakate, a resident of Busega, Kibumbiro village in Rubaga Division, Kampala, was beaten and tortured by a group of policemen and village defence unit officials who were conducting a patrol on March 27th 2020. Her crime? Allegedly flouting the COVID-19 guidelines. Ms. Nakate, who was seven-months pregnant at the time, narrated that on the fateful night, she had moved out of her house to buy a herbal remedy (Emumbwa), when rain forced her to seek shelter at a common makeshift socialization facility used by residents of the area. The perpetrators of the crime were arrested, but Ms. Nakate is still traumatized.
Apac District is located in Northern Uganda, 257.4 km from Kampala. The district hosts communities known to be some of the humblest people and reports very little crime. Apac's people are kind to strangers and will talk to anyone if prompted. A visit to Apac General Hospital, the biggest health facility in the district left me in awe.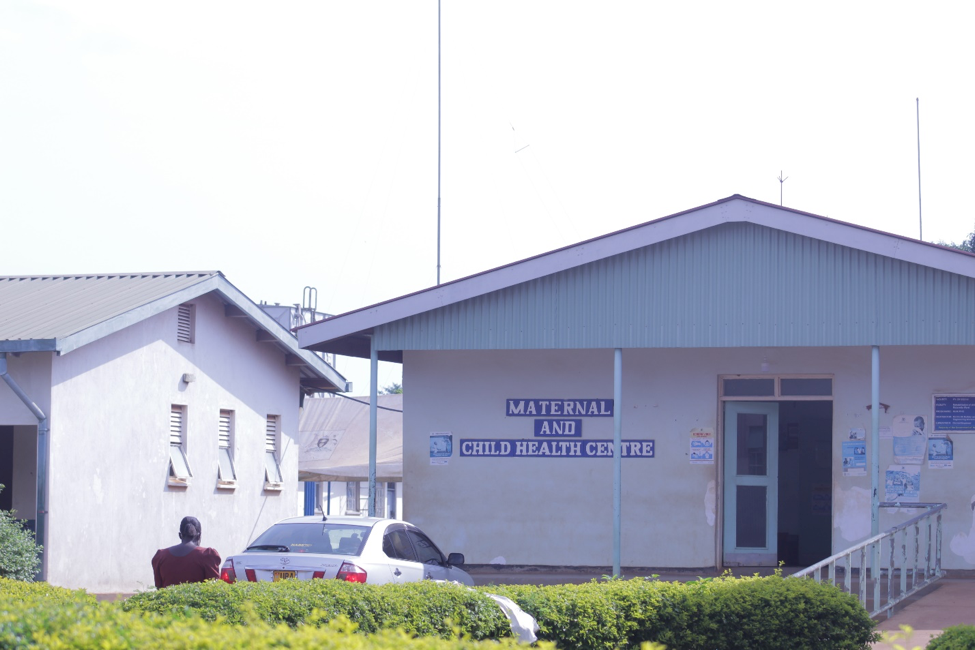 Entry view of Apac General Hospital in Apac district. Image by Frank Byaruhanga for Andariya.
The Hospital Administrator, Mr. Joseph Onuk was in his office. He had just received his second dose of the COVID-19 vaccine, the last one his hospital had. I asked if it were possible for me to receive the vaccine at the facility, but Mr. Onuk informed me that they had run out of the vaccines, and were waiting for the Health Ministry to send them another batch, possibly in a week's time. So far, 1,536 people have been vaccinated at the hospital. Overall, 1,027,036 Ugandans have been vaccinated since the exercise was rolled out in March this year. Currently, the exercise in on hold in many parts of the country, due to the COVID-19 lockdown.
The Hospital was at one time a COVID-19 treatment center and was closed to the rest of the public. He tells me that one of the patients admitted with COVID-19 was a mother who had a little baby. According to Onuk, they had no means of separating the mother from her child, and decided to let them stay together while the patient received treatment. Fortunately, the child did not get infected and the mother healed from the disease. During the period of closure, patients were referred to other health centers until the General Hospital was cleared to receive them again.
Currently, the hospital registers at least 200 births every month. The hospital's biggest patients' demographic during my visit was made up of mothers in the prenatal, maternity and postnatal wards. Most of these mothers became pregnant during the March-June 2020 lockdown brought about by COVID-19, while some were already pregnant.
According to Onuk, they registered an increase in the number of teenage pregnancies during the pandemic, often resulting from defilement by relatives or other people in the communities during the lockdown. Nevertheless, young mothers receive free health services at the facility. The rise in the number of teenage pregnancies is blamed on the long closure of schools where children stayed in the villages and were defiled by relatives and other heartless men. Unfortunately, after becoming pregnant, sometimes the children are forced to marry the same perpetrators. In 2020, a total of 14,134 cases of defilement were reported to the police across the country, and 14,080 of the victims were female. Police attributed the increase in the number of cases to cultural norms still being practiced, where girls who have developed breasts are considered ready for marriage, and the adolescent age when many young girls are taken advantage of. Adding that some of the girls are defiled in the process of doing domestic chores like collecting water and firewood, especially when they are sent alone.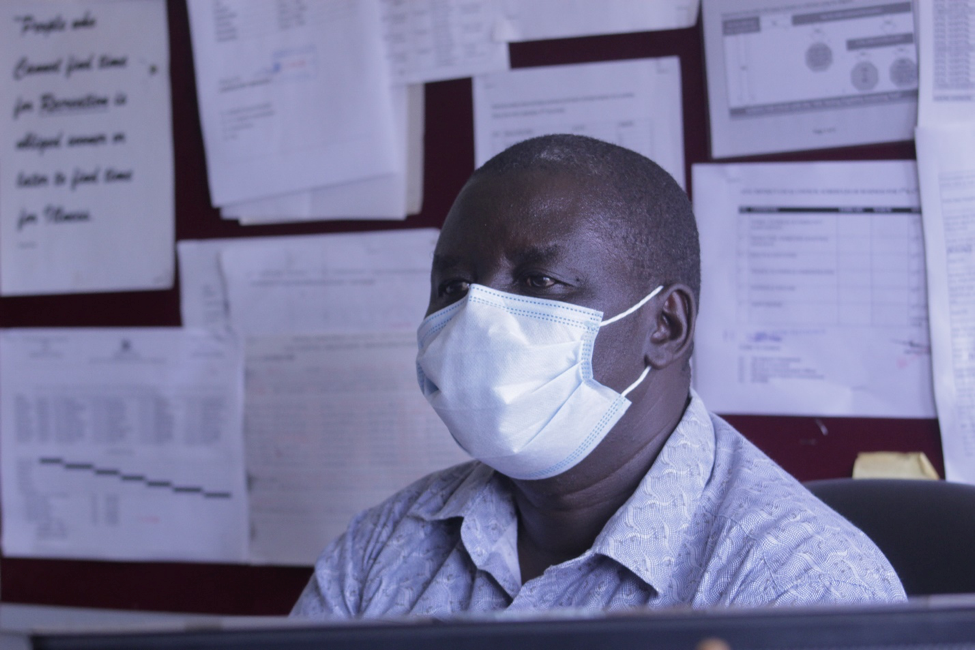 Mr. Onuk Joseph, Administrator Apac General Hospital. Image by Frank Byaruhanga for Andariya.
Despite the lockdown, the number of mothers coming to the hospital has not reduced as was anticipated. According to Onuk, several mothers rode bicycles to the hospital for antenatal visits during lockdown, although others were and continue to be scared to go out during curfew, not knowing that a specific time limit was imposed. "With curfew, some people don't know that it has a specific timeline from 9:00 PM (recently moved to 7 PM in the June update of the lockdown) and that during the day, they are free to come and receive health services" Onuk says.
Several people were killed in different parts of the country for being caught outside their homes during curfew time. Others were attacked by security operatives before curfew time.
Mr. Onuk says that the hospital works with Village Health Teams (VHT) who create awareness in villages and carry out some of the services like immunization, as well as the testing and treatment of Malaria. Noting "it is during such days that our health officials take advantage of their presence within the communities to create awareness".
He adds that despite the pandemic, the hospital devised means to continue offering immunization and antenatal services to mothers and children. "We continued offering all these services, although there was fear since we were not supposed to gather in large numbers. But, we called them one by one and made them sit at a distance in order to follow the SOPs of social distance. There was no time that we stopped" Onuk assured.
Many front-line employees had their reservations. Apac General Hospital Nursing Officer for the Maternity Ward, Grace Akullo, says her team was scared of contracting the COVID-19 virus especially from mothers and their care-takers who had tested positive, yet continued visiting the hospital for antenatal care and other services.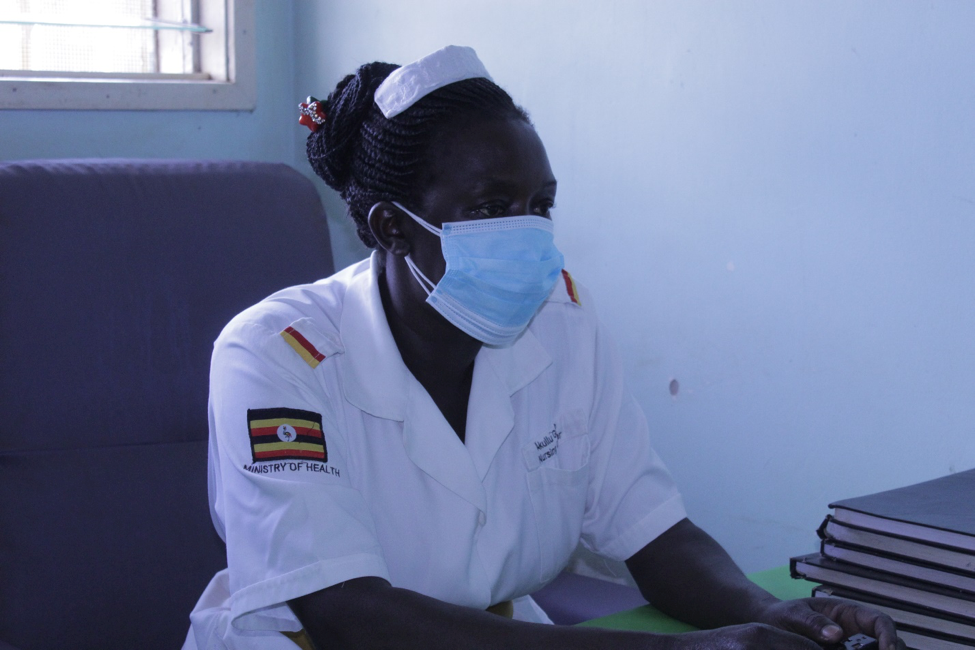 Grace Akullo, Nursing Officer for the Maternity Ward at Apac General Hospital. Image by Frank Byaruhanga for Andariya.
With apprehension and worry for mothers and newborn babies, Akullo states "we were so concerned, that's why you see we are maintaining the SOPs, especially in my ward. It is the busiest ward and it is not easy to control crowds. Sometimes you find one mother with many attendants, but we educate them on SOPs. We encourage them to wash their hands, sanitize and wear masks" ensuring everyone follows guidelines for hopeful outcomes.
She also noted that the hospital did not register any cases of mothers who died after failing to access the hospital. It is significant to mention that Akullo notes the numbers in her ward are nearly still the same as they had been before the pandemic hit, but noticeably teenage mother are now part of the women patients demographic being admitted to the hospital.
Akullo proceeded to walk me through the ward to visit some mothers who had given birth. Speaking to them, I found that 90% of all women who are giving birth now used to ride bicycles to the hospital for antenatal services. Before the 2020 lockdown- which barred public transport, these women would take Boda Bodas (motorcycles for hire), while others would be carried by their husbands to the hospital.
Adawigi Lillian, who had given birth a day prior to our meeting, tells me that her husband and her agreed that she had to ride a bicycle while pregnant and go to the hospital alone, taken as a precautionary measure in fear of the couple contracting the virus while commuting. She also says that while the police officers manning several checkpoints were friendly and did not disturb her, they could not take a chance with her husband, as the security officers' interactions are usually harsher with men.
Lillian, a resident of Ayago village - 10 kilometers away from the hospital in Apoyi parish in Apac Municipality, would often cycle for her antenatal visits.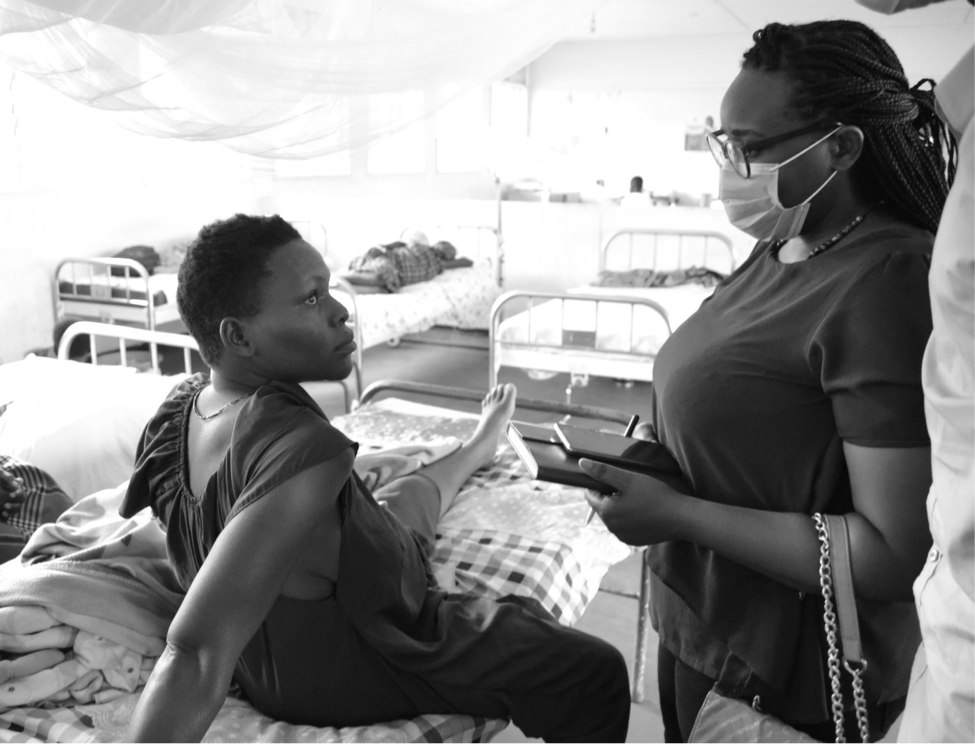 Adawigi Lillian rode a bicycle 20kms (two ways) while pregnant for each antenatal visit. Image by Frank Byaruhanga for Andariya.
When I asked if this had any effect on her child, the first time mother said there were none, as riding a bicycle was equally an exercise keeping her in shape and preparing her for safe delivery of her baby girl.
The other mother I spoke to was Alaba Robinah. She had also given birth the previous day to a baby boy. Alaba says she attended all her antenatal visits without any problems, despite the lockdown. While the police used to stop her and her husband, they were able to see that she was pregnant and let her be. Alaba's village, Omukubuye is about 8 Kilometers from the hospital. She alternated between riding a bicycle and using a motorcycle (boda boda) in her commutes to the hospital and back to her village.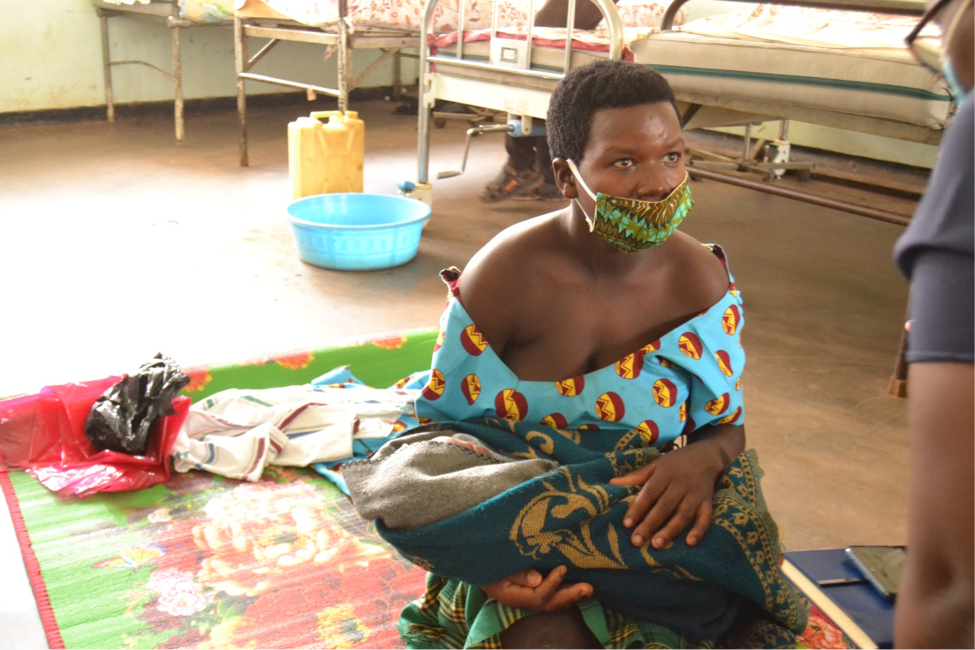 Alaba Robinah with her baby at Apac General Hospital. Image by Frank Byaruhanga for Andariya.
'What was your experience riding a bicycle for 16 kilometers while pregnant?' I asked. "Well, I have been riding my entire life and this wasn't any different. I ride a bicycle to the garden and to run other errands" Alaba said, explaining it was used for convenience. According to bikeradar.com, riding a bicycle during pregnancy is safe for both the mother and child.
Alaba Anyensi from Alikot village (3 kilometers from the hospital) and Barbara Akello from Amonika (1.5 kilometers from the hospital) gave birth in February and April respectively. Alaba gave birth to a baby girl in April, while Akello had a baby boy in February 2021. They also used bicycles to come to the hospital. Their husbands carried them on bicycles and at no point did they face any issues from the police. To the residents of the area, bicycles are the best means of transport used to get around. Men, women and children use them to run errands.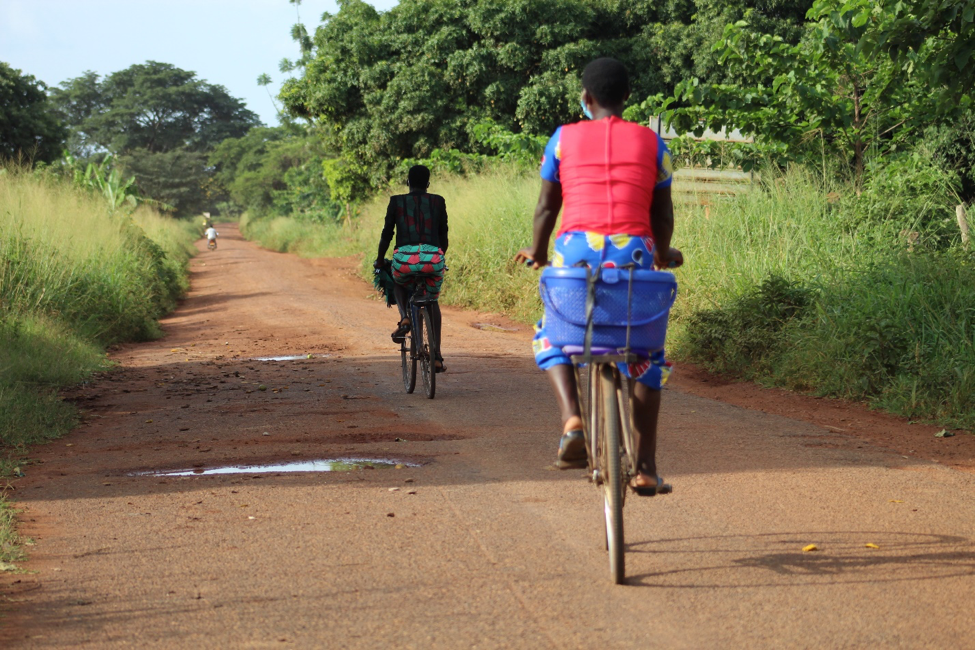 Women in Apac riding bicycles. Image by Frank Byaruhanga for Andariya.
The determination of mothers in Apac district to continue seeking help in order to safeguard themselves and their unborn children from any complications at birth is inspiring. However, the area also does not have any special cars for hires, leaving women without many options. The hospital has only one ambulance which can't serve all the patients. Onuk says the district recently received a second ambulance which is currently being used to transfer COVID-19 patients to Lira district.
Apac District remains one of the most peaceful areas in the country with nearly no cases of violence from the Local Defence Unit as compared to other districts during the lockdown. Despite lack of ambulance services and cars to transport pregnant mothers, the access to bicycles, as the main mode of transport in the area, has made life easier. Mothers continue to access free health services at the General hospital and hope that the pandemic ends soon, so that their husbands can confidently escort them to the hospital, without fear.
This article is part of a series on COVID-19's impact in the East Africa region supported by WAN-IFRA Women in News, Social Impact Reporting Initiative.