Games have always been part of our society, from Omweso, to Ludo and Kwepena. Games have often taught us collaboration, negotiation, critical thinking, strategizing, planning, all the while giving us a good laugh. Fast forward to the digital world and the creation of the virtual space, games took on a new structure, a human-like structure. Characters were and are created with full complete stories and stakes in a fully complete virtual world. These characters are then organized around a set of rules and values that lead them to victory. On the face of it, games and gaming has always been regarded as a pass time, an activity for fun, which remains true even today. But as a medium of the digital culture, gaming has immense potential to be a tool for edutainment. The kind of pass time where we can eat our cake and still have it. A game, while playful, can both educate and encourage political discourse. This is what was evident at Games and Politics.
Games and Politics is an exhibition that is taking place at the Design Hub Kampala from the 18th of March to the 21st of May, 2022. The exhibition, hosted by Goethe-Zentrum Kampala in cooperation with Konrad-Adenauer Stiftung (KAS) and Design Hub Kampala, is a touring exhibition by the Goethe Institute which has travelled around the globe with a previous stop in Addis Ababa in Ethiopia and now Kampala, till later this year when it travels to Antananarivo in Madagascar.
The exhibition, curated by Ugandan Next Media journalist, Danze Edwin, showcases a wide array of games that explore the connection between politics and games, and how games make us see and reflect on the status of our society. Politics in this sense, for example, is explored in the pressures of being a woman in the game Perfect Woman. The games presented in the Games and Politics exhibition explore and encourage conversations on democracy, gender balance and equality, the power of the media and a diverse presentation of social conditions and conflicts. These games are set to instigate a moral mindset that is understood by the choices one makes in each respective game, and choices have inevitable effect on the result. The correlation of politics and games is one that cannot be avoided, because games cannot set themselves aside from the society in which they are played.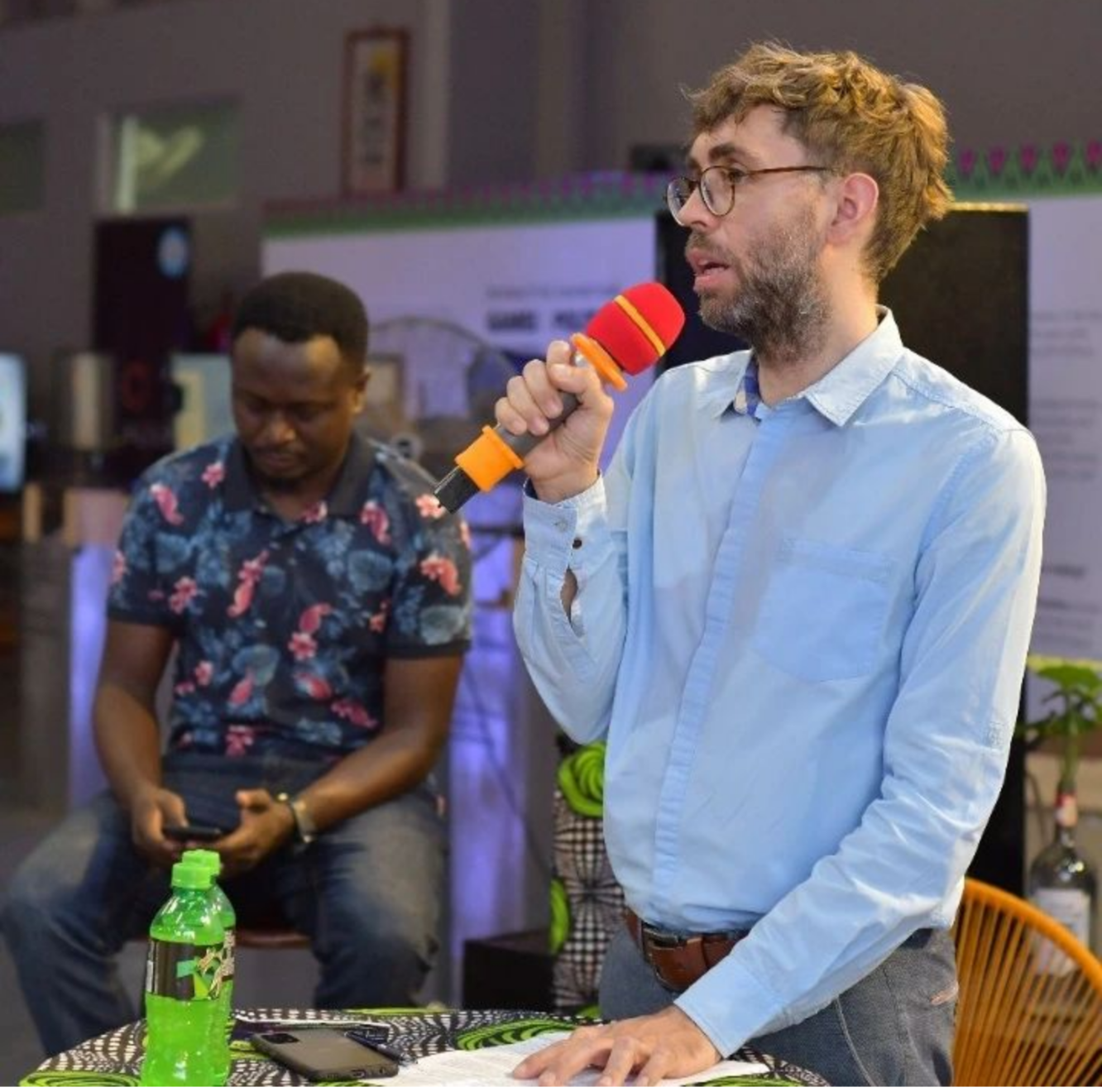 Director GZK, Christian Kettelhut, opening up the launch of Games and Politics. Design Hub; March, 2022. Photo by @izzycaption, via GZK
The exhibition's two-day launch events were organized around audience members playing the games and panel discussions on two major areas of interest. The first panel encouraged conversations on diversity, safety and inclusion and brought together Anna Reismann (KAS), Ireen Ikomu (citizen report), Ivan Kibuuka (Navvi Gaming) and Mujuni Raymond Qatahar (Journalist). The second panel was a fireplace session with Uganda's gaming community on the local perspective toward gaming as an economic activity and the need for collaboration. The panel brought together Laurean Pyler (Tribe Uganda), Keya Nemesis (Telalila), Raymond Malinga (Creatures Animation), Philip Mukasa- Sunjata (game developer) and Grace Namutebi (brand manager at Mountain Dew).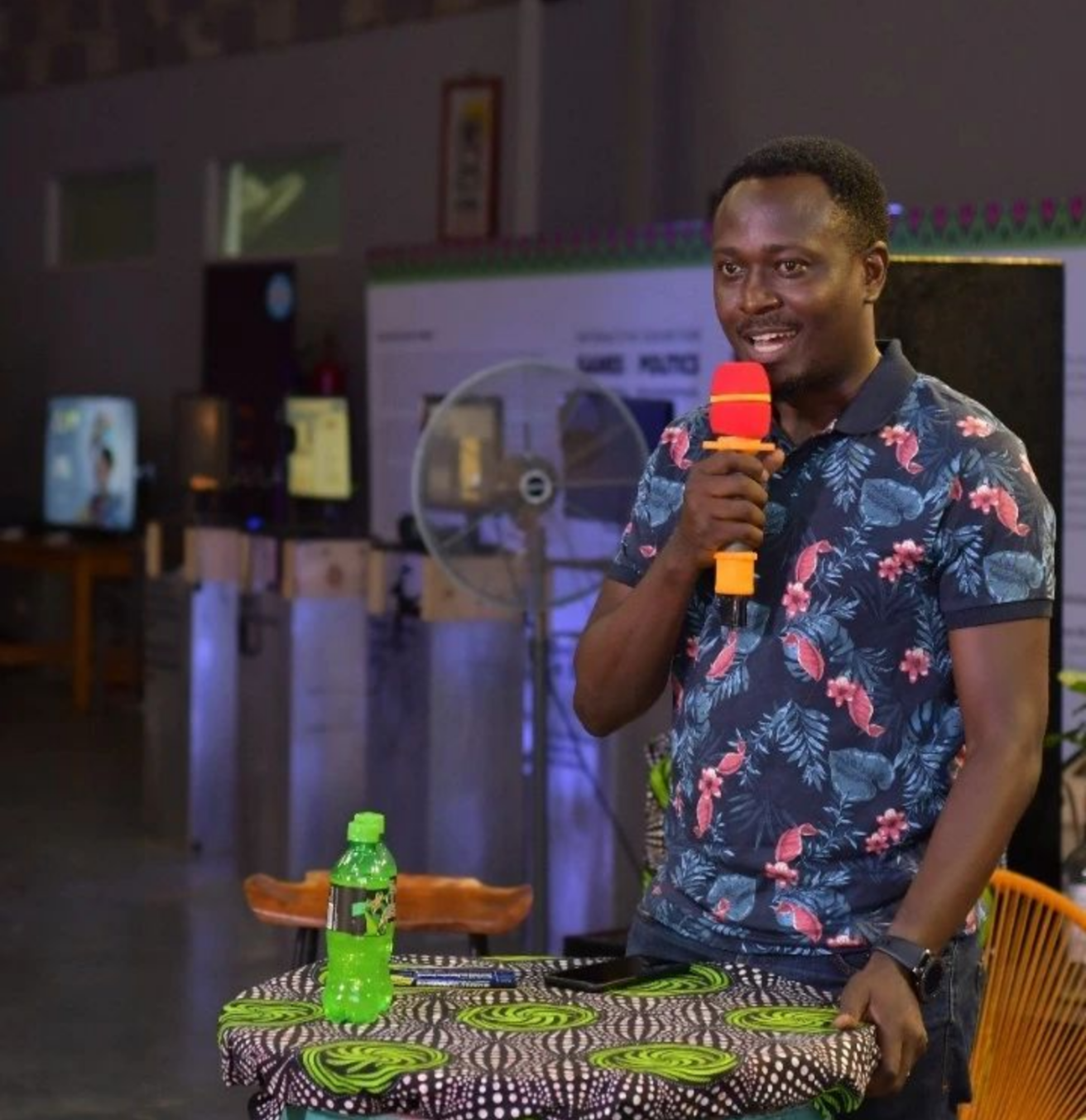 Games and Politics curator, Danze Edwin, moderating a panel discussion at the launch of the exhibition. Design Hub; March, 2022. Photo by @izzycaptions, via GZK
The challenges highlighted by the panels
· Gender biases and stereotypes: the first panel discussion brought to light the very issue of gender imbalance in the gaming community and the fact that the community attracts more men than women. The stereotype has always been that computer work and specifically gaming is an activity for men. However, as Irene Ikomu made it evident, there are women in the gaming industry working as developers, animators, coders and players. The challenge will be about changing the mindset and presenting the gaming industry as a place for both men and women
· Limited funding and resources: as discussed by the second panel, gaming is not cheap. It requires machinery and technical personnel who need capital to actually bring a game to life. The counter argument to this is for those in the gaming industry to seek out strategic partnerships that target companies with funding and demonstrate just how beneficial investing in the gaming industry can be to them.
· Illiteracy: this was especially explored on the first panel that touched on the possibility of civic education using gaming as a medium. According to Anna Reismann, there is a gap in the comprehension of gaming and its components. Therefore, digital literacy around gaming has to be introduced in schools, homes and communities alike, so that people can understand the gaming industry and hence be able to be educated through it.
The Risk Bot
Games attract a predominantly young population; children can easily be allured by the games which carry forward adult mindsets. The problem though is most guardians don't have an understanding of gaming and its technologies, thus leaving the children to their devices without any restriction. Games influence those who play them, the young mind may not ably know how to separate the virtual world and the real world which means what they play, they will practice. Most games present stakes that require violence and a cunning nature to win. This mindset is then carried to their real lives. And moreover, on the extreme end, gaming presents favorable conditions for addiction. The more one plays and wins the more one wants to play and win; it is natural human behavior to want to keep conquering the levels of a game.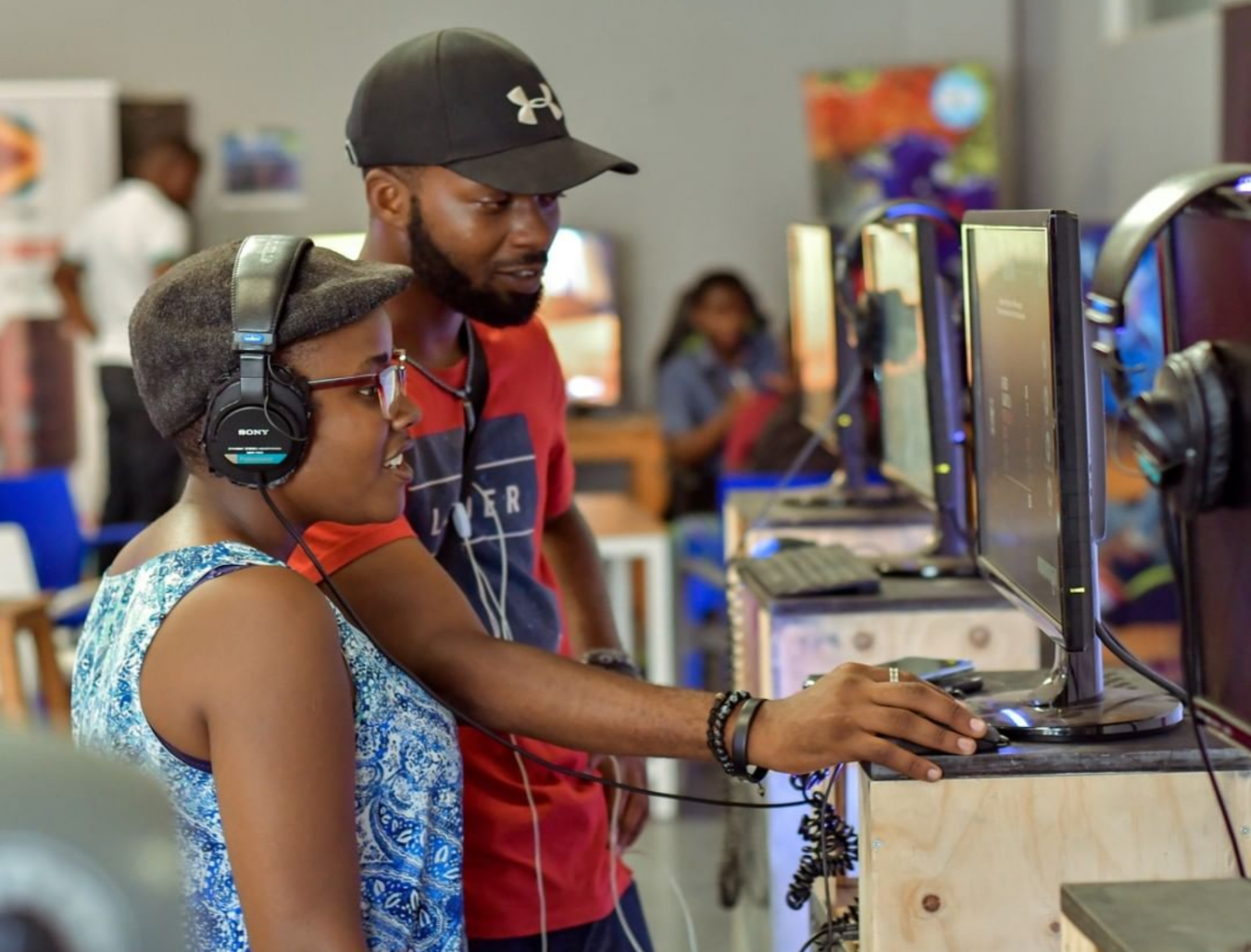 Writer Tusiime Tutu and others playing one of the exhibition games at the launch of Games and Politics. Design Hub; March, 2022. Photo by @izzycaptions, via GZK
The Potential of Gaming
Games are to the digital age what books are to the analogue age. Games have made the transition from bedrooms and solitary confinements of lone individuals to the interaction and appreciation of the masses in their living rooms and on all modern technologies especially mobile devices.
The development of the digital culture continues to grow especially as amplified by the COVID-19 pandemic. The post-pandemic world has positioned itself as eager and ready to participate in whatever the digital age throws at it, be it social media, online business engagements, or the internet of things. The creation of virtual worlds and virtual characters has been used by advertisers and markets all-round the country. Gaming and the gaming industry have the potential to create an interactive, real-time engagement between audiences and market leaders.
The potential however goes beyond marketing. As a medium, gaming has the ability to be a tool of edutainment. Any game developed has a set of values, rules and obligations that players must follow. This is the very soul of civic education. Games encourage critical thinking which can be used to educate the masses and influence conversations of real topics such as mental health, cultural appreciation, business economics, the health sector among others. Gaming and the use of games cannot be separated from the influence it has on society. This means as a medium, advocates of human rights can organize around the creation of specific games that, while fitting in today's digital culture, also manage to carry forward their message and advocacy.
Games are developed around stories and work to foreshadow a mindset, this notion was especially brought to light at Games and Politics by Mildred Tuhaise, a Next Media journalist. The question she put to all in attendance was "what mindset is being foreshadowed and how can it influence positive results in society?" She was especially keen on the creation of games that are gender woke.
In today's world gaming has since moved from a pass time activity hosted in the living rooms of our houses to be seen as a creative machine for the digital culture that brings together developers, coders, animators and many more. The gaming industry has new employment opportunities for a lot of youth who can leverage their creative expertise and technological prowess to make a living for themselves. Komuhangi Tumuhairwe, a Software Engineering finalist at Makerere University hopes that the country can see the employment potential and invest in the gaming industry. She hopes to be a developer and designer, adding "I'm really glad I attended Games and Politics where I got to hear from industry professionals and get the encouragement I needed as a woman in the industry."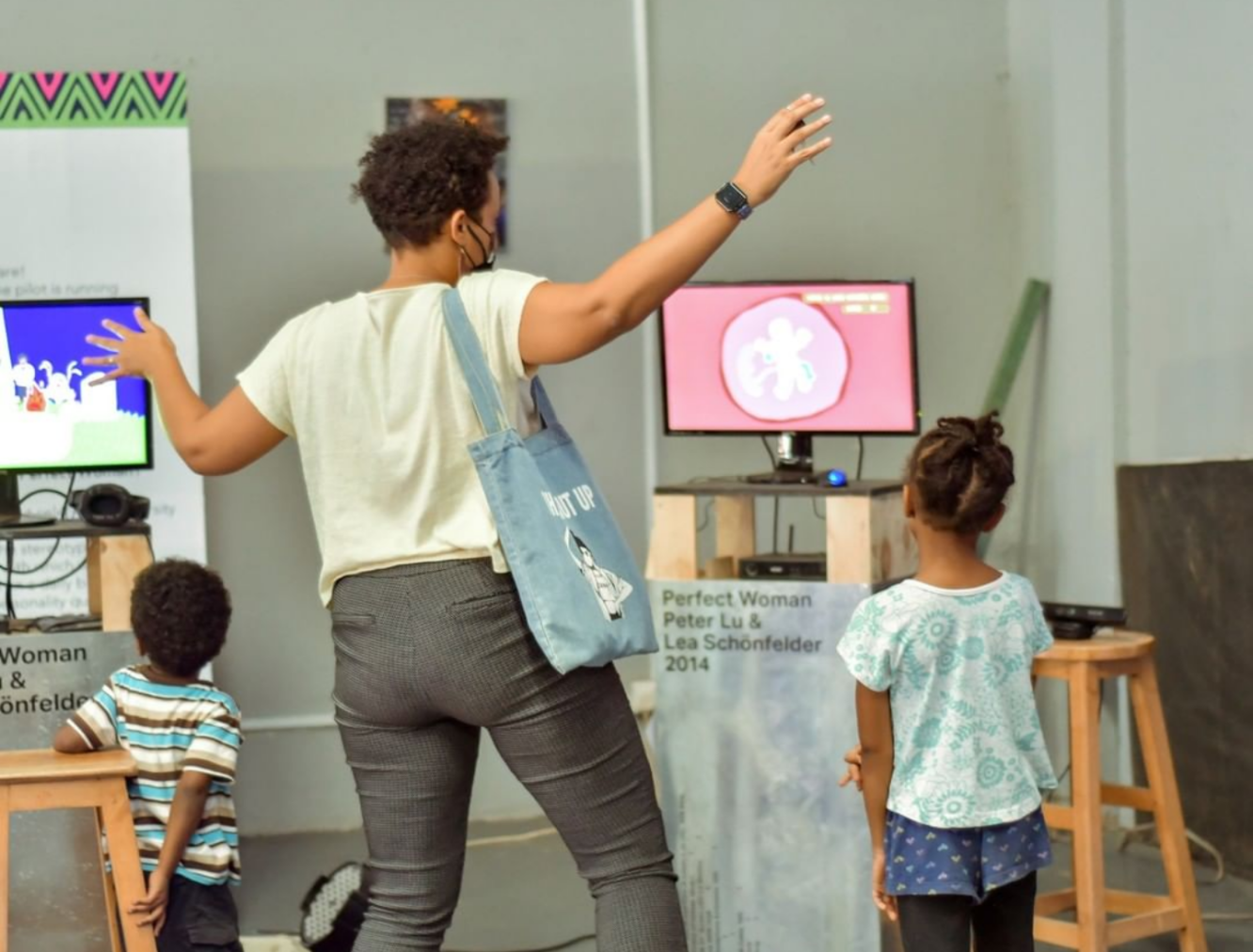 Attendees at the launch of Games and Politics playing one of the exhibition games. Design Hub; March, 2022. Photo by @izzycaptions, via GZK
The growth of the gaming industry boils down to doing good work, creating something cool that will pull people in and bring them in the gaming orbit. "It doesn't matter if the audience understands, if it looks cool, people will be attracted to it. The ambiance of the Games and Politics event, for example, looked cool and that kept the attraction to the event" said Ivan Kibuka, proprietor of Navvi Arudem, a gaming community in Uganda.
The gaming industry can no longer be ignored- especially not in the post pandemic world. The task now to Ugandans is to keep an open mind and allow for its growth, which hopefully will not take as long as the social media industry took, with over 15 years of integration. Ugandans must adapt quickly, lest we stifle our own development.