All Images courtesy of the Ngalabi's Organizing Team.
Attending the Ngalabi Festival this year meant a virtual experience which was unusual. The festival which always has an attendance of about 200 people enjoying short films over snacks and drinks, usually carries with it a sense of convocation and celebration of film. The previous edition, held at Maisha Garden, was a lively experience with personal interactions among film lovers.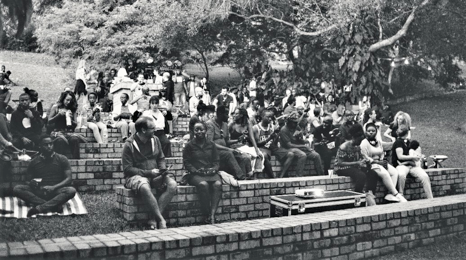 Ngalabi festival 2020- Maisha Garden in Kampala.
The Ngalabi Short Film Festival is an annual Ugandan festival that showcases short films from Uganda, Africa and Germany. Joel Tugaineyo, the curator of the festival, reasons that the festival has the ability to not only create a platform for filmmakers that produce short films, but to help make the films accessible to everyone. He noted "we realized that short film format was more accessible, because of the budget and economical constraints facing a lot of Ugandan filmmakers."
This year, the festival ran between the 25th and 27th of June. It was the first online edition of its 5th year running. The plans were to have both an offline and online attendance, however, due to the 2021 COVID-19 lockdown restrictions in Uganda, the festival had to completely make a virtual switch and rise to the challenge. "Luckily, we hadn't contacted suppliers for refreshments for the physical part of the festival. So, we just talked to our technical team and switched the festival to fully virtual through a private YouTube link." Said Anni Schulz, Ngalabi's festival organizer working with Goethe Zentrum Kampala.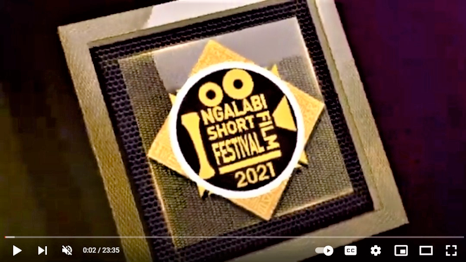 Ngalabi festival 2021 virtual experience
The Show Must Go On, Even in a COVID-19 Lockdown
The festival team included a social media ambassador, Afrie, the Ugandan singer of Let her know and filmmaker for the short-film Happy birthday Momo. Afrie helped increase the visibility of the festival online especially given her profound presence on Instagram. "To be honest we just thought we would have about 200 people sign up. We instead had over 300 people registering- which was a big win for us. I'm so excited as the social media ambassador, because it felt like I added something significant to the team" Afrie said. In terms of reach and promotion, the lockdown actually helped because people needed something to pass time and the festival offered them a fun filled weekend.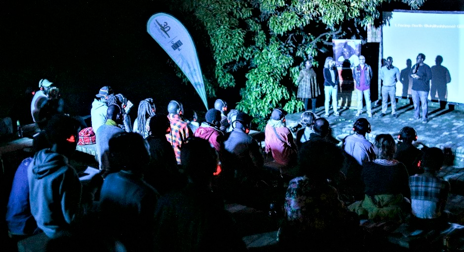 Ngalabi festival 2020 physical experience
However, since the festival had always been a physical festival, its online attendance only attracted 50 to 60 people each day as the live streaming required fast and strong internet connections. Personally, even though in my household I was the only one with the private YouTube link, I was watching with my five housemates, which essentially increases the scale of viewers.
Nonetheless, there are perks to having online streaming. "I think people love the physical events for the whole atmosphere and the personal interaction. I don't think there is a way we just go to online festivals. But it's a good chance because streaming the festival online meant connecting to people wherever they are which brought in a broader audience" Anni notes.
Highlights of the Festival Program
The festival's program allowed for the inclusion of interactive Q&A sessions with both local and international filmmakers. These live sessions gave the audience an opportunity to dissect the process behind the film with its filmmaker. For example, when it came to the film Heaven Sounds Boring, I was especially interested in how a child actor could have carried the emotional load of portraying a character that is sick and dying. "Child actors of course get tired easily. Aceng Nadia immersed herself in the story and she wasn't pretending" Patricia Nitumwesiga, director Heaven Sounds Boring, said in her Q&A session.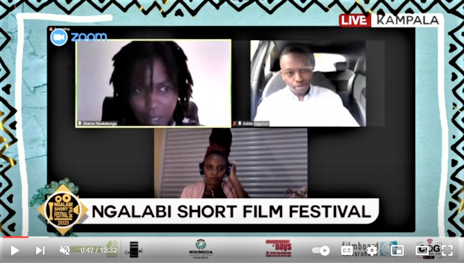 Ngalabi festival 2021-Day two Q&A session
Another major highlight was the panel discussions about film distribution in Uganda. The first discussion was themed Uptown vs Downtown, with a panel of stellar filmmakers from Uganda such as Nabwana I.G.G of Wakaliwood. The discussion showed the importance of distributing Ugandan films to 'Kibanda' or community watching halls. These are widespread in Uganda with at least one in every district, as such provide a major market for films. However, piracy is still a big issue when it comes to distribution of movies and with no specific agencies in control, film makers continue to lose revenue.
The second panel was themed Cinema vs YouTube which brought together filmmakers like Eleonor Nabwiso of Nabwiso films. This discussion explained that cinema in Uganda is still a luxury which essentially favors streaming a film on YouTube. For example, a movie ticket goes for 20,000 shillings which is not affordable for a population where most people live below the poverty line. This is as opposed to streaming on YouTube which only requires a data bundle of maybe 2,000 shillings. However, as the panel discussion members noted, streaming films virtually also cuts down the revenue made from the films.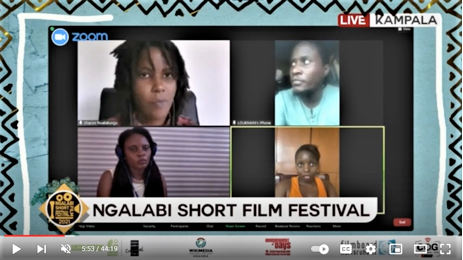 Ngalabi Festival 2021- Cinema vs YouTube panel discussion
The Impact of the Ngalabi Festival
The Ngalabi festival is a good chance for filmmakers to showcase their work - especially if they are up and coming. For example, according to Anni, the team at the Independent Days International Film Fest in Germany wants to showcase Heaven Sounds Boring. "This is what we want, we want a network, we want to put the films outside Uganda and be part of the global community" Anni said
According to Afrie, who is also a founder of Afriedom, a women's film community, this festival is extremely important because it provides not just the stage but excellence in regards to high quality films. "The more stages out there for Ugandan filmmakers, the more the Ugandan film industry grows. This festival creates an opportunity to grow a Ugandan film industry that stands out, both in Africa and globally" she stated.
The Ngalabi festival serves to encourage audiences to support Ugandan filmmakers whilst inspiring filmmakers to better their craft. From Joel's point of view, with an experience in the film industry since 2013, "Uganda has been improving on the technical aspects especially with camera work, designing a picture with good lighting, angle and the like. But sound and storytelling are still hit and miss sometimes." Regardless, the Ugandan film industry has truly been improving especially given the impressive selection of films that were streamed in this festival.
The Selection of Films for this Year's Ngalabi Festival
The task of films selection for the festival is led by Joel as the curator who said, "the process is multi layered. For one, we put out calls for submission on our social media accounts. I also keep an eye out for films that are buzzing and seek them out in addition to those submitted. Sometimes the pool of movies to choose from is high but that was not the case this year because of the COVID-19 pandemic- which slowed down most productions. That affected the number of films readily available. Nonetheless, we were able to get genuinely good films."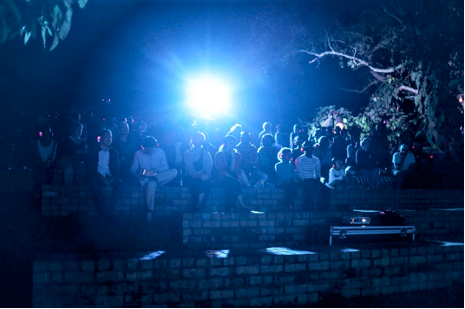 Ngalabi festival 2020 audience watching the selected short-films
From the films chosen, as Joel stated, there is always an intersection which informs the themes under which the festival program is made. The first day's theme was This is Thriller which showcased films that had a block buster vibe with action, excitement, adrenaline and crime. The lineup included the short film "Rolex" directed by Benon Mugumbya. Rolex is a 14-minutes short film that follows the story of four men associates who plan a life-changing money heist deal. These men must overcome one common deadly obstacle- themselves, or lose everything.
The second day was themed Growing Pains with films that dealt with the trials of adulthood and going through change. This was my personal favorite lineup, with the short film "Heaven Sounds Boring" directed by Patience Nitumwesiga. The film is about a man who realizes his daughter's terminal illness may soon take her life. Both father and daughter comfort each other as they race against time, spending every moment together before death separates them.
The final day's theme was Back to my Roots, with films that cherished culture and history and that gave us a better understanding of where we came from and informed the present status quo. One of my favorite films from this lineup was "Scalp Deep" directed by Naseeba Bagalaaliwo, a seven-minute animation that captures the struggles of a young African woman as she navigates the expectations of others and society when she decides to shorten her hair.
The Ngalabi short-film festival may yet return to some form of normalcy when COVID-19 has passed. This year, though, the festival managed to still give film lovers a worthy experience with poignant short films.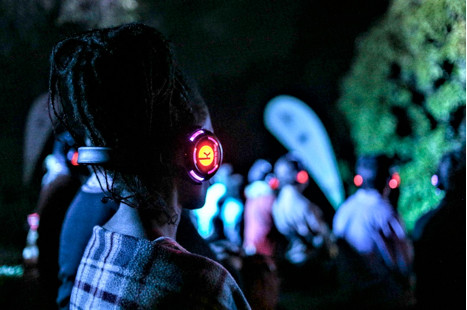 7 Ngalabi festival 2020