Every June 3rd, Uganda commemorates Martyrs Day in remembrance of the Uganda Martyrs who were executed between 31 January 1885 and 27 January 1887 by Kabaka Mwanga II for their faith in Jesus Christ. They included 23 Anglicans and 22 Roman Catholics.
Millions of pilgrims from across the country, neighboring countries, and across the world throng the Anglican and Catholic Martyrs' Shrines in Namugongo to commemorate the Christian men and boys who were killed for rebelling against the then Buganda King and denouncing the traditional Lubaale religion.
Namugongo, a township located 15 kilometers (9.3 miles) from Uganda's capital, Kampala, is the site where in 1806 dozens of people who had just converted to Christianity and Islam were killed for being more loyal to their new religions than to the traditional Buganda authority. Too little attention has been paid to the fact that 10 years before the Christians were martyred by Kabaka Mwanga, under Kabaka Mutesa 1, there has been a greater holocaust of Muslims (Kabiza, n.d.).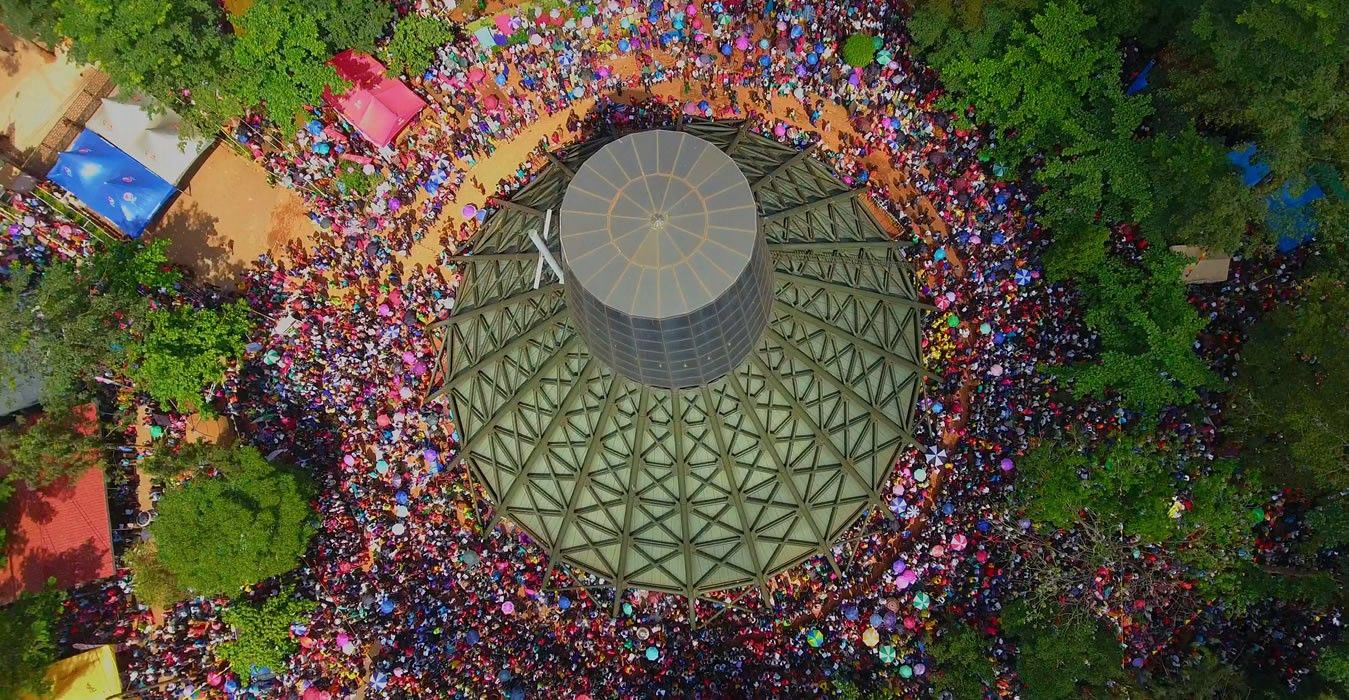 Arial view of pilgrims at Namugongo. Source www.ugandamartyrsshrines.org
Islam in Uganda
Islam as the first foreign religion arrived in Uganda from the north at the dawn of the 18th century and spread through inland networks of the East African coastal trade by the mid-nineteenth century. Islam was first taught in the Kingdom of Buganda in the year 1844 during the reign of Kabaka Suuna II. It was taught by the Arab/Swahili people from Zanzibar on the East African Coast. However, while Kabaka Suuna allowed Arab/Swahili preachers to teach Islam at his court, he himself did not convert to Islam nor did he encourage it to be taught outside his court. However, he is reported to have learnt portions of the Quran.
Suuna's son and successor, Kabaka Mutesa I, took more interest in the religion. It's teaching greatly appealed to him, and he converted to Islam. He learned the Arabic language and mastered the Quran. He also directed his chiefs and relatives to study it; his palace at Banda on the outskirts of Kampala became an Islamic Education Centre. By the time the first European, John Speke, arrived in Buganda in 1858, Islam was practiced beside the Lubaale religion.

Ssekabaka Muteesa I Mukaabya Walugembe Kayiira. Source: Ugandans At Heart
Islam grew steadily until April, 1875, when another British explorer, Lt Henry Stanley, arrived and started a campaign against Islam. In his campaign to sway Kabaka Muteesa I to the British, Stanley attempted to convert the Kabaka to Christianity, but in vain.
Stanley wrote on behalf of Muteesa asking the Queen of England to send more missionaries to Buganda. The letter was taken by a French soldier Col E. L. Linant de Bellefonds through Sudan and Egypt. The two had met at the Kabaka's palace. On November 15, 1875, the famous letter was published in the Daily Telegraph of the UK. Also accompanying the letter was Stanley's report about how he had de-campaigned Islam in Buganda.
By Stanley's own admission, there was a deliberate effort by Europeans to destroy Islam and promote Christianity. Attempts to defend Islam sparked a rebellion by Muslim converts against Muteesa who in turn ordered their execution.
The Muslim Martyrs
Kabaka Muteesa 1 had learnt how to read and write Arabic and bestowed upon himself the title of Imam. He was committed to Islam that he even ordered for a mosque to be built at his palace in Kasubi, then known as Nabulagala, and started leading the prayers himself.
Nonetheless, Muteesa did not fulfill all the Quran requirements for Islam as he refused to be circumcised on the advice of his Katikiro (Prime Minister) Mukasa who told him that the Buganda traditions forbade the king to shed blood. There are also allegations that he did not circumcise due to the fear of pain, because circumcision was back then done using sharpened reeds with no anesthesia (Vision, n.d.).
When a group of Muslim fundamentalists from Egypt visited the Kabaka's palace in Kasubi, they were unhappy with his reluctance to get circumcised and his continued eating of meat from animals slaughtered by non-Muslims. The Egyptian visitors incited the converts to rebel against an uncircumcised Kabaka and some of the Muslims started challenging him openly to an extent of stopping to turn up for prayers led by him. They also accused Muteesa of ordering the construction of mosques facing the wrong direction instead of Mecca. The Kabaka decided to investigate and was very infuriated to learn that his subjects were calling him Kaffir (nonbeliever). He quickly organized a feast to celebrate the opening of a new mosque and slaughtered many cows but many of the Muslims ate other food, but refused to touch the meat.
The king took this as an act of treason and ordered for the over 70 people who had refused to eat the meat to be arrested and sent to prison. In prison, he again sent them food but they still refused to eat the meat. He then ordered his chief executioner to kill them and the over 70 Muslims were burnt to death (Vision, n.d.).
Honoring the Martyrs.
While both the Ugandan Catholic and Anglican churches mark June 3 in pomp and prayer in commemoration of the death of the martyrs, hardly anything is held to remember the Muslims. It is only after President Idi Amin Dada came to power in 1971 after overthrowing President Apollo Milton Obote, that the history of the Muslim martyrs started to come to the light.
Amin was typically irked that it was only the Christian martyrs who had been honored and ordered a memorial to be erected in recognition of the Muslims as well. The land was acquired just opposite the present Anglican Church Martyrs, and a foundation was laid for a mosque. Amin had planned to build a huge mosque later, but he was ousted before he realized his dream.
Islam does not allow to pay homage to the martyrs through pilgrimage to the Martyrs' shrines in Namugongo as Christians do. The only accepted pilgrimage in the Muslim faith is to Mecca.
Sheikh Nsereko Mutumba, the former spokesperson of the Uganda Muslim Supreme Council, acknowledges that Kabaka Muteesa I killed Muslims because of their religion, but notes that in Islam they can only be called heroes who died because of their religion (Daily Monitor, n.d.).
"In Islam, it is only God who decides who is a martyr. We do not glorify them. We don't have saints or martyrs in our faith" Sheikh Mutumba says.
Sheikh Mutumba, however, says Muslims in Uganda have a plan to expand the mosque at Namugongo where some of the Muslims were killed, and beautify the premises so that it becomes a tourist attraction since it is a historical site.
The government of Uganda is set to finance the upgrade and maintenance of the Muslims Martyrs site in Namugongo and start funding the Muslim Martyrs' day celebrations every year on June 1st. Hon. Rukia Isanga Nakadama, the 3rd Deputy Prime Minister confirmed the development on the 1st of June 2022 as Muslims under the Uganda Muslims Supreme Council held prayers at Masjid Noor, Namugongo for the souls of the martyrs killed there (Independent, n.d.).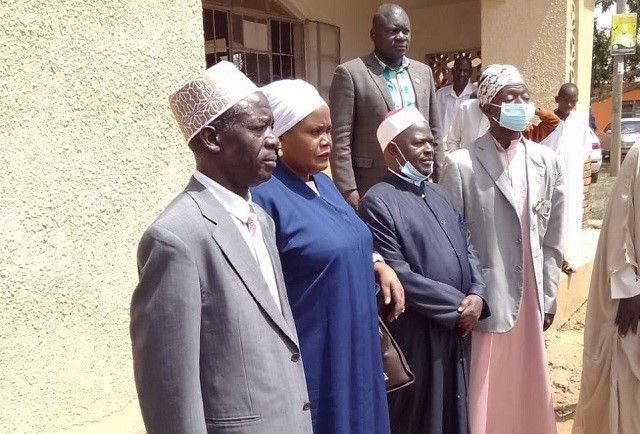 Sheikh Musana (L) and PM Rukia Nakadama at Moslem martyrs site in Namugongo. Dource: URN
Nakadama revealed that President Museveni has confirmed that beginning the next financial year, the mosque where Muslim martyrs were killed is to be included in the National budget for construction to lift its face. Government is to help in reclaiming more than 5 acres of land originally belonging to the mosque which were encroached on and are occupied by residential houses and shops.
References
Daily Monitor. (n.d.). Retrieved from https://www.monitor.co.ug/uganda/magazines/people-power/why-muslim-martyrs-are-not-celebrated-in-uganda-1707580
Independent, T. (n.d.). Retrieved from https://www.independent.co.ug/government-to-finance-muslim-martyrs-site-and-annual-celebrations-in-namugongo/
Kabiza. (n.d.). Kabiza. Retrieved from https://kabiza.com/the-martyrs-of-uganda-who-died-for-their-faith/
The Independent. (n.d.).
Vision, N. (n.d.). Retrieved from https://www.newvision.co.ug/articledetails/105222