I would like to take you back to December 2019, when we were not so consumed and not so fearful. At the time, China had been monitoring and treating dozens of pneumonia-like cases. Shortly after, in January, China announced a serious outbreak of viral cases, and amidst the virus outbreak, hastened into lockdown to curb the rapid spread of what we now have become familiar with as COVID-19.
Just as soon as we started watching from behind our screens, the tables quickly turned when the pandemic started to spread globally, deeming all China's efforts amiss. The African continent kept a close watch as the virus spread closer to its shores, and in Tanzania people were frightened of what would happen if Tanzania went under lockdown.
The Intruder has Arrived
On the 16th of March 2020, the first patient was announced in Tanzania. A female traveler, aged 46, who had come back home from abroad after visiting Denmark and Sweden, tested positive for the disease. The minister of Health at that time, Mama Ummy Mwalimu gave the Tanzanians hope and told them not to panic; assuring them the government had a tight grip on the situation, monitoring those who were affected, placing individuals from high-risk countries in a 14-day quarantine and isolating positive individuals. All the whilst, the government advised everyone to adhere to the health procedures by maintaining social distancing, wearing masks and following thorough with hygienic practices.
Tanzanians were not ones to take those measures lightly, in public places you were denied entry without a mask, and once in, you had to wash your hands. I remember visiting Nyegezi bus stand in Mwanza and being denied entry because I did not have a mask, so I had to buy one. Nothing de-escalated the situation or halted the turn of events that followed. Soon after, schools from primary to university and colleges announced closure until it was 'safe'.
In Tanzania, the tourism industry took a big hit, given that it earns Tanzania foreign currency handsomely, the highest record recently being $2.44B in 2018. Women entrepreneurs suffered during this time; the decline in the number of tourists and customers had forced them into shutting their businesses down. This was made more apparent by the deserted streets that once witnessed a flood of tourists all year round, be it in high or low season. This is what the article covers, I had the chance explore two tourism hubs; Arusha and Zanzibar, to understand how the pandemic impacted women entrepreneurs in those locations.
Arusha
Arusha is one of the major tourist attractions in Tanzania. It is the place where many tour companies have established offices as it is the gateway to safari destinations in Tanzania. It's where all excursions start to the heights of Kilimanjaro; the highest mountain in Africa at 5895 meters. If you enjoy hiking and trekking, your perfect match would be the conservation at Ngorongoro; the largest intact caldera in which the Maasai people and animals live together, and it's classified as a UNESCO World Heritage Site. There is also the abundant wildlife of the Serengeti, the habitat of all the wild animals you know or have heard of in Africa. Arusha's landscape also offers the beautiful sight of Mount Meru.
I travelled to Arusha at the end of May 2021 hoping to meet women entrepreneurs working in the tourism industry. While there, I visited places like the Maasai and Matunda markets, which in peak season would be engulfed with tourists. However, this time it was different; the markets were tranquil, the entrepreneurs had all the time to chitchat with each other, and the shops were filled with outdated products. This is contrary to the other years before the pandemic. In my memory is a trip I took to Arusha in 2015, where I went to the Maasai market with exchange students from the US who were studying at Mount Meru University. At the time, we could neither see any entrepreneur seated down, nor chatting as they were busy serving customers - mainly tourists. It was always loud and you had to maneuver through a thick traffic of people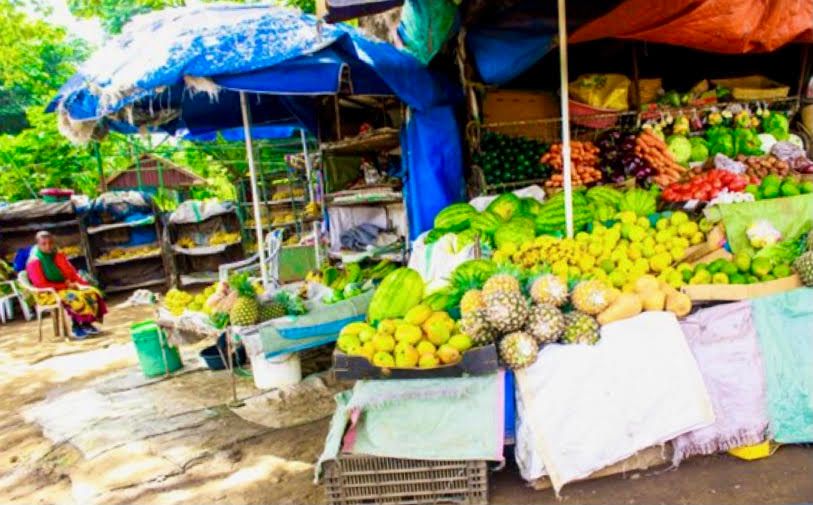 A deserted Matunda fruit market in Arusha. Photo credit: Shaibu Mbaraka for Andariya.
The tour companies that were once inviting had their doors closed, many pf whom opted to do their work remotely. The Managing Director of Alkebulan Tour Company; Mr Yessaya Mwakalinga confirmed he is one entrepreneur who chose that route. We communicated through Zoom to discuss the issues disturbing tourism in Arusha. He mentioned that it was due to the decrease in tourist numbers that skyrocketed the running costs, leading them to work remotely.
The empty Masai market streets as there are no tourists in Arusha. It would have not been possible to get such a photo during an afternoon before the COVID 19 era. Photo credit: Shaibu Mbaraka for Andariya.
When the Late President Magufuli said that he had no intentions in putting Tanzania under a lockdown, many were relieved and their fears quickly disappeared. People were optimistic, especially entrepreneurs. But, the market places were now frequented by only a few, as the majority of people had stocked up their food storage in light of the taxing times. Others had to move out to look for jobs, but chances of employment were low to impossible. And offices closed their doors and prompted people to work from home. This was quite a great change to many people. Online conferences became popular and were all called "Zoom meetings" regardless of which app is used.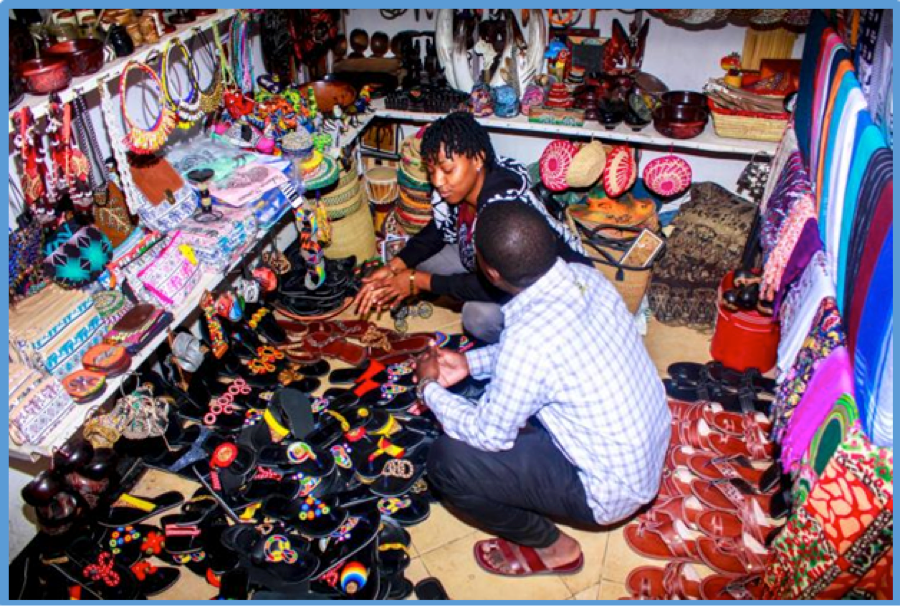 "When the whole world was taking measures, and the schools were closed, we experienced the fear. Almost all the people stopped coming to the market place. We were not instructed to close our businesses, but we had to close as we could sell nothing as neither tourist nor local people would come to our places to buy anything." Rachel Mushi, an entrepreneur at Masai market. Photo credit: Mwanaidi Shafi for Andariya.
Tourism companies had to do massive adverts through Facebook, Instagram and emails to prompt tourists back to Tanzania. This encouraged the Minister of Tourism then, Mr. Hamis Kigwangalah, to echo the call to the potential tourists to visit Tanzania. He used the famous hashtags in his call tweeting: #TanzaniaUnforgettable and #TanzaniaIsSafe. Tourists trickled in from Russia and other European countries and were instructed to adhere to COVID-19 protocols and religious practices while visiting.
Zanzibar
The Island of spices has been known for its kind people and being the ultimate tourist destination. Stone town in Zanzibar city is one of the world's heritage sites. It receives a lot of tourists every year who visit to experience its attractions, such as Forodhani Gardens Food market that ranges in its food options, from Zanzibari pizza, coconut bread and of course, local fish dishes. A location for fresh air and scenic sea views, Zanzibar is also home to the 'Old Fort' and Prison Island- which hosts the giant tortoise species, and Beit Al Ajaib (the house of wonders) which showcases the history of Zanzibar.
Despite COVID–19's persistence worldwide, Zanzibar was one of the areas witnessing a high tourism rate. According to the Zanzibar Tourism Statistical Release of April 2021, Zanzibar used to receive an average of 500,000 tourists a year. It received 260,644 tourists in 2020, which is a high number in comparison to other tourist destinations during the first year of the pandemic. In 2021, the agency cited an increase from January to April, with 159,102 tourists having already visited Zanzibar.
Zanzibar's economy is highly dependent on tourism, making it the perfect place for my search. On the 4th of June 2021, I visited Zanzibar and was received by Mwanaidi Shafi, the owner of Mwanaa Urembo; a company specialized in skin-care. They agreed to help me move around in search of information, finding the missing pieces of the puzzle. The owner expressed having to change their marketing strategy, targeting the local market instead. He noted "as the owner of the shop that sells products mainly to tourists, I have been highly affected by COVID-19. Most of the locals do get our products easily at their localities, henceforth the suitable customers are always tourists. Now, we have started to devise our marketing approach to reach the locals."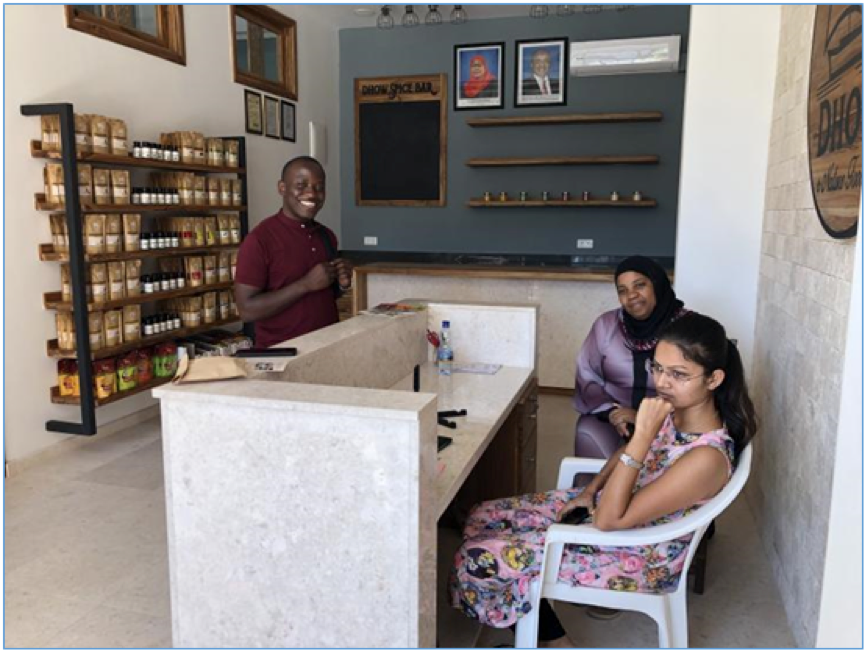 Madam Hajra; entrepreneur at Dhow Zanzibar. Photo credit: Mwanaidi Shafi for Andariya.
We hotel-hopped and wrote down what hoteliers expressed about COVID-19's impact on their business. We met Fat-hiya Abdul-Hamid; a tour guide and excursion planner at Hotel Verde, Zanzibar, who gave us her experience in view of the COVID-19 pandemic. We expressed wanting to relocate to the hotels in the south of Zanzibar and she quickly pulled out a map pinpointing closed hotels. Unfortunately adding that many employees lost their jobs in the process. She added "Most of the hotels in the village (Shamba) that received many tourists in the past are closed. The closure is hoped to be temporary and they are to resume when it is safe."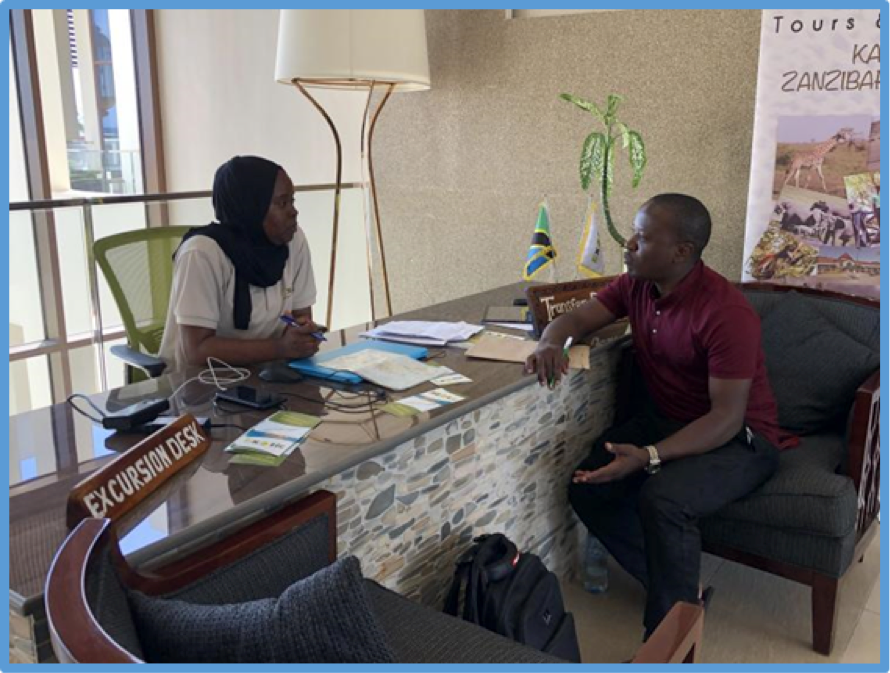 Fat-hiya Abdul-Hamid; the Tour guide and excursion planner at Hotel Verde, Zanzibar. Photo credit: Mwanaidi Shafi for Andariya.
It was sad to witness this fact as we travelled along Bububu road; many hotels were indeed closed and very few were open - especially those nearby town. It was surreal to see a place clustered with 10 to 20 hotels, with only one or two operating.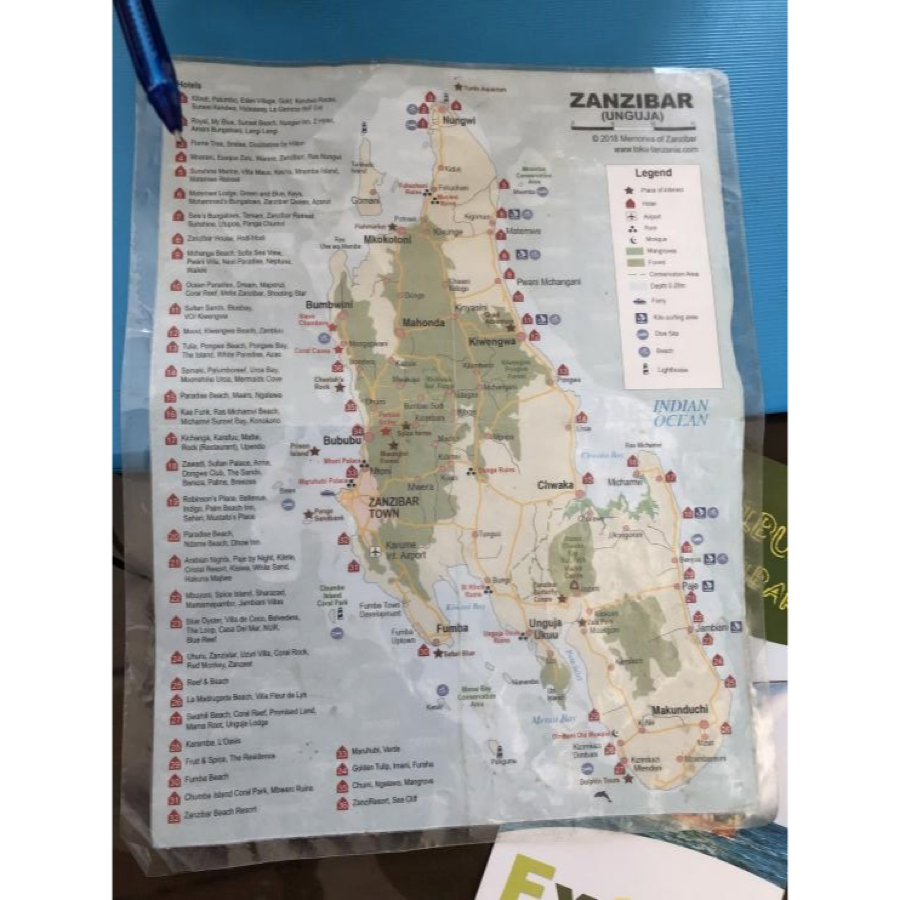 The map showing al the clusters of hotels in Zanzibar that were closed during the pandemic. Photo credit: Mwanaidi Shafi for Andariya.
After that trip that took us almost five hours, we then visited Stone Town and spotted only a few tourists. We talked to the female entrepreneurs there and most said they closed their businesses between March and July 2020- the time when all schools were closed and all sports activities were prohibited. They had engaged in other activities in order to earn a living. One woman, Madam Ashura, said that she had to become a 'Mama Lishe' (a street food-vendor), so as to survive the pandemic.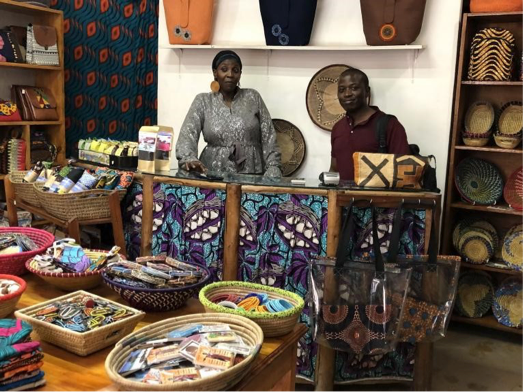 Madam Ashura selling handmade products in Stone Town street, Zanzibar. Photo credit: Mwanaidi Shafi for Andariya.
In the evening, we visited Zanzibar Statistics Center at Ngome Kongwe, and met Hussein Jummah who provided us with tourism statistics for the island of Zanzibar. He stated "The numbers (of tourists) went up in the midst of the pandemic, one that was meant to restrict travels. During high-season; there were days when there were around 300 tourists who visited from Russia."
Our excursion ended at Forodhani; ever filled by tourists roaming and enjoying its unique food offerings over a picturesque ocean view. While there, we met with tourists, a couple studying in England shared how they were 'tired of the lockdown and having to stay indoors', making Zanzibar a beautiful escape. They expressed it was a great experience being in Zanzibar during the pandemic, and it has given them the chance to experience newness in their love and a clear mind for their studies when they returned to England.
This journey was eye-opening in terms of COVID19's impact on female entrepreneurs in Tanzania. Tourist-dependent Tanzania is unfortunately at a delicate place, and the female entrepreneurs had suffered a lot due to the shutdowns and low tourist numbers compared to previous years. However, in light of the vaccinations that are now available, they hope that the strain on the tourist industry would be lifted allowing many businesses to operate at maximum capacity in the near future.
This article is part of a series on COVID-19's impact in the East Africa region supported by WAN-IFRA Women in News, Social Impact Reporting Initiative.