Kenya is a country full of music lovers, and being that the country is made up of forty-two tribes, there is certainly a variety in the types of music that can be found there. It is this diversity that makes the Kenyan music scene all the more unique and special. Every tribe has its own native sound that they tune in to and the music is soothing to the soul, especially if you can relate to it.
When it comes to music in Kenya, it tries to reflect on what is happening in the society- be it social, economic, political, or cultural. The music usually highlights the plight of the Kenyans and the general public. Different tribes of Kenya each have a specific genre that they use to pass along their message to their audience and communities. These sounds have surpassed time and are still making waves in the twenty-first century. You would think these tribal sounds and genres would mostly appeal to the older generation, but it is safe to say that music has had its impact on the younger generation as well. Some of the popular diverse sounds of Kenyan music will be explored below.
Mugithi
Mugithi music is popular among the Kikuyu community who are mainly found in the central province of Kenya. This style of music largely focuses on all that entails love. If you have been heartbroken, there is always a song for you in the Mugithi book.
If someone has caught your eye, there is also a song that will help you express your emotions for that special someone. Mugithi is best enjoyed in a live performance, so you can hear all the instruments pouring out their tuneful sounds. The name mugithi means "train", hence the dancing style involves holding on to each other's hips and wriggling as you go in circles.
Some of the most popular mugithi artists include; Samidoh, the late John De Mathew, Sarafina Salim, Jose Gatutu'ra and many more. This traditional music is popular during celebrations such as weddings, dowry ceremonies, and even in nightclubs.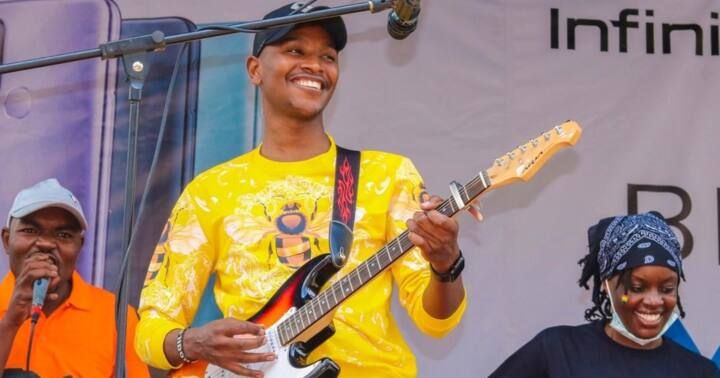 Samidoh all smiles while performing at an event. Source: Instagram/ samidoh_muchoki.
Recently, a mugithi song by Dickson Munyonyi recorded in 1986 by the name 'firirida' (free rinda-dresses put on by women that would allow them to move freely when they hit the dance floor) has made its way back to 2021, thanks to TikTok. It has since done tremendously well in radio stations as well as different night clubs. Dickson, has been overwhelmed with the response the song is getting at this age and time, since it was recorded a while ago.
Ohangla
Ohangla music is popular among the Luos of Kenya and it is known for its musical skills and instruments. It has a unique sound to it that involves the beating of drums to the accompaniment of the flute. Ohangla music is used to celebrate weddings and in funeral ceremonies.
Ohangla consists of more than 8 drums hit by a stick and a cylindrical shoulder slung drum played to the accompaniment of flute, Nyatiti, or kinanda. The original Ohangla has a very fast tempo nature and vulgar messages conveyed in the music. Local elders used to ban ohangla music in the early 1980s because it was meant for adults. They claimed that the songs can only be interpreted by very intelligent or mature people, but not children or teenagers.
Ohangla was mainly associated with vigorous gyration of the hips, suggestive dances, obscene lyrics, and liberal changaa (illicit brew) drinking among fans and players. The Luo traditional instrument Ohangla has revolutionized the music scene and trends have moved it to population culture in the last couple of years. With wonderment, fans gyrate their hips like they are possessed.
Ohangla has transcended tribal borders and is largely accepted even by people who hardly understand the messages in the music. Foreign tourists are not an exception as ohangla spots are filled with many nationalities in Nairobi city, and all can be seen dancing wildly to the beats.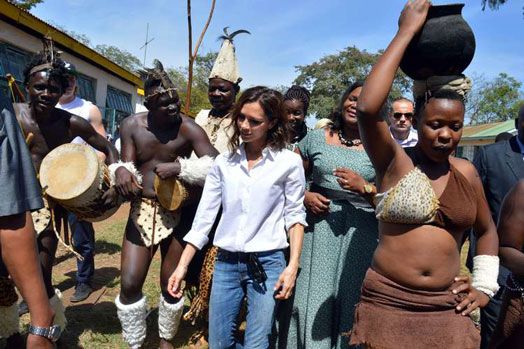 Pop icon Victoria Beckham dances to Ohangla tunes during her visit to Kisumu city in 2016. Source: Tonny Omondi
The music is also well enjoyed with the company of a live band, which will give you a chance to feel and hear the sounds of all the instruments. More than a few artists have made a name for themselves in the industry using this traditional genre. Some of the famous ohangla artists include Tony Nyadundo, Nyatiti, Osogo Winyo and Onyi papa Jey.
Kisumu city is the place to be if you are craving some Ohangla music. There are so many nightclubs that host 'Ohangla night' featuring all the best musicians, and they are always fully packed. There is no doubt you are promised to have a good musical night once you land in Kisumu, the county full of life and vibes.
Kilume
Kamba music, which is known as Kilume, is famous among the Kambas of Kenya and it is best known for its great dancing. The Kamba community is a major fan of dancing and this is well portrayed in their music videos. The genre has a specific high pitch tone that is used on the beat to make it more exciting.
Usually, when the song hits its climax on the beat, it is now time to dance. Kamba community like to use their legs as a famous dancing style to enjoy their music. They move their legs together or sometimes swing one leg in the air as they move round.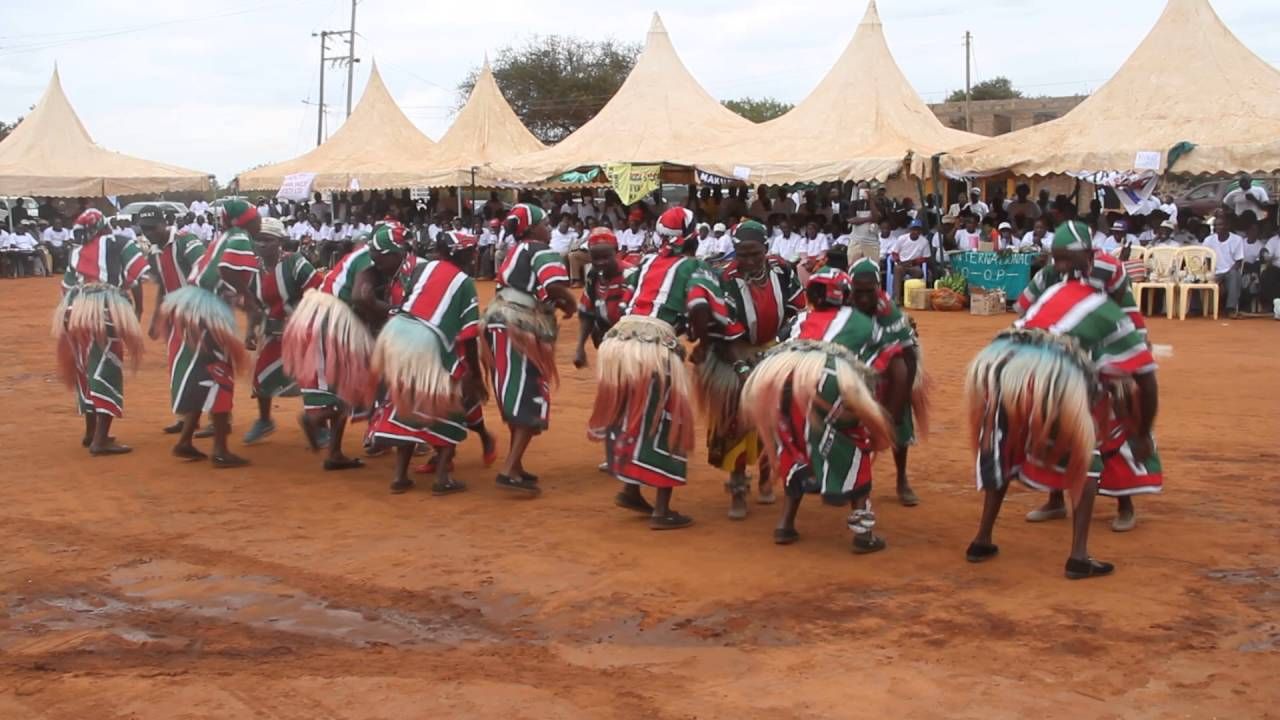 Dancers performing a folk song. Source: Kenya Cradle
Katombi, Ken Wamaria, and Kativui are among the most famous artists when it comes to Kamba music.
Kamba music is also very popular for releasing songs about trending topics in the country or across the world. The musicians are very alert on what is happening in society and choose to highlight their concerns through their music.
Taarab Music
Taarab music is found in the coastal region of Kenya and is mainly popular among the Swahili people. Taarab music is a fusion of pre-Islamic Swahili tunes sung in rhythmic poetic style, and spiced with Arab-style melodies. The genre has a harmonious sound and involves a lot of talking. The good thing with taarab music is that it is sung in Swahili, making it easier for everyone to comprehend.
Taarab is predominately sung by women, who enjoy telling each other off when they are not in good terms with each other. However, it is also sung in wedding ceremonies and different events.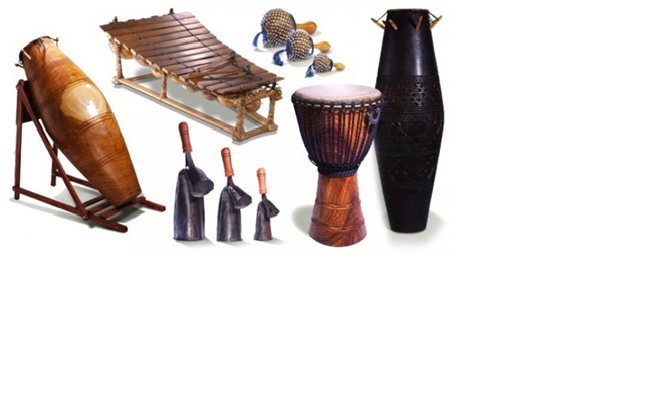 The African instruments, specifically the instruments of the Bantu which had a powerful influence on Taarab music. Source: Kenyan Geography
A taarab revolution is taking place and much heated debate continues about the music which has been changed drastically by the East African Melody phenomenon. Melody, as they are affectionately known by their mostly female fans, play modern taarab, which, for the first time, is 'taarab to dance to' and features direct lyrics, bypassing the unwritten laws of lyrical subtlety of the older groups- where the meaning of their lyrics was only alluded to, and never directly inferred.
Zuhura Swaleh together with Malika, a re two of the best-known taarab artists in Kenya.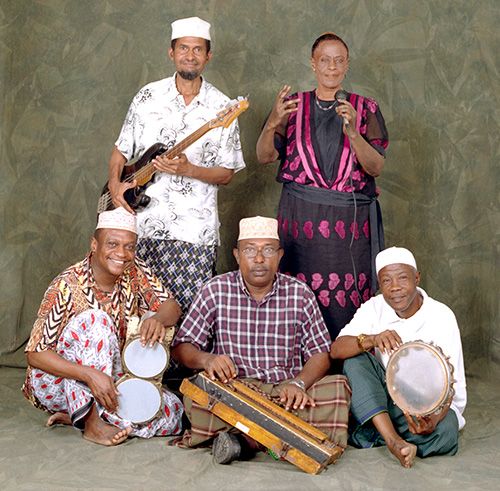 Zuhura Swaleh and Party. Source: Jahazi Media
Zuhura Swaleh & Party rose to fame on the Mombasa scene in the 1970s with a new fast-paced taarab style based on local ngoma rhythms and their melodies. The group's sound was led by an electrically amplified tashkota ( a Japanese instrument correctly spelled as taishokoto). Its shape best rendered as being a kind of "typewriter banjo"—a trio of strings shorted by way of the typewriter-style keys with the left hand, while the right hand strums the strings with a plectrum.
Conclusion
Music in Kenya has a lot to offer since we are made up of several tribes. This allows us to familiarize ourselves with different cultures and embrace them. We are one nation with a common language that brings us together, despite our differences.
Kenya's music industry has transformed significantly over the past 40 years to become one of the most established and competitive in the region, with an estimated worth of Sh320 billion, according to a 2021 World Bank report.
There is a growing interest in other genres of music such as house, Trap Music, and drum and bass. For decades, the rich Kenyan sounds have shaped other music genres on the African continent, and is itself a product of multiple influences from Africa, Asia and beyond. From Genge and Gengetone, Kapuka, Rhumba, Benga, Afrofusion, tribal, Taarab and soul, Kenya has for years been a theatre for experimentation with diverse music sounds and styles.