The Federation of International Football (FIFA) World Cup and the Summer Olympic Games are some of the two largest sports events in the world. The FIFA world cup takes place every four years and will take place in Qatar this year. On the continental front, the seventh African Nations Championship (CHAN 23) will take place in Algeria from January 8th to February 5th 2023.
The month of July 2022 marked the start of the 2023 African Nations Championship (CHAN) qualifiers for local based players and 54 nations competed in two leg matches. The tournament is organized by the Confederation of African Football (CAF) and took place in Ivory Coast. The South Sudan team was unfortunately unable to qualify for the 7th edition of the tournament that will be held in Algeria between 8 and 31 January 2023.
Our focus will now be on the TotalEnergies U23 Africa Cup of Nations Morocco qualifiers, where we will battle with the Democratic Republic of Congo, Ethiopia, Rwanda, Tanzania, and Libya for the top spot in Pot B.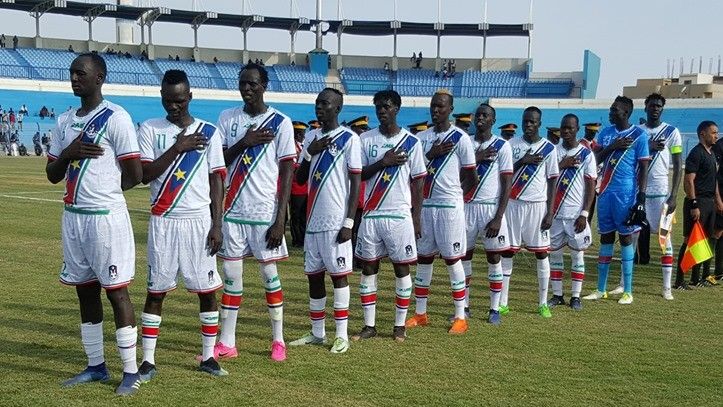 South Sudan's national men's team. Source: SSFA
CAF is the governing body of African Football. It was founded by Egypt, Sudan, Ethiopia and South Africa in 1957 at a historic meeting held at the Grand Hotel in Khartoum where the statutes were drafted and plans to stage the first ever Africa Cup of Nations were drawn. The first ever Africa Cup of Nations was held in Khartoum, Sudan on February 10th 1957.
My Sports Learning Journey
I did not grow up regularly playing a lot of sports or congregating around the TV set to watch the Olympics or world cup tournaments, as I always thought they were male-oriented. I played hockey as a child and took part in a few competitions, but that was about it. Yet I find learning new facts on the formation of football governing bodies exciting and find them part of our history too as South Sudanese.
We were part of the visionaries of African Football. South Sudan has dominated by basketball talent and in football we are next. We all want our national teams to emerge as the giants in sports that they are, but we also have to remember that there's a lot more to football development than just a path to the top, we have to ensure players stay in the game and are excited by it.
As an adult, and a fan of Real Madrid Football Club in Spain, I had an opportunity to sit in the front row at the famous Santiago Bernabeu stadium and watch my favorite team play. I experienced the tempers and emotions upfront as ecstatic fans sat on the edge of their seats giving me a feeling as if I was one of the eleven players on the pitch.
From the stands, the joy was real when the team scored a goal and the grief was sobering when they missed opportunities. I was captivated and fascinated by the game and all the excitement. From my seat, I could mentally visualize myself in the perfect sports attire in the middle of the pitch running at high speed, jumping high, and in a move such as never seen before outmaneuvering my opponent and kicking the ball smack center into the goal. Goooooal!
I have grown to love football, it is inspiring, fun, and enjoyable. It brings together people from diverse backgrounds unifying them all due to their love for sports. I am now a proud football fan of our national team, The Bright Stars. They couldn't have picked a more befitting name for themselves.
As a mother, I have watched my twin daughter play and love football as a sport. The lessons she has learned from it such as resilience, commitment, self-belief, getting along with others, and taking responsibility for her actions are invaluable and I am glad that she had access to the sport from an early age.
She has my full support but I don't know if she will decide to go on and play the sport up to the professional level. Notably, before any talent can be developed or identified the game needs to be accessible and everyone is given a chance to play. I am grateful she has access to the sport and facilities.
Young talent undergoing training in Juba, South Sudan. Source: SSFA
Motivated and talented male and female footballers should all have an opportunity to be scouted and enrolled in sports development structures regardless of where they are from, their age, or their social and economic background. In order to make football accessible to all, providing continued chances to play, train, and fall in love with the game at every stage is crucial to the growth and development of the game.
The most successful member associations should incorporate grassroots football as part of their overall strategy for player development- something which the South Sudan Football Association has undertaken and I hope we can see even more of this being implemented. As FIFA has noted, in most countries, the focus of football associations is largely on the national men's team, but the national team is as a result of grassroots football development such as more youth competitions to identify talents and offer them a pathway. Development of talent nurturing and coaching academies too needs to have more support.
A female at a training course for Grassroots and Junior coaches under the supervision of FIFA expert, Klaus Günter in Juba. Source: SSFA
Recognizing South Sudan's Potential
Earlier in July, South Sudan was visited by the President of the Confederation of African Football, Patrice Motsepe, making it the first time ever for a president of CAF to visit the country. During his visit, Motsepe underscored the potential that South Sudan has to represent Africa in the World Cup and become dominant in the international scene if real investments are made in the football sector.
He called on the government to provide more support to the team by investing in sports such as football. Giving every talent a chance to develop in the best possible way will require the support of the government and other stakeholders to play their part in the football ecosystem.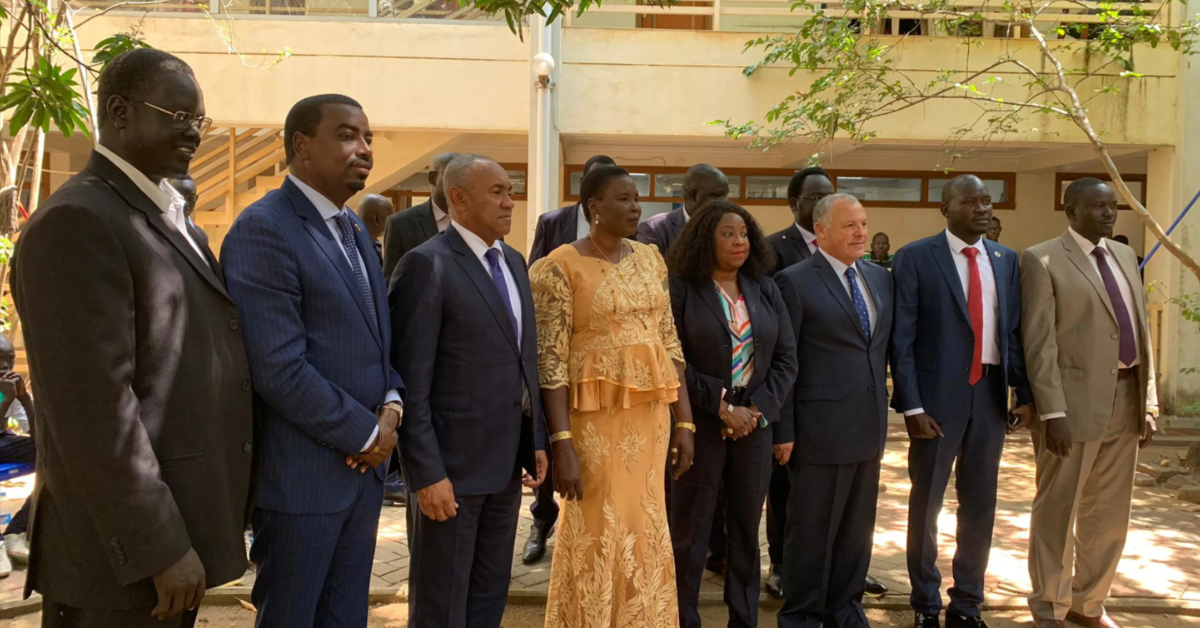 CAF President Patrice Motsepe after a meeting with the SSFA official during his visit. Source: SSFA
Beyond the immediate upcoming qualifier games, a long term plan for talent development is vital for our team's success. Like Top MAs, our academies should have clearly defined football and coaching philosophies that follow holistic long term player development plans rather than focus on short terms results.
According to a recent FIFA study on the global talent development ecosystem, a large number of talented players go undiscovered as a result of factors such as lack of planning, quality of education, infrastructure, and financial resources to train youngsters. There are three key elects which are facilities, talent, and qualified personnel. Talented players need to be repeatedly exposed to high quality, age appropriate development sessions both on and off the pitch in order to become well rounded athletes.
A lot more needs to be done to professionalize our facilities and bring them up to world class standards. The best talents should train and play with and against the best players in the best environment. Professionalized environments where the most talented players are developed on a day-to-day basis including when they are not part of the youth national teams are crucial.
The key areas of talent development as identified by FIFA include talent identification, training, playing opportunities, and the transition from youth to senior levels. Lessons we can glean from the top member associations are that they have a talent identification system in place for both boys and girls with a structured system for identifying young players at every stage of the pathway. The Top member associations retain qualified scouts and talent identification staff and have accredited training courses for the education of scouts and talent identification staff.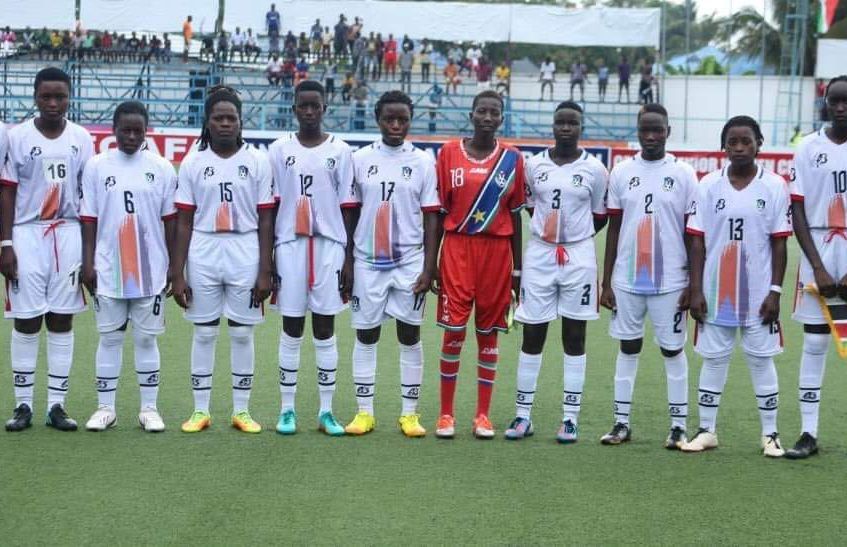 The promising South Sudan national females team. Source: www.adricachinapresscenter.org
Access to technology is pivotal to supporting the identification and development of players. Data collection, soft and hardware and data management systems that enable collected data to be used effectively allows users to gain insights into the game, which can in turn support decision making. Lessons learned from top member associations is that they have an IT system/database for talent identification covering areas such as player registration, competition management, coach registration, referee registration, national team management, talent development, and coach education management.
South Sudan Football Association should be supported to increase access to technology in order to support the collection of data to objectively support its identification process and decision making. Technology also provides a great opportunity for acquiring knowledge from global sources and sharing of training resources.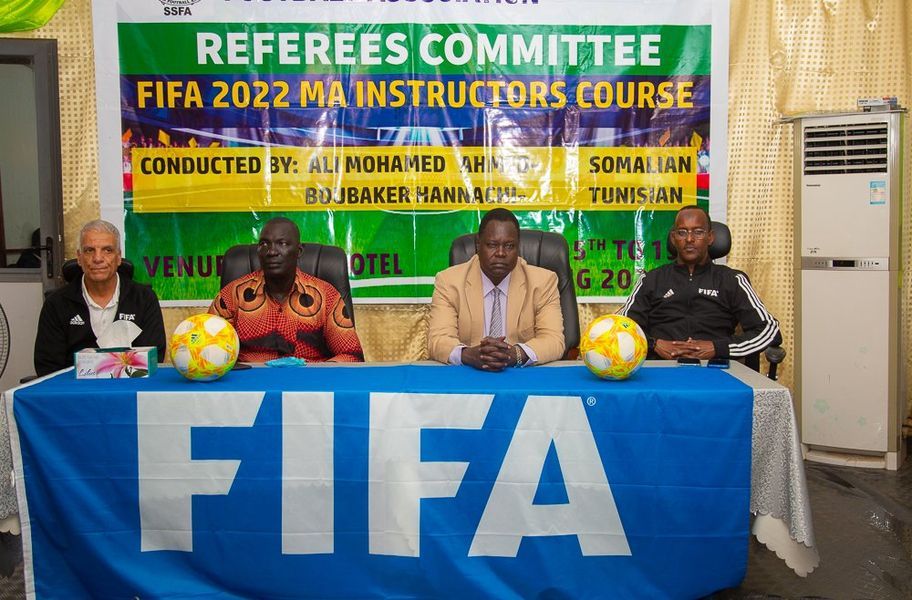 The president of SSFA Augustino Maduot at the closing ceremony of the FIFA 2022 MA Instructors Course conducted by FIFA experts Ali Mohamed and Boubaker Hannachi. Source: SSFA
Conclusion
If the game is going to make strides, we need to have professional technical and coaching staff with the ability to deliver. Top MAs have full time coaching positions and implement coaching competency framework linked to their playing philosophy, and follow a coaching convention. The top MAs create a culture of knowledge development and sharing and provide educational opportunities for academy and national team staff and coaches.
One additional area that I believe is that South Sudan's football could greatly benefit from is having a qualified sports psychologist on the team. While still a relatively young discipline in South Sudan, we already have trained and qualified sports psychologists.
Sports psychology is about helping players deal with doubts, fears, and anxiety. Becoming the best version of themselves and letting that shine through. The top athletes have a clear picture of what they want, how badly they want it and are willing to sacrifice and give their all to legitimately achieve their goal.
Winning is a combination of many different factors that all start with the right mental attitude. As fans, we can afford to be ecstatic cheering on our favorite teams but for athletes, it is common for them to get nervous before a game or competition which can have a negative impact on performance. A sports psychologist can help athletes cope with the intense pressure that comes from competitions.
For athletes to reach their full potential, they need to have mental toughness. They need to have an unshakable belief in themselves, an ability to bounce back from setbacks, remain calm under pressure, and an insatiable desire to succeed. A sports psychologist can help our athletes in this area. Let us give our stars all the support they require to make it to the top. Go bright stars, go.