Kenya's Maasai Market, is an open-air market that promotes local vendors selling colorful handmade jewelry, textiles & beaded bowls. The market is a major tourist attraction, full of Maasai inspired products that revere the great tribe's traditions.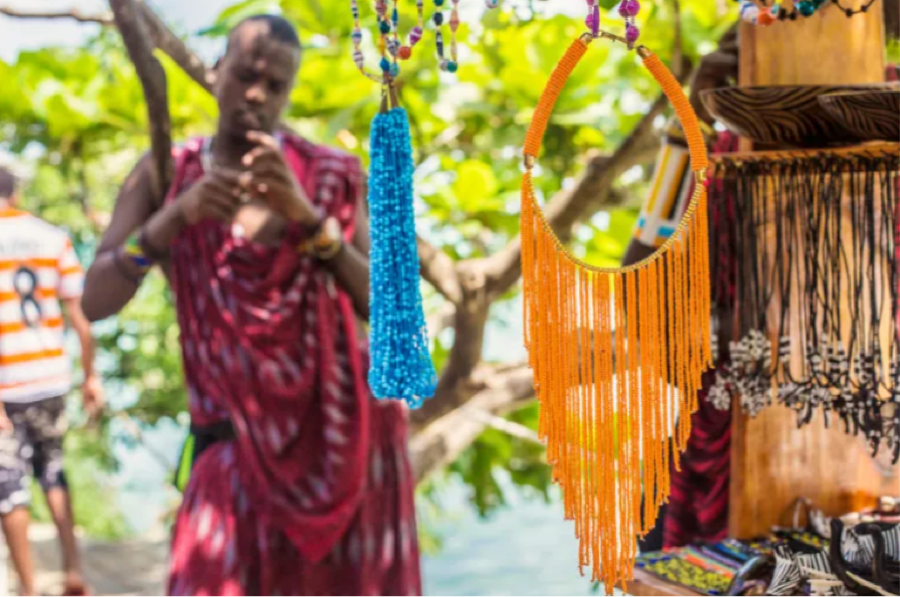 Source: Civitatis
The market is unique in its offerings and unlike any other local market, as it contrasts the nomadic nature of the Masaai tribe. It is a pop-up market, shifting from one place to another depending on the days of the week. On Tuesday, the market opens at Kijabe street near Norfork hotel, on Wednesday Uchumi hypermarket, on Thursday Nakumatt Junction, on Friday Gigiri Village market and on Saturday it's in Nairobi's CBD area by Kijabe Street.
I've been to the Maasai market at Village market mall and at Kijabe Street. What captured my eye immediately were the items usually hanging from the fence- used as a display rack- surrounding the market. They serve as a preview, or a teaser for what to expect once you enter.
I see traders who are representing part of the Kenyan heritage and shedding light on the culture of the Maasai community. The Maasai have since time immemorial crafted their tradition and shared it with the world. The market provides us a chance to identify with their culture through their crafts. Like the great traders they are, a warm welcome is due while you are window-shopping. This can be overwhelming at times, but to be honest a silent market is just not a market in Kenya. The vendors will showcase their art by giving you a few of their items that look well fitting for your size. They would adorn your neck with stunning necklaces, which in my opinion is really awesome to get your attention. The necklaces are usually small Maasai themed beads that are intricately strung together into a piece of art.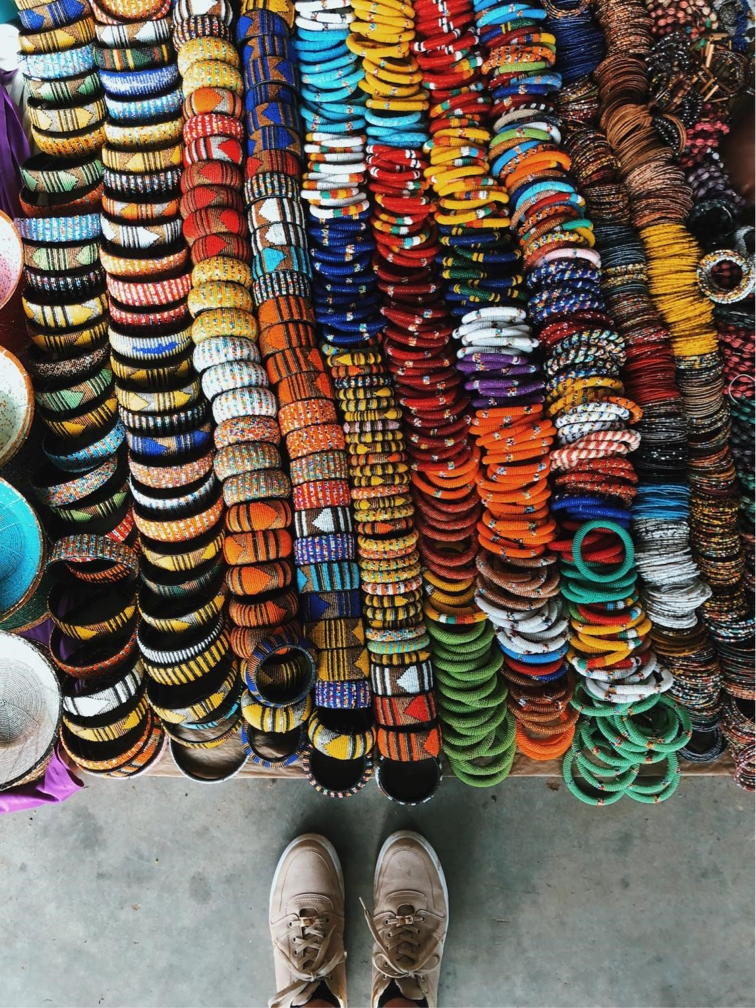 Source: Miss LaQuist
Another jewelry item that excites me is earrings, which are available in an incredibly diverse array at the Maasai market. The sellers are artistic with their design, and you can find crafty shapes of earrings, from the shape of the African continent to different animals finished with colorful metallic touches.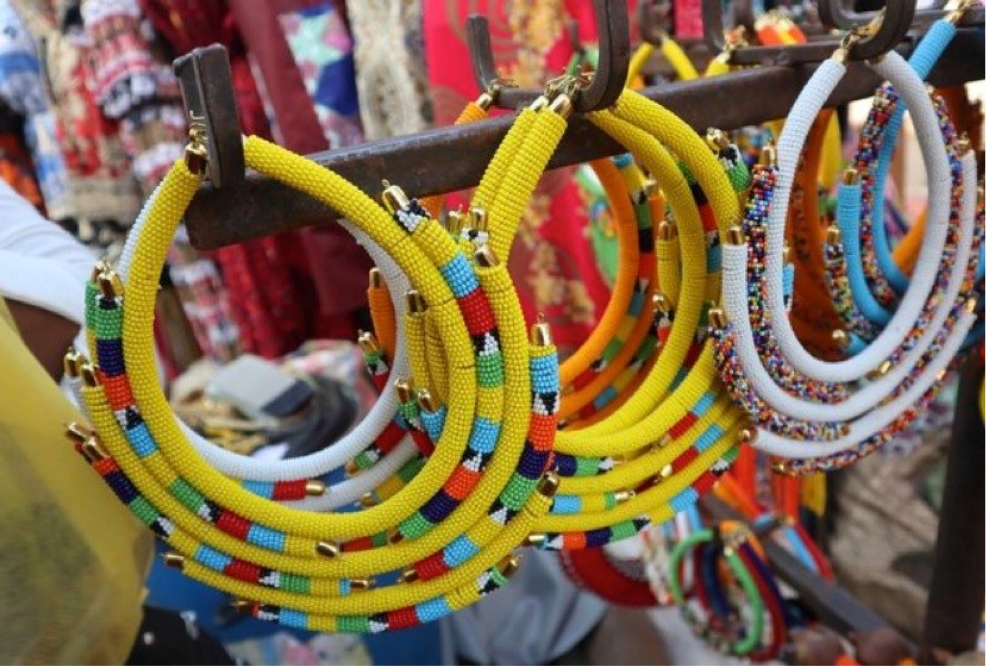 Source: Streemit
One thing I know for sure is that the Maasai headdress is probably the most frequently purchased item at the market. The regalia denotes an individual's position in society and at times, serves as an accessory during rituals or tribal dances. It is actually one of the first items I tried on and bought- that's right I splurged on myself- when I first paid a visit to the Maasai Market. I'd definitely encourage anyone to get this traditional jewelry piece, as it crowns your natural beauty while promoting Kenyan culture.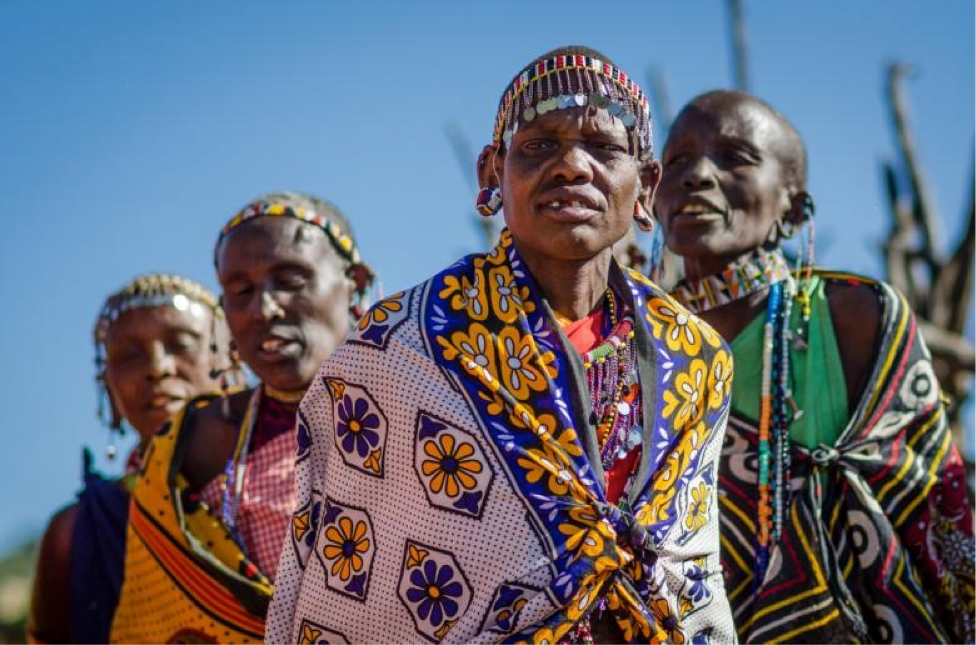 Source: Majimoto Maasai Camp
At the Maasai Market, artists opt to have their artwork displayed, featuring unique expressions that represents the beauty of Kenya. The paintings are of great artistry and quality. They might be costly, but are definitely worth it once they are hanging on your wall.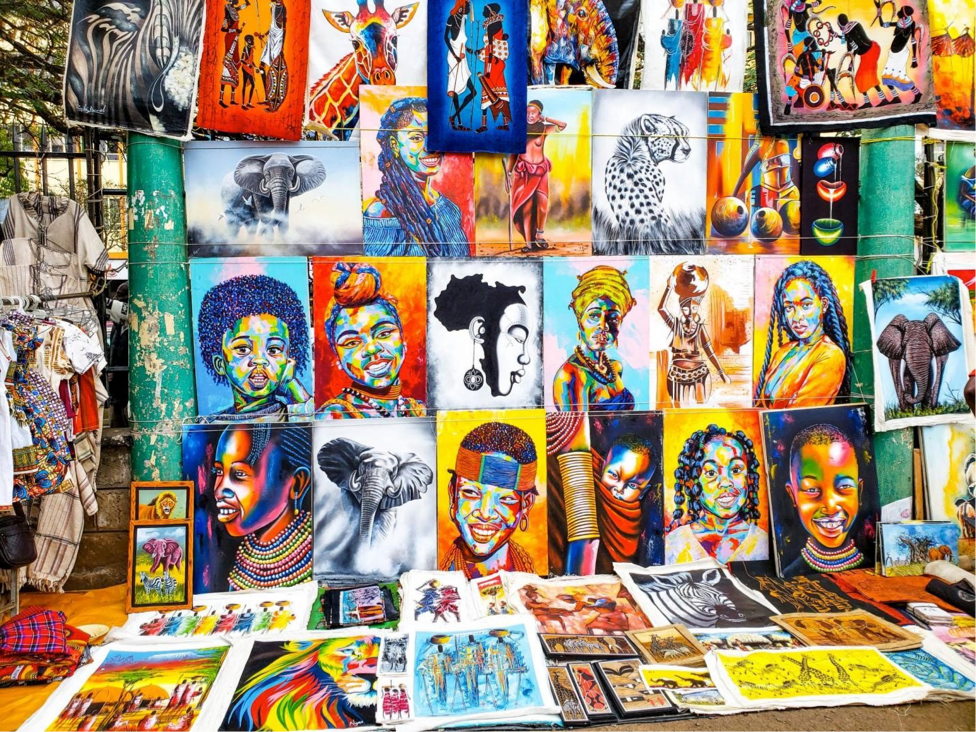 Source: Gritty Travel
The Maasai 'Shuka' is probably one the most recognizable products, and it is usually on sale at the Maasai market. The Shuka is a red and black checkered piece of cloth worn by the Masaai and commonly found in Kenyan households. It is an item that is hard to miss at the market. The Maasai Shuka is versatile in its use; it can serve as a blanket and can sometimes be used to create different items of clothing. However, it is most commonly recognized as the iconic cultural wear of Maasai communities.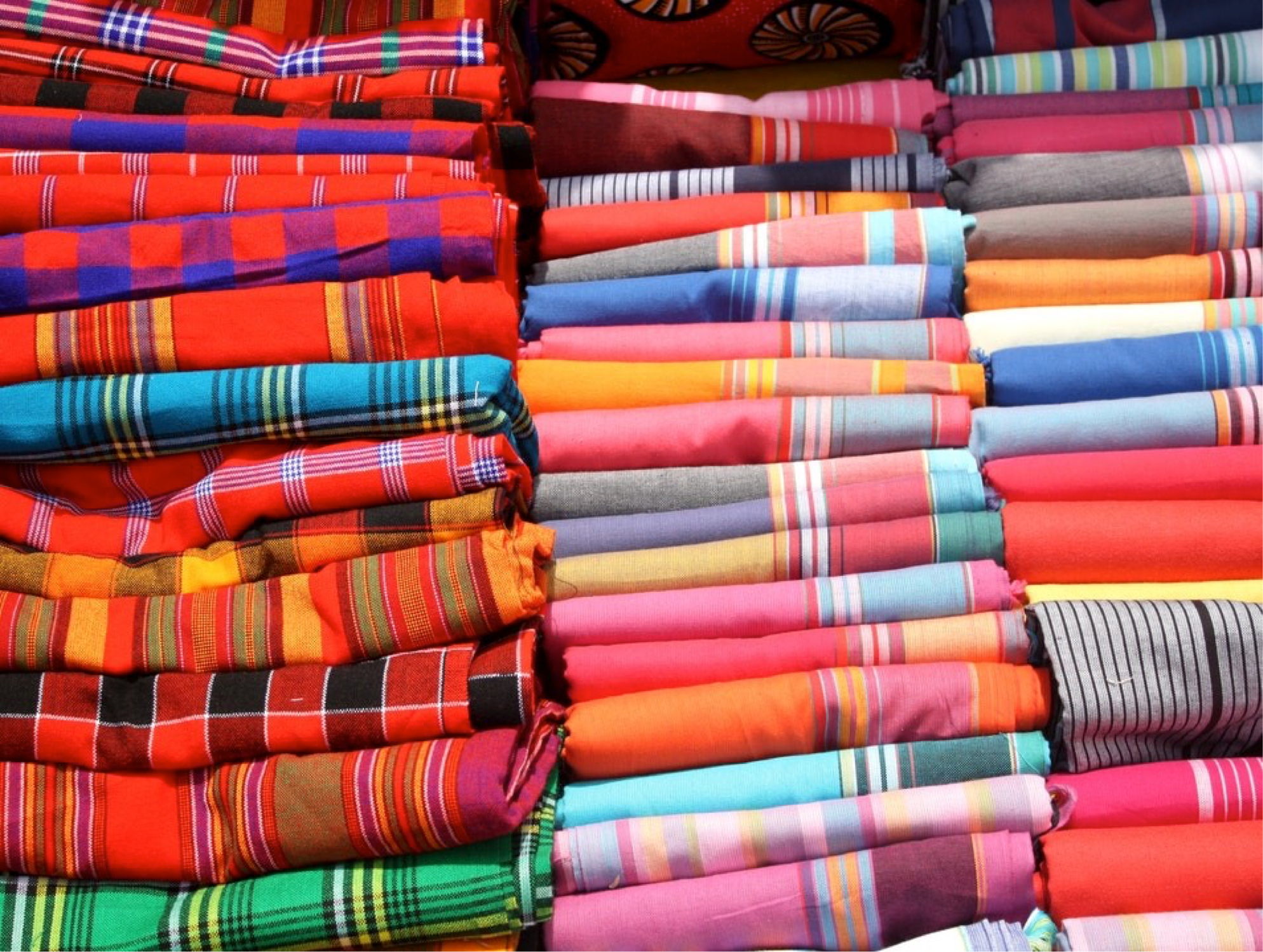 Source: Afar
Other than the checkered Shuka, a sundry of fabrics and their mismatched patterns are available, along with various clothing designs. We have the 'Kitenge' inspired clothes, which is an energetic African wax fabric print native to West African, East African and Central African countries. Striking patterns are pleasing to the eyes and widely available in a plethora of color combinations.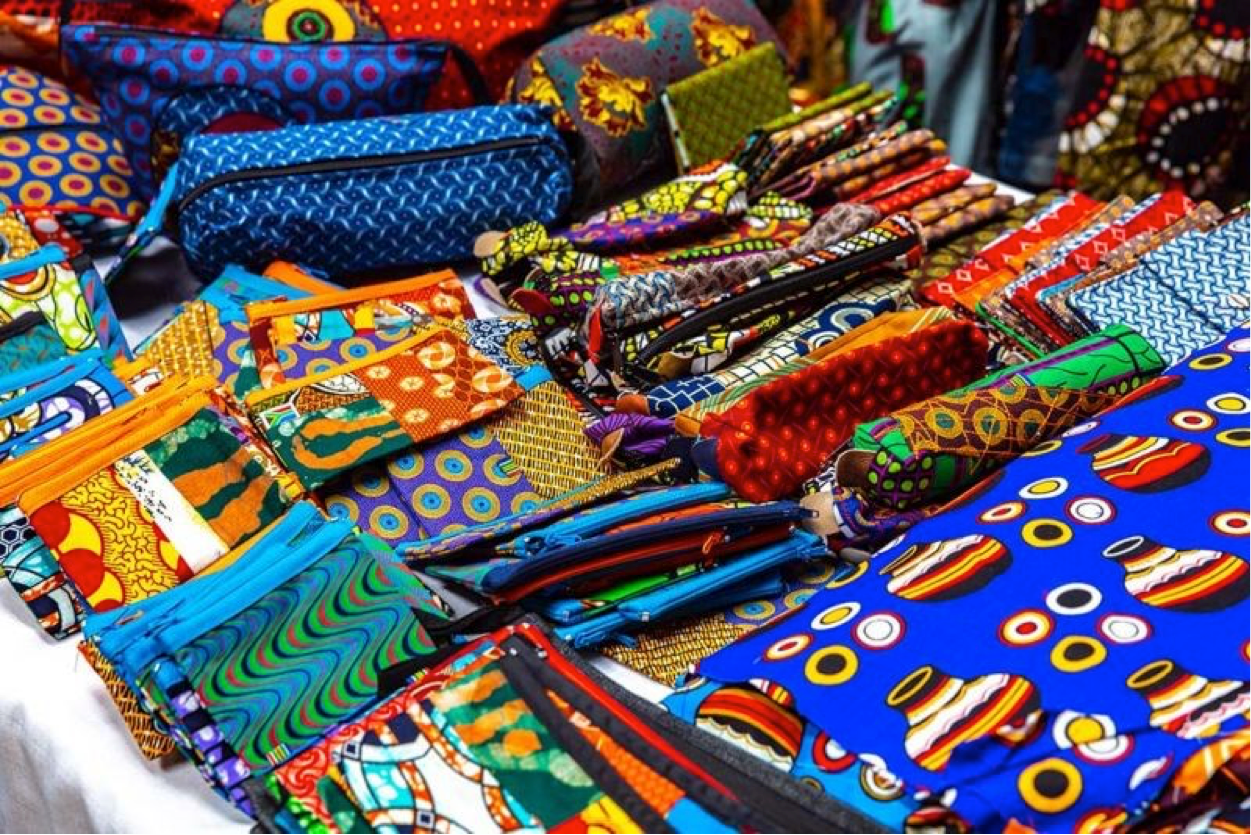 Source: Memphis Tours
In addition, home décor is well represented in the Maasai market. There are numerous wood carvings of animals, traditional fittings, beaded baskets and beaded bowls that are easy to spot. I am a fan of the metal carving of a Maasai man depicted herding and watching over his cattle.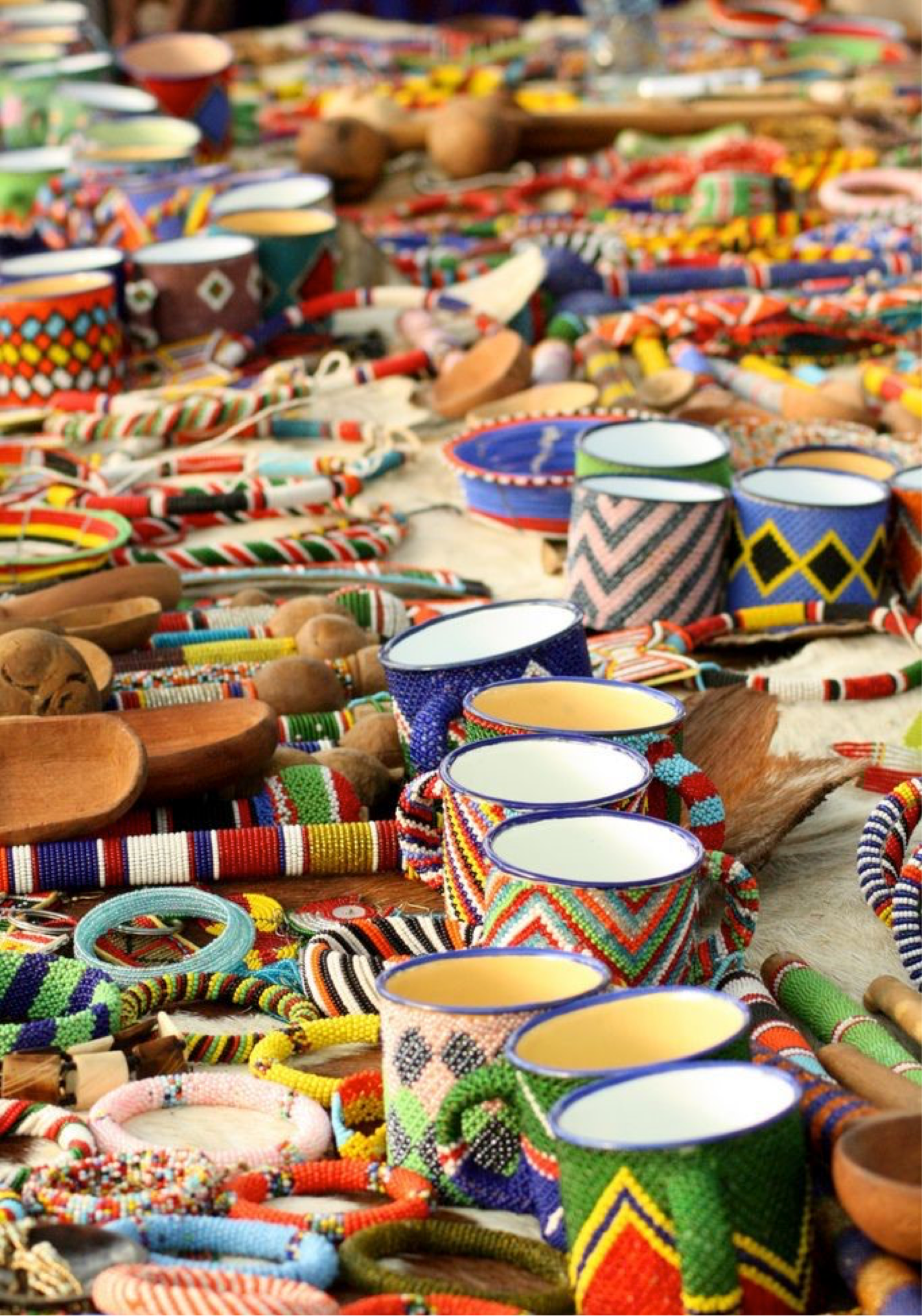 Photo Credit: Muriki Murith
One notable thing about the market is if an item does not fit to size, the traders can easily take your measurements and later custom make the same product to your desire, and you can pick the item at your convenient market location. I mean, how considerate is it for the vendors to make shopping personalized for their buyers? I personally think it's just the best thing ever.
You should also be ready to bargain with different traders to get a suitable price for the item you want. It might not be easy for foreigners, because the vendors can easily differentiate the Kenyan accent from that of a tourist. Also, tourists usually don't know the difference between a reasonable price and an expensive one. My suggestion is to have one of the locals give you a tour of the Maasai market, to avoid overpaying for items.
Heckling from the vendors in Maasai market is common, the sellers do this to encourage the purchase. You need to have thick skin when walking around the market to avoid being a target, and so you don't buy items you don't want. There is no harm in saying no to the vendors, I do it all the time.
The operating hours of the market are from 8 a.m. to 6 p.m. I'd recommend you visit during the weekends, as it gets a little busy leaving you with ample time to window-shop without distractions from the vendors. There are so many items to choose from, so make sure you do not buy the first item you see.
The continuous support of the market by the Kenyan government has paved way for artisans to make a living through their work. The bright displays in the market showcase the passion and hard work going into each piece. There is something there for everyone. The Maasai Market promotes Kenyan heritage by supporting Kenyan artists, and brings to light the culture of the Maasai community. If you find yourself near the Maasai market, make sure you drop by and get to see the magnificent unique artisans and enjoy haggling while you can.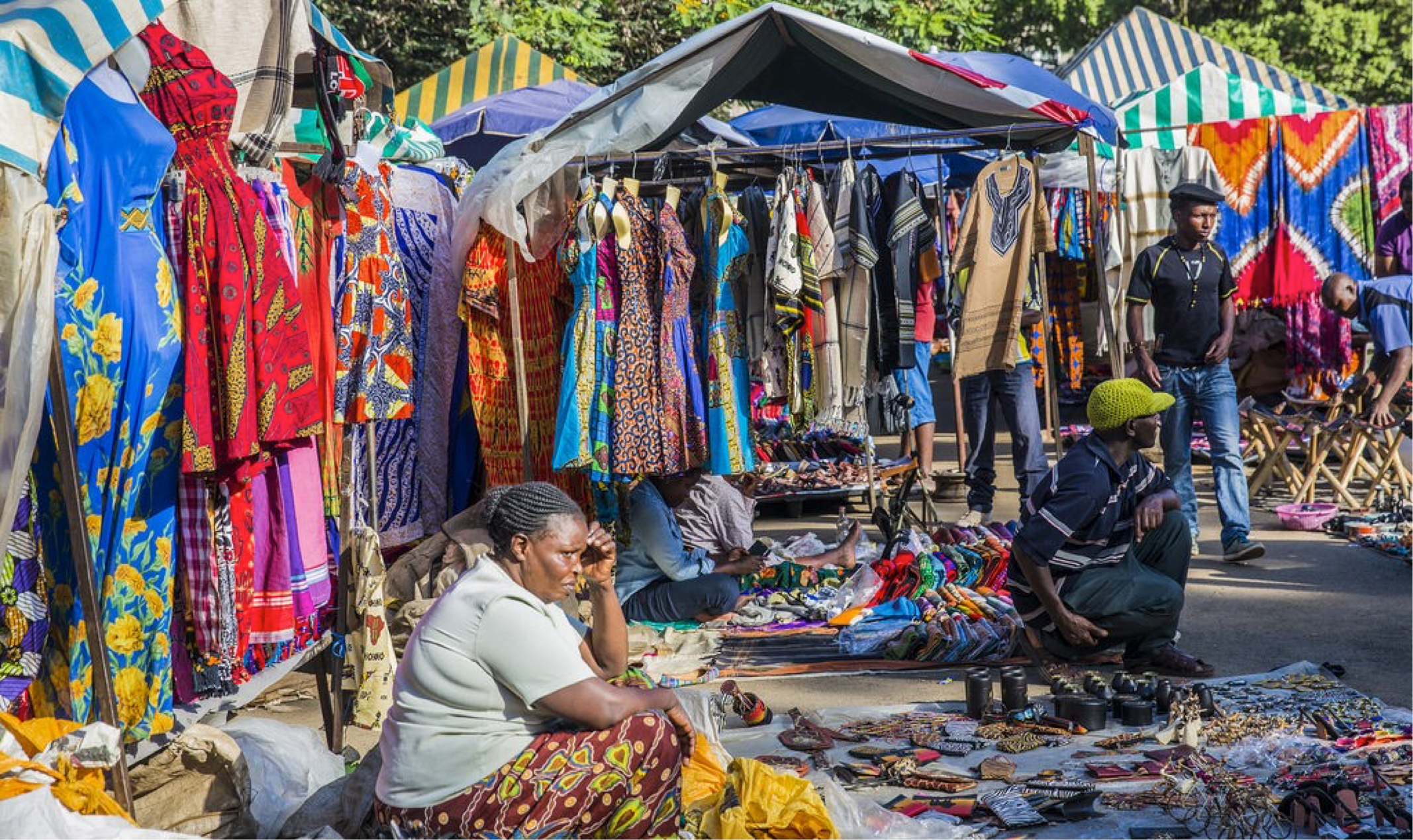 Source: Kenyan Poet