(Photo courtesy of: Prawn Lake Conservation Group)
Travelling to the Kenyan coast for holidays is a very popular activity for both international and domestic tourists. Towns along the Kenyan coast are almost magnetic when it comes to attracting fun-seeking individuals and their families looking for a place with good weather, kind locals and world-class hotels, to spend their hard-earned holidays.
Kenya's national economic wealth is dependent on its tourism sector and agricultural industry. But both sectors bring to life practices that abuse its natural resources. Recent reports predict that 1 million flora and fauna species are threatened with extinction. Conservation efforts must be acknowledged and encouraged as this is a matter of worldwide concern, an unhealthy ecosystem will directly and significantly impact everyone. Kenya is involved and has set voluntary national and sectoral commitments to help lessen the detrimental impacts of different industries on its biodiversity.
No coastal town embodies the appeal of the Kenyan coast quite like Watamu. Watamu is a small coastal town north of Mombasa. The town is well known for being a top tourist destination. Some of the well-known destinations include the Watamu National Park and Reserve, encompassing Watamu bay, Blue Lagoon Bay and Turtle Bay. Other defining features that make the town what it is include white sandy beaches and coral gardens.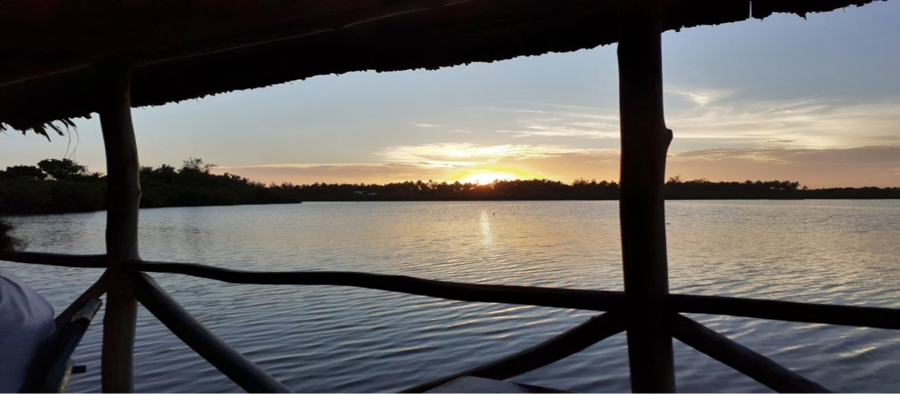 View of the sunset from the Prawn Lake restaurant
A lesser-known defining feature of Watamu is Mida Creek, which is an expansive tidal inlet that attracts a rare breed of seabirds and turtles (both green and hawks bill) because of its sand flats and mangrove forest. When it comes to top travel destinations, Mida Creek is certainly a hidden gem. The Creek is located inland and thus remains hidden to unfamiliar visitors. However, if you like adventure and discovering new things, a visit here might give you a new perspective on vacationing in the Kenyan Coast.
According to the Watamu Marine Association (WMA), Mida Creek's various habitats are influenced by the tide, the mud and sand flats, open shallow waters and the mangrove forests which are home to many plants and animals with a vast biodiversity.
"Mida Creek is one of the most productive mangrove ecosystems in the world. For good reason, Mida Creek is a recognized International Bird Area, and together with Arabuko-Sokoke Forest, it forms a UNESCO Biosphere Reserve. It is not only a paradise for national waterfowl, but migrating birds from Europe and Eurasia find a place to rest during their journey or they choose to stay at Mida Creek over winter" notes WMA.
Prawn Lake nestled in Mida Creek mangrove forest
Tourism with a Conscience
Mangrove deforestation threatens the whole basis of the creek ecosystem. WMA members are working together to prevent this and frequently organize mangrove replanting events. Other conservative efforts taking place include community driven initiatives. One such effort is being undertaken by Prawn Lake Conservation Group, a community-based organization located in Mida Creek, Dabaso, Kilifi County.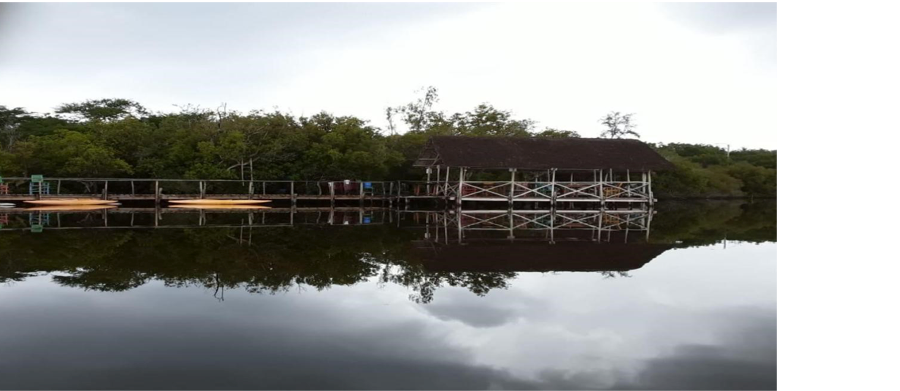 A view of Prawn Lake
"Our main objective is to protect the environment, particularly the mangrove forest and its entire ecosystem. We organized ourselves as a community to discourage the cutting of mangroves together with the government agencies mandated to protect forests" says Baraka Ngome, Group Secretary. After a series of active participation in various environmental protection activities, the group was allowed to put up income generating activities at Prawn Lake, marking it an ecological tourism site.
A Bite to Eat
The group chose to set up a restaurant which acts as a source of income to its members and the community at large. The restaurant has offered employment to some members of the community over the years. The wood crafted restaurant, located on the water, appears to be floating as the pillars have been installed deep in the lake's floor in order to have the sturdiness to accommodate large groups of people at a time. The restaurant's simple design is an ode to coastal life, as it is simply constructed with wood and roofed with "Makuti"- which is dried up palm leaves thatched together.
The open-air design ensures a rejuvenating breeze and an uninhibited view of the beautiful sunset disappearing over the horizon and seemingly sinking into the lake, leaving behind a sun-kissed and blushing sky. It is absolutely breathtaking.
Even though the scenery is what brings you to Prawn Lake, it is the menu that keeps you glued to your seat. The establishment, for all intents and purposes is a seafood restaurant. Before any of the main courses, you first cleanse your palate with an appetizer, the Prawn Samosa, which just so happens to be their signature snack.
The main course dishes include Prawns, calamari, Jumbo Prawns, Oysters and of course octopus, freshly caught and divinely prepared for delectable consumption. For the foodies I suggest the Prawn Lake special, a seafood platter which comes with a rich variety of sea grills accompanied with sides like rice, chips or mixed salad.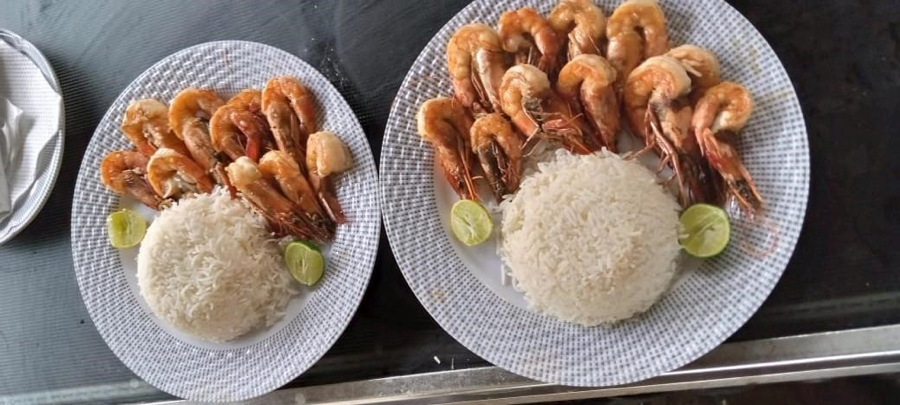 Jumbo prawn and rice, a Prawn Lake specialty.
Activities
Would it be a proper outing without activities to keep yourselves busy? I doubt it. Prawn Lake offers a variety of activities that can be fun for the whole family and also for the adults in the group. The activities here include: kayaking, swimming, viewing birds and fish and collecting shells which could be a great reminder of your time at Mida Creek.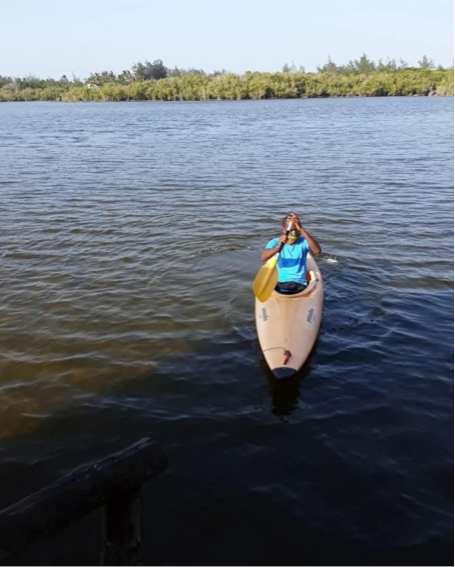 A good activity at Prawn Lake is Kayaking.
So, the next time you decide to visit the Kenyan coast and you're feeling a bit adventurous, take a trip down to Prawn Lake and have yourself a Prawn Samosa while paying tribute to nature. Be mindful of your environmental practices, but also don't forget to let the friendly community know that we sent you.