All photos were provided by iZAYA.
You walk into this ambient outdoor hangout on a Thursday evening. It is one of those days when you should ordinarily be home, eating leftovers and watching Bridgerton, but a friend begged and pleaded until you agreed to go out with them.
There are high wooden bar stools for seats, and water drums customized with a wooden top for tables. There are also a few picnic tables carefully scattered in the front part of the space, all subtly lit under strings of dim hanging lights.
The place barely has any people at the tables. You do not like crowds, so that's not a problem. You and your friend order drinks and twenty minutes into your drink, a familiar tune begins to play. You turn towards what could be a makeshift stage and there is a deejay wearing a mask. "That's new," you think to yourself.
One hour later you are on your feet dancing and singing loudly to every song being played. It is a bit of house music; but not quite. This feels like something you have always known. You begin to wonder what exactly it is about this particular deejay. You will later find out that he is not a deejay and regret calling him that.
Why is the barely crowded hangout now packed with other people like you; also losing themselves to the music? You know in your heart that this is going to be one of those nights you never forget. Before you can give it more thought, you are whisked away onto the dance floor by your friend.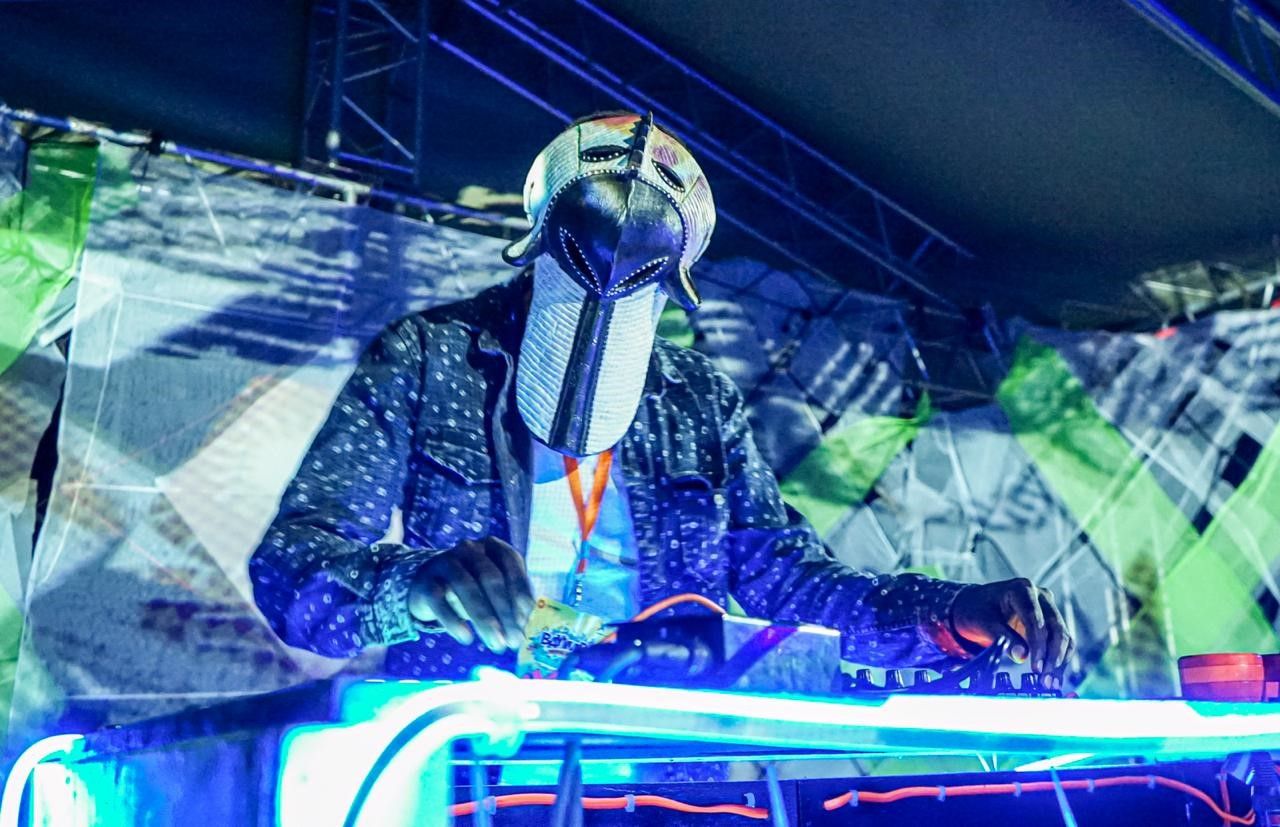 iZAYA on stage at one of his electric performances at Bayimba Festival 2019. Source: iZAYA
Embracing African Culture
Over the past couple of years, there has been an exciting wave of Africanism all over the continent. Many Africans have come to embrace their culture, skin tone, music, and even hair as the true qualities that make them extraordinary as a people. As this new wave of self-realization and identity continues to sweep across the continent, a young gifted electronic- afro futuristic artisan has found a way to contribute to this movement through audio-visual musical live performances in Kampala.
iZAYA commonly known as iZAYA the Composer on his social media platforms is using extraordinary musical performances merged with technology, in and around the city to create a platform for a different kind of musical experience, as well as to give people a chance to experience music that has elements of the Ugandan culture integrated into it. Elements of the local traditional instruments such as the adungu (thumb paino), as well as African traditional grooves feature into his sets. iZAYA exclusively performs his original compositions.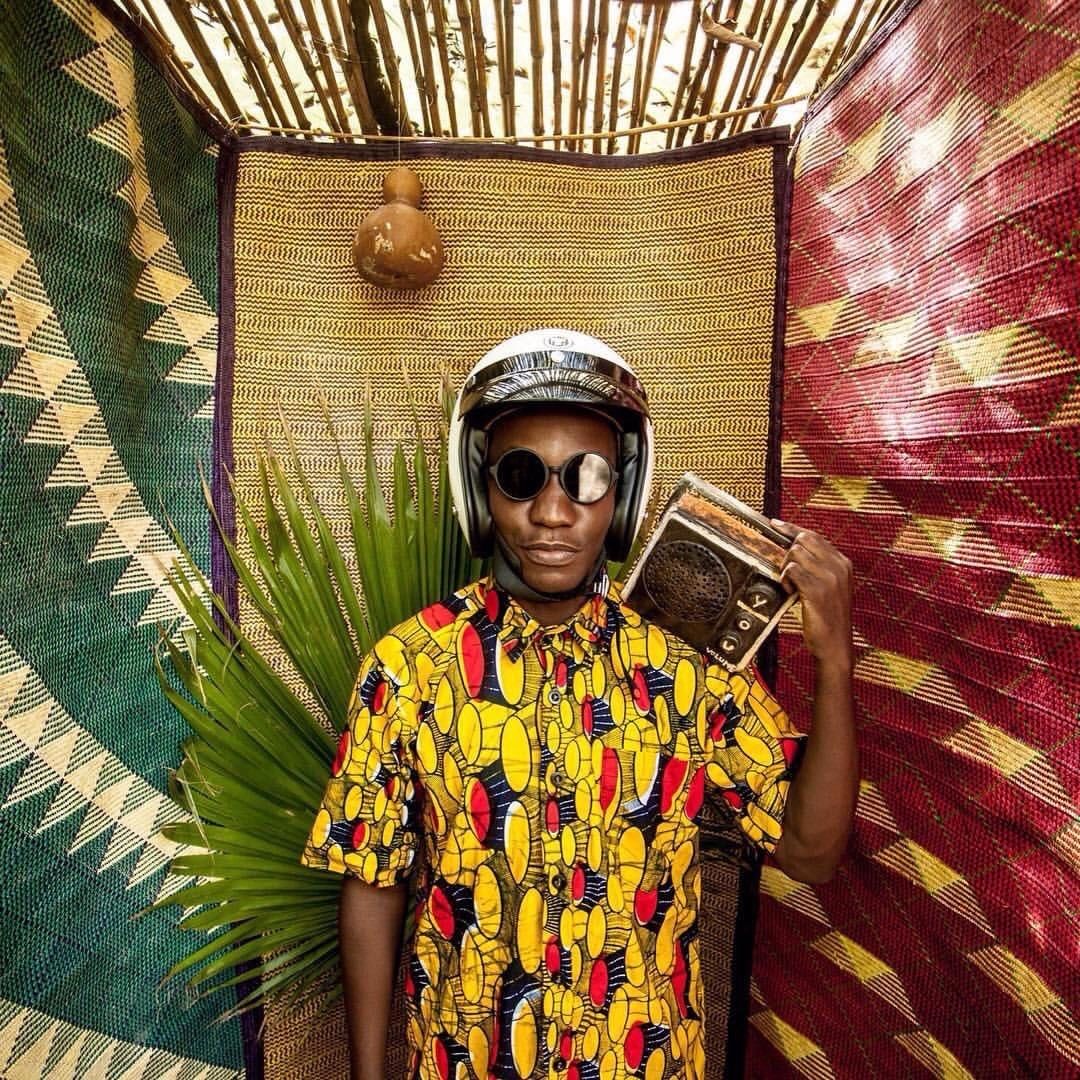 iZAYA at a photo shoot for a music video in Fort Portal district. Source: iZAYA
"I believe that we were all born with a purpose and mine is to help raise a breed of Africans that are proud of their culture. I intend to do this through audio-visual collaborations. Growing up, we were influenced by what we watched on TV and listened to on the way to school. Much of my sound was influenced by Christian music from the 80s and 90s, particularly releases from a record label called Integrity music. It was not until I started to dig deeper into my roots that I was able to develop my signature sound as an Electronic Artist. I would like for us as artists to be able to integrate culture into our various art forms so that it is authentic and so that the younger generation can relate to it and be proud of their heritage," says iZAYA.
For twenty-nine-year-old iZAYA, music was never a career option he considered at a younger age. He described "I learned how to play the guitar during the holidays while in high school because there were several musical instruments at home. My older brother played the keyboard and he taught me my first 3 chords E, A and B. These are not the usual chords that beginners are taught and because I could play them well, I sounded different from other guitar learners and I often played popular tunes for my peers in school."
iZAYA performing at a Rapture Rave on Lukulu Island. Source: iZAYA
iZAYA was drawn to the Punk-Rock music genre and so that was the music he liked to play. During his form six vacation, he started a band called Chorus that never got to make its debut even after lots of rehearsal. "We talked to the leader of one of the prominent bands at the time in Kampala and he gave us a slot in between their set. On the day of our debut, the gig was canceled but we were not informed. Chorus showed up to perform and there was absolutely no one. We were crushed" recalls iZAYA.
iZAYA's older brother also introduced him to a music production software called FL Studio and while on campus, iZAYA (who didn't own a laptop of his own at the time) would borrow his friends' laptops under the guise of typing coursework, install the software and make music. He later graduated to using his mum's laptop when she would return home from work.
All this while, iZAYA kept practicing and perfecting his art. He also got the opportunity to work part time at QUAD-A, an audio post, production studio and academy, where he acquired more skills in line with music production and composition.
iZAYA picked an interest in musical compositions and added this to his skill set. He also got introduced to some Ugandan artists who he had the opportunity to learn from. While at the university, iZAYA started to actively produce music for his peers. A particular song called Zuukuka by Ugandan rapper, Benenzeri got him more recognition in the industry as a music producer.
In 2017, iZAYA received word on the making of a Ugandan documentary, and that there were plans by Walt Disney to produce a feature film titled Queen of Katwe based on said documentary later that year. He thought it a good idea to pitch to score (background music) for the film, and so he did.
iZAYA caught word that the production team involved in the making of that particular movie would be staying at a prominent hotel slightly out of town. iZAYA searched for a contact who he called. It turned out that this contact had listened to his production on numerous local Hip-hop music, particularly Zuukuka with Benenzeri, and asked iZAYA to meet him with demos. "Two months later, I got a call from the music supervisor, and I was commissioned to compose two soundtracks for the movie, which I produced on my mum's laptop," says iZAYA. The relationships built from this experience eventually opened various doors for iZAYA to actively score for film and TV.
"I got into live performances when I attended a private jam session at a friend's home. There was a mic and a few instruments set up. Anyone could step up and perform if they wanted to. While at the concert, some other musician friends, Body of Brian and Titus Mawano showed me a video of a live performance by FKJ and Masego titled 'TADOW' which inspired us. There and then, we put together an original jam and performed it. It was then that I knew this was what I wanted to do" iZAYA shares.
iZAYA's journey to glorious purpose has been one of extraordinary opportunity. The tremendous support from his family, patience, consistency, and perfect timing. iZAYA has performed on internationally acclaimed stages such as Nyege Nyege, Bayimba music festival, Ongala music festival, KAN music festival, and many others in the region.
iZAYA believes that integrating African culture into music using technology is a way forward for the future of music in Africa. "Doing this will help generations relate with their cultures and affirm their identities as Africans. Identity is at the core of all this. If we know who we are, there's so much we can all do. This integration can also be visually added to our films and music videos. It is for this reason that all my performances are live and, moving forward, must entail an aspect of visual effects because then they cease to be only a music performance, and become an immersive experience" says iZAYA.
An image of iZAYA. Source: iZAYA
iZAYA's goal is to create a culture of young people that are proud of where they come from and to teach the younger generation about their culture and origin through music and technology. He currently runs a Discord server where artisans can discuss the challenges they experience when creating, and how to overcome them.
The sky is clearly not the limit for this Producer/ Media Composer/ Afro- Futurism Performer.
"I would like to see a time when traditional/ folk African music is cool and relevant to my ten-year-old nephew. I would like us as Africans to have a tradition that is progressive and yet authentic. For this to become a reality, all one needs is his/ her craft, grounded in purpose and with a lucid understanding of their identity fused with the creative use of technology" concludes iZAYA.
And when you do find yourself experiencing one of iZAYA's out-of-this-world performances, please be sure to tell everyone around you.