There is nothing comparable to the COVID-19 crisis in today's world, with more than 196.5 million confirmed cases and over 4.2 million deaths globally (WHO, July 30th). The pandemic has led to a reduced workforce across many economic sectors, causing many to lose their jobs and sources of income. Needless to say, it has also significantly affected human health and livelihood.
Somaliland, the unrecognized country in the horn of Africa that declared independence from Somalia in 1960, is among many places in the world that are least able to cope with COVID-19, due to low economic development, low levels of access to health care and limited state capacity due to the lack of international recognition. The Ministry of Health Development has reported its first two cases in March last year, and since then the number has increased to 4662 cases out of a sample of 63561 people tested by July 29th.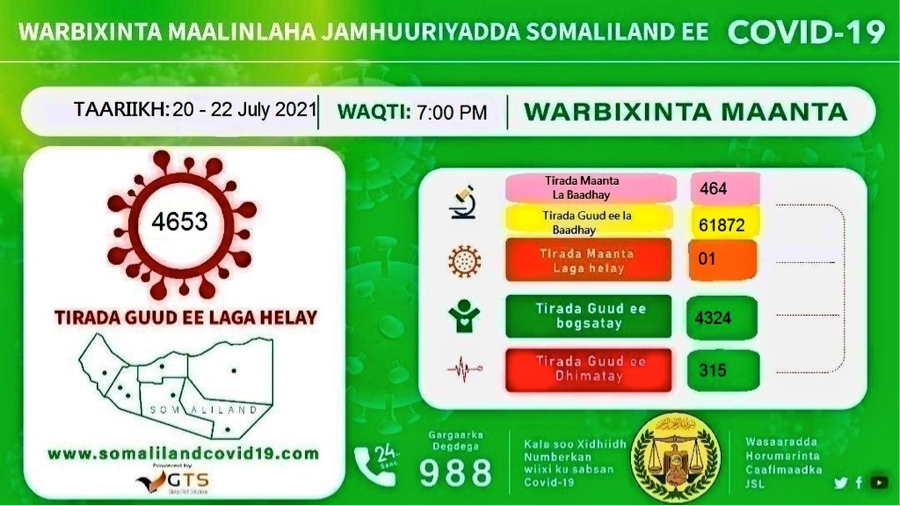 Daily report of COVID19 cases. Source: @SomalilandMoHD on Twitter.
In response to the pandemic, most governments rushed to close off their borders, attempting to stop the spread of the virus and decrease the infection rate. Since the 19th of March 2020, Somaliland established a National Task Force in response to the pandemic, and it directed that schools and office-based businesses must close, prohibited social events and gatherings, flights and travel. For many in the formal sector or able to work from home, lock-downs, quarantines, closed factories, and mobility restrictions sounded easy. The picture for those in the informal sector who don't rely on salaried wages was a lot grimmer; for them it was either getting Coronavirus by defying directives and venturing into markets and public spaces, or watching their families starve at home.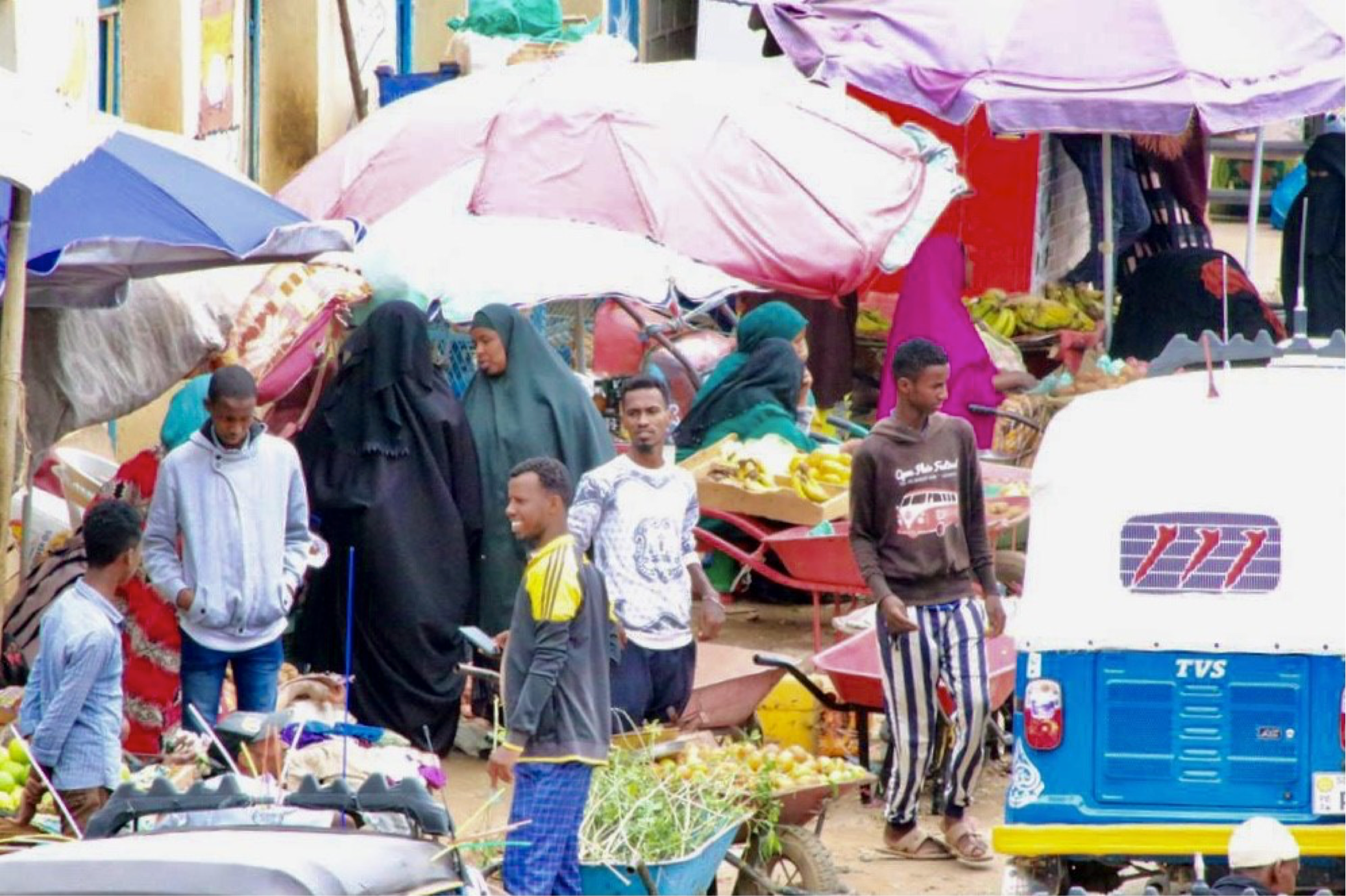 'Sariibadu' Borama's biggest open market. Photo credit: M. Younis for Andariya.
Street Vendors and their Perils
No segment of the population felt the sting of the restrictions more than women street vendors who rely on daily customer traffic to generate income to feed their families. They were inconvenienced as a segment of the population that was highly vulnerable to significant economic loss. For such informal workers the "Stay at Home" directive was not an option. Furthermore, the government did not implement strategies that guarantee their survival during this period.
In a tour of the Borama market nowadays, when restrictions have somewhat decreased from the high levels of 2020, we learned of the perils the women faced. Due to government data insufficiency, it proved more valuable to have open conversations with the women in the market. We welcomed over 30 women in a discussion about the impacts of COVID-19 on their livelihoods, business activities, and how they mitigated the obstacles faced to resume their business during and after the lockdown.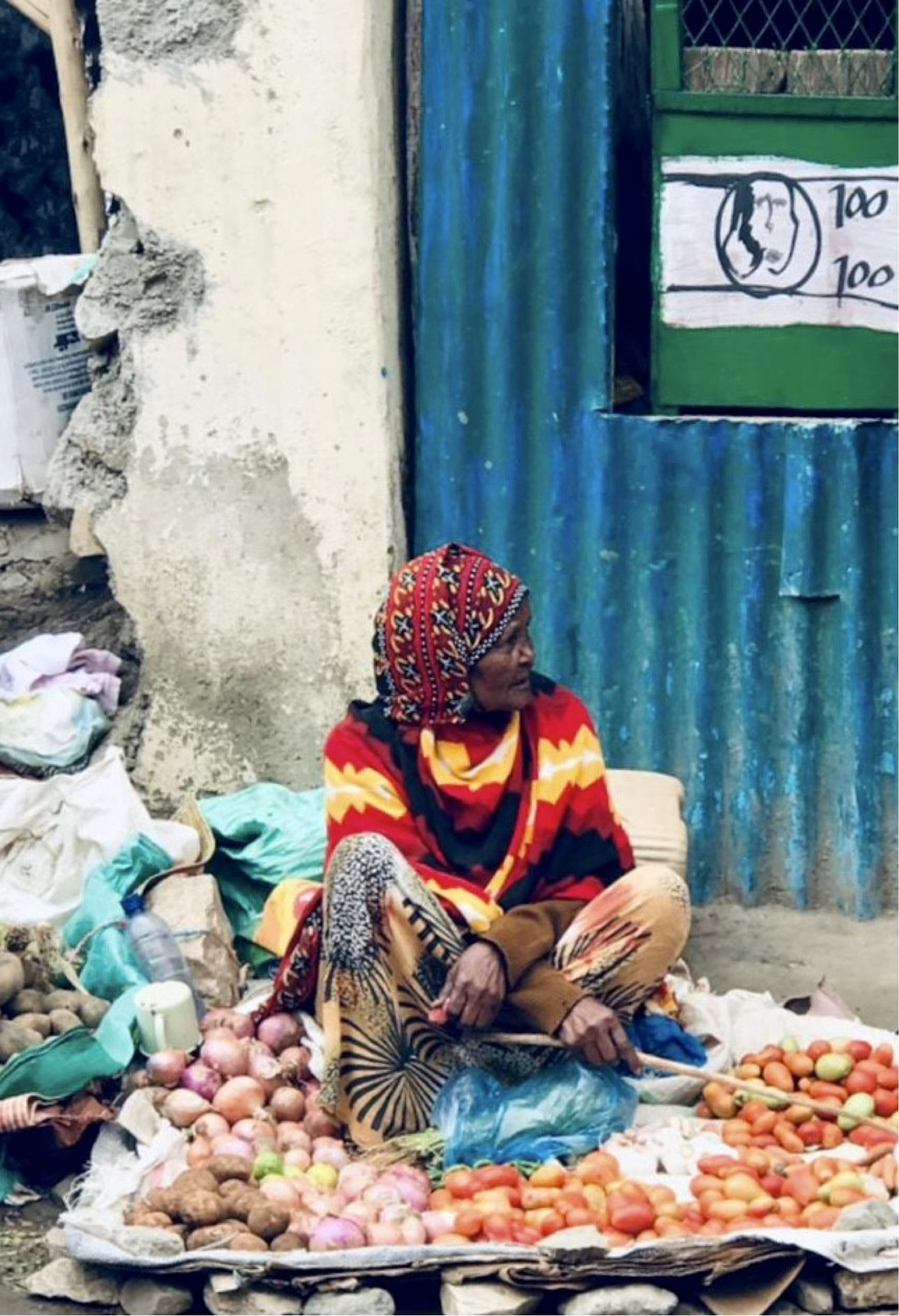 Street vendor woman in Sariibadu. Photo credit: M. Younis for Andariya.
"I am a mother of ten children, Alhamdulilah (praise be to Allah) and my husband just works as a watchman, he can't even work as a bricklayer or carpenter. So this is the only work I do to support my family." Fathia Yousuf, street vendor woman in Borama.
Borama is the capital and the largest city in the Awdal region in Somaliland. It is the commercial seat of the provinces near the border with Ethiopia and enjoys historic trade exchange with Ethiopia for everything from bananas to livestock. Prior to the COVID-19 pandemic, street vendors created a market environment whereby different necessities were availed at an affordable and convenient manner. Most livelihoods of these women were stabilized and had a regular source of income. Some of them mentioned that they were able to pay school and university tuition fees for their children. But the sudden outbreak of the pandemic, which plunged the whole world into turmoil, impacted them negatively, and many were not able to earn a minimum to keep their livelihoods and families food secure.
"Before the COVID-19 pandemic, I used to pay the university and school tuition fees for my children and would save 50% of the income, but now I only make 10% of the whole business." Sahra Suge, street vendor woman in Borama.
Most of the street vendors we interviewed expressed that they found the present market to be a tough one, because of various factors that tend to affect the purchasing behavior of customers. Walking to the Sariibada, the largest open market for street vendors in Borama, you see it is less crowded compared to how it has been earlier last year, you can also observe many people wearing masks.
Expressing concern and fear of the disease and its impact on their business, many don't receive as many customers as they had pre-pandemic. The vendors thought of ways to match their products to the needs of their customers during the pandemic, to retain some level of business activity.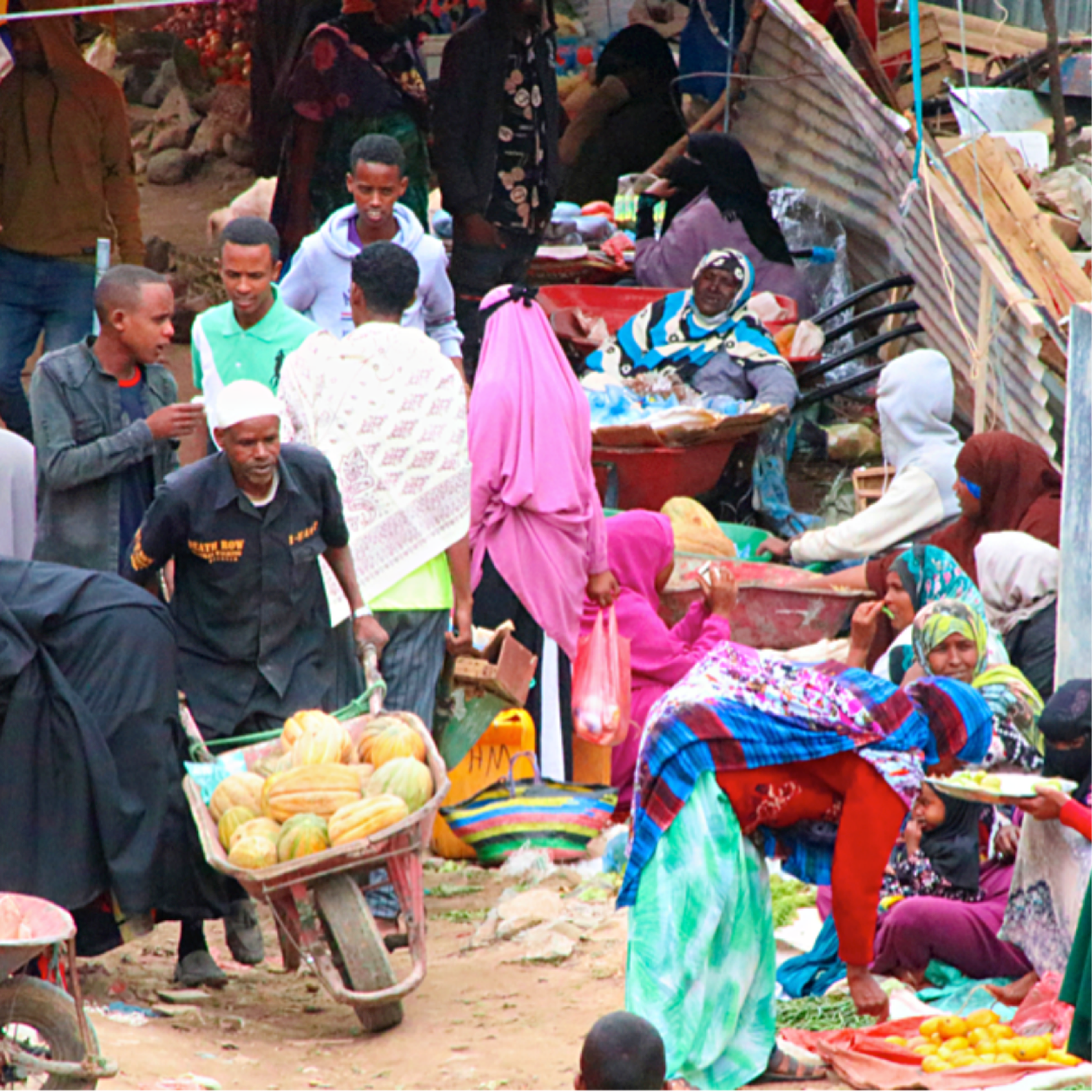 Vendor Women in Borama. Photo credit: M. Younis for Andariya.
"We receive no financial help from anyone, not the government even, but some youth would come and give awareness, they would tell us to wear face masks and stay clean." Suleekha Mohamed, street vendor woman in Borama.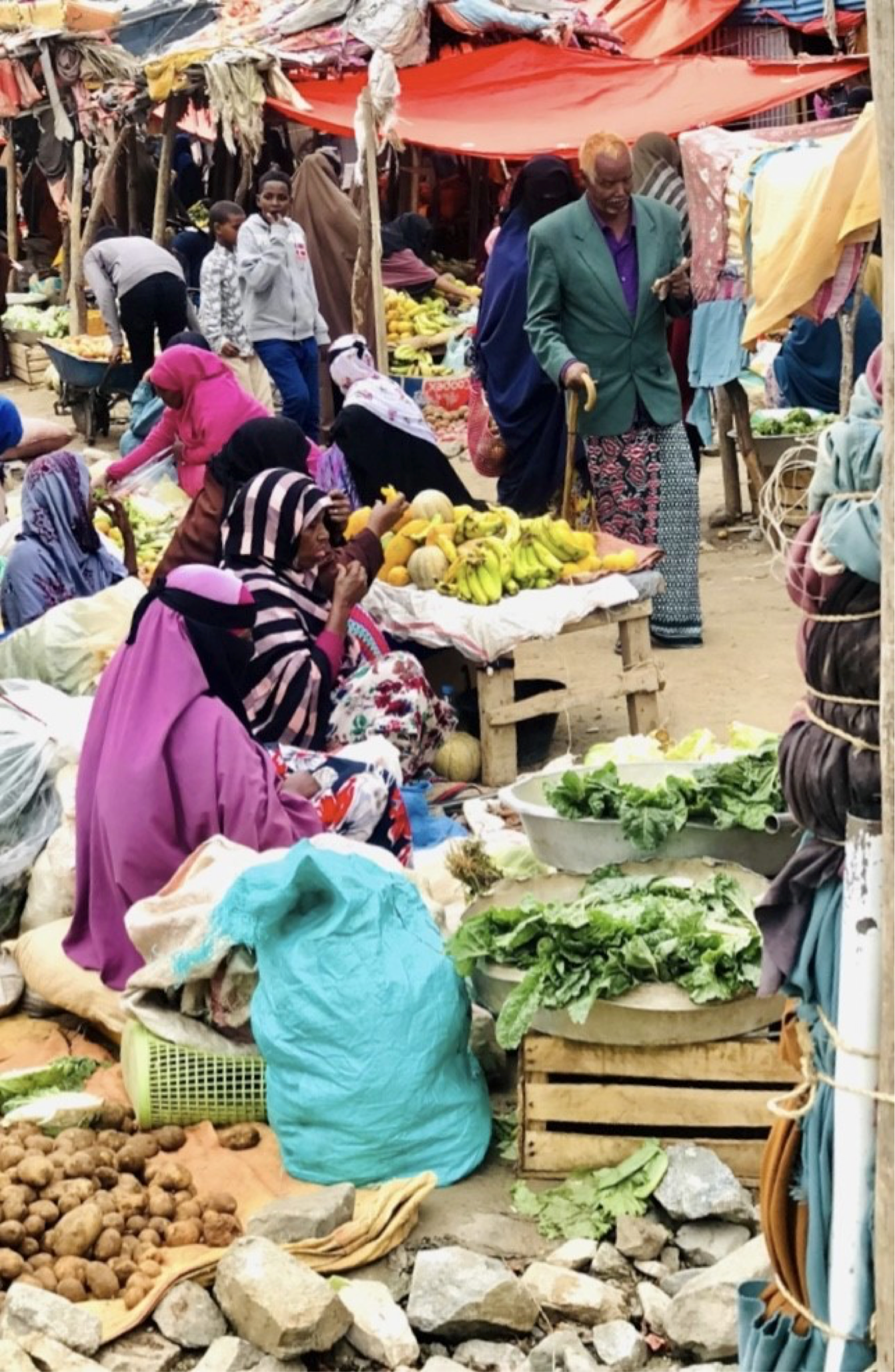 Street vendor women have suffered major economic losses during the pandemic. Photo credit: M. Younis for Andariya.
Based on the number of cases reported by the Ministry of Health Development, Somaliland has not been hit by COVID-19 nearly as hard as many other places in the world. However, there has been an enormous impact on the economic state and health of Somalilanders- and street vendor women specifically, as the land's most vulnerable victims. As the world still grapples with COVID-19, the women anticipate more hardship ahead but they continue to try and make business work in the face of changing customer needs, expensive purchase prices due to border closure, and altered consumer habits in the face of inflation and economic recession.
This article is part of a series on COVID-19's impact in the East Africa region supported by WAN-IFRA Women in News, Social Impact Reporting Initiative.