A typical Burundian woman is referred to as "Umunarugo", literally translating to "the home keeper". Such ideology and many more similar ones have been part of the traditional beliefs of ordinary family life in Burundi. The primary task of a woman in a family was to look after her children, tidy the house, feed the family members, and take care of the husband. This practice has been common for centuries; at least from when we could start documenting the history of the Kingdom of Burundi. Interestingly, things have changed today, and Burundian women have embraced the shift in thoughts about their abilities and responsibilities.
"Staying home for household chores?", a young lady would curiously ask her mum or any other female family member. The reason for this curiosity may sound odd to a seventy-year-old Burundian woman, because back in time there was no school that girls attended nor office jobs that they would leave home to go to. Their place was either on the farm or at home; keeping the house in order was the primary responsibility.
In modern Burundi, the old gender philosophy is possibly as old as the previous generation- though the evolution in the matter did not happen in the wink of an eye.
With a population estimated at 11.8 million and women making up to 50.4% of the population (as of 2020), according to the World Bank collection of development indicators, it is important to know where such a big part of the populace spends their time. It has not always been a straight line to go to schooland integrate into the "official" workforce while familial dictators of the societyruled over such matters. Today, we not only have girls and women at work as men, but we also have those who have gone the extra mile to achieve more than what they were expected to. Burundi has a list of well-known women scholars, engineers, photographers, politicians, sportswomen, entrepreneurs, and more.
It is not just the tradition that has been changing Burundian people's mindset, politics has also been proven to support women in their personal and professional endeavors. Several laws have passed the parliament and the Senate of Burundi. A given percentage has been fixed as a minimum participation quota for women in public and decision making offices- not as a limit, but to encourage them to contribute to the highest leadership positions in the country and eventually go beyond the minimum. No one can overlook the contribution made by the 2005 Constitution of the Republic of Burundi that introduced a minimum of 30% of women representation in high public offices. Some hidden potentials were uncovered, and we saw women becoming ministers, governors of provinces, ambassadors, members of the Law and High chambers of the National Assemblyand CEOs of public and private companies in record numbers.
Notable women had already been noticed even before the law passing. Sylvie Kinigi, for instance, was the first female Prime Minister in Burundi and Africa at large in 1993. After 2005, more women inherited higher positions, such as Immaculée Nahayo, the first-ever female Speaker of the Parliament and Alice Nzomukunda, the first-ever female Vice President in Burundi.
Sylvie Kinigi - Source: Motiviation Africa
Burundian Women in the Spotlight
A number of Burundian women have been noticed in and out of the country for their exceptional achievements in multiple fields. While we cannot name all of them, I will highlight some examples and their unique profiles and achievements in no order of greatness. The list is not exhaustive, and proudly, there is more that can be added to it.
Francine Niyonsaba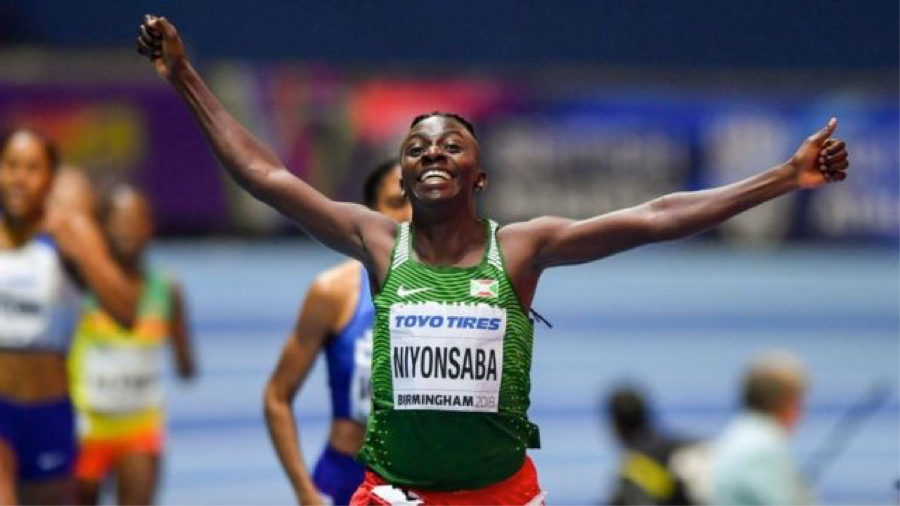 Source: BBC
Born in 1993, she is one of the most influential people in the country, continuously motivating young girls who dream of leading meaningful lives. Ms. Niyonsaba was born in 1993, in Ruyigi, a rural province in the East of Burundi. In her teenage years, she became the national record holder in 2012. After this achievement, cooperate and sports interests approached to sponsor her career. Having convinced local sports leaders with just a few months on the scene, she then took on an international challenge as a runner at the 2012 African Championships in Athletics winning the Gold Medal for 800 meters in Cotonou, where she proudly held the Burundi flag. While 2012 was incredible for her, 2018 made her memories for life and afterlife. She grabbed a Gold Medal title in 800 meters at the 2016 IAAF World Indoor Championships (video), her first time in an indoor running competition. Here again, the "Burundi Bwacu", the National Anthem was sung by thousands in Oregon, Portland in the United States. We cannot talk about all Niyonsaba's exploits in the world of Athletics, but one of her best was recorded in Rio de Janeiro's Olympic Games where she held the Silvermedal right next to the all-time South African challenger, Caster Semenya who claimed Gold. She also won a Gold Medal from Birmingham in the IAAF World Indoor Championships in 2018.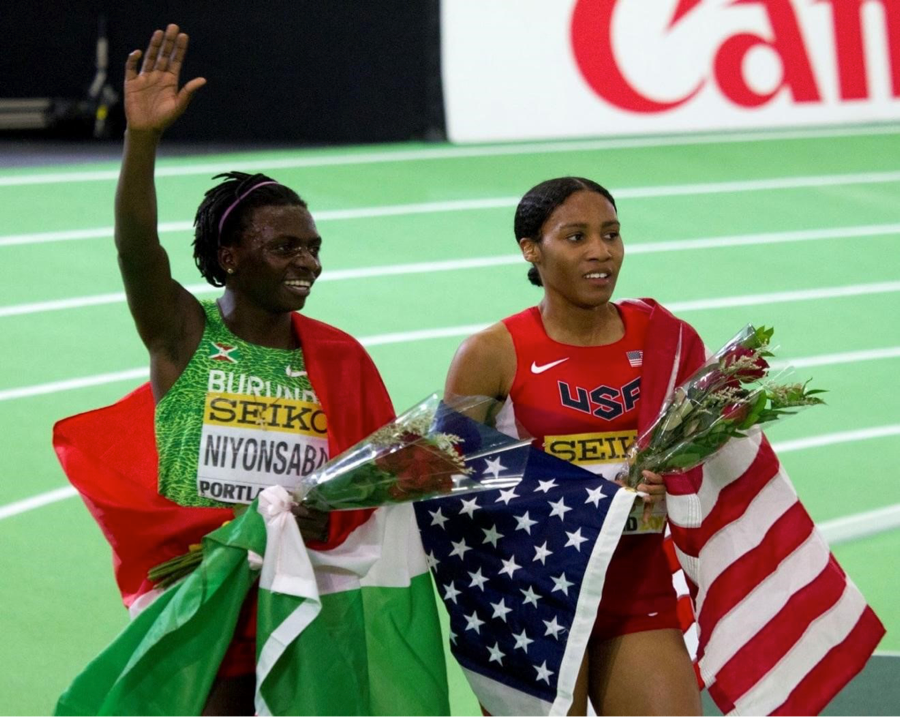 Francine Niyonsaba on the left with Ajeé Wilson, her American running mate at Oregon 2016. Photo Credit: The Culture Trip
Lydia Nsekera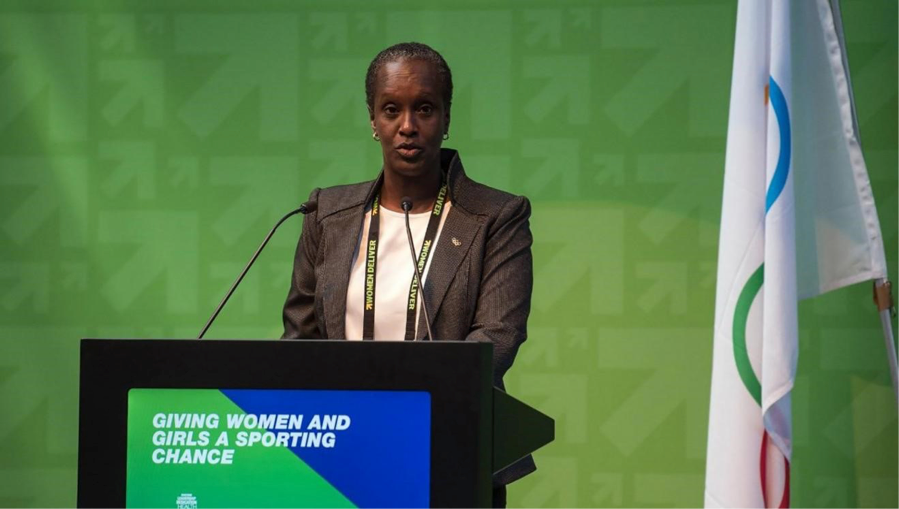 Photo credit: FIFA
Commonly known as the First Lady of Football for a host of key positions and recognition she earned nationally, regionally, and internationally. Lydia Nsekerahas been through everything from football to athletics. Born in 1967, Ms. Nsekeragrew up in the world of sports- an unpopular hobby and not even an occupation for women of her generation in Burundi. Among many, she practiced Basketball and High Jump games. Though she held other positions outside the sports arena as a company director and later an auditor, Ms. Nsekera keeps an indelible tattoo of sports in her. She is a strategist and a fighter for women's development in sports; not just in her country, but in the world.
Among her most important tenures in sports has been President of the Burundi Football Federation; Member of the Organizing Committee of the 5th African women's football championships; President of the Burundi National Olympic Committee (NOC); Member of the Organizing Committee of the International Federation of Association Football (FIFA) Olympic Football Tournaments; Member of the Women's Football Commission of the African Football Confederation (CAF); Member of the Executive Committee of the Council of East and Central Africa Football Associations; Member of the Organizing Committee of the Olympic football tournaments in Beijing (2008); Member of the Organizing Committee of the FIFA World Cup, Chile (2008); President of the Women's Football and the FIFA Women's World Cup Commission; FIFA Executive Committee Member; Vice-President of the FIFA Development Committee; Member of the FIFA Foundation Board; Member of the Executive Committee of the Association of National Olympic Committees (ANOC).
Ms. Nsekera, a Burundian woman who needs no introduction anywhere on the globe, has a career in sports that's filled with records. A few remarkable examples are worth a mention here: under her presidency of the Burundi Football Federation, she foresaw the launch of the country's first-ever national women's league, became the first woman to hold a seat on FIFA's Executive Committee, the first person to sit at both FIFA and International Olympic Committee desks at the same time, a world record not yet broken by any other person to date. In 2018, Forbes named her the Second Most Powerful Woman in Sports and one of the 50 Most Powerful Women in Africa in 2020.
Photo credit: FIFA
Mireille Kamariza, PhD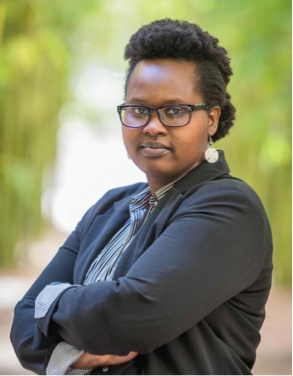 Source: Harvard Universality
Scholar Mireille Kamariza brings diversity to our very shortlist. She is a young Burundian scientist attracting attention in the world of science and bio-medicine in particular. Thirty-two years old, she has already been noticed on big screens and laboratories of some of the most famous universities in the world. In 2018, Dr. Kamariza was offered a position in Harvard's Society of Fellows, making her the first Black woman biologist at the society. Co-founder at OliLux Biosciences, one of her most important achievement is the development, in partnership with Carolyn Bertozzi of Stanford University and other scientists, of DMN-Tre, a small molecule used to test tuberculosis in "less than an hour, cheaply, and with more accuracy" while traditional tests required weeks-long wait-time. In August 2020, the Chemical & Engineering News (C&EN), the weekly news magazine of the American Chemical Society (ACS) named Dr. Kamariza as one of the rising scientific icons on its annual "Talented 12" list.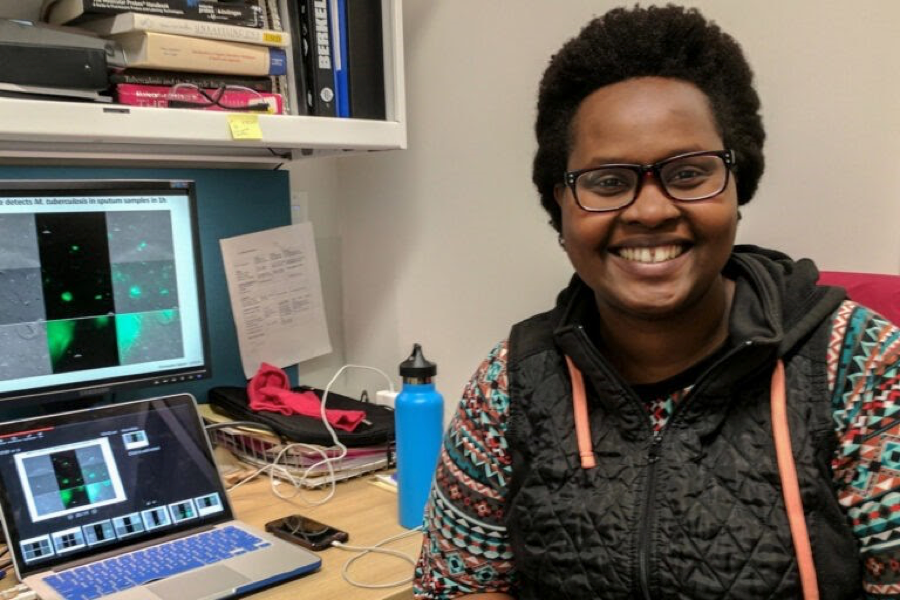 Photo credit: The Harvard Gazette
As African women continue to develop remarkable achievements that uplift humanity and the continent, Burundian women - who are changing centuries of narratives and placement- are making a difference inside and outside of Burundi. Women are the powerhouse of their nations, and they have been continuously overcoming deeply rooted challenges, proving they can conquer all fields of life.