The roots of comic book art can be traced centuries, even millennia back, all the way to the drawings and paintings of the Lascaux cave in Southern France, estimated to be 17,300 years old. Progressively, they started appearing through the marking of different civilizations: in Egypt with the hieroglyphs, Rome and the Trajan's Column, the 11th-century Norman Bayeux Tapestry, the 1370 Bois Protat woodcut, the 15th-century Ars Moriendi and block books, even Michelangelo's The Last Judgment in the Sistine Chapel.
By the 20th century, the comic book culture began developing on three major soils on a global scale, the United States, Western Europe (France and Belgium), and Japan, first as a lowbrow form and then as a proper art form at the advent of the new millennium.
Since its earliest examples, comics were conceived as sequences of panels containing imagery, text, and other visual information. Each of these images subsequently features a segment of action, a part of a bigger picture, often surrounded by a border to distinguish it from other images. The reader puts the pieces of the story together by using background knowledge and an understanding of panel relations to combine panels mentally into events.
Visual Arts in Uganda
When it comes to comic books or cartoon art, not many examples come to mind easily here in Uganda. In fact, other than a few comic strips that you may have seen in the newspaper, can you really recall any that stood out for you; unless of course, you are a comic book head? Did you know that most of the movies we have grown to love so much are adaptations from comic books?
In Uganda, a team of young passionate artists called KABINC Comics is on a mission to make the art of creating African based comics more popular in the country, and across the continent. I had the amazing opportunity to sit down with Brian Hoona Humura and hear his heart out for digital comic book art in the creative industry, as well as learn so much about comic books. Here is our conversation.
Andariya: Tell us about yourself and what you do?
BUMU: My national ID claims I am Humura Hoona Brian, but most of my friends just call me Brian and if you really want to get personal, my nickname is BUMU. I am a 33-year-old digital artist who loves storytelling. My specialty being comic books illustration, it is all I ever do. It's like breathing to me. Everything just makes sense when I am creating worlds from my imagination.
Andariya: How and why did you get into comic books creation?
BUMU: Growing up, there were not a lot of comic books around. They were super rare. So, when I did land on one, I was blown away by the amazing art and larger than life characters. The stories were a sweet escape for a shy kid who loved being stuck in his own head. Luckily enough, God blessed me with a talent to draw. When I did not have a comic book in hand, I was either drawing sequences from my favorite cartoons or creating new imaginary friends (just kidding). I started building worlds at an early age simply because I was exposed to comic books.
Andariya: What do you love about the comic book world?
BUMU: The comic book world means everything to me. I feel a sweet sense of freedom when I create stories. It is like a rush, fitting the puzzle together, making sure everything works just right so as to tell one cohesive story. The best part is when a reader walks up to you to tell you what they thought about the story. Whether their feedback is positive or negative, the important thing is that you captured their minds for a moment in time.
Andariya: How do people react to you when you tell them you are a comic book creator?
BUMU: That's a good question. When I started my journey, a number of people didn't take me seriously whenever I mentioned what I did. Some even did not know what a comic book artist was - until I explained that I drew cartoons. You can imagine the looks I received. However, this never derailed my convictions. When you want something bad enough, you can't let what other people think dissuade you from your dreams. Life is funny though as things do change. You become wiser.
Andariya: How do you design your comics?
BUMU: It always starts in my mind…an idea for a comic. Sometimes it even happens in my sleep- which I think is nuts by the way. It is almost as if I am a conduit with access to a story realm. Once I have an inkling of what the book or strip is going to be about, I immediately start developing concept art which is basically designing the characters and the worlds they exist in. Honestly, it is the closest I will get to understanding how God felt after creation.
Andariya: How best would you describe the process of comic book creation?
BUMU: It is a long process of sleepless nights and broken bones, but the short version is you develop concept art or a script first. Penciling (the artwork) and inking (tracing over the pencil artwork) comes next. Then, the coloring (adding color) phase, and finally, the lettering (adding speech bubbles, dialogue and sound effects). Of course, there are also other elements like editing, printing, distribution and marketing. It all depends on your budget and how you intend to expose the story to your audiences.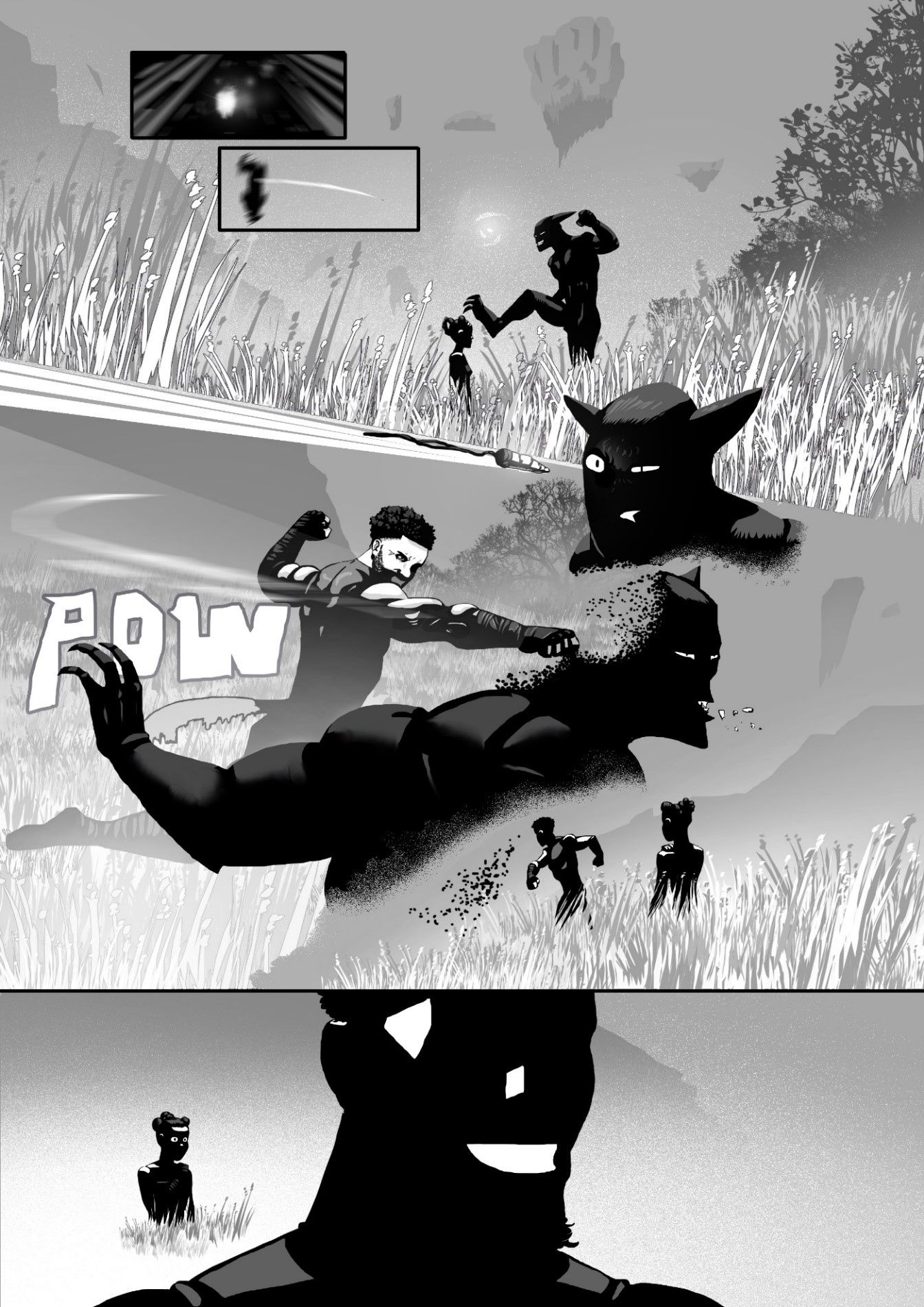 An example of the work that goes into creating a comic book. Source: KABNIC
Andariya: What is the comic book industry like in Uganda?
BUMU: It is very small but growing steadily. More people have started to appreciate the medium. Did I mention that it is the cheapest form of visual storytelling? Trust me on this. If you don't have the budget for film, animation or if you are just an organization or company trying to advertise, a comic book is a great and viable option. They also look really cool. Imagine handing your customers a comic book after they have made a purchase of your product. It's so amazing on a gazillion different levels.
Andariya: Any challenges you've faced on this career path?
BUMU: My biggest challenge has always been output. I have so many stories to tell and only two hands. The industry is still small. I know a handful of other compatriots who are capable of doing this work but none of them works for free. My only recourse is to use client work to help facilitate the dream. On the bright side, we have institutions like Artfield that are helping grow the industry through the courses they teach - like animation and digital illustration. I can't forget to mention the growing movement of self-taught artists across the continent who are relentlessly learning how to use different tools and software so as to tap into visual arts and creative spaces. Some of these folks are professionals in other industries.
Andariya: Are there any events that shine a light on comic book artists and creations?
BUMU: Oh yeah! Definitely. We subscribe to DIGIARTFEST. It's like Uganda's version of Comic-Con where a number of studios in the country come together to showcase their work. If you have always wanted to wear a costume, buy comic books, or meet the best creatives in the country, then DIGIARTFEST is the event for you.
Our neighbors in Kenya also have NAICCON (Nairobi Comic Con). It's a ton of fun. The pop culture scene in Nairobi is surreal. Such a blast. I was also in Ghana recently to attend a workshop called AFRICOMICS organized by the Goethe Institute. A number of comic book creators from across the continent were invited to attend. It was a mind-blowing experience and an eye opener. There is crazy talent in Africa. We were trained by renowned comic book writers and artists. Some of the work from the previous workshops has already been published on the AFRICOMICS website. the Goethe Institute has big plans for the comic book culture in Africa. There is a graphic novel in development. Don't say I didn't warn you.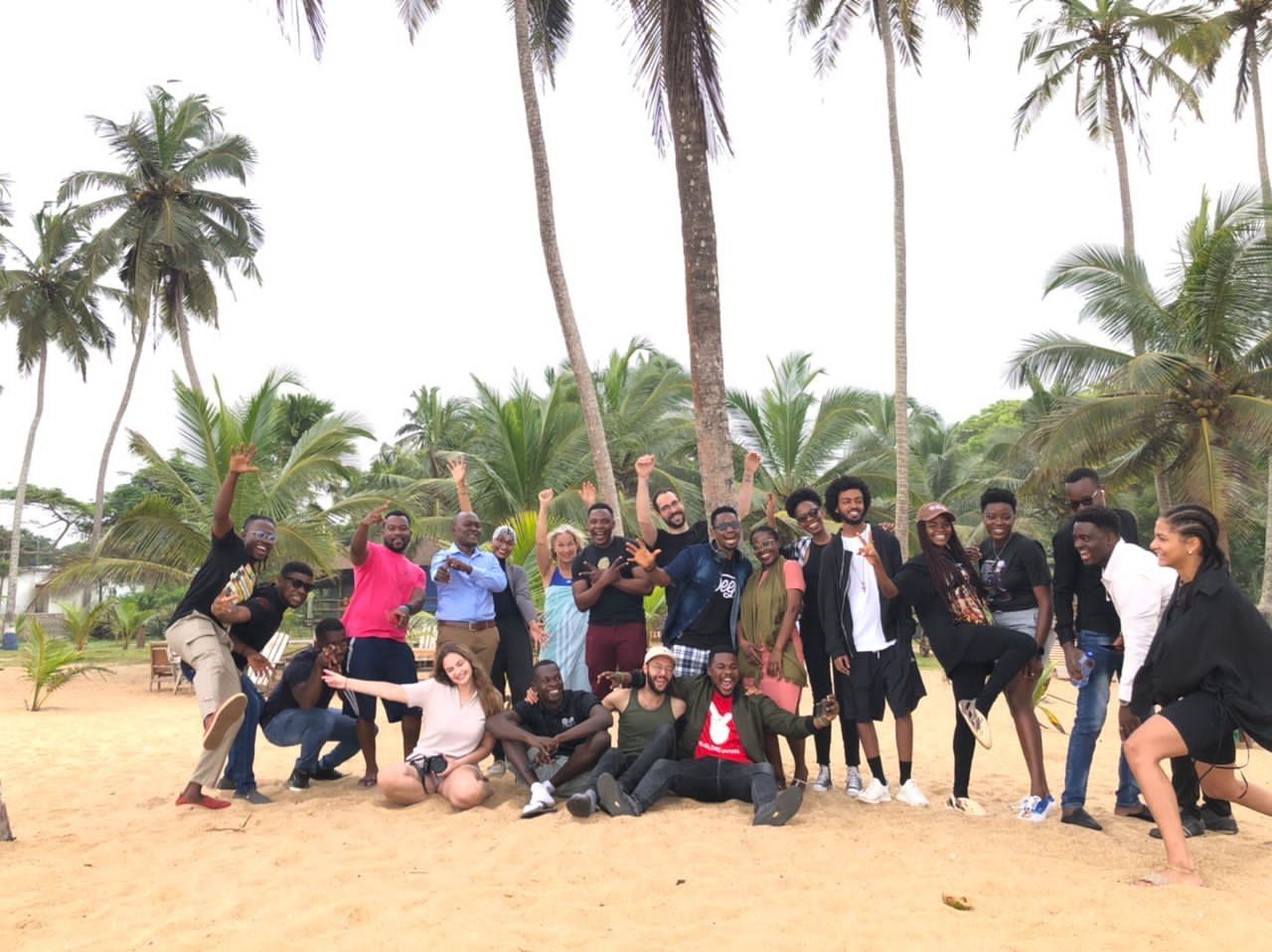 BUMU posing with participants that attended the AFRCOMICS workshop in Ghana this year. Source: KABINC
Andariya: What projects have you worked on or are you working on now?
BUMU: I am one part of Kab comics, a subsidiary of KABINC. We have published comic books like Guardian: One of Uganda's Heroes and Ndahura which is currently ongoing. Both are Ugandan superhero comics. IPS (intellectual property that we own), if I may add. The books are a joy to read, and we also provide visual creative solutions to our clients like comic books, concept art design and script writing, among others. We even have a short animation currently in production. It's a brave new world out there.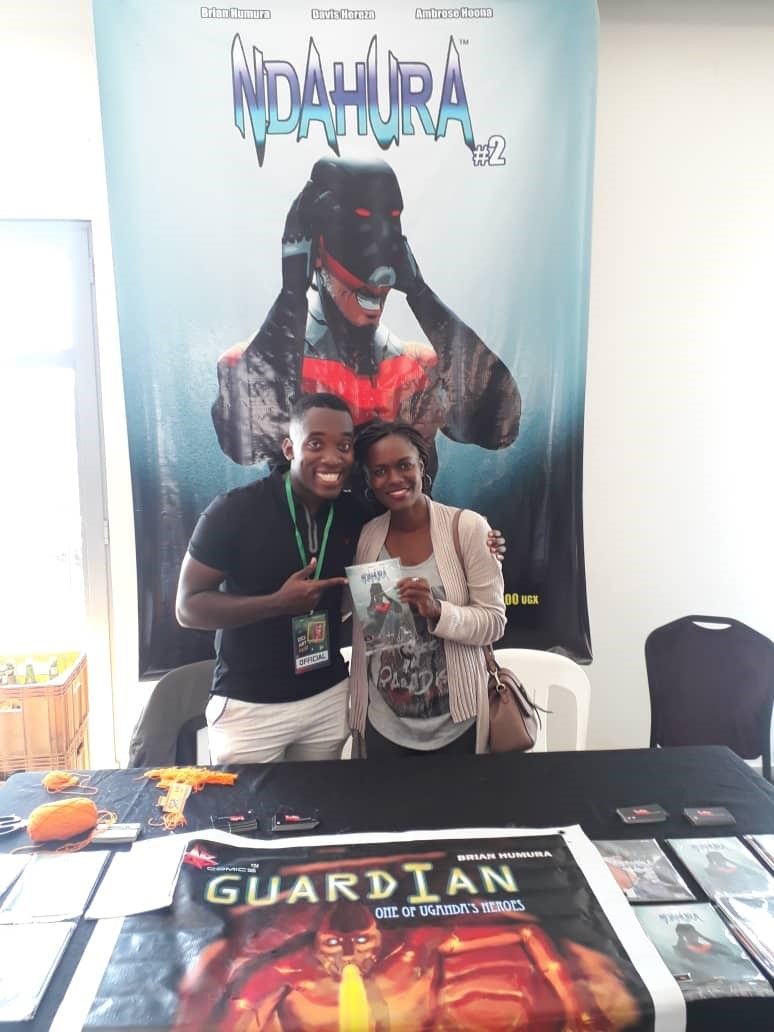 BUMU Exhibiting at Digiartfest in Uganda. Source: KABNIC
Andariya: How do you intend to influence the digital art industry in Uganda?
BUMU: All I have ever wanted to do is tell African stories that can make audiences happy. I want them to look at my work and go, "NO WAY THIS WAS MADE IN UGANDA!" because a lot of people think things can't be done in their backyards which is sad really. We have so much talent in this country. I have to do my part to change their mindsets by pushing myself every single day and hopefully, one day, create a ripple effect that will bring the Ugandan Comic book Industry to a Global scale.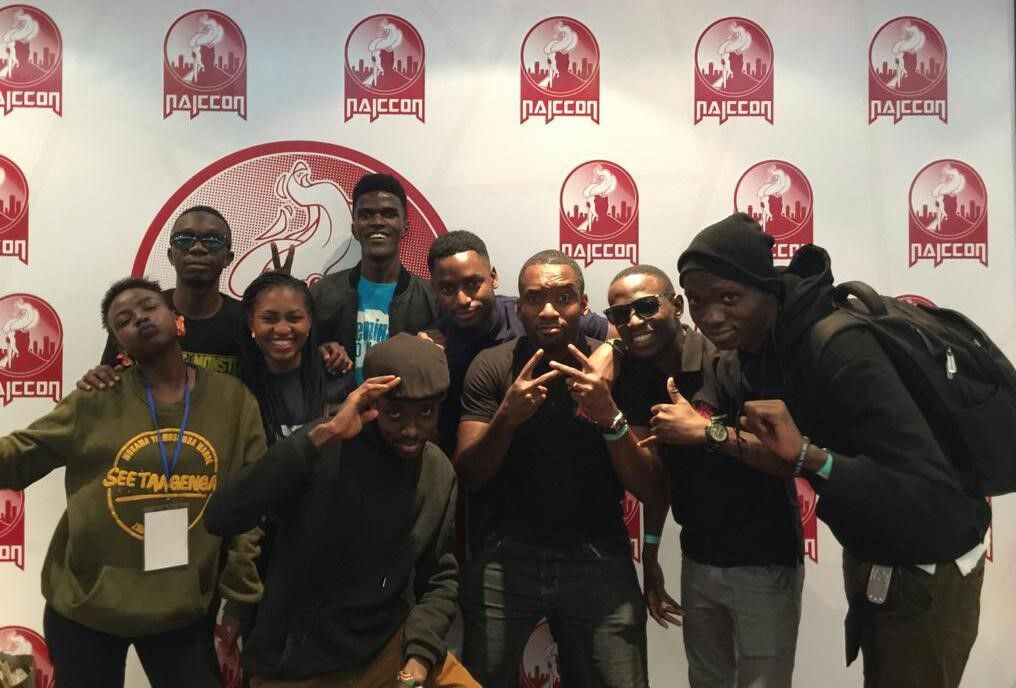 BUMU at the NAICCON event in Nairobi. Source KABNIC
Andariya: What does the future look like for KABZ Comics?
BUMU: The future looks bright, 2023 will mark a decade of my service to the industry. I have watched this baby grow, tumble and fall, then rise up again. Through all that, I am still doing what I love. That has to count for something. In the end, I see greatness on the horizon. It is not easy to become a comic book creator, you really have to sharpen your skills to get noticed. Whether you want to be a comic book writer, penciler, inker, colorist or even letterer, it all comes down to how badly you want it. Once you do break through, the sky is the limit. Doors will start to open and you will meet all sorts of people in need of your service. The money isn't bad either - I'm not complaining.