The Sudanese film A Handful of Dates wins the Award of Excellence from the Best Shorts Competition. The short film, which is an adaptation of Tayeb Salih's short story of the same name, captures the inner struggle of Meheimeed, a child who discovers a painful truth and learns that the world is a more cruel place than he believed. The film has also won the Silver Gate Award from the Digital Gate International Film Festival in Algeria and has been nominated for Best Short Film at the Pan African Film Festival in Los Angeles. It is a truly international project with sponsors and collaborators from across the globe including cultural centers, non-profit organizations, embassies, private companies, and UNESCO.
An interview with the director, Hashim Hassan takes us behind the scenes. The Sudanese-Mexican-American director was born in 1985 in San Jose and holds a Master of Fine Arts in Directing from the American Film Institute.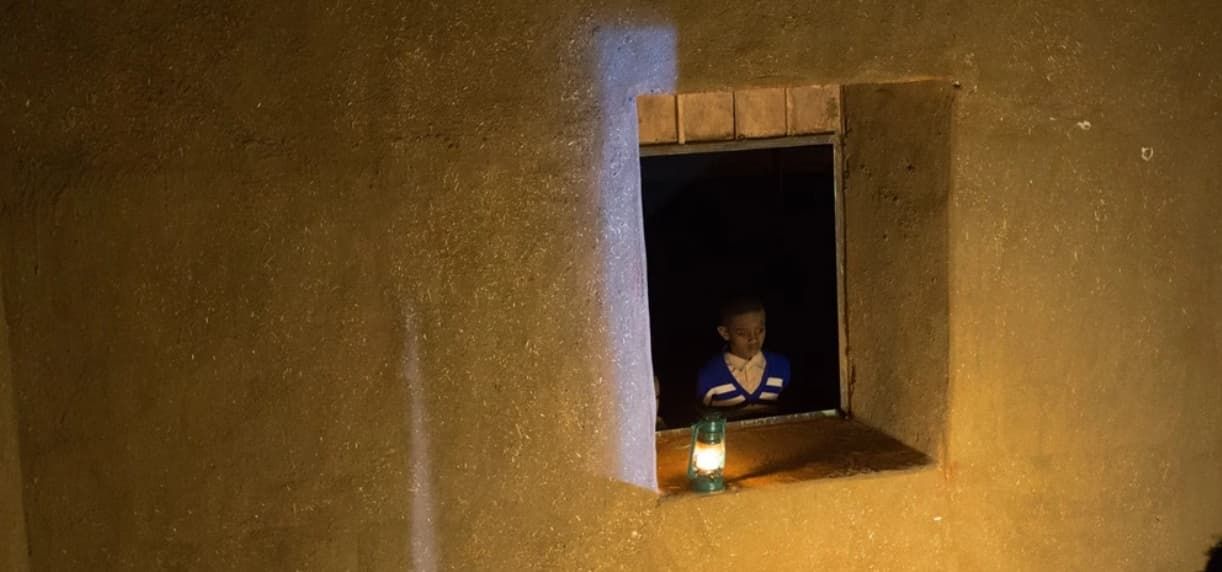 Source: A Handful of Dates
Have you always wanted to be a filmmaker?
Hashim: When I was a kid, I was always playing and imagining stories with my action figures and like Meheimeed, I was very much a dreamer! I didn't know what film-making was then, but I've always had a fascination with movies. I was always acting out scenes and mimicking accents from films. I got into theatre when I was in middle school which was sort of the precursor to film-making for me. Acting and performing is still my number one love, but acting and directing reinforce each other and what I learn from one has definitely helped in the other.
Is there a film or director who inspires you?
Hashim: One of the films that influenced me the most was Martin Scorsese's Goodfellas. I noticed the way he used film grammar and the language of cinema and it was captivating. Also later on into adolescence, Vittorio De Sica's Bicycle Thieves, an Italian film from the 1940s, and the first film that I saw which focused more on social realism, capturing people in their everyday lives suffering from everyday struggles. I realized cinema didn't have to be a spectacle or pure entertainment. What it's really about to me is capturing the human condition and saying something about it.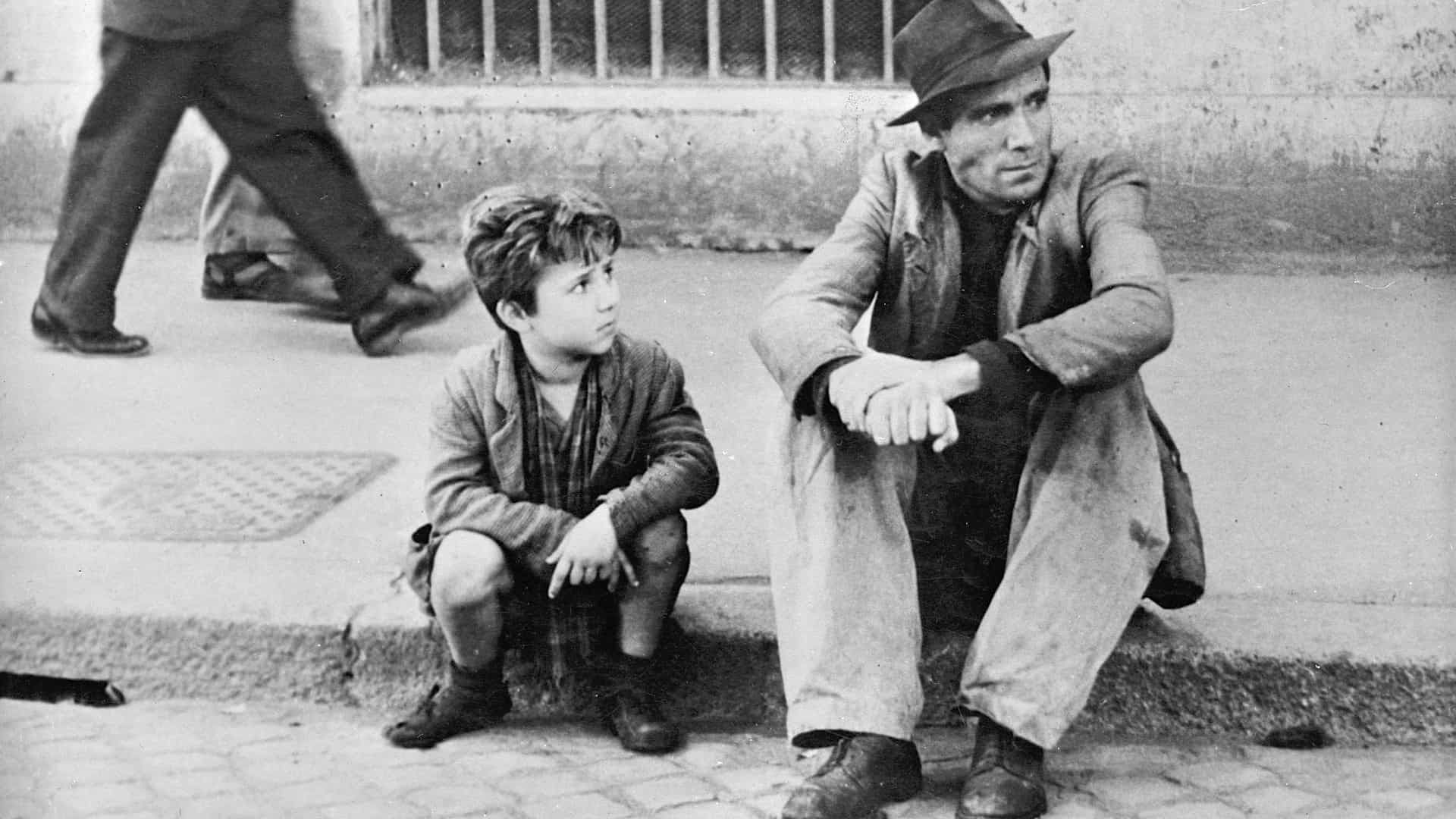 Source: Cinematographe
Why did you choose "A Handful of Dates" specifically out of all Tayeb Salih stories?
Hashim: The themes of identity that Tayeb Salih explores in his stories resonated with me as a Sudanese-Mexican-American growing up in California. A Handful of Dates is also one of his shorter stories that I thought would lend itself well to a short film adaptation.
I think that the relationship Meheimeed has with his grandfather explores this intercultural/generation gap that also existed at times between me and my own father. It's something that I think a lot of Sudanese youth, in general, go through, but particularly in the diaspora. Growing up American in the West, there are a lot of challenges that we experience with our parents, and "A Handful of Dates" allowed me to explore these themes in a different context.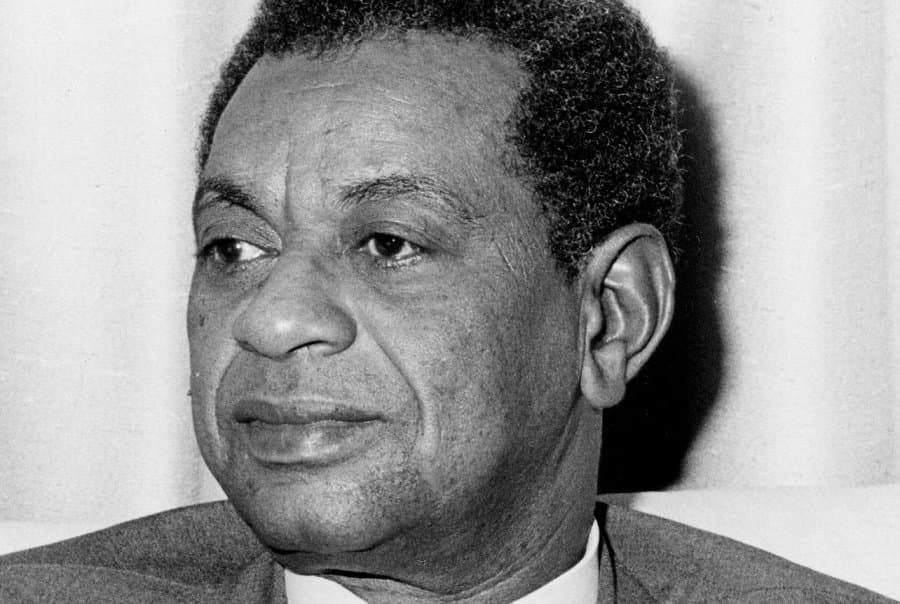 Source: Qantara
What is the message that you would like to send through the film?
Hashim: To me, the film is about a boy stepping away from a world that he once felt very secure in, a world that was centered around his grandfather, this grand figure in the community. In many ways, it focuses on this generational and cultural shift between the young and old, and the boy taking a first step in breaking away from that former social order to forge his own identity.
Did you encounter any challenges or anything unusual while filming?
Hashim: We experienced a number of challenges but the most prominent was raising money and dealing with the national security state. National security made it very difficult for us to film in Al Shamaliya even though we were just shooting a short film adaptation of a famous Sudanese author, We had to go up to the head of national security to approve our permits which would be the equivalent of, in America, going to the head of the Pentagon or Homeland Security.
Aside from that, many of us were working together for the first time and there were varying degrees of familiarity with the process of film-making and being on set, so it took some time for us to get on the same page. Also, the daily grind of making moves with the film in Khartoum, a terrain that was much different from what we knew in the States, was challenging and took some time to get used to.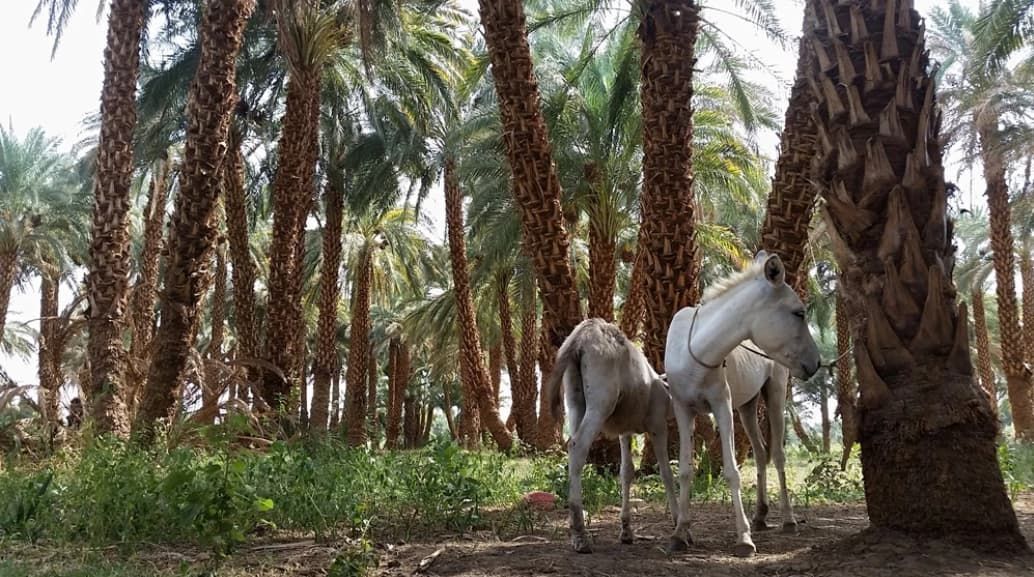 Source: A Handful of Dates
Where were you the moment you learned the film has won the Award of Excellence from the Best Shorts Film Competition? How did it feel?
Hashim: I was in the middle of shooting a local documentary project in Fresno when I got the email from Mamdooh, the film's producer, and I was really excited about it. We always knew it would be a compelling film, but we never expected the accolades. Prior to that, the big turning point for us was that it got into the Pan African film festival in early February which was our first festival outside of Sudan. While we had previously been accepted into a few festivals prior to the Best Shorts Film Competition, The Award of Excellence was one of our first wins so it was a pretty significant moment for our film.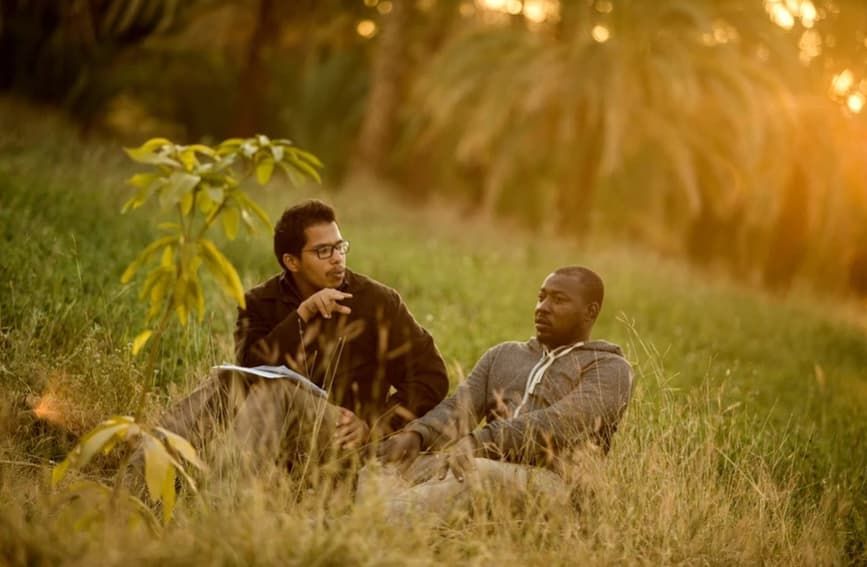 Source: A Handful of Dates
Do you also, like Meheimeed, carry "secrets you want to rid yourself of"? If so, do you think that is reflected in your work?
Hashim: I grew up with a father who was very open about his leftist politics, and while I never fully shared his views completely, he influenced me a lot and I think that's another reason why I was attracted to this story because it did present this sharp critique of capitalism and wealth against the backdrop of this traditionally religious agrarian society.
With film-making though, you don't have to be so overt with the politics. You can hide it in the drama of the story or characters. But if there's any secret that I'm getting out there with this film, it's a point of view on the inherent contradictions with being a "righteous" person and yet hoarding wealth for material gain.
I think the act of telling a personal story with a specific point of view is inherently political and I think you can make the argument that all art is political, because it represents a specific point of view whether it's that of the individual artist or ideological stance.
What change would you like to see in the development of local Sudanese cinema?
Hashim: I think the biggest thing for me is that I'd like to see a change in the political dynamics in Sudan to make it more hospitable to art and cinema. Outside of that, there needs to be more education when it comes to all the aspects of film-making (writing, producing, production design, directing, watching and discussing films/filmmakers, etc.). It's great that Sudan Film Factory and a number of other organizations/embassies have held various workshops and screenings over the years, but I'm talking about education on a greater scale. Of course, there will need to be other changes in the socio-political and economic arena before something like this becomes more common.
What is your advice to young aspiring Sudanese directors?
Hashim: I think that to a certain extent, the director is seen as the key figure in the making of a movie and that's true in a sense, but it's a team effort! A big part of it involves being a people person and knowing how to communicate effectively with your team members in the creation of a unified vision. It's everybody's film and everybody is working towards the same vision.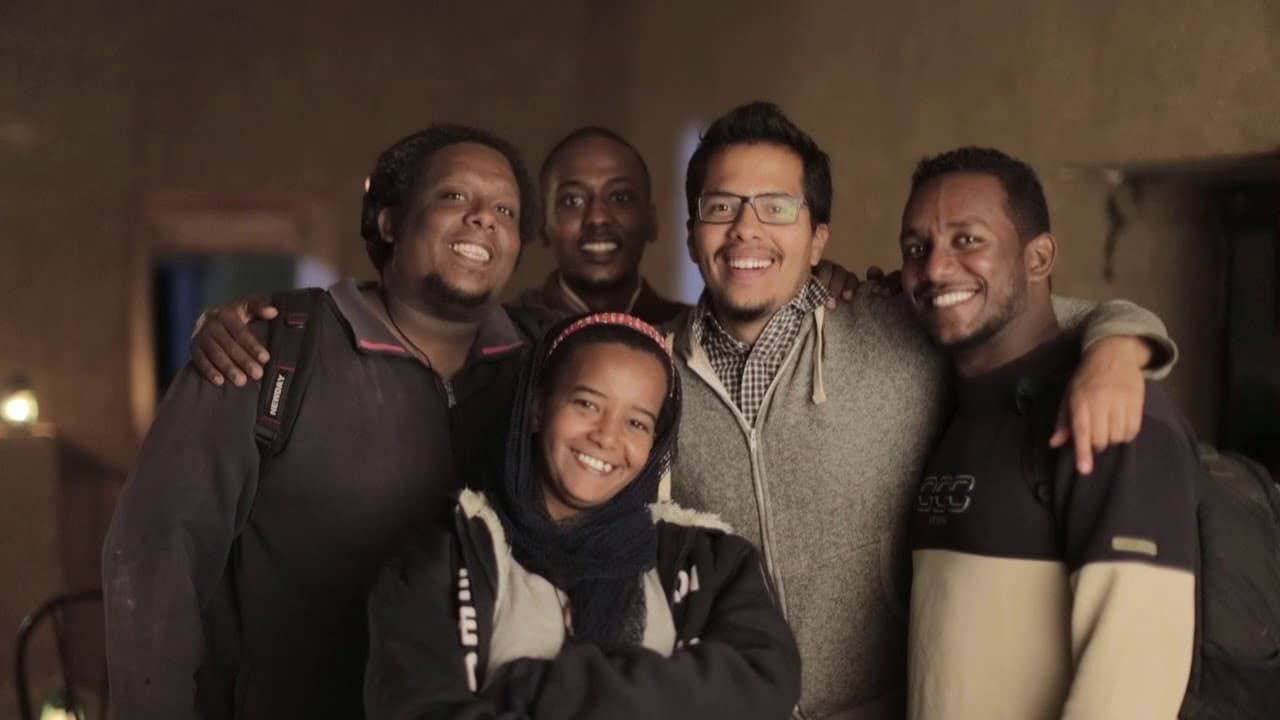 Source: A Handful of Dates
What are the kinds of films that you would like to see emerge from Sudan?
Hashim: There are a number of films based on Sudanese Literature that I could imagine adapting in the future, although it's important for me to resolve my citizenship question and improve my Arabic before I return to Sudan to make a film. Also, there needs to be more emphasis on women's stories too. I think the gender norms as they are in Sudan definitely defer to a male perspective, and I think there's a lot of opportunity for storytelling here.
Any plans for the next films? What should we expect?
Hashim: I want to focus on TV/Film projects here in the States before returning to Sudan. I'm developing an independent crime feature and a comedy pilot. I am going to continue going back to Sudan because of the relationships and the friendships that we made during those seven years. It got me more in tune with my culture and background, it made me a better filmmaker and it established some lifelong relationships.
"A Handful of Dates" was produced by Sudanese-American filmmaker Mamdooh Salih and directed by Sudanese-Mexican-American filmmaker, Hashim Hassan. The Sudan Film Factory film premiered at the Sudan Independent Film Festival in January 2020. The film highlighted the complexity of identity, tradition, authority figures, and cross-generational relationships to a sold-out audience. The adaptation goes deeper than the handful of dates and the hands dealt with us by life and society, it's about questioning what we are told, what is passed on to us through ancestry, and the pain it takes to peel off the soft layers that protect the kernel of our being. After watching films from Sudanese filmmakers that focused on recent literature and events, it felt refreshing to go back in time. Tayeb Salih's stories teach us that there is space for everyone if we try to accommodate them. The adaptation beautifully reflected that by reminding us that there is space for pre-and-post colonial literature in modern Sudanese films.
Whether you grew up in Al Shamaliya or you have never set foot there before, the beautiful scenery, wide shot, and original music are bound to evoke feelings of nostalgia.
Watch the trailer here: https://vimeo.com/471779922