South Sudan, officially known as the Republic of South Sudan, gained independence from Sudan on 9 July 2011, making it the most recent sovereign state or country with widespread recognition as of 2022. Though there have been civil wars and clashes over the years, South Sudan remains open for business. It is thought by many that the news coming out of the country are not always reflective of the real dynamics on the ground.
South Sudan is the most oil-dependent country in the world, with crude oil accounting for almost the totality of its exports, and around 60% of gross domestic product (GDP). However, other economic sectors are beginning to pick up, and fashion and design are springing to mind for many in the East African country.
The country is home to people from diverse ethnic groups. Some of the country's largest ethnic communities are the Dinka and the Nuer who account for 35.8% and 15.6% of the country's population, respectively. Other ethnic groups are the Shilluk, Azande, Kuku, Bari, Kakwa, and more. English is South Sudan's official language. The diverse ethnicity also comes with different traditional clothing.
Due to the climatic features of the country, the way of life (including dressing) has really been influenced to the teeth. South Sudan is blessed with many tribes and some of the traditional clothing consist of a long, loose-fitting white or pastel-colored robe called "jellabiya", a headdress (a skullcap or a turban).
This style is beautifully worn by both men and women. The jellabiya is an ankle-length collarless robe with long sleeves. Mostly it is light-colored, but sometimes it can be brown as well. The distinct difference between jellabiya from the thobe is its wider cut, and longer and wider sleeves.
Today, the young generation is often seen in Western-style clothes. Many young fashion designers say they want to help change the country's image by showcasing locally designed clothes that are increasingly capturing the eyes of the fashion world.
The budding fashion industry has been given a boost by the ever growing number of fashion models that are carrying the country's flag high. South Sudan boasts of prominent international models that include the likes of Adut Akech, Grace Bol, Akur Majok, Aheu Deng, Nykhor Paul, and Alek Wek, to mention but a few.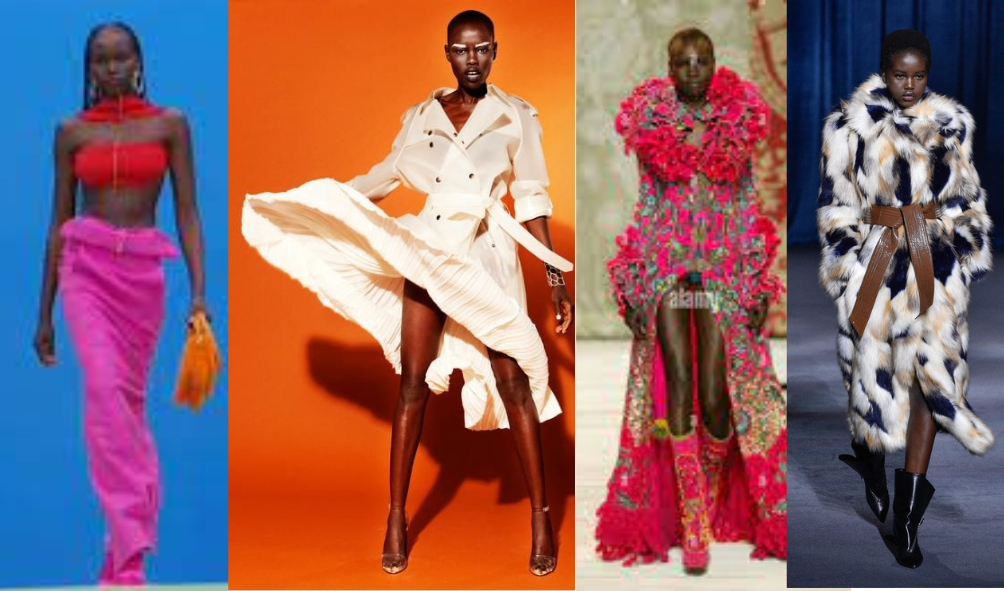 A photo collage of some of the prominent South Sudanese models
We caught up with Akur Majok, one of the rising fashion designers in South Sudan. She is also the brain behind Juba Fashion Week, a platform for grooming talented young fashion designers and showcasing their vibrant designs to the city's fashion lovers.
Andariya: Tell us a little bit about yourself.
Akur Majok: My name is Akur Majok, a 29 year old entrepreneur, fashion designer, certified makeup artist, and event organizer. I am the owner and founder of Juba Fashion Week that's based in Juba, South Sudan. I am a former model who needed to bring back the whole fashion industry home and unite youths through it. I was also a fashion blogger, but for some reasons and commitments I had to put it on hold.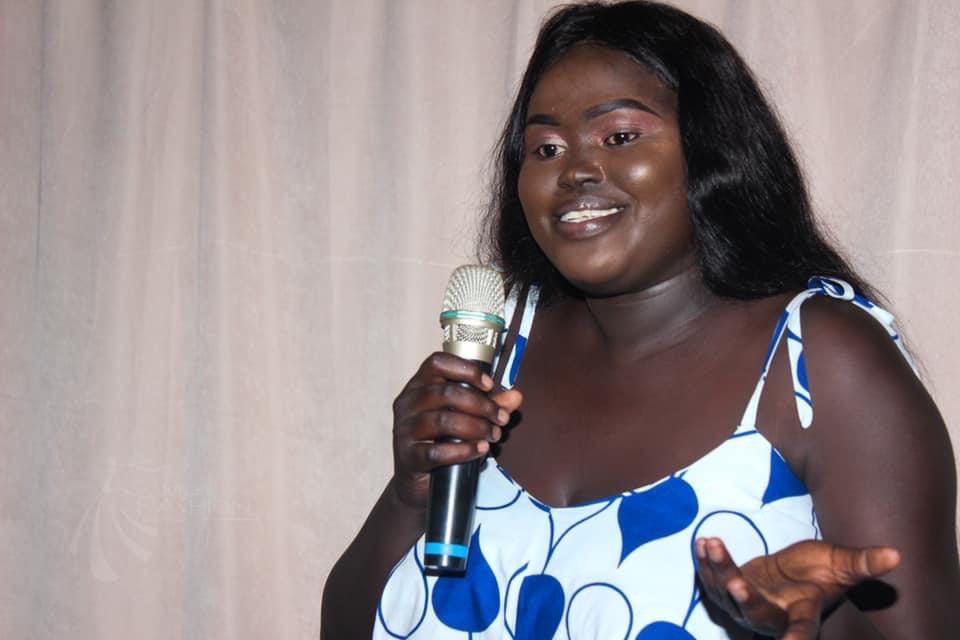 Akur Majok speaking during the recently held Juba Fashion Week. Source: Juba Fashion Week
Andariya: Why and when did you go into fashion and beauty?
Akur Majok: It was ignited by my love for photos and fashion. I started off as a model and I loved what I was doing, but with time, I saw the need of try out my other passion and I opted to pursue fashion designing. I am one choosy person when shopping, most times I will buy more than one clothes item on the shelf in any store. I would get disappointed when I see anyone wearing a piece of cloth similar to mine and I would rush home and remove it, never to wear it again.
My height was another factor that got me thinking about how to get what can fit me perfectly. When I was thin, I loved skinny jeans but found it difficult to get pants that perfectly fit me, as they would either be shorter, longer, or big in size. I sometimes regretted being tall and at some point, it affected my self-esteem. One day I decided to sew some clothes and realized I could actually design my own clothes. It suddenly became a passion. I recently decided to enroll in makeup and event management courses to up my skills and knowledge. At university, I studied forensic information systems and cybercrime, and majored in accounting and finance, but I found more passion in beauty and fashion.
Andariya: Why is the fashion and beauty industry important for South Sudan?
Akur Majok: Fashion has always been a very crucial part of how people define themselves and others, it's an art! A country like South Sudan can use mediums like art to bring peace, I started the Juba Fashion Week in 2015 to bring people together. It doesn't matter where you are from or your political affiliation, we work together as one. It is public knowledge how South Sudan's flag is flying high in the global fashion industry and, most of our young girls are on the runway showcasing big brands. We can do it at home too.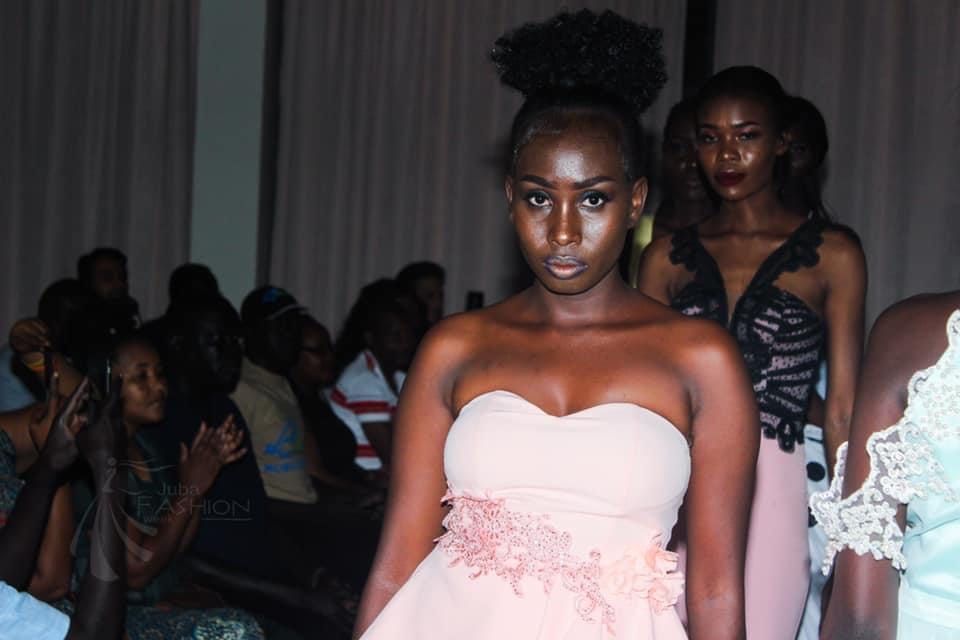 Some of the models at the Juba Fashion Week. Source: Juba Fashion Week
Andariya: What challenges does the industry face?
Akur Majok: Some players in the sector don't appreciate efforts and they always think life is all about competition. Teamwork has always been a stairway to success and successful people are always those that help each other to grow, rather than seeing others as a threat! One other big challenge is the lack of support from the government and other stakeholders. Getting sponsorship is very hard when organizing events, and one has to dig deep into their pockets to run shows. Some people also prefer to buy imported clothes instead of locally made ones.
Andariya: What kind of support does the industry require to prosper?
Akur Majok: We lack financial and moral support and these are the most important things. Working together as a team will help us achieve a lot as a young generation. It is high time we support art and talent, and fashion is a very powerful industry that will help us build each other as a nation.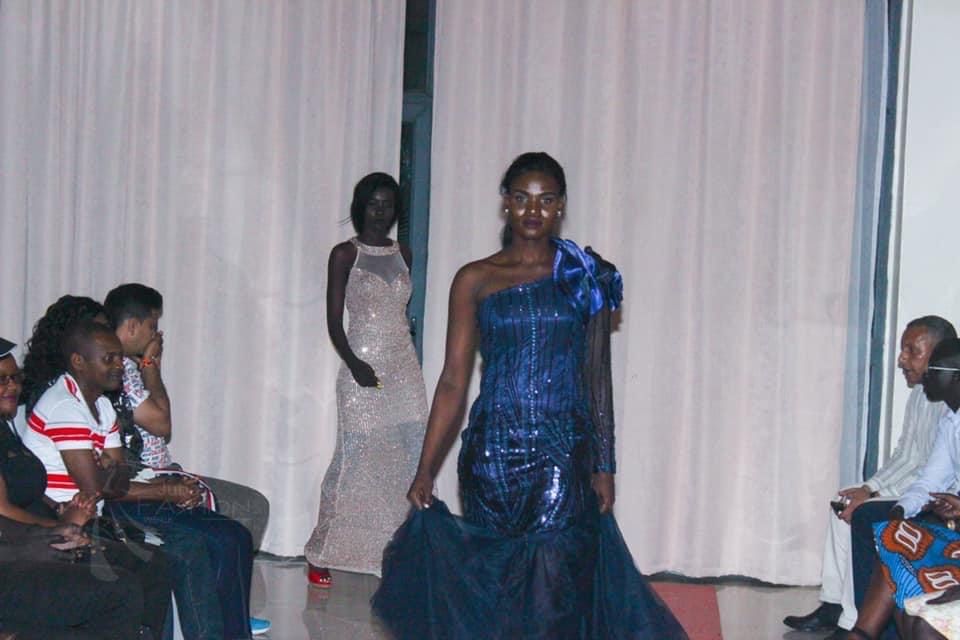 Models showcasing some of the designs by Akur Majok. Source: Juba Fashion Week
Andariya: What is your advice to young girls and women on beauty and their identity?
Akur Majok: It is high time we embrace how God created us. We are beautiful in our own unique way, and self acceptance is the first step! Just take care of your skin, body, mind, and soul. You will glow!
Conclusion
Demand for African textiles and garments is increasing globally, and African patterns are gaining recognition as truly fashionable and iconic pieces. International fashion houses are integrating more and more African influences in their latest collections.
International textile manufacturers are turning to Africa as a new source of labor and as a growing consumer market. African models are also quickly taking center stage as they attract the attention of international fashion designers. Africa is clearly and quickly taking on a greater role in the global fashion value chain, and it must rapidly industrialize to take advantage of it.
Instead of exporting raw materials vulnerable to market volatility, and importing second-hand clothes, we must add value to everything we produce, and export finished fashion products. The growth of the fashion industry and the increasing number of tens of South Sudanese models is a good example of how African countries can use fashion to boost talent and eradicate poverty.
In August this year, 17-year-old South Sudanese model Majda John Peter won the 39th edition of the Elite Model Look of the Year competition in Prague. She is the first South Sudanese to win the prestigious competition and her success confirms the growing appeal of South Sudanese models in an industry long dominated by European beauty standards.