"The library is an arena of possibility, opening both a window into the soul and a door onto the world" - Rita Rove, US Poet Laureate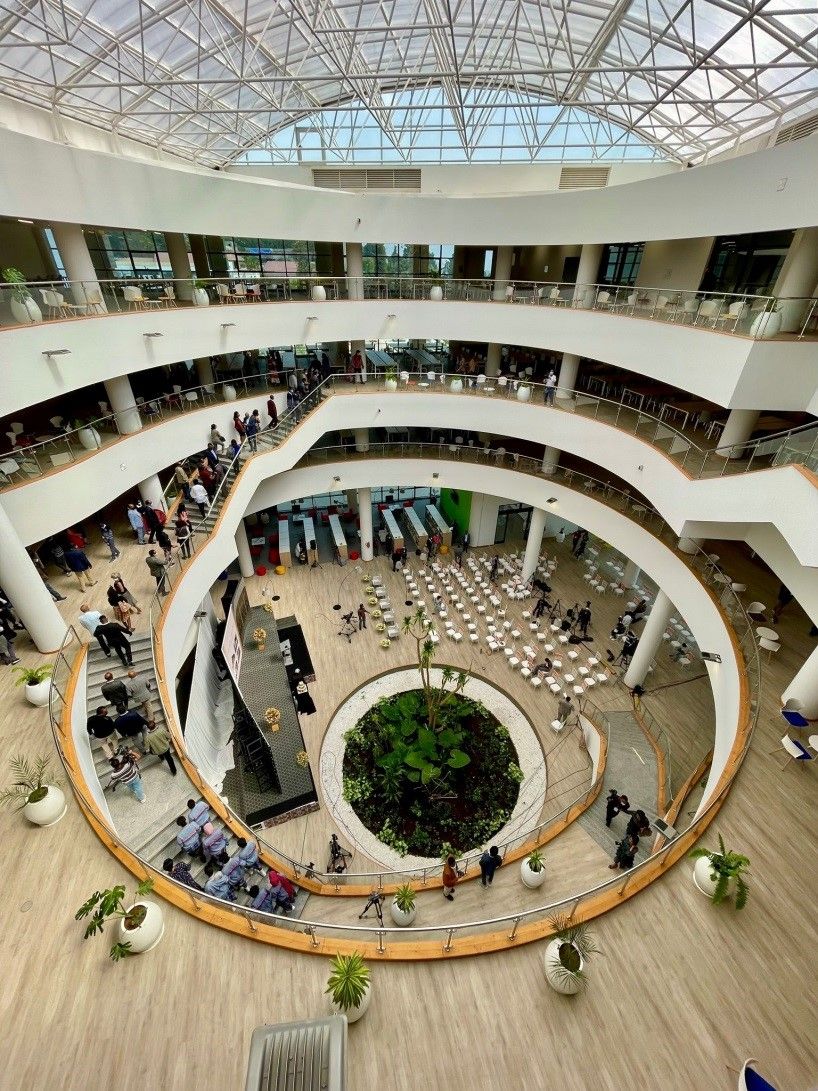 Interior of the library. Source: Twitter /@shen_shiwei
"All ye who enter Abrehot Library fear not. You have nothing to lose but your ignorance"
Abrèhot, the Amharic word for 'Enlightenment,' was envisioned to eradicate illiteracy in Ethiopia one reader at a time. Abrèhot library is found near the Prime minister's office, the infamous Holy Trinity Cathedral Church, also known as 'Kidist Sèlassie' Church, Addis Ababa University (4 kilo), and, many more hubs.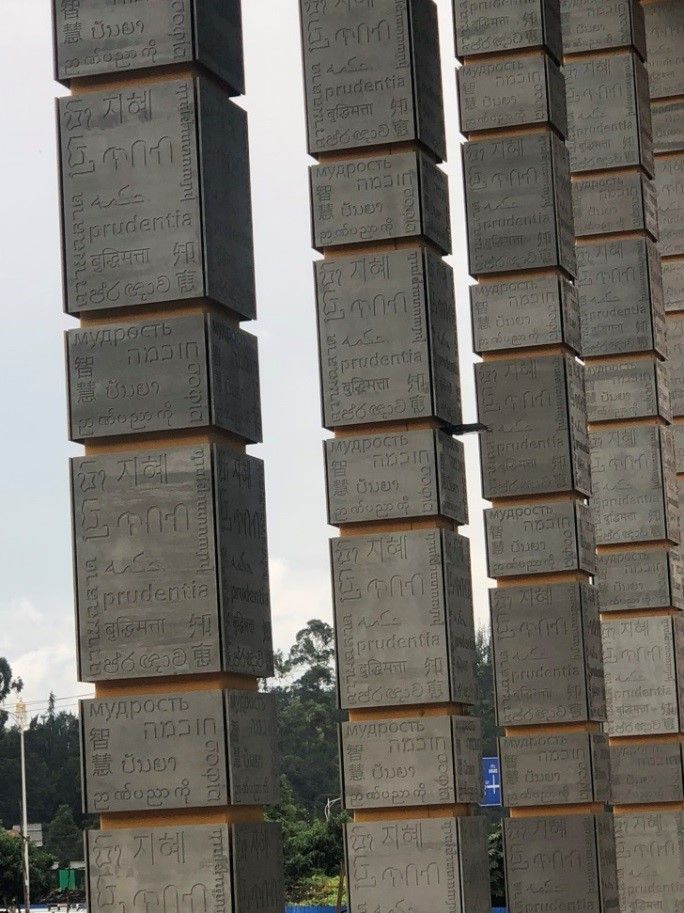 The Grand Columns on the entryway to the library. Source: NebiyuTedla
From the outside, the first thing that catches one's eye is the unique architecture of the magnificent building. Seven grand columns stand high, all decorated with 18 of the world's languages with their indigenous writings. Ethiopia, being Africa's only country with its own indigenous writing system, is represented by the Amharic word "ጥበብ" 'Tibèb' which translates to 'Wisdom'. Chinese, Hindi, Russian, Japanese, and others are also inscribed in those tall columns.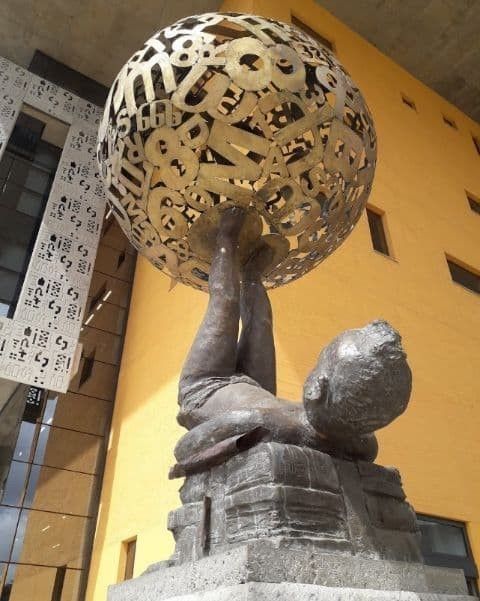 The Curious Boy. Source: Typical Ethiopia Blog
Besides those grand columns, there is an exceptional statue made by an exceptional man. This statue depicts a young boy who rests on a stack of books while tossing the world around on his feet. "The boy is meant to represent a sense of innocence and curiosity," says painter and sculptor, Associate Professor Bèkèlè Mèkonnèn.
Bèkèlè Mèkonnèn is best known for his numerous sculptures, the most notable of which is the statue of Emperor Hailèsèlassiè, which is on display at the African Union headquarters here in Addis Ababa, Ethiopia.
"The critical work of Bekele Mekonnen and its conceptual sophistication captures the imagination and articulates modes and patterns of thinking in producing alternative narratives to Ethiopian history," says Associate Professor of Critical Theory and Criticism, as well as Art History Dr. Elizabeth W. Giorgis.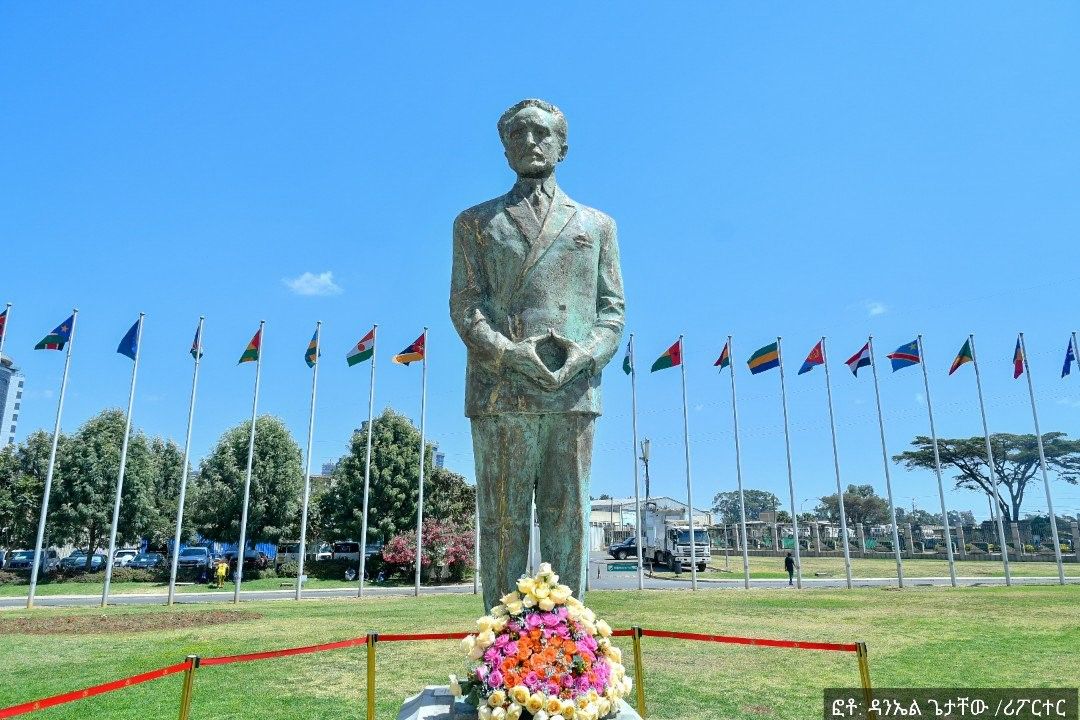 The statue of Emperor Hailèsèlassiè in the African Union compound. Source: Daniel Getachew
Perhaps the large, beautiful plant area may be the first thing that catches someone's eye as they enter the library. This plant area is surrounded by white marble, and the ginormous leaves seem like they are giving out all the oxygen in the room. The vastness of the interior of the building may also catch the eye. It's very spacious, and the silence is very soothing to the soul.
The expansive building consists of four floors that share many similar features. One of them is the massive glass windows that span from the ground floor all the way to the top. The seats next to the glass windows are often occupied, as they let the person either working or reading enjoy a serene visual break.
The specifications of Abrèhot Library
· Shelves that span 1.5 kms
· 360,000 local research papers
· 120,000 international research papers
· 1.5 Tera byte worth of books in the e-library (which is ~2 million books)
· Amphitheater mainly for authors but it is also open for many other professionals
· 8 book selling shops for authors
· Meeting halls
· Kids library section (Puzzle, coloring books, books)
· Can accommodate more than 2000 people at once
· Coffee shop (Tomoca Coffee)
· Underground parking space that can accommodate 115 cars at a time
· It has been up and running for 9+ months since it was open to the public in Jan 2022)

Kids section of the library. Source: Twitter /@AbiyAhmedAli
500,000 books have already been collected and a drive of collecting 1 million more books from a nationwide donation that was set up is underway. Many people are donating books of different kinds of genres ranging from, science and technology, fictional, non-fictional, poetry, and so on. It should also be noted and appreciated that this library is all-inclusive, with many braille books for the visually impaired as well as elevators for those with physical disabilities. The entry door is always open, and sensors are installed on the exit doors to detect when someone is approaching and they automatically open.
As you enter, the guards thoroughly search your bag if you are carrying one, and they also perform a quick hand scan of your body. Identification is not enforced at the entrance. Similarly, when someone is exiting the library, their bag will be searched.
Abrèhot Library. Source: Kalkidan Zelalem
This enlightenment library is the first of its kind in Ethiopia. The high cost of work and study spaces had left many people frustrated but, this library has become a significant solution. While it might not be best suited for some study and workspace businesses, it is an excellent alternative for many people. Inside and out, the beautiful greenery views are a great source of relaxation and provide a break from whatever that person is doing. The silence in the library is lovely and allows one to focus and study well; additionally, one can enjoy a coffee break or a simple brunch in the coffee shop there.
Conclusion
As I end my tour with you of this magnificent library, allow me to leave this piece of writing by a Professor of political science at California State University, San Bernardino, Alemayehu G. Mariam.
"Seen in this light, Abrehot library to me is the "people's university." It is designed to provide information and educational opportunities free for all Ethiopians regardless of their socioeconomic status. It will serve as a gateway of knowledge for Ethiopians with its enormous information and knowledge web-based resources. An incubator for the next generation of Ethiopian scientists, philosophers, doctors, lawyers, engineers, and other professionals. A place where young people can begin their journey to achieve their impossible dream just like me and to go where no man or woman has gone before. The fountainhead of enlightenment for those who seek to liberate themselves from ignorance. 'All ye who enter Abrehot Library fear not. You have nothing to lose but your ignorance,' should be inscribed to warn patrons of their experience at Abrehot. A resource to support serious research and development with access to digital databases. A potential point of contact for people of diverse interests to meet and exchange ideas. Abrehot could be a catalyst for civil discourse and dialogue between individuals and groups of similar and divergent backgrounds. A potential source of support for the Ethiopian Parliament to support the formulation of well-informed, wise and effective laws just as the Library of Congress does for the U.S. Congress."