When you drove down Africa Road in the past months and you passed by Street 1 in Amarat, you must have seen a painting of renowned writer Tayeb Saleh. Maybe you also heard the all women band Salute Yal Bannot and their famous song African Girl. Or maybe you saw some skaters at Sajjana Youth Center or Green Yard showing off their tricks. If you did, you have experienced some of the Yalla! Khartoum activities and achievements since its founding in 2013.
Yalla! Khartoum is an intercultural project focusing on urban arts and youth cultures in Sudan and was founded 3 years ago under the umbrella of the Goethe-Institut Sudan. The project aims to support the local arts scenes and youth through establishing a forum where ideas can be exchanged and brought into action. Skateboarding, street art (murals) and music are the main focuses that are supported so far. Artists from other countries are invited as trainers and guest artists for workshops, where local arts are fused with foreign elements and presented during public events. It is an artist exchange where everyone gives and takes, teaches and learns.
International artists such as the half Sudanese half German Rapper Samy Deluxe, US-American Hip-Hop artist Akua Naru, German urban artist Julia Benz and the German champion in skateboarding Alex Mizurov came to Sudan to become part of the Yalla! Khartoum community.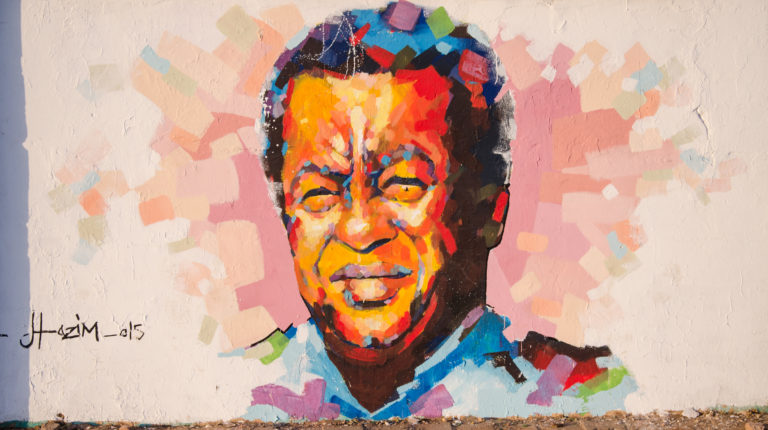 Image Credit: Ethar Jubara
The project organizes regular skating, painting and music workshops and a variety of public events such as the yearly street festival which celebrates the achievements of the artists and youth of the community. Exhibitions, mini workshops, arts markets and concerts give an insight into the Sudanese artist scene and reflect the diverse and creative side of the country. Yalla! Khartoum gives its workshops participants the opportunity to present their output, and invites other arts collectives such as Fandora Recycling Projects, the arts and crafts project of Omdurman's women's prison and Al Malak Center for disabled children to take part in the activities. Also part of the diverse program of Yalla! Khartoum was the concert of the all women band Salute Yal Bannot which was founded through two women empowerment music workshops with poet and rapper Akua Naru.
The most visible achievements of Yalla! Khartoum are the murals which are spread across different cities in Sudan. They represent the effort and outcome of the Yalla! Go paint Khartoum workshops. You can pose in front of them to take selfies or just enjoy them when you pass by; a bride and a groom were once spotted in front of a mural snapping a picture.
Yalla! Khartoum is using public spaces for different performances and invites followers and audiences not only to observe but to actively take part in the activities. So if you feel like becoming part of the movement, send a message to the community. Soon a movie will be launched showcasing the project's achievements throughout the years, and more exciting activities are planned.
For more information and to stay updated, follow Yalla! Khartoum on Facebook and Instagram & to get a real feel for the project, check out their upcoming event on Saturday August 13th!