When you think about and , the first thing you imagine is a hulky man wearing shorts and a pair of boxing gloves. His beard is grown out and his face is barely intact – a result of multiple bloody fistfights. Today, and here in Sudan, there is one woman slowly changing the face of Kickboxing – Aya Awad. As the first-ever female coach of Muay Thai boxing in this male-dominated country and male-dominated industry, her journey and unique perspective tell a story of passion, perseverance, and revolution.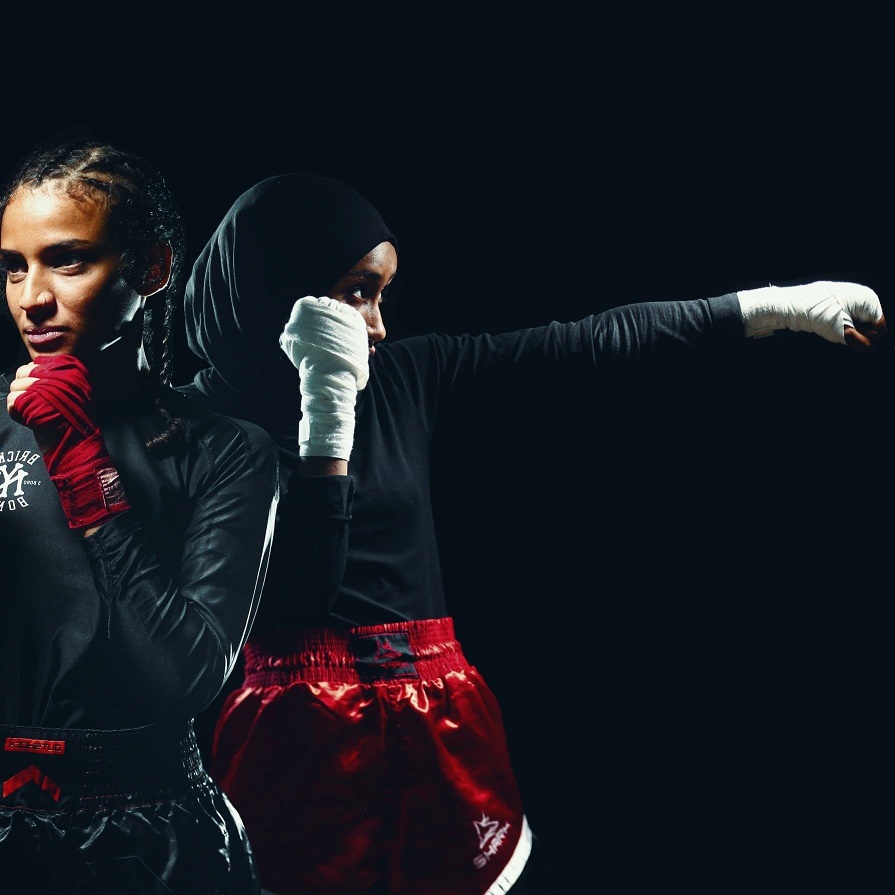 Source: Facebook
Tell me a little bit about al-Muqatel Training Center.
Aya: is a training center founded by coach Mohammed Al-Munir who completed his martial arts training in the US and decided to come back to Sudan to spread the art. His mission was to popularize martial arts in Sudan and so naturally, he joined boxing clubs here. When he didn't find what he was looking for, he opened his own gym and that's how Muqatel was born. At first, it was only for men. At that time, under Al-Bashir's governance and the public order law, women would train secretly. Female members were quite a few back then, but now that it's open to the public, a lot of women are joining.
Fun fact: Muqatel is turning 5 years old this November, and although it's the newest training center, it's the most successful.
What made you go into physical training?
Aya: Personally, I feel like it's great to be able to exercise your strength and resistance. There's something empowering in having that knowledge that if a situation arises, you know how to defend yourself, so I went to Muqatel to improve physically and mentally. Especially in pre-revolution Sudan, it was quite tough for me and everyone. Exercise for me was always an outlet and even sports, in general, were therapeutic. So that's how I joined after I found a boxing ad on Facebook. Back then, I just wanted to get physically strong. I was getting interested in , , and things I'd never even heard of. We started out with only two sessions per week, and I just couldn't wait for those two days to come by. I guess I ended up falling in love with the sport. Eventually, I got assigned as the first female Muay Thai coach.
As a coach, I get to meet a lot of girls who are hopeful but with low drive, and then they improve and get inspired training with me- which makes it the best part of my job and that's what really keeps me going.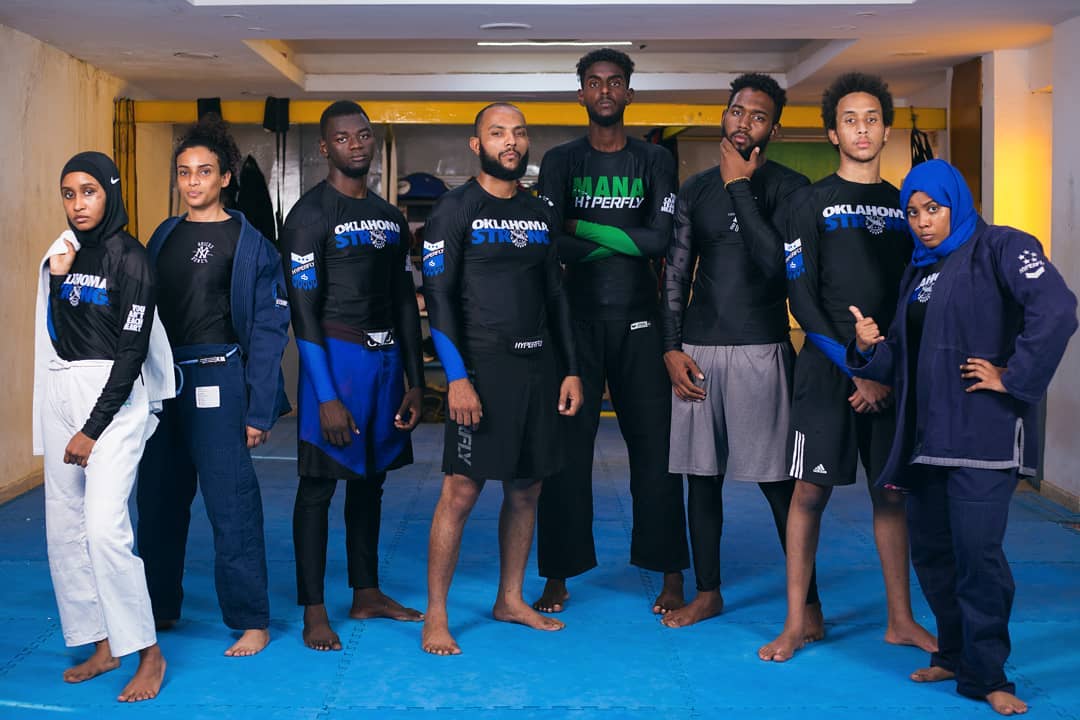 Source: Facebook
How do you define "fitness"?
Aya: Fitness for me is a package. Your mind, body, and mindset have to be in ordinance and in one order. It's a lifestyle of overall healthy choices. If you're not healthy in all aspects of mind, body, and mindset, then you're not healthy at all. There's no point in working out and then eating junk food. It's all about discipline inside the gym and outside the gym, which can be quite tough. But it all ties together. If one thing is missing then all of it falls apart.
It can't be something that you do for a short period of time until you reach your goals. That's why it's a lifestyle, you have to incorporate it and make it work. Before I quit my day job, I used to always think, "how am I going to fit the training in? Make sure I'm on time? Have my pre-and post-workout meals and equipment ready?" At first, it was hard to organize all that but eventually, it turned into a habit. Another thing that martial arts teach you is time management because ever since I've joined Muqatel Training Center, I've become more productive.
That's a lot to schedule in, do you ever feel like you're getting chased?
Aya: I'm a fighter, I don't get chased! I guess you could say it's me chasing my dreams. I see everything as a challenge and it's always a good thing to be challenged, and that's the fighter mindset.
Do you think people take physical fitness seriously here in Sudan?
Aya: It's definitely a growing interest. I don't think it's taken very seriously because it's not accessible, and people are not interested enough to devote all that time and effort for one hour a week to improve themselves. It's not a priority in a country like Sudan where we still keep on looking for our basic needs from food, to gas, and medical treatments. People are just trying to get by. But there are some who prioritize self-defense and body strength.
When it comes to women, boxing is generally not seen as a feminine sport. People would say "why don't you do aerobics instead?" But surprisingly enough, when we opened women-only classes, they were fully booked and we even had to open night classes! It's always been a male-dominated sport and now there are a few other gyms opening their doors to women too. It's nice to see that our success story is inspiring others to open female classes.
How does society view women in physical fitness now?
Aya: There's a higher demand for it and we have a growing number of new female members every day. I think it's because we are the first to offer boxing training in Sudan. We always find people surprised that there are Sudanese women practicing martial arts, but the responses vary across different age and gender groups. One of the most common statements I get from men, and they always say the same thing, is, "if we see you again in the street, we won't holler at you!" Among older women, there are mixed opinions, but most of them are not really supportive of their female relatives attending these classes. Even my mom doesn't think it's a ladylike sport, so the parental factor is still there for many women. Human rights activists are all for it though! They really love the idea of women being empowered as equal in a traditionally male sport.
What can be done to change this negative perception?
Aya: By excelling in it! By showing that you can be a lady and an athlete. In a male-dominated country, they don't want powerful women. Personally, I always challenge myself for the better as I ought to inspire myself. I think it's the female athletes' responsibility to excel and inspire other women to take up the sport. You can't force anyone to do anything, so they have to want it. So we do what we do best, showcase that to the public and hopefully, someone will get inspired. The funny thing is that when I started, I did this for myself and now it inspired a lot of people. I get messages on social media from girls and men. The last one really blew me away. I mean, for a woman to inspire a man in this society, that's huge! They say things like "because of you I'm doing so-so". It's really humbling because I never expected to be in that place. I never imagined somebody would be inspired by me.
Why do you think it's important for women to know how to defend themselves?
Aya: Before getting into the physical aspect, we teach women how to get out of a situation verbally and diplomatically. I think every woman in the world needs to know how to protect herself. It's inevitable to go through a moment where you feel like you need to defend yourself. It's better to know and not need it, than to need it and not know. Self-defense is a basic skill that everyone should have. I cannot stress enough the benefits of having a fighter mindset especially in a place like Sudan where a lot of people give up on their dreams early on in life. People tend to surrender and give up on their ambitions. Having that mindset can definitely change all of that and improve their lives. The thing about fighting is that you learn how to solve a problem as it's unfolding. You learn as you go. You learn to adapt your tactics in order to solve the problem as it's happening and that's a skill that you can apply in any area of your life!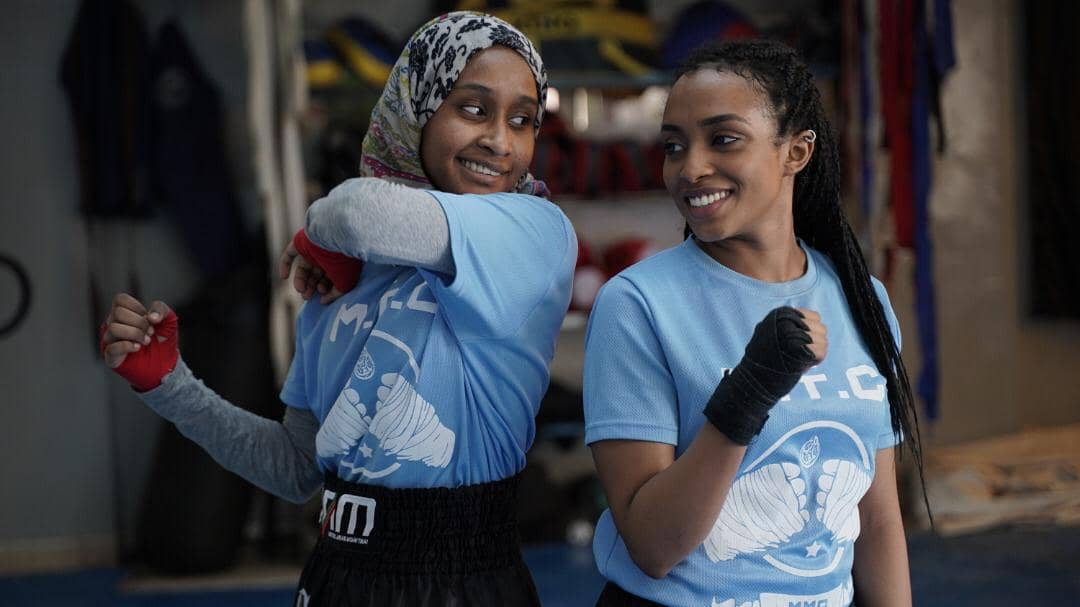 Source: Facebook
What are some tips for women who want to improve their fitness and strength?
Aya:
1. Prepare yourself mentally and really want it – this stuff can be overwhelming at first and difficult to maintain. That's why you really need to want to do it, and then you'll just do it.
2. Plan ahead – Know what you have to get done and when to put a schedule. It helps you run things smoothly and I can tell you that from experience.
3. Food – It is your fuel & medicine and it's 80% of your fitness. Pay attention to what you put in your body. You don't have to follow a diet at this point, but just be conscious of what you're eating. That with consistent exercise and you'll definitely see changes.
4. Join a center and more specifically Muqatel training center – Your trainer is a huge part of your success, that's why it's important for that person to embody your goals. I think our advantage is professionalism, motivation, and proper knowledge of the arts.
What do you think of all these weight loss pills and teas?
Aya: any quick fix isn't good, but people always look for what's convenient. People want change and they want it quick even if it's not a healthy option. They don't think about the negative health effects it could have on their body and that's terrible!
What are some tips for women on what to do in uncomfortable situations?
Aya:
1. Always stay in a crowded place where you could easily attract attention to yourself. Harassers always go after a weakling so if you portray yourself as a strong woman, they will leave you. Walk confidently and exude that energy of "Oh, I dare you to come holler at me!" and they'll leave you right away.
2. Avoid dark or empty places. When walking on roads, take the middle of the path. And if someone is after you, it's always best to shout or gain people's attention. If it turns into a physical situation, disable the attacker and then run for safety.
3. Attack strategic areas – punch the nose and private areas. Go for the most painful areas and that would buy you about 3 minutes to run to a crowded place or to safety in general.
If you could say anything to the old you who wanted to give up before Muay Thai, what would you say?
Aya: To be honest, I look at how it all happened and how I joined Muqatel and I wouldn't change a thing. For me, I never thought about giving up. How I see it is if I give up, I'll never see where I could go so I keep going.
Even for the girls, we have at the center, they're all really driven. It's great that so far we haven't had any quitters. They leave for exams, but they always come back.
I guess the reason for that is martial arts in itself is tightly linked to discipline. We think of ourselves are warriors and warriors never give up.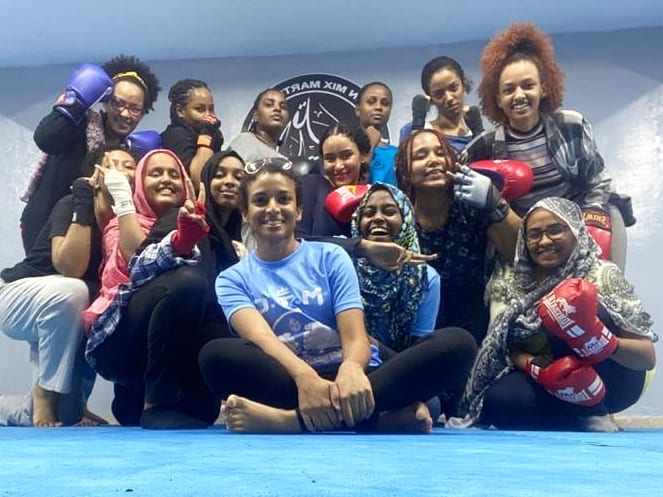 Source: Facebook