It was the beginning of a revolution, many years of struggle in the making. In December 2018, the cities of Al-Damazin, Atbara, Al-Gedarif, Al-Nohoud, Nyala, Port Sudan, Dongola, Sinnar, Al-Obeid, and Khartoum rose up quickly. Anger and resolve and courage were in the streets. It was a source of inspiration to the Sudanese nation. The revolution had begun.
When security forces quickly scrambled to unleash their full brutality in the streets, the world did not take notice. By the first few weeks, over dozens of people had been killed and many more injured, arrested, and tortured. In a Sudan well acquainted with ongoing war and violence, people were divided in their beliefs. Many insisted the uprising would succeed. Others waved their hands in dismissal.
One thing has been clear throughout the revolution - this time was different. From its beginning, the revolution was broad in support. People in almost every Sudanese state were partaking in the protests and calls for change. Young people and old people, women and men were on the streets. And the full, beautiful diversity of Sudan could be seen represented. The people called not only for regime change, but for social change. It was a revolution of consciousness (thawra al-waeiy).
The revolution of consciousness means that people are aware and speaking out now more than ever. Early in the demonstrations, Darfuri students were framed with inciting violence then locked away in shadowy Sudanese prisons, so then chants of "You arrogant racist, we are all Darfur" (ya alonsuri almgroor, kul al balad Darfur) swiftly followed. The northern Sudanese population, silent too long on the oppression, pillage, and killing of their countrymen in Darfur and elsewhere, was finally raising their voices strongly in support.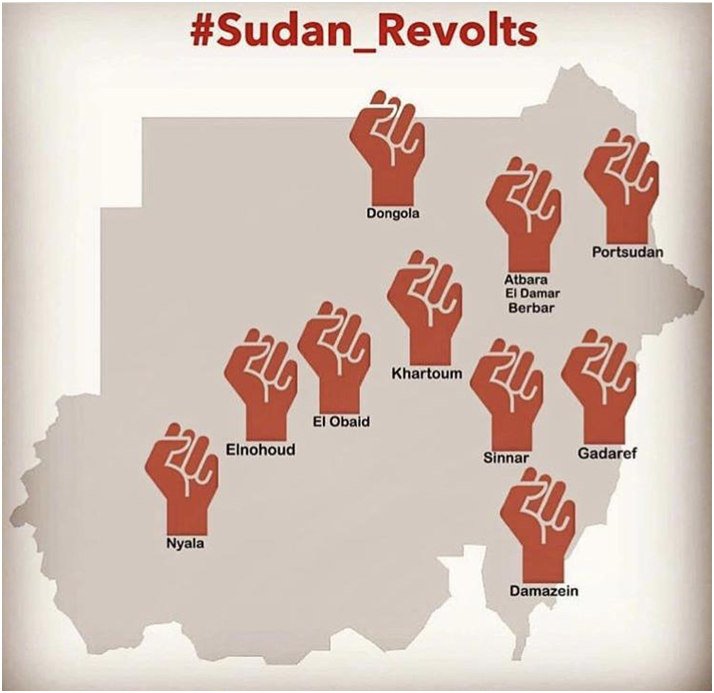 Image via sudanrevolts.home.blog
The Declaration of Freedom and Change
This revolution is a forum for discussing the most pervasive problems in Sudan. We have learned from the past, and the Declaration of Freedom and Change - put out on the Sudanese Independence Day (January 1st, 2019) and widely supported today - expresses many of the people's central hopes and dreams. Mainly, it calls for an immediate end to the regime, the formation of a civilian transitional government, and for the righting of past wrongs committed by the Keizan (National Congress Party) through trials in an independent judicial system. It refers to recent and ongoing conflict in the Nuba Mountains and Nile States and calls for building better relations with our South Sudanese counterparts.
The Declaration of Freedom and Change also addresses women's issues specifically, calling to "empower Sudanese women and strive to end all forms of discrimination and oppressive practices against them." This revolution has featured a reported women majority, as well as many strong female figures. International women's month in March was filled with marches honoring women and denouncing the crimes of rape, harassment, torture, and humiliation carried out against them. These problems exist in our Sudan, and revolutionaries are tackling them head on, such as when protest chants with derogatory language towards women were fixed and changed overnight.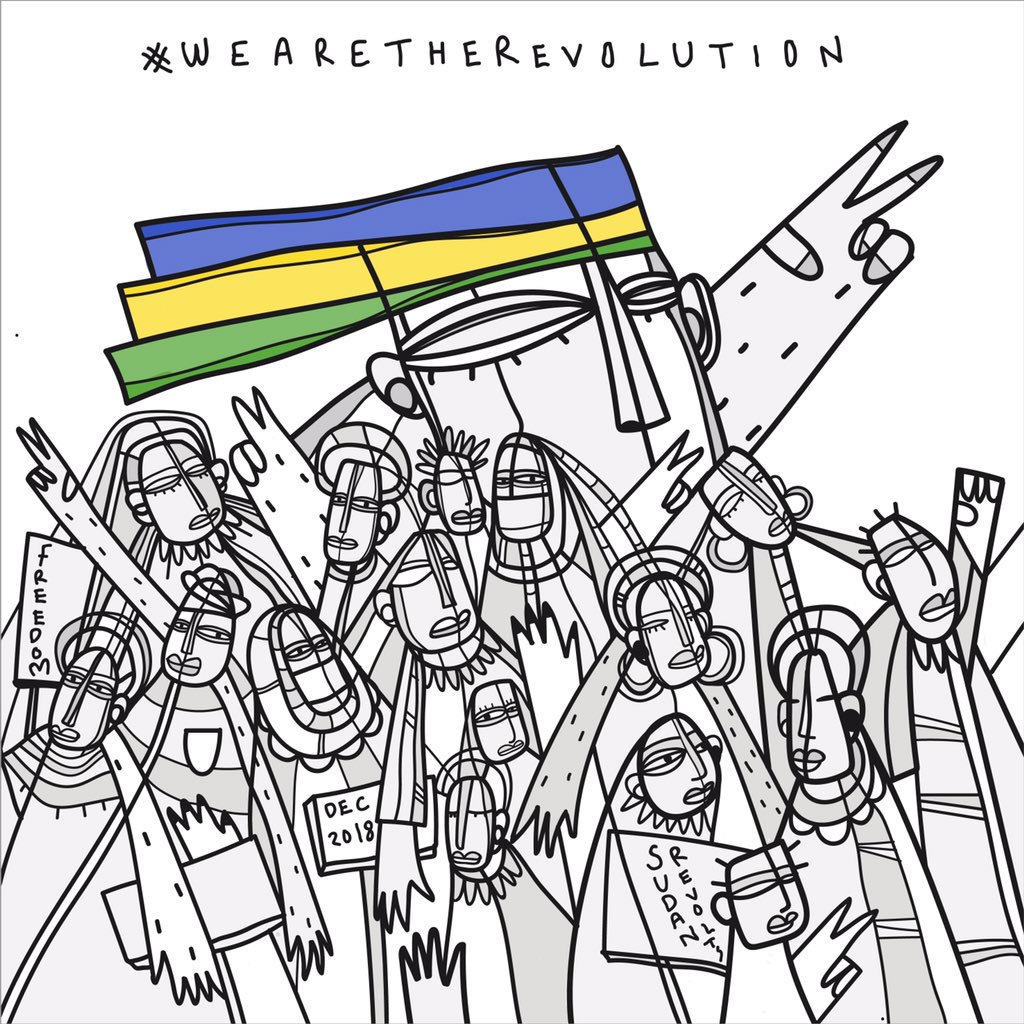 Art by Alaa Satir
We will build what we dream of daily
We will build what we dream of daily (hanbneehu al bnahlam beho yuwmati). This famous poetry line by the iconic poet Mahgoub Sharif has become a message of hope and accountability that lives in the new Sudanese generation. We hope to be the change that we strive for and to start building a functional nation through our contributions. Campaigns have been launched to clean the streets, give donations to families of martyrs, and provide food and water at sit-ins.
We are now in the second large phase of the revolution, after the fall of Al-Bashir and then General Awad Ibn-Ouf shortly after. These have been monumental accomplishments by the Sudanese people and deserve praise, but we remain adamant that the full demands of the revolution be met. This is the goal of the revolution of consciousness. There are now many questions facing the nation.
Will the new head of the military council, General Abdelfattah Al-Burhan, make way for a civilian transitional government? Will we see justice brought to Hemedti (known warlord, and now second in command of the military council) for his horrifying crimes in Darfur? Will the other members of the regime also be brought to justice for their crimes? What will be done about recent and ongoing conflicts in Kordofan and the Nile States? How will the economic and infrastructure challenges be solved in Sudan? Where is the place of women in the new Sudan?
To all those who say that this is not the time to be discussing these issues, we say that it is exactly the opposite. There has never been a better time. We hope to carry this awareness and initiative into the future. It hasn't fallen yet (lam tasgoot ba'ad), and the road to a more prosperous Sudan is still long and difficult. But the people have sacrificed much for this opportunity, and we remain committed until the end.