Art has over the years taken different forms, but whether it is in form of a song or a book or a movie or a dance, one thing doesn't change- there is always a message to be portrayed. Today, as we battle with the pandemic that is Coronavirus, artists have taken it upon themselves to see that the people around them are sensitized. Talent Africa, an entertainment company, put out the 'Aint Safe Cypher' a song that was produced by Samurae at the newly launched TAG studios. The song emphasizes the notion of observing the lockdown and recognizing that 'it ain't safe outside'. Bobi wine, one of the big artists in Uganda and a member of parliament, put out a song with Nubian li titled 'Coronavirus alert' that exposes the symptoms of the virus. This song has over 800,000 views on YouTube which goes to show how profound the reach of music is. Artists from Uganda, including Bebe Cool, also came together and produced an all-star song titled 'corona distance'. The song starts out with toll free numbers that people can call and get help. A Pass, another Ugandan artist sent the message out in the song titled 'coronavirus'. Ykee Benda featuring King Saha, B2C and other big talents released a song titled 'corona'. This list keeps growing because artists understand their role in the world of information dissemination. All these put their talents together to sensitize the Ugandan community and those beyond.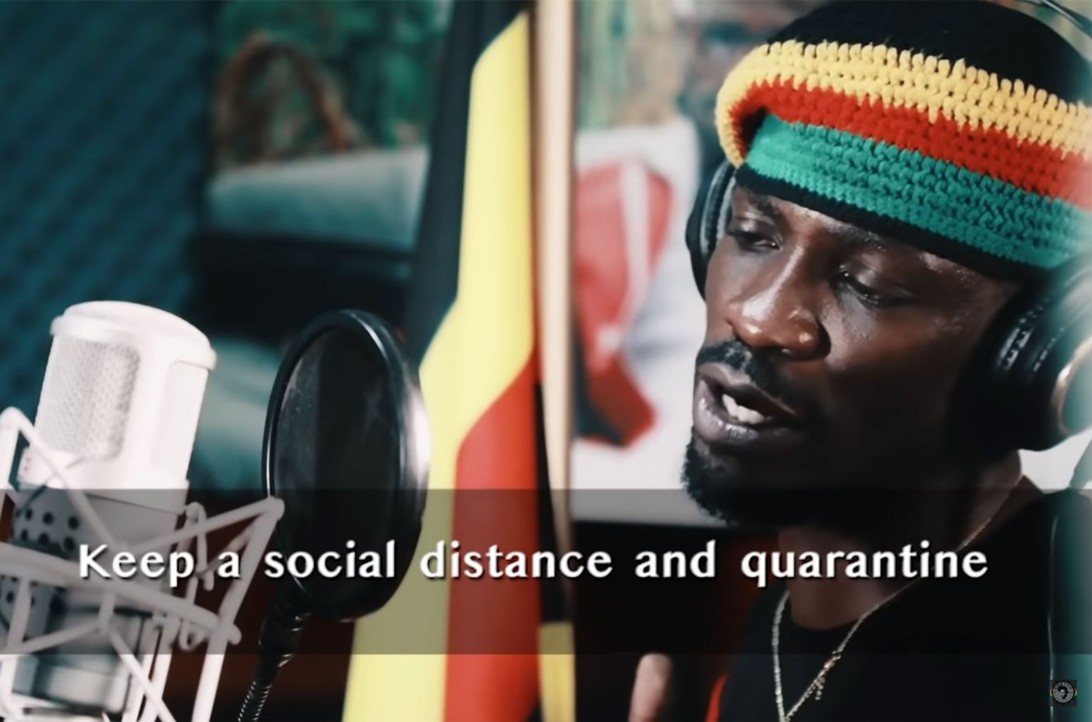 Bobi Wine via billboard.com
Information is vital in dealing with the Coronavirus pandemic and information needs to be viral to reach as many people as possible. Songs like those mentioned are surely reaching a grave number of people. Cynthia T Kawamara aka Ninja C, a Ugandan rapper, advised that "this is the time for us as media personalities to join in and wield our power as communicators and entertainers." She also says she has been using platforms like Twitter and Instagram to share tips on how to endure this lockdown. It is especially necessary for artists to engage their followers and fans because they have the capacity to influence people's minds using their art; so, the more artists putting out messages the better. Yet, it's not just artists who need to join efforts; we can all utilize art and get involved in reaching out because the impact of art on awareness and sharing information remains profound. Art has the capacity to develop a collective cosmic mind.
From another perspective "this pandemic affected all forms of business and music isn't an exception, in fact music suffered more because the industry depends on movements and crowds", Majid Maali, a Sudanese human rights lawyer and an executive producer that works with Navio, The Mith among others shared with Andariya. People in the arts, like any other sector, are facing challenges especially with the social distancing. Mr. Michael Wayne Ozil, the administrator of Comedy Store working with Alex Muhangi the host of the weekly stand-up comedy show known as Comedy Store, put it profoundly, "this corona virus has majorly impacted the arts industry, I think more than probably any other industry because art is about bringing people together." Art rallies crowds and groups of people to exist in the same space. The Comedy Store administrator actually went on to note that for every show they sit around 2000 to 4000 people, which means that when more than 5 people can't gather then they are adversely out of business. He further added that "it's not just for Comedy Store as an entity because to put on a show we hire service providers; tents, stage lighting and sound which means all these guys are unemployed."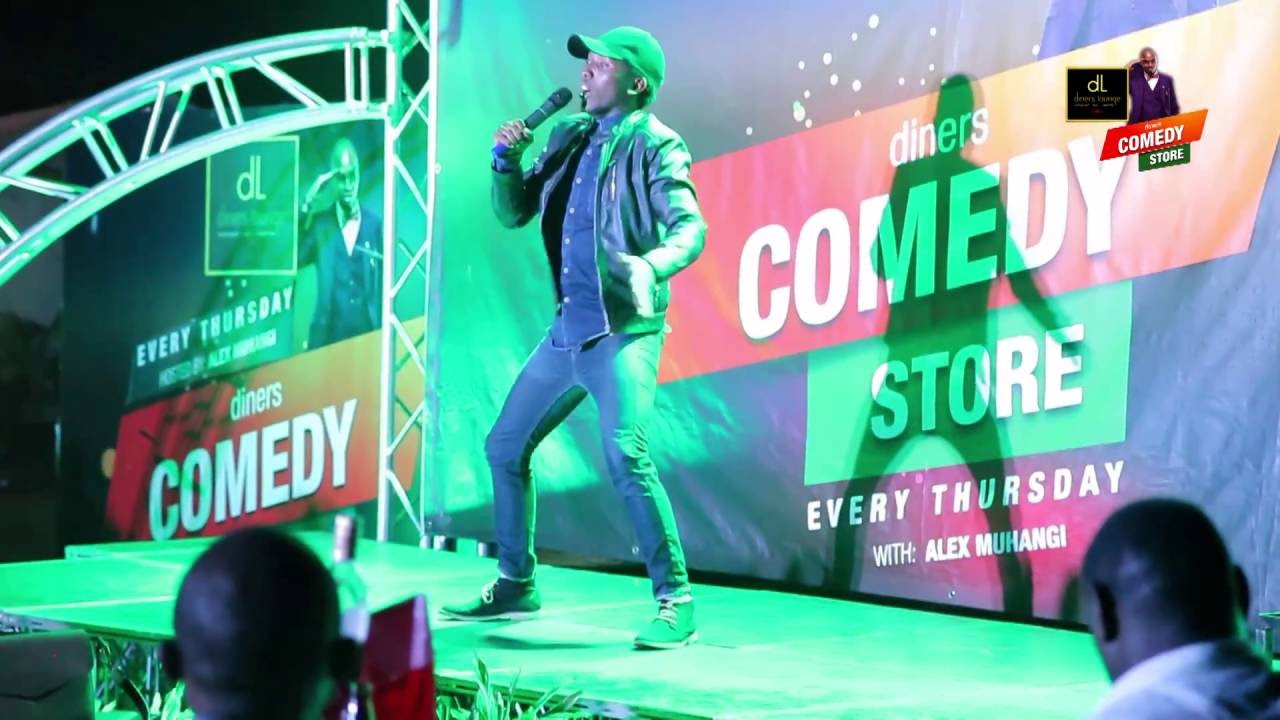 Via Alex Muhangi Comedian on Youtube
Essentially, without public gatherings the revenue curve flattens for all the players in the arts and its effects are even much more extensive for people who completely depend on organizing such shows or being part of shows that bring crowds. While we spoke to the administrator of Comedy Store, he expressed his pity for the comedians who depended on it to make a living during the weekly Thursday shows. He added, "I feel for comedians who earn from regular gigs, where one goes to Comedy Store and gets paid then to a bar and gets paid, performs at a certain kivulu and gets paid. But now their source of income has been cut completely." For most artists, Mr. Ozil feared that if this pandemic doesn't end quickly then they are headed for major problems. As a performance space, Comedy Story didn't lose money because once the virus had started spreading around East Africa, they called off all shows even before Uganda had a case, in order to keep people safe. However, Mr. Ozil noted that they haven't made money because even with sponsors, their revenue comes from gate collection, but now the show is on a stand still.
With social distancing came cancellation of shows and concerts. We spoke to Tumwine Bruno Edgard aka Edgard the Bard- a poet, director, writer and actor working with the Lantern Meet Foundation who noted that, "as part of the gig economy I'm not having gigs or events which is my lifeline. Without events, economically it's a stretch because ever since the lockdown I have not generated the income that I would normally generate." Events are essential for the arts but not just that, some projects have had to be stalled because of the lockdown which tumbles the timeline. Edgard the Bard told us he had some shots and productions lined up and the film premiers of 'The Sunflower Crossroads' and 'Happy Birthday Momo' that had to be rescheduled indefinitely. He remains hopeful that these projects will take flight once the crisis passes.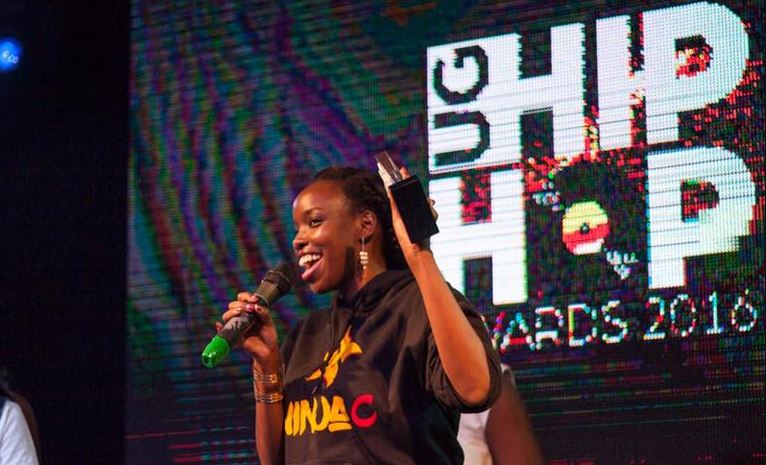 Ninja C at UG Hip Hop Awards 2016 via bigeye.ug
The Coronavirus epidemic means that an artist who had worked for months or even years to create work now seems to have wasted time because there is so much uncertainty on when the world will resume. For instance, Producer Majid expressed his pain when he told us that he was supposed to shoot a video for a record that was planned to be released on June 3rd, the anniversary of the attack against Sudanese protestors. He is afraid he won't be able to finish and release it in time to commemorate the day. The record is a collaboration between Ugandan and Sudanese rappers to celebrate the role of the Sudanese women during the Sudan revolution in 2018-2019. Artists have something to say and this pandemic has made it apparent that they might not get to do so.
While this pandemic has affected the cycle of music, producer Majid noted that 'it's an eye opener for the industry to think about reactive measures as part of the music project planning. For example, recording music from home, doing online releases among others." There is a general agreement of the importance to have strategies and measures in place that can mitigate the negative impacts in times of calamity such as this Coronavirus pandemic.
As the world wedges the way through this calamity, there is a silver lining to be exploited. Artists, like all other people, have more time on their hands now than they normally would. Mr. Ozil, hoped that this time of forced leave will be used by comedians to get creative and generate new jokes. Comedians are supposed to generate new content every now and then, but the pool they get comedians from is not so big so. Some comedians have to be showcased almost every show which may lead to stale jokes. It is clear that for most of us these are unprecedented times and while we are scared, Ninja C, a Ugandan rapper advises that we make the best of the situation. She sees a silver lining to this situation as she expressed, "I have more time to think up new ideas, write more music and get in touch with my creativity."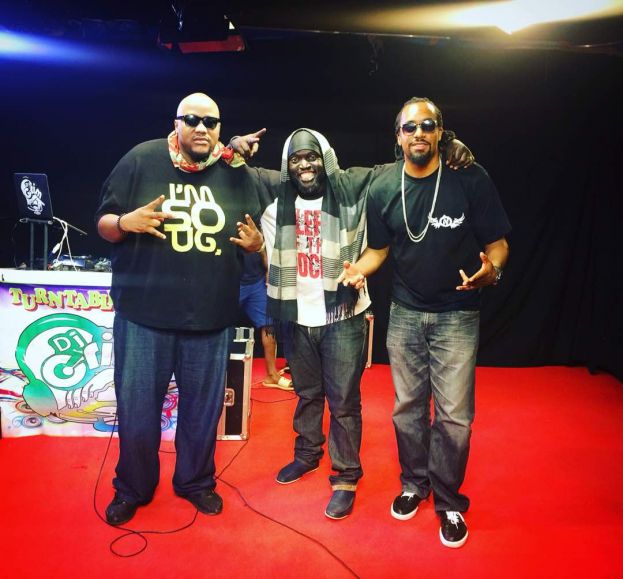 The Mith and Navio (left and right respectively) via http://masaabachronicle.com
For artists it's all about perspective now, it is about how best to lodge on. Edgard the Bard actually felt grateful for this time because he now gets the time to write poetry and work on projects he meant to kick start. He said "I'm taking my time with the projects I'm working on so that when I do them, they will be excellent. This is definitely the time for artists to expand their horizons and think outside the box and utilize platforms that they were not utilizing. I never utilized social media resources well as far as being a creative is concerned, but now I'm starting to work on online videos and extending my craft to the online fan base because physical contact is no longer happening." Because art is still an exchange, art consumers can meet their artists on these virtual channels and support them by subscribing and sharing their content and engaging artists online. It seems only fair that both sides utilize online channels in supporting each other. Even entertainment entities have to jump onto the digital wave with even more intensity. Talent Africa, for one, launched the TAG TV which is an online live show that features digital content. The show, hosted by Kella McKenzie, comedian Salvador, and Selector J features comedy segments, music sessions and exclusive celebrity interviews. The show invariably highlights messages about prevention and response to COVID-19 which keeps viewers alert about the pandemic
In all this we have to take the opportunity to reflect on life and our priorities and gain perspective on what is important. Edgard the bard advised that while creatives create content that is exciting and fun, thought has to be given to content that is fruitful for the human soul and mind. Artists will now know universal priorities and will have to highlight that what is important is life. Like Winston Churchill said, "if you are going through hell just keep going". Artists, like the rest of the world just have to hold on, follow rules and hope for a better tomorrow. Stay safe and fight against Coronavirus.