On Monday March 30 2020, reality came crashing down onto many Ugandans, especially those in the corporate world. Hell broke loose and many cried aloud and continue to do so until this day. Ugandan corporates were the only special group allowed to move, when the President had previously issued a ban on public transportation, sweeping all taxis and buses off the roads, while boda bodas were only allowed to carry luggage and not people. Many poor Ugandans cried foul, while the corporates still managed to cruise to work since privately owned vehicles still had the green light to move.
COVID-19 has been called an equalizer that affects the rich, poor, children, adults, politicians, voters and physicians. Heavens came down on many on the fateful evening of March 30th when the President abruptly announced that all private cars must be taken off the road, except for a few essential vehicles including military, health, cargo vehicles and media vans. The ban that was announced at 9:00PM and started to take effect at 10:00PM that very evening, giving people one hour to drive to their homes and park their vehicles. However, the call was questioned by many, especially those that had not stocked enough food hoping to drive to the market the next day and do this, but that wasn't the case any longer. The President would later explain that the abrupt announcement was to stop people from driving to villages and carrying the disease over there, hence infecting many more Ugandans. That evening, the President also announced a curfew that would kick off on the 31st of March 2020 from 7:00pm every evening to 6:30am every morning for 14 days, a curfew that was extended twice and is still ongoing until today. The curfew meant that every Ugandan had to either be inside their house or compound by 6:59pm every evening.
This is one of the most trying times the world has gone through as a whole. Usually, such pandemics happen in Africa while the rest of the world is well, but this has come as an equalizer. As Americans cry, so do Italians, the French, Chinese and the English. The world is crying and every government is doing whatever it can to protect its people from dying from a virus whose cure is still a mystery that scientists across the world are yet to land on.
Prior to the ban on private cars, President Museveni announced a ban on all public transportation. This hit hard both corporate and other Ugandans who wake up every morning to go to markets to do their day to day jobs. Taxi drivers and boda boda riders who depend on the small amounts of monies earned daily were to find other means of feeding their families. Those whose places of work were still open had to walk to work the next day, it was a nightmare especially when many found that buildings housing their offices had been closed by landlords.
The lockdown meant that Ugandans in the corporate world who did not own a car had two options; walk to work or not go at all. While the former may sound feasible, many Ugandans live far away from their places of work due to high rent fees in places near town. One would need to walk more than 25 kilometers to get to work and back home later in the evening, which is impossible. So, many whose companies could not provide a car to pick them up opted to stay home.
Before the complete lock down, people pondered sharing bills using Uber with the Presidential directive of allowing only three people in a car, including the driver. This means only two passengers could sit in an uber. But how possible was it to find someone going your direction, and willing to share an uber with you? The short-lived period between allowing private cars on the road and banning them completely except for medical, army and cargo cars left people confused.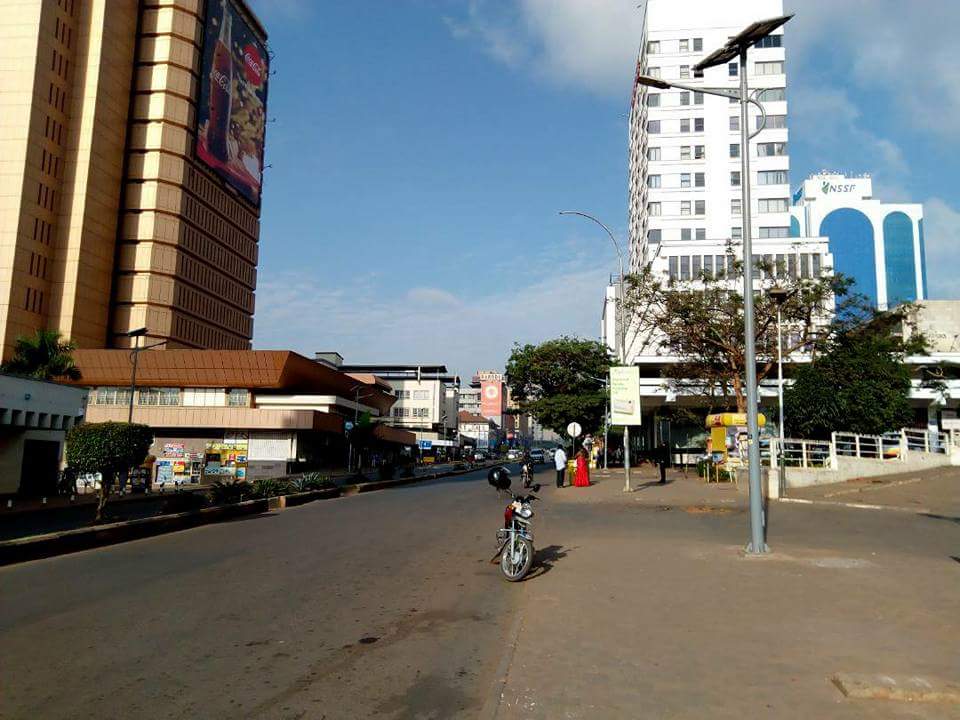 An empty street in Kampala via ghafla.com
Between Directives: Money Lost & Money Found
Paul works with a local radio station and tells me he walked on day one of the public transportation ban, after the company diverted all vehicles to pick a few employees and he was unlucky as his name was not on the list of the people getting picked. "I am supposed to be at work by 7am, I asked if they would pick me, but was told the morning show crew comes first and that I needed to find means to get to work, so I walked. If by tomorrow nothing has changed, I am not walking to work, I will accept to lose this job" Paul told me. Many people like Paul have lost their jobs due to the same. I spoke to two Uber drivers, Joshua and Mike, who seemed to have been enjoying making more cash than usual when private cars were still allowed on the road. Joshua had only completed 28 rides as he had joined the business following the President's directive to ban public transport. I was his 29th ride and unlike the usual complaints of 'we earn very little money', this time it was different as he appeared excited.
So how is business? I asked. With a smile to the chin, Joshua responded; great. "I am making as much money as I can before the President comes for this business too. You see, I work with some advertising agency and I figured that instead of parking my car at home and watching movies, I could jump on the road and make a few bucks" he added. He told me that on a good day, he went home with at least UGX 300,000 because the demand was so high and the amount per ride had also increased as per the destination. While he was busy enjoying business, other people were getting fired from their jobs for not affording a UGX 50,000 daily uber fee.
I wondered why bosses would not close offices and let employees work from home. I reached out to a friend who recently started a company and asked how the ban on public transport has affected them. He told me the partners had to buy laptops for each employee so they can take work at home. "We just started the firm and could only manage to buy desktops that cannot be moved to people's homes. So, we have been forced to put together money and buy laptops so as to make life easier for our employees to work at the comfort of their homes. It has constrained us financially, but it is the only option we have so far. We also plan to keep paying the employees throughout this time, because they are all full time and do not have any other source of income. Being an employees of a corporate firm, they do not qualify for government food relief, so we have to take care of them" he noted. With police and the Local Defense Unit personnel on the streets beating up people who show up for work, a company's decision to support their teams working from home is the best and most humane step to take.
Police officers patrolling the streets in Kampala with sticks used to cane those breaking the presidential directives via Badru Katumba, AFP
The Immense Toll on Diverse Economic Sectors
President Yoweri Museveni in his speech on March 31st, urged employers to erect temporally makeshift tents for essential employees that must keep working throughout this pandemic. This is however still a challenge especially for media houses. According to the President, it would make no sense for one to go to work every morning, interact with many people, some of them possibly sick and later come back home to interact with their families. He also advised people that work in markets to also find means of staying at their place of work and return home after the lock down, but this seems impossible. One of the journalists working with a large media network said their employers were financially unable to rent hotel rooms for them to stay since they are not receiving any business in terms of advertisement during the lockdown. "Media stations are not hospitals. Hiring hotels for employees is an extra cost, and no one is receiving adverts" the journalist said. Another told me they were fatigued and nearing a breakdown because they are not resting and their employer, a TV station was not allowing them to take a break. "I wake up every morning to rush to the station and get my assignment. I have to travel and shoot about three stories in different parts of Kampala, then I have to file them and rush home before 7pm. It is exhausting and I am becoming fatigued. I am not allowed a day off, because everyone else is working" she says.
Banks have also been forced to close or leave a small number of people to serve customers online since no one is physically visiting banks during the lockdown. I have for one lost at least 50 dollars during the lockdown and couldn't receive any help from my bank because there was no one to man the customer care desk. Everything seems to be falling apart, thanks to the pandemic. Frank who works with an insurance company based in Jinja Eastern Uganda, has friends and family in Kampala and travels at least once or twice a month to check on them. Since the lockdown started, he is unable to come see them. Frank lost an Uncle in Mpigi but was also unable to travel for burial due to the lockdown. He says it is such a trying moment for him not to be able to see his family. "Before the outbreak, I was planning to go see my people in Kampala. My workplace here in the East is a little far from Jinja town. I was planning to come home this month but couldn't because public transport was banned and I don't have a car. It so happened that I even lost an uncle in Mpigi but couldn't even bury" Frank says.
Many companies are losing money in this lock down, some are kind enough to continue paying employees' salaries but for how long can this hold? Hotels and several businesses dealing in tourism have been hit hard and they are some of the main industries the government is focused on. According to the Ugandan Bureau of statistics, in 2018 alone, Uganda received 1.8 million tourists contributing 7.7% of the GDP (UGX 8 trillion) and a contribution of UGX 1.6 billion to the country's export earnings. Ann who is in the tourism business says this is a dull season and their peak is always in June when people visit for the summer holiday. Many tourists who had booked hotels have cancelled and she says that unfortunately, some of their clients have succumbed to the disease. Ann tells me that even if the pandemic is gone by June, people will be too broke and scared to travel for leisure. The employees in the tourism sector are currently on unpaid leave. One of the biggest hotels in Uganda laid off hundreds of employees recently, most of them foreigners, and asked them not to return post Coronavirus unless they are called. That means the hotel management wants to downsize and this will leave hundreds of people unemployed.
Many corporate employees that would wake up every morning to go to work will stay home after the pandemic as many firms will downsize. Rental fees and food prices will send many back to their villages. The economy will crumble and it may take years to get it back to 2019 levels. Every landlord will take advantage and taxes will shoot through the roof, leaving many on their knees praying for the next meal. Currently, the corporate world is one of the most affected group of people by the Corovavirus pandemic, what comes next is anyone's guess.