She looks calm; her face is adorned with "Shlukh", talking about her history with pride and prestige. Sarah Barima Ahmed famous as Sarah Jogan was born in North Kordofan in a small village called "Rohood Al Nabaq". She spent her years wandering between Kordofan (AlRahad Abu Dakna) and the capital of Khartoum, and passed away at the age of 85 years or more in Khartoum.
I remember that she was always proud when she told us "you guys know nothing, when Ismail Azhari raised the flag of Sudan I was behind Hawa AlTagtagah…you have no idea what my value is" and then she sighs. The iconic Sudanese singer Hawa AlTagtagah was allegedly her friend, but they parted ways years ago.
Grandmother Sarah was interested in politics and its details; she memorized the names of every president in every country of the world and spoke to us with interest in political and cultural subjects. She sometimes used some English words; I do not know to this day where my grandmother learned these words, but they were always uttered correctly.
After a long day, we went back home with my cousins ​​and she would be sitting in her 'Angeraib Habab', ready to tell us stories from the distant ends of the world in her usual captivating way. The suspense and vivid imagination she added to the stories always attracted our attention. She was the kind of "Haboba" who loved storytelling and the art of using imagination to create stories.
During her life she had a pleasant and strong memory, she would remember every small detail, and her visits to several Sudanese cities gave her a richer perspective and background information about how certain things happened in the country. She used to point her hands left and right when she was speaking, like a human development lecturer.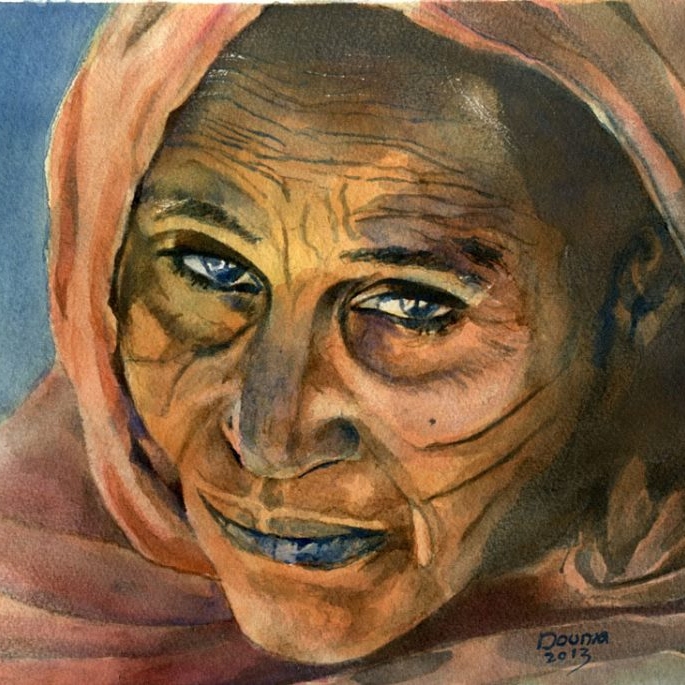 Haboba Sarah told us about her meetings with some politicians and leaders and how she shook hands with them in some festivals she attended. She told us about the time she shook hands with former Sudanese presdent Jaafar Nimeiri and other leaders at the time, as well as her unforgettable memory of meeting the artist Abo Dawoud when the train taking him from El-Rahad to the city of Nyala for a concert was delayed. She recalled vividly, "I met the artist Abo Dawoud at Al-Rahd station and we talked until the train moved from the station". She also remember the first concert by Ibrahim Awad in Khartoum and his haircut that was popular at that time, and some of the artists and their visits and who was the first to sing a certain song and the first to sing in a certain theater and so on. She had many such stories, but I do not know the extent of accuracy of the events, dates and information told by Haboba Sarah. Her mobility from one city to another within the Sudan gave her exposure and filled her memory with stories and tales that she would begin to tell us after we drink several cups of coffee under the shadow of her Neem tree. After her first cup of coffee she begins to remember and narrate stories such as "Abu Jakuma" and other strange characters that I think were inspired by her own imagination.
Haboba Sarah's tale-spinning captivated us and left us with our jaws ajar until each story ended with an imaginative spin on vivid details. She taught us the art of storytelling and how to build and keep an interesting narrative. May she rest in peace; her impact on us was great, and the tree under which she used to sit is still standing in perfect silence. I think the tree is also mourning her departure from this
world.