"I was born in London, England, then moved to Sudan and stayed there until the year 1989 but because my entire family was back in Omdurman, we used to come back [to Sudan] every summer up until 2006."
With these words, Ahmed Gallab, or simply known as Sinkane started his conversation with me, I had many questions to ask the Sudanese-American funk-rock star, but I wanted to start from the roots.
Khider: What do you remember about Sudan?
Sinkane: I remember a lot about Sudan, even though I haven't been back in 10 years, I remember the people more than anything, I remember how great, generous and hospitable they are and I think life in Sudan is less complicated than it is in the US or anywhere else. People are just very interested in taking care of themselves and their families, so I remember that. I remember the heat of course, and most importantly Pasgianos, I love Pasgianos & miss that stuff so much!
Khider: What was it like growing up between here and there?
Sinkane: It was crazy! Typically, people from East Africa here in the United States would arrive and try to cultivate and maintain their culture, but then they'd go to school and find themselves the only Sudanese, Ethiopian or Somali in their schools. I  was the only Sudanese kid in my school, I had three Sudanese friends  who lived two or three hours away from me and I'd see them maybe during Ramadan or at gatherings every once in a while. So you can't communicate with people who are a lot like you, but then there are a lot of cultures that you can interact with; like the African American  culture, which by the way is very different from the African culture. I had a lot of problems with the African Americans in my school; they didn't understand me because of my African culture and heritage, some of us actually did connect though, and later on in life we learned to connect and accept everybody, but it was a lot harder growing up.
Khider: Then what were you like growing up?
Sinkane: I was confused. I didn't feel like I fit in anywhere and so I kind of found my own way and connected to the punk rock community. Everyone there felt exactly the same as I do; misfits who were confused about their identity, and that made it really easy for me to connect with them.
Then in the summer I would go back to Sudan and it would be somewhat of a game. I would feel so inspired to connect to everyone, to speak Arabic with everyone. My cousins and my immediate family all lived near each other so I had this instant familiar bond with everyone and it was really great. Although as much as I tried to speak Arabic, to dress and act like my cousins, I could still feel like something was different, which was hard because it made me feel like I can't fully connect to my roots. So when I was in Sudan there was this void that existed because I didn't grow up there, because I didn't experience what they experienced, and when I'd go to the US that other void was there. So I never felt complete or comfortable in either place, but the silver lining was that I managed to see the people my age grow up and experience current events, at the same time I'd see my friends back in the US deal with the same events so it gave me this really interesting perspective and it allowed me to see the world with an open mind in a way that none of my friends were able to.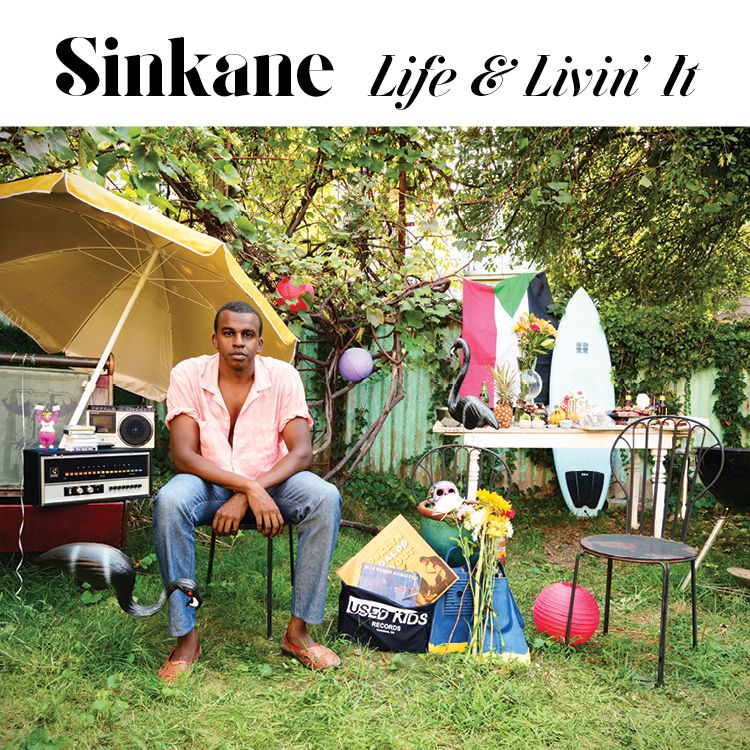 Khider: Sinkane is known for staying away from politically charged lyrics, did that change in the new album?
Sinkane: I think that with my new album I was confident in every aspect of writing the songs and speaking about the things I wanted to speak about. It's kind of tough to be a political musician because you can be pigeonholed into a corner if you are- you're either this militant person, or you use it to speak about your own agenda. People don't always expect a political agenda from a musician, because they feel like the musician is intruding on their personal space. As far as I'm concerned when I listen to music I want to escape from reality and go to another place; have my own safe zone so for the longest time I stayed away from being political, but on this new album I wrote so much about my personal experience so it was really tough to not be political, to not talk about the current state of affairs and how I'm affected by them as a Sudanese American, as an African, as a Muslim. I think you just have to be delicate about how you put it, I'm afraid that's not my thing and I want to talk about more personal things.
Khider: Can you tell us more about your new album "Life and Livin' It"?
Sinkane: I started writing it a year ago and when I started writing I wanted to achieve two things; I wanted to write an album about my life and my experiences and I also wanted to have fun.  When I would go to the studio to start making music and creating something that made me get off my feet and dance I knew then that I was doing something okay.
When it comes to the lyrics, I thought about the things people like me-a second generation diaspora-would feel and deal with. For example identity, religion and how you play amongst the society that you live in. So for someone like me, as a Sudanese American, the issues are around the modern mainstream culture in the US, around being African and growing up as an African amongst the African American community. It was also about being an American Sudanese person going back to Sudan and experiencing life that way and understanding my identity; because people like me go back to Sudan and it won't feel like home, but then we'll return to the United States and it won't feel like home either, so you'd be confused and you live your live in limbo trying to understand who you really are. I wrote about these issues in the album.
Khider: This album tour is not your first tour as Sinkane, how has your history with touring been so far?
Sinkane: I'm 33 years old now, and I've been touring since I was 19. We just talked about Amir [Oddisee] before the interview, and Amir and I are very different in this regard; he could stay in the studio and work on music all day long. I like doing that, but I always reach a point where I need to leave the studio and play music live. He's an MC and I'm a multi-instrumentalist, I love playing live for people; it's how I started, it's what made me fall in love with music. I remember when I was young in Sudan, every Friday my grandpa would have a 'howleya' in our house, guests would come and they'd have a really beautiful religious gathering and he would recite all these religious stories. It sounded as if he was singing, and made me feel as if I was hallucinating or something. That was the first time I knew I wanted to do music, and do it for the people.
Khider: So this was your main inspiration, what else inspired you?
Sinkane: This was the big one, but I guess I just love connecting with people. My favourite thing about making music and releasing it, is when someone would send me an email or talk to me on a show and say that they've listened to this particular song and they connected to it or were inspired by it. My music aims at showing people who are like me or face the same situations as I do that they are not alone, and gives them energy to do what they want to do. I'd like to also serve as a role model to all the Sudanese youth who want to be musicians and don't have anyone to look up to. The joke around Sudan is that anyone has to become a doctor or an engineer, which is great, there's nothing wrong with that, but there has to be some other kind of role models to show that there are other things to be done, and there are other Sudanese people who are doing things that aren't this or that and there's no shame in that. I just want people to know that whatever you do, do it because you want to, and once people notice you doing something they'll be inspired to pursue their own cause.
Khider: Who were your musical influences growing up?
Sinkane: I have a lot! There were a few rock bands that I really enjoyed; Radiohead was one, Caribou, Miles Davis, and Albalabel I think they were most influential to me when it comes to Sudanese music. Then there is this band called Spiritualized from the UK which was one of my favorite bands growing up. I went to see them live in concert when I was 17 and it completely changed my life and my perception and understanding of music. It was a profound experience and I think that I walked out of that concert a different person; I think I credit that concert to me being a full time musician today.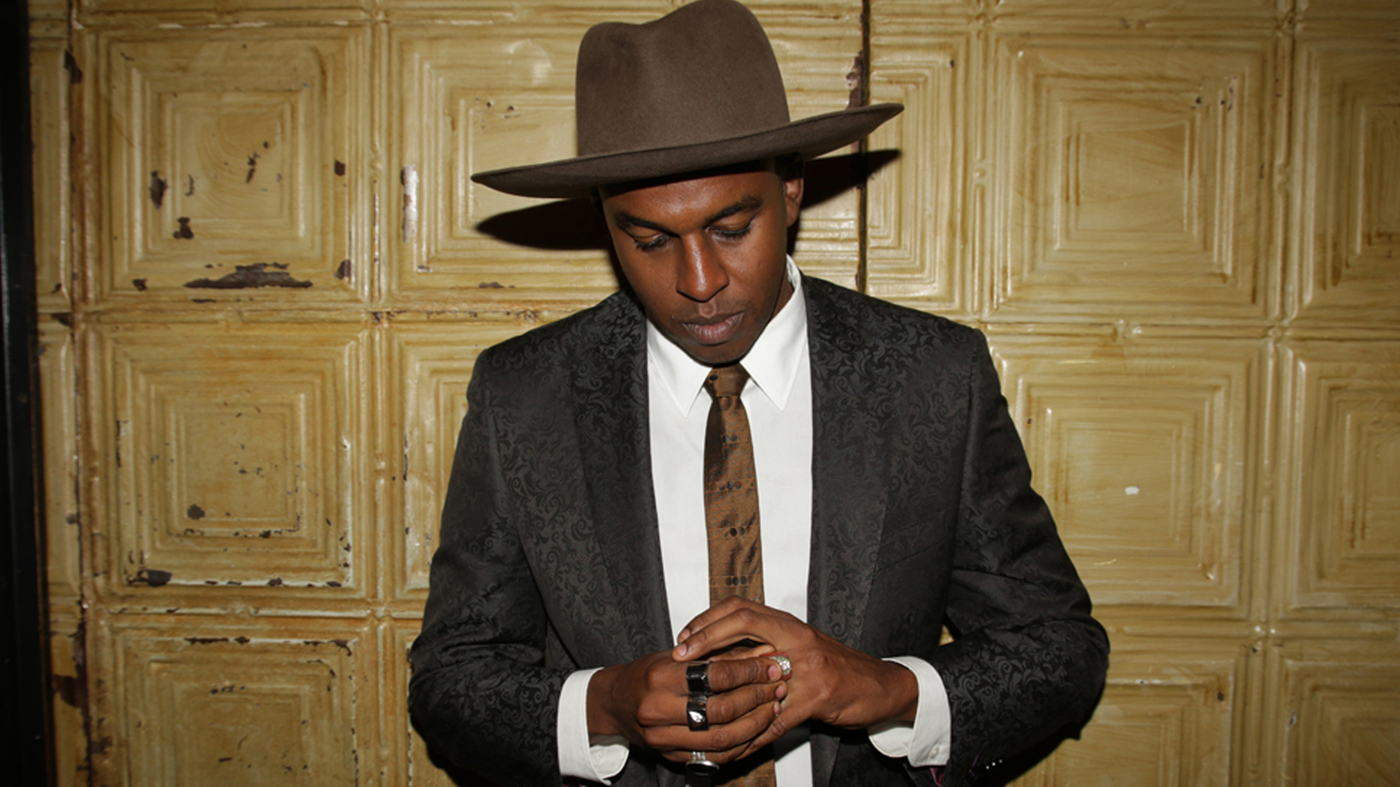 Source: NPR
Khider: How is your relationship with Sudanese music?
Sinkane: I'm a huge fan of Sudanese music, my biggest Sudanese influences are Sharhabeel Ahmed, Nour Aljailani, Said Khalifa, Albalabel and many more, the great thing about Sudan is that you can take a man out of Sudan but you can't take Sudan out of a man. So in every Sudanese house outside of Sudan there's always a huge drawer filled with cassettes, all of their favorite Sudanese music and it's what you listen to every day at home, in the car, with the family at gatherings, and I'm very inspired by that.
Khider: Tell us more about Atomic Bomb! Band?
Sinkane: Several years ago I was performing a concert with Femi Kuti, and there was a guy running around backstage with a camera crew trying to interview Femi Kuti about William Onyeabor, who was a huge influence to me. It completely changed my life, it inspired me to go where I want to go with Sinkane, and so when they asked me to be the director of a band that had David Byrne from the Talking Heads and Money Mark from the Beastie Boys I instantly said yes. They gave me all of David Onyeabor's music, I studied it inside and out, understanding and dissecting the music and I don't think I've ever devoted myself into understanding anyone's music as I did with his. It was a challenge and we had great times, done incredible shows and I got to travel the world with my best friends and musical idols. To me it was surreal.
Khider: What happened next?
Sinkane: We still get offers to do shows, and although it's hard to keep on doing it due to everyone's current occupations, I don't think it will ever stop. It always seems like a family reunion every time we meet.
Khider: What did you make out of leading such an enormous collaboration?
Sinkane: I gained a strong sense of confidence; knowing that I could lead a band with people such as David Byrne and Money Mark, all of these legendary musicians trusted me to lead this project and I did. It gave me a lot of confidence and reinforced my idea of community; I mean it was 15 people every night on stage and then at every show we'd have different guest singers so no show was ever the same. Every show had different people performing and they all put their own spin on the music so it created this sense of community between all these great musicians who happen to be fans of William Onyeabor. Most importantly I made new friends, I met the people I idolized as a kid; how many people can say they performed with David Byrne? Or have a memory of this one time when Damon Albarn [of Blur] took me to the side and told me that I was a musical force! I thought that was unbelievable!
Khider: Before we wrap up, I want you to tell me about a specific incident with Usher.
Sinkane: Yeah, he was doing a show in South by South West in Austin, Texas which is a huge music conference in the US. He was doing a secret show there, so while rehearsing he asked the band he was playing with about the music they're listening to lately so they played him my song Running and Usher freaked out! He said if this guy is here hit him up I want to play this song with him. At 10 AM I got a phone call from my booking agent and he was like: "hey man Usher wants to play this song with you." So, I immediately hung up the phone, because there's no way he was obviously lying. He called again talking about a black Escalade coming to pick me up to a secret rehearsal location, and two hours later I was pulling up to the secret practice location. We practiced, they learned the song and it was the most surreal moment of my life. I was welcomed to the stage by Pharrell, and I went backstage and Solange was there, Schoolboy Q, Future, all of these guys were just hanging out backstage. I was so scared I was actually crying and put on my sunglasses so I don't freak out you know. In my mind, all of these people weren't real, they were just these guys you see on TV and I was a nobody compared to them, it was a surreal moment.
Khider: What are your future plans for Sinkane?
Sinkane: I want to make music for the rest of my life, my band is my family, we all collectively work and put a lot of effort to stay afloat and I want to keep doing this with them forever. But most of all I want to inspire people who are just like me to do what they want to do in life, I want to be a role model for sticking up to what I love and doing what I want to do.