When speaking about band music and music in general in Uganda, the first thing you will be told is to try Afrigo band. Weddings, night life and festivals have all been their thing for several decades and it has not aged or changed. It is no shock that one of the band members is receiving a medal from the head of state this year on Women's Day. For so long, Ugandans have grown up to find Afrigo band, listened to their songs and appreciated them. Young or old, this group of men and woman has found a place in the hearts of many families, thanks to their decent themed songs and style during performances.
As we celebrate women in music in honor of the 2020 International Women's Day, I reached out to Rachel Magoola for an interview and was glad to be granted audience with one of the longest performing members of the band. Born, Rachel Magoola in Bugweri District, Busoga region, the Obangaina hit maker started singing in school at the age of 6. She decided to take on singing professionally in 1989 and describes her genre as afro folk and pop music. Magoola tells me that to her music is a passion which became a career, adding "I am a teacher trainer with a Bachelor in Teacher Education. I have also joined politics and I'm now the NRM Flag Bearer Woman MP of Bugweri District".
Afrigo band being so big, one would think some artists miss out on performances, but this is not the case. The band has two famous female singers; Rachel Magoola and Joanita Kawalya. Asked if as women they get enough time to perform as their male counterparts, Magoola answered in affirmative. She says "I believe I do get an equal performing platform though the industry is male dominated, but women are doing great in this era".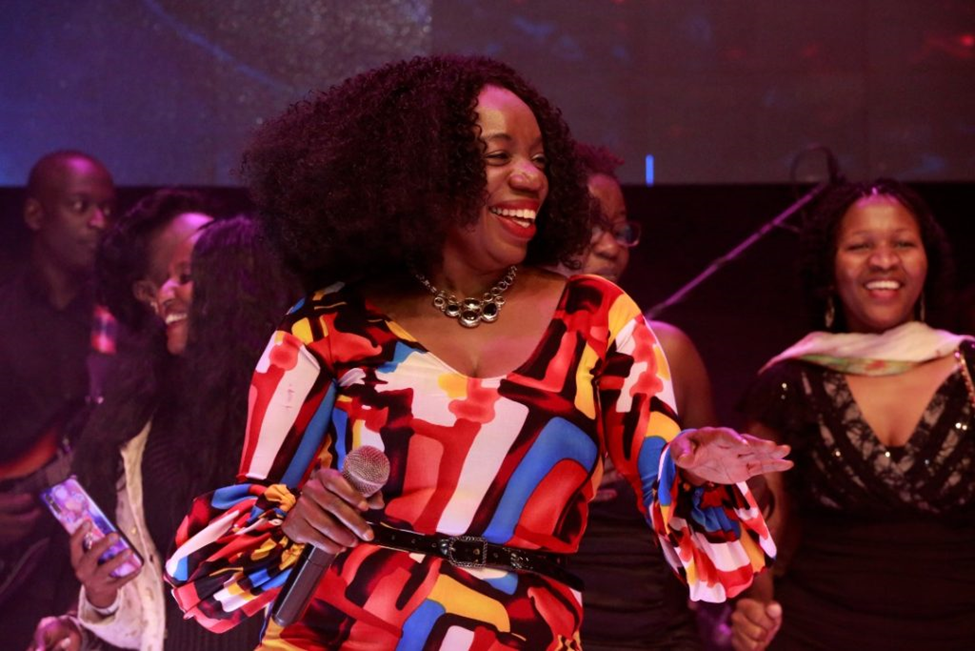 Source: Matooke Republic
Like many artists in Uganda today, Magoola recently announced plans to join politics. She tells me, her goal is to empower her community. "I joined politics because I felt I had a contribution to make in empowering my community with purposeful leadership. I will keep singing even after winning the Parliamentary elections. Music has great value in balancing the society's temperament, let alone edutainment" she says.
She describes musicians as being like birds in the air, each with its own voice and color. I asked if Magoola believes that female artists in the music industry receive enough support from fans, DJs, TVs and radio stations, producers among other people in the industry. She tells me that support nowadays comes with quality. She also believes the entire industry needs support, adding "lately support is powered by how good and creative you are. Women are very visible; in fact, they rule. That can only happen with support. It is the industry as a whole which needs more support from the government in recognizing it as an industry that contributes greatly to the economy. Strengthening the regulatory instruments that increase growth of the industry instead of clamping down on it by taking over the only institution that was collecting on behalf of the artists".
For so many decades, Magoola has been recognized within Afrigo and is set to receive a medal from the head of State, President Yoweri Museveni this year on Women's Day on March 8 2020. Asked what she would change about the current state of the music industry in Uganda, she replied "I would return the running of Uganda Performing Rights Society to the artists who own the rights to the music played. Nowadays I have no clue what is happening to my royalties. And I would enforce the copyright law which is the best way artists can earn from their sweat".
Her turning point as an artist was when she made the decision to become a professional musician. "I would not be who I am if I did not pursue this." She advises any young female planning on joining the music industry to be true to herself as this is the only way to be unique, noting it's essential "to respect and value her God given talent. Her values will sustain her." Magoola's favorite song is her own Obangaina for its social and political messages. She describes Women's Day as a celebration of women as the contributors of the other half of everything achievable adding "celebrations gratifyingly remind us how far we have come."