Postnatal depression- also known as postpartum depression- is a type of mood disorder experienced by parents- especially mothers- after having a baby. According to research, postpartum depression affects about 15% of women around childbirth. It is estimated to also affect 1% to 26% of new fathers. Postpartum psychosis, a more severe form of postpartum mood disorder, occurs in about 1 to 2 per 1,000 women following childbirth. It is one of the leading causes of the murder of children less than one year of age. An estimated 50% of fathers are likely to develop the condition if their partner has it 1. When I posted a question in a female dominated Facebook group about postnatal depression, a few members responded. But hundreds of them ran into my messenger to privately share their experiences.
While this is a common occurrence, many women live in denial and do not want to seek medical help whenever faced with the challenge. After sharing with me their experiences, I realized mine wasn't any different when I had my daughter. From the pain during birth, failure to breastfeed (lack of breast milk) and the baby crying endlessly for over three months, one would be lying to say their mental status was as perfect as during the prenatal period. If there is anything that most private hospitals do not offer pregnant mothers, it is "the antenatal talk."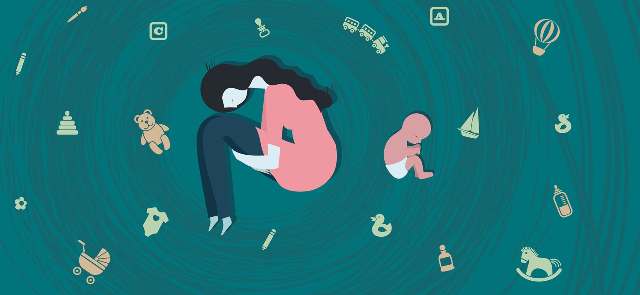 Source: Dawn.com
My Experience
I started my antenatal visits as early as two months. But even after having my daughter, the doctor discharged me without any advice on how to take care of a child, or at least how to breastfeed. A few hours after having my baby, I had no milk to feed her, so I called a midwife and asked for help, her response was "feed the child formula if you have no milk." This was the beginning of my depression.
After checking the baby, a pediatrician cleared us to leave the hospital. She only said, "The baby looks okay; you are free to be discharged." So we left. Four days later, I was required to return with the baby for a postnatal review. Well, she had lost 1kg and of course the pediatrician threatened to admit us and teach me how to breastfeed a child, I then asked why she did not teach me earlier. She then started to. It was not just breastfeeding that was depressing but several other factors. But since this article is not about me, I will share more important things about the issue.
Some of the symptoms of post natal depression include; a persistent feeling of sadness and low mood, lack of energy and feeling tired all the time, trouble sleeping at night and feeling sleepy during the day, difficulty bonding with your child, withdrawing from contact with other people and frightening thoughts like wanting to harm yourself or the baby, among others. While these can be easily identified by people around you, it is hard for victims of post natal depression to realize it as the condition grows gradually. Some even go ahead as to deny being depressed when that is suggested by those surrounding them.
What Causes Postnatal Depression?
There are several causes of this condition as explained by psychiatrists, including; a history of mental health prior to or during pregnancy, having no close family or friends to support a mother, poor relationship with the partner, recent stressful life events like bereavement, loss of a job and experiencing baby blues among others. A few women who agreed to speak to me about their experiences pointed to the lack of support from their partners. One of them is Jane (not her real name), a 28 year old career woman who had her first child 3 years ago. Despite being married, Jane is not yet ready to have another baby after receiving close to zero help from her husband.
Jane says that from the moment she returned home with the baby, her husband became distant and did not want anything to do with both of them. He even feared to hold the baby claiming that he would break something. "Since I had no house keeper at that moment to help with the house work, I had to suffer with a crying, hungry child and cleaning up the house. My husband could not even accept to carry the child while I fixed us a meal" Jane says.
With nearly the same experience, Annet a mother of three says she suffered depression after having her son (first born), as she had no experience nursing a baby. She tells me that the baby was always ill and at some point she thought having him was some curse someone cast on her. According to Annet, it took her son up to 3 years before he could walk, as he had some spinal cord issues. Her husband and her bounced from hospital to hospital and spent nearly all their savings. At some point, she prayed the child would just die and they would all rest, but this did not happen. Three years later, he was okay and is now in school. Annet waited 6 years before having another child as she was still dealing with the trauma.
When I asked these ladies why they did not share with society what they were going through, they both said "people will judge you and call you crazy if they hear such things. They will even suggest that you be taken to Butabika (mental health hospital) and your child be given away. That is not an option I am willing to take."
But, why are women scared of seeking help? Is society making motherhood this hard for mothers?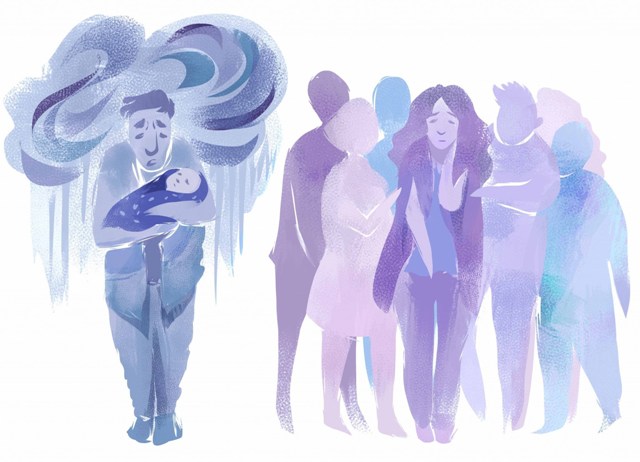 Source: Daria Kiseleva via McGill Tribune
Butabika National Mental Hospital
For over 50 years, Butabika National Mental Hospital in Uganda has provided expert management for patients with mental disorders. I visited the hospital and spoke to Senior Consultant Psychiatrist, Deputy Executive Director at Butabika Hospital Dr. Juliet Nakku.
According to Dr. Nakku, several women live in denial of being depressed after having children and some end up completely mentally unstable. Such are then admitted to the psychiatric hospital and counseled until they are ready to return home. The psychiatrist says the biggest trigger of postnatal depression is unsupportive spouses. "A woman is supposed to feel the love and support of her partner after having a child. When this is lacking, they feel unwanted and unloved. The woman now transfers this anger to the baby whom she blames for maybe causing the rift between them and each time she looks at the baby, thoughts of a distant spouse return and she either begins crying and leaving the child unattended to, or even thinking of killing this child that is believed to be a mistake" Dr. Nakku explained.
Dr. Nakku recommends a spouse bringing a counselor at home to talk to their depressed partner if they do not want to go to the hospital. She explains that suggesting seeking medical attention could worsen the condition, as the mother might still be in denial. She says that bringing a counselor home and speaking to them in their comfort zone is a better way to deal with the patient. She also suggests keeping the child away from such a mother as they could snap at any moment and take its life. Also, there should be someone to watch the mother all the time to avoid self-harm.
While many women live in denial, it is also upon nurses to inform them about the condition during antenatal visits to prepare them psychologically, as they prepare them physically, for the arrival of the child. In several public hospitals, pregnant mothers are sat down in classes and taught how to hold a child, breastfeed and deal with any anxiety that comes with child bearing. One should seek medical attention if after 3 weeks of having a child they still have the symptoms mentioned above. While it is believed a woman is going through "baby blues" during the first two weeks, this should pass within a fortnight and she should become psychologically ready. If one seeks help immediately, the condition can be dealt with and the couple will avoid consequences, including not having any more children in life.
Mothers are encouraged to share their feelings with someone and whoever they share with should avoid judging them. Also, society or even relatives should avoid any conversation that might trigger post natal depression in a mother. Avoid asking a single mother about her baby daddy until she is ready to tell you about them. Asking might trigger depression that may last a long time. While the condition may intensify into mental illness, it can be reversed if specialized treatment is sought at a mental health facility like Butabika. Exercise has been found to be useful for mild and moderate cases, while therapy, and breastfeeding have also been found to help.
Do not shy away from seeking treatment for your wife, daughter, sister or friend as this is equivalent to saving their life.