Standing at the periphery, Mandela Matur, best known as Ade , watched as the crowd trickled in.
A dark shadow from the overhead trees grimaced across his frame. His distant stare seemed to take in both the entire venue of his book launch and nothingness at the same time. The set which he had chosen for his book launch had been barricaded with a banner and tape, chairs arranged facing a makeshift stage with banners on either side reading 'Stranded Lullabies Book Launch' "Deeper than Poetry" Mandela Matur.'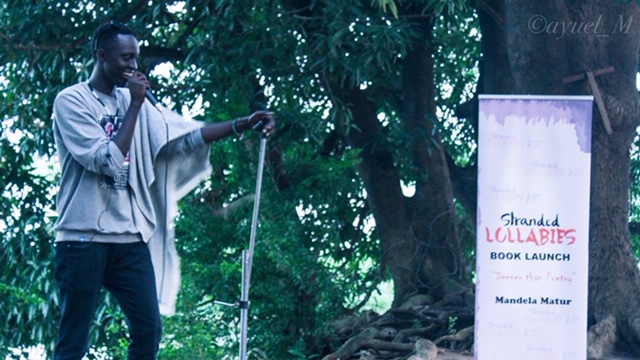 How aptly the venue suited the occasion. On the pathway leading up to the book launch area there is a signpost that reads: "Silence the trees are growing." In the background of the stage, were the calm waters of the Nile, a sunken ferry and thick foliage of green leaves on the other bank of the river. In the hum around the audience, preparations were underway for an evening of poetry and music at Afex River Camp.
It was here that days before the book launch, Ade recited a poem on depression, commemorating a deceased cousin, Jiet – may he rest in peace – in a video produced and published by Sam Lukudu. The poem begins, "Depression is a strange friend." Ade has had experience with depression, which he wrote about in his blog Lost Voices. The post talks about the different ways one can experience depression. His journey to understanding mental health began in 2013.
A couple of months after losing Jiet, a close friend of his, akin to a big brother, hung himself. A female friend jumped out of a tall building window – both committing suicide. The sequence of deaths resulting from depressive episodes prompted him to look into mental health which receives little attention in the African context. He believes that after having overcome his depression, he is capable of helping others who are going through it.
Depression is one of the most common and devastating mental illnesses of the modern age. It may be understood in terms of the paradoxes and contrasts between the depressed person's self-image and the objective facts. Although depression (alternatively called melancholia) has been recognized as a clinical syndrome for over 2000 years, there isn't a completely satisfactory explanation of its paradoxical features. Several issues concerning its nature which remain unsolved are:
· Is depression an exaggeration of a mood experienced by a normal person or an entirely different mood?
· Does depression have different stages, from the onset, through its course, to an outcome?
· Is depression a type of reaction or is it a disease?
· Is it caused by stress and conflict or is it related to a biological derangement?
The condition that we today label as depression has been described by ancient writers under the classification of 'Melancholia.' Hippocrates described it in the 4th Century B.C as "swings similar to mania and depression." Aretaeus, a physician in the 2nd Century B.C, gives a more detailed description of his patients as: "sad, dismayed, sleepless … they became thin by their agitation and loss of refreshing sleep … at more advanced stages, they complain of a thousand futilities and desire death." It's noteworthy to mention that, through this description, Aretaeus specifically delineated the manic-depressive cycle.
Ade started writing at a young age. As a child, his mother asked him to write essays detailing what he wants to ask from her. Many years later he entered into a national essay writing competition in Uganda and won the second-best writer in the whole country. This confidence boost and general passion for writing are evident every time he picks up his pen. Along the way, however, Ade lost his mother in 2013, at a crucial time when he was nearly finishing high school. He fell into a deep depression.
He attempted suicide twice during this depressive state before realizing that everything happens for a reason. He was, fortunately, not alone through the tumultuous times. The mother of the girl he was dating at the time was a psychiatrist and was informed of what Ade was going through. While visiting the girl at her house, he met and talked with her mother. She asked him what he enjoyed doing, to which he responded that he loves writing. She one day asked him to write a poem of what he felt in that moment. When he read it out to her, he felt better. He kept writing for the remainder of 2014, publishing an online collection of poetry titled Voices in my Head. Ade deleted the poetry collection in late 2015 when he felt he had somewhat recovered.
Losing his mother and close friends at such a young age reshaped Ade and in many ways, influenced his life's trajectory. After completing high school, he went on to live in South Africa, where he met with a psychiatrist who helped him in his journey of understanding himself and his mental health. In December 2015, Ade came to Juba where his father lived and worked. His relationship with his father was complicated and strained – having lived with his mother for many years, starting this new relationship was nothing short of challenging. He continued writing and working on Lemonade Love, his first published poetic anthology. At first, it was intended to be written as a novel, but it was revised later into a poetry anthology and released in 2018. In late 2017, he sat with Asif, a fellow author, to write an erotic collection of poetry which was published on Valentine's Day 2019.
In March 2017 at the Hagana Festival, Ade was introduced as a spoken word poet to the waiting crowd – a totally different crowd from his first performance in 2012 at the Kampala City Raid. This was followed by a performance at the Bayimba Festival in Uganda. His directness has earned him many accolades from a young age, adding to his name a prefix that has become an embodiment of his persona: AdeThaTruth. Exuding with confidence, he has graced different stages in South Africa, Kenya, Uganda, Egypt, Ethiopia, and South Sudan. In addition to that, he shared the stage with various internationally-acclaimed musicians such as Gilad Milo and Sydney Salmon.
Writing Stranded Lullabies was different from his other works of poetry; in this work, he tries to tell the stories that the people of South Sudan have experienced. He uses a gothic theme to cover the horrific experiences that society has seemingly normalized. In this poetic anthology, he also deals with the loss of his mother. The date of the book launch can be symbolized as yet another rebirth for Ade, as it was released on the 17th of August 2019 – just a day before his 23rd birthday.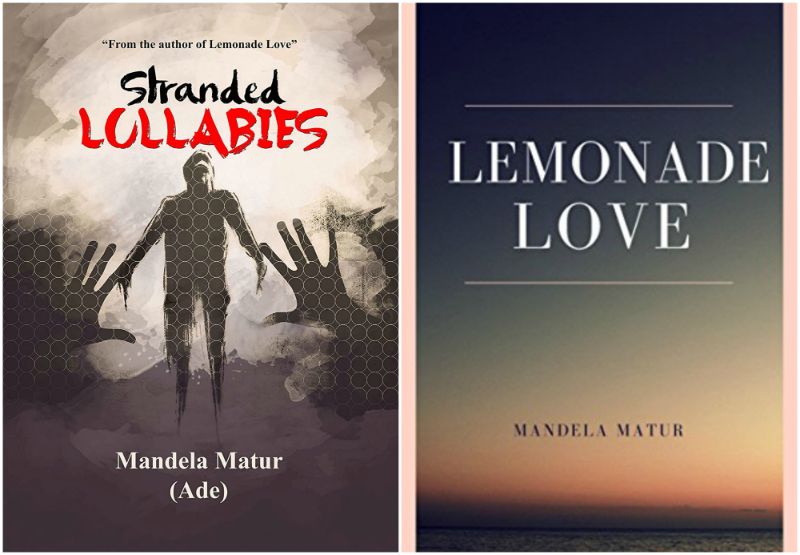 Behind his heavyset glare, before gracing the stage to perform a few poetic pieces from his book, Ade talks to his mother – his guardian angel. Cometh the hour, cometh the man; he walks to the stage and unleashes, with exhilaration, a tirade of emotions, leaving the crowd mesmerized and asking for an encore. The book launch engaged his adoring fans, allowing them to ask Ade to perform any poem of their choice.
In an exclusive birthday party attended by close friends and family, Ade's father, Mr. Matur Sr., explained why he named his son Mandela. It was an honorable name he gave to his son in anticipation of the great things he would accomplish, like his namesake Nelson Rolihlahla Mandela, the South African anti-apartheid revolutionary, political leader, and philanthropist, who served as president from 1994 to 1999.
Discussing the fraught relations with his father, Ade explains how intergenerational trauma has manifested in the context of a disconnect between the two generations. Ade's father joined the Sudan People's Liberation Army at the young age of 14 and went to Ethiopia for his training. Ade explains that his father had a passion for schooling but never got the opportunity in his youth because of the situation and circumstances he was living in. This determination to obtain and focus on education has been, in turn, pushed on his children. In writing Stranded Lullabies, the young poet tries to bridge this gap and create an understanding, tolerance, and acceptance between the two perspectives and experiences.
Ade will continue grasping the issue of mental illness – as he will soon be heading to Mauritius to pursue a course in mental health for his undergraduate studies.
Quoting from Proverbs, Ade believes, "You need the wisdom of an elder and the strength of youth to move a nation."
References:
Depression and feeling dead inside: https://adethatruth.blogspot.com/2019/06/depression-and-feeling-dead-inside.html
Depression: Clinical, Experimental, and Theoretical Aspects, By Aaron T. Beck, available:
https://books.google.com/books?hl=en&lr=&id=6rigtdo0u2UC&oi=fnd&pg=PA3&dq=depression&ots=T38kNbF_2C&sig=stydPpQhUm58UefWN8FeUgH0LnU#v=onepage&q=depression&f=false