To jam for peace is to improvise messages or actions, online or offline, that help in spreading peaceful ideas and actions. Former #PeaceJams aimed at bringing communities together, including activists, peace-builders, local youth organizations, journalists, artists and students.
Previous #PeaceJam events took place in different areas such as South Sudan, Kenya, Rhino camp in Uganda, and Canada. Interesting ideas and events were used to promote peace, diversity and unity; such as traditional dances, street theatre, workshops, short competitions, in addition to the social media campaigns that run online. An interesting example from a previous #PeaceJam event that was held in Juba in September 2015, was an Andriod app named "Salaam Peace". The app was developed by a 22 years old engineer and aimed at mitigating conflict among the youth.
This year, South Sudanese youth are hosting an online and offline Peace Jam, organized by #Defyhatenow and its partners inside South Sudan and in the East Africa region. The peace jam's objective is to help raise awareness about peace-driven projects and initiatives in South Sudan. It also explores opinions about peace from the perspectives of South Sudanese youth, discovering their expectations, visions and thoughts.
The year 2018 has been exemplary in the peace talks held by previously warring countries. Let's revisit the uplifting examples of North & South Korea, and Ethiopia & Eritrea to get glimpses of how leaders headed for peace deals, and some preliminary impacts on the community level.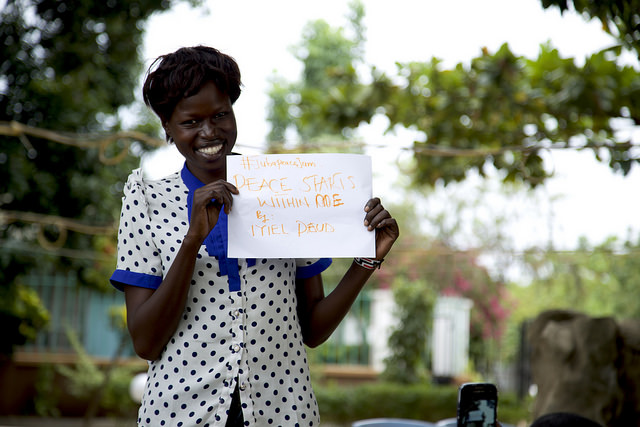 Source: defy hate now
1- Ethiopia and Eritrea
The recent peace agreement in June 2018 between Ethiopia and Eritrea has been pivotal as much as it was heartwarming. After 20 years of conflict, the heads of the two states, Abiy Ahmed and Isaias Afwerki, met in Addis Ababa to end the war that is considered as one of Africa's longest ongoing conflicts.
An Eritrean ambassador was appointed to Ethiopia after the reopening of the embassy for the first time in 20 years, but that was just the beginning.
Abiy, the leading contributor to the peace agreement, was compared to Nelson Mandela and Mikhail Gorbachev. His comments on
the deal to the New York Times were moving: "There is no longer a border between Eritrea and Ethiopia because a bridge of love has destroyed it". He adds: "This is an African-led peace." Many hope that this peace deal will have a ripple effect on nearby countries in the region.
On a more cheerful note, tickets for the first 300-seat flight from Ethiopia to Eritrea after the peace deal was signed were sold out in less than an hour. Another plane was arranged 15 minutes after the first. Champagne and red roses were served to the exuberant cheering and singing as the plane landed on Eritrean lands.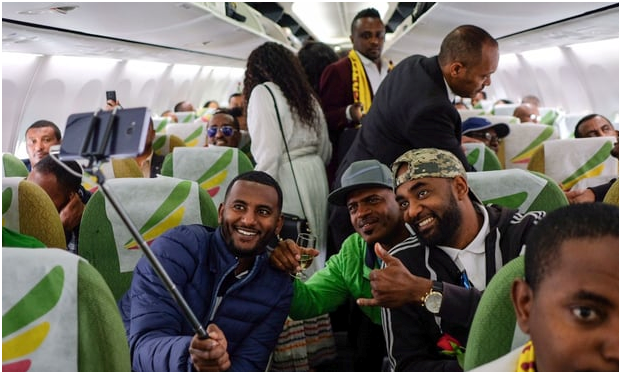 Source: the guardian
Abiy has also released thousands of political prisoners, restored access to blocked websites, and lifted decades-long block on phone-calls across borders.
2- North and South Korea
The historic peace summit between North and South Korea is seen as incredible points in history, which will hopefully lead to a new age of peace.
The leaders of the two nations met with high expectations of change and to put an end to the war. Since the end of the Korean war in 1953, the monumental meeting in April 2018 was the first time a North Korean leader stepped on South Korean land. Both Kim Jong-un and Moon Jae-in stepped into the Demilitarized Zone (DMZ), which is a 2.5 mile stretch that separates the two countries. Other than the discussions on their mutual goals of denuclearization and end of war, audiences were able to witness the small peaceful gestures between the two leaders, when they were planting a tree together and when they spoke privately for 30 minutes on a footbridge, taking photos in the process.
Kim Jong Un left a note on the guestbook of the Peace House that declares: "A new history starts now. An age of peace, from the starting points of history."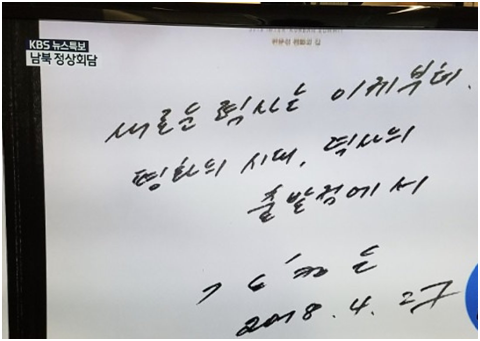 Source: Vox
3- Now, South Sudan
We are witnessing great times of tremendous historical changes between nations as conflicts that lasted for decades are dissolving. All we hope for from the peace deals that are happening is to see effect towards prospective change, and to invite us to go back in time and learn lessons from past incidents.
Many examples of South Sudanese initiatives show that the people of South Sudan -the younger generations in particular- are moved by their realizations on how important peace and development are to their nation. The initiatives and projects that sprung up for peace were sometimes founded in South Sudan itself, and other times in refugee camps in neighboring countries, as well as in the diaspora. Initiatives cover a broad set of issues such as empowering young South Sudanese girls through ICT, empowering sexually or
gender-based abused people, supporting homeless children with their education, and many more examples.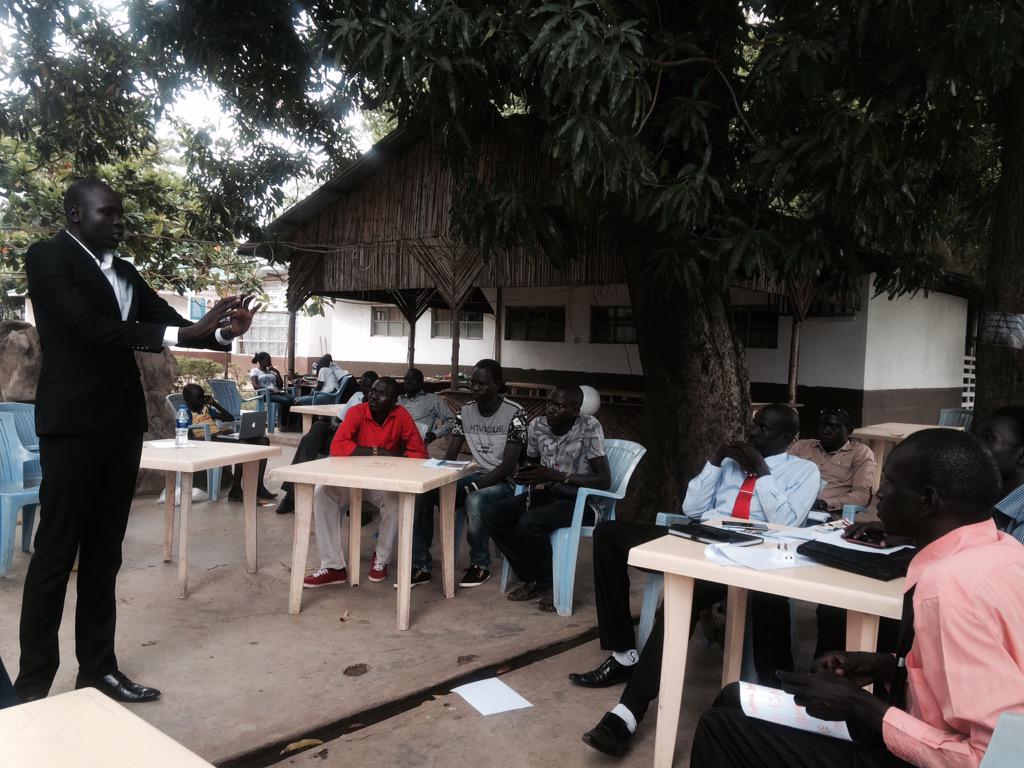 Source: defy hate now
A peace dialogue is encouraged, as peace is seen by the most as the only way to go forward for South Sudan. For politicians, it starts with peace-deal signing, and back and forth negotiations on the driving forces behind the conflicts. But for the South Sudanese communities themselves, it is more about harmony, hope, growing as individuals and as a nation, supporting each other regardless of the tribal background, resuming their farming and animal grazing, and much more. To some, peace is the absence of fear, absence of killings and ethnic prejudice.
Even in songs, peace is a dominant theme among artists. Groups such as Ana Tabaan and All Stars deeply believe in the power of art and music that transcend tribal differences. This can clearly be seen with South Sudanese artists moving towards incorporating different local languages in the same song, so that their messages can reach a wider audience. During its operation in 2016, the UN mission in South Sudan (UNMISS) launched a Music for Peace competition, providing a platform that invites artists to express their hopes for peace, and influence their communities. A female South Sudanese artist, Mer Ayang, is featured in a music video clip encouraging people to identify themselves as South Sudanese first, before labeling themselves with other titles, in an invitation for unity and harmony.
Examples and stories from South Sudan are many, but the goal is one. Let's jam for peace today and keep peace at the forefront of our agenda for development and stability.