Nyayang is a fictional story of a young South Sudanese Nuer teenage girl who chooses to be different. In South Sudan and in particular in the Nuer community, women and girls have had no voice for a long time. Their choices come from the men around. Nyayang wants to change that narrative but her chances to do so are slim.
Although the book (to be published soon) focuses on the Nuer community, this fictional narration is a representation of all the marginalized women and girls of today's South Sudan. Child marriage, denial to access quality education, forced or arranged marriages, ghost marriages and women battering make the news headlines across a vast part of South Sudan's virgin landscape. The story of Nyayang comes in to open a formal discussion into one of the biggest moral concerns in contemporary South Sudan – women empowerment.
Nyayang is born in the early 80s in one of the most remote places in the center of the Nuer heartland, Kuerdeng. There is no clinic, no school, nor a modern market. Kuerdeng represents a true definition of a Nuer village in the 80s. Nyayang survives because of the service of a committed midwife. She gets no medical attention in the modern sense of the word. Nonetheless, her birth brings a smile to her desperate parents. Gatkuoth, Nyayang's father even promises to slaughter a bull for the Nuer gods for their blessings upon his family. Nyayang is the only girl in a family of boys. In the 80's and by other measures, even today, it means a lot to have a girl child among the Nuer – it is like having real estate in today's America. Girls serve as economic assets to the immediate extended family and clan. Gatkuoth feels proud of Nyayang and indeed, he feels like a real dad the day Nyayang is born. He waited so long for this day.
Gatkuoth, Nyayang's dad punishes her at the watch of her school mates at Kuerdeng Primary
When Nyayang turns 9, she begins to discover her environment. Nyayang wants to go to school but her notorious uncle does not see the need. Nyang is a middle-aged man, popular perhaps for the wrong reason; he forces young girls into marriage. Education does not ring well to his ears. Nyang takes advantage of his seniority in the family of Chuol, making decisions that no one questions. When Gatkuoth leaves Kuerdeng for the army, Nyang finds a rare opportunity to force his views and beliefs onto the family. He arranges a marriage for Nyayang at the age of 13. The man he wants for Nyayang is a boy aged 16 named Nyak. Innocent as he is, Nyak comes from a big family with many cattle heads. Nyang has interest in the beasts and he yearns for the day they can reach their homestead.
When Nyayang runs away during her purported wedding day, Nyang detains Nyayang's mum, Nyegai whom he accuses of complicity in what the Nuer call a social crime. In the meantime, Nyayang escapes to faraway relatives, refusing to marry a boy she barely knows. There she arrives at an aunt's house, but Nyayang is yet to find true freedom. In her aunt's house, she is despised by her aunt's husband; a lazy drinking pot who shouts every day, accusing Nyayang of spoiling his two beautiful daughters.
Nyayang almost leaves the place again for Kuerdeng, but her aunt insists that she stays. Her aunt arranges a closed door marital deal for her, a middle-aged man. Duop is the village's sweetheart, he is childless, but steals the admiration of the entire village of Kalmock. Nyayang's aunt convinces her niece to marry the man whom she considers a longtime friend. Nyayang ultimately agrees and the two get married. Unfortunately, Nyayang undergoes a miscarriage for what would have been their first child. Nyayang and her parents join forces and blame the misfortune on Duop. Divorce becomes imminent. It is at this point that Nyayang brings back the question of going back to school. This time, her parents agree.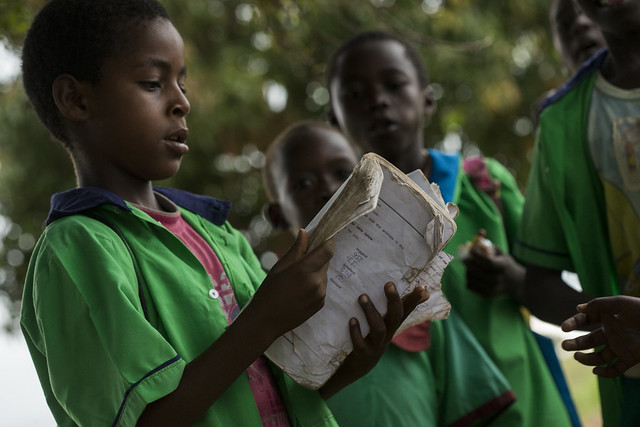 Source: borgenproject.org
She attends Kuerdeng Primary at the age of 15, moves her way up and completes her primary school education. Nyayang meets Nyadel, a committed teacher who welcomes her with open arms. She goes ahead to connect her with former colleagues at Ahmed Bosco, a small semi-modern high school in Malakal. It is there that Nyayang will make history. She excels highly in her education, making it to the top three score list in all of Sudan. National and international media come to report on her story and Nyayang got a shocking amount of attention. She went to Medical School at the University of Khartoum and finished her education five years later with first class honors, unprecedented academic success for her troubled educational pathway.
Nyayang begins her first assignment with a humanitarian organization at Kuerdeng, a village she dearly loves. When she returned to Kuerdeng it was facing a humanitarian catastrophe; diseases, hunger and water shortage were threatening its population. Humanitarian agencies declared it a public health emergency. Nyayang found a perfect opportunity to make a comeback to the place she calls home. Nyayang transforms Kuerdeng to be a center of excellence, an emerging town of no precedence, a growing modern space with sprawling schools, clinics and water points that supply the residents 24/7. Girl education proves to be a big deal for her, and she brings home development that nobody attempted to in her lifetime.
Her work at the French international medical outpost, takes her to Addis Ababa where she meets a person who will later model her life. Mut, a young man of about 29 is a medical professional consulting for the World Health Organization at their Ethiopian office. He, like Nyayang, comes from the Nuer tribe. The two met by coincidence at a Hotel as Nyayang prepared to leave for western Sudan, to attend to medical work there. The meeting takes no more than five minutes, but they know that it is a unique encounter.
They meet again and the result is an engagement. Nyayang falls in love, this time with a professional, a man she truly admires and loves. They get married in Khartoum under the watch of their parents. Nyang does not turn up for the day but he sends his best wishes. After she marries Mut, Nyayang starts to focus more on what she loves; gender activism. She continues her work of transforming the Nuer's way of life in relations to their women. Nyayang organizes talk shows, seminars and conferences on the topic of women empowerment. She opens schools for the Nuer girls, preparing them for a future that they have been denied for a lifetime. With Mut being supportive, Nyayang's resolve grows in breadth and she widens the scope of her fight across South Sudan. She wants to reach out to the nation's far and wide communities who have poor track records in women empowerment, in particular around girl child education and the abolition of early child marriages.
After some years, Nyayang tells her husband that she wants to advance her education. She suggests a master's degree abroad. Mut at first trashes the idea saying that he would like to have a child. Nyayang says that she needs that degree first before any child. The two disagree for almost a month. Finally, Mut gives in. He connects Nyayang with one of his former work colleagues at the World Bank who knows Harvard inside out. Nyayang goes to Harvard to pursue her Master's in Public Health with a concentration on tropical medicine and diseases.
She spends almost two and a half years at the world's top academic institution. When she returns, the two begin a serious family life. They have their first born Dhoal, then second, Nyamal, and their last, Nyawal. Nyayang continues to play an important role in gender activism, humanitarian work in Kuerdeng and beyond. The couple invests in their professional lives, their family circle, but more so in their community to which they devoted much of their young lives. Nyayang's struggle for education leaves her entire family and community proud. She succeeds in persuading them to adopt education in order to adapt to the changing patterns of life. Nyayang lives an exemplary life in Kuerdeng and by extension South Sudan. Her story resonates with each one of us in this evolving society. Her success gives us every reason to empower our girls and women so that they can compete with confidence and live a dignified life that they truly deserve.
Nyayang's story is a call for better and more equal society; a society that prides itself in its women and girls. It is a call for policy change towards a need to adjust to the changing times, which the 21st century dictates that we must do to thrive or else we perish. If we do this, we will have a better South Sudan because every society is the reflection of how it treats its women and girls. We have no time to waste. Let's get up and fight for the rights and freedoms of our mothers and sisters. Every effort and every voice matters.